Seagate Wireless Plus detailed review
Our lives are becoming mobile-centric thanks to our reliance on mobile internet devices but smartphones and tablets still come with limited memory. Of course, you can add a higher capacity microSD card or connect a USB pen drive to your tablet. A microSD can still take it to 32GB and other option involves adding a USB drive to your tablet. Seagate had come out with a GoFlex Satellite external drive couple of years back which basically housed a Wi-Fi adapter and a battery inside so that you could stream your content. The second-generation Seagate Wireless Plus is the latest upgrade to the wireless portable hard drive category.
Build and Design
While the Seagate GoFlex Satellite came with a glossy exterior, the Wireless Plus dumps that in favour of the more muted dark-grey coloured plastic cover with a brush metal finish. Barring the front face of the Wireless Plus, the rest of the sides are covered by a matte-black coating with a mildly rubberised coating. On the front face you have the Wi-Fi and battery status indicators whereas on the top-edge on the left hand side just beside the status indicators, you have a plastic button to power the Seagate portable drive.
The interface is similar to the one we have seen on GoFlex drives - a SATA and power connector combo. It is covered by a plastic flap when you aren't transferring any data. You get a SATA adapter which is connected to a USB 3.0 cable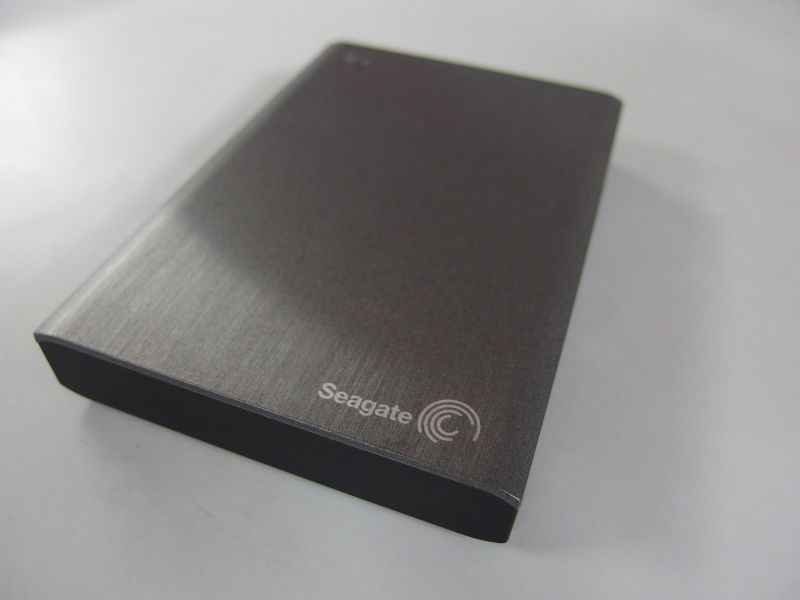 Features and Interface
The Seagate Wireless Plus houses a 1TB internal HDD with USB 3.0 connectivity via the SATA adapter. You can charge the battery inside the Wireless Plus either via connecting is to the USB port of by conecting the power-pin to the wall adapter. There is a DC power in connector on the right hand side.
You will need to download the Seagate Media app from the iOS or Google Play Store onto your smartphone or tablet. The Wireless Plus forms its own Wi-Fi hotspot and you will need to connect to the Seagate drives wireless network to access content on the drive. This is great when you don't want to access the internet while streaming content from your drive. But if you are at home or office where you want to keep your internet connection on, you can do that by going to the the Wi-Fi icon under the dropdown menu on the right hand side of the Seagate Media app, connect to the Wi-Fi network after putting in the password and you are set. You can access the net even though the WLAN settings show you device connected to the Seagate Wireless Plus drive.
The Media Library shows you the content of the devices connected to the Wireless Plus as well as the that on the Wireless Plus internal drive. You can either search according to categories: Photos, Videos, Music, Documents and Recently Viewed or you can just head directly to the device and search in folders. While searching individual folders, you still get the five categories on top, so you can directly look for videos or music in a particular folder that may have many file types.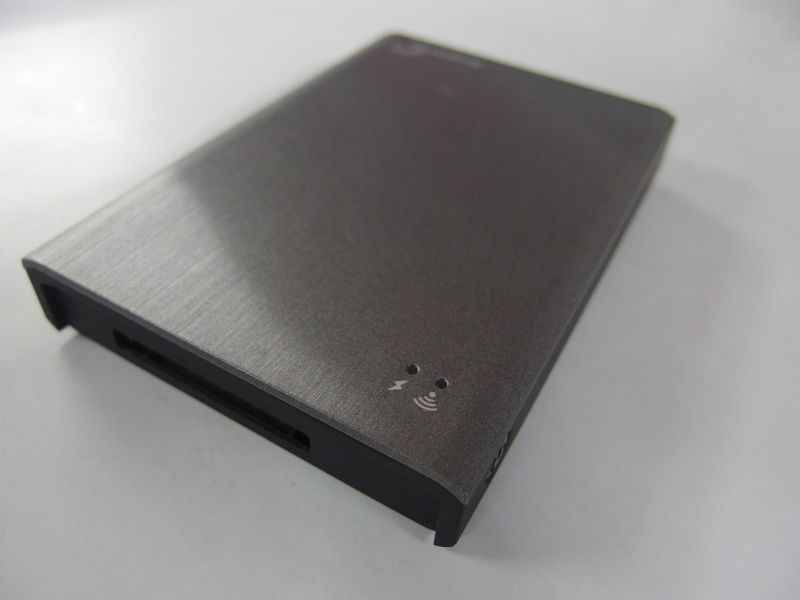 You can also find out the battery life of the Seagate Wireless Plus in the drop down menu of the Seagate Media app in percentage terms.
Performance
Since the Seagate Wireless Plus comes with a USB 3.0 connector, we first checked its transfer speeds. It comes with the SATA and power GoFlex type interface, you if you want you can even use it as an internal HDD without the USB 3.0 interface. But we stuck to using the USB 3.0 interface as it is primarily an external portable drive.
It gave higher speeds than the Seagate GoFlex 1TB drive and similar speed to the Seagate Backup Plus 1TB drive. Sequential and Assorted Write speeds were 106.67 and 88.38 MB/s respectively whereas Sequential and Assorted Read speeds were 107.87 and 98 MB/s respectively. Intra-drive speeds hovered around 20MB/s for sequential transfers and 32MB/s for assorted transfers.
You need to download the Seagate Media app to be able to access content on your Wireless Plus drive. You first need to switch on the WiFi adapter on the drive using the power button and then search for the Seagate WiFi network in your device's WLAN settings. We noticed that even though Seagate network was visible under wireless networks it took 4-5 tries before your device actually successfully connects. Once the device is connected you can browse through the contents on the Wireless Plus drive.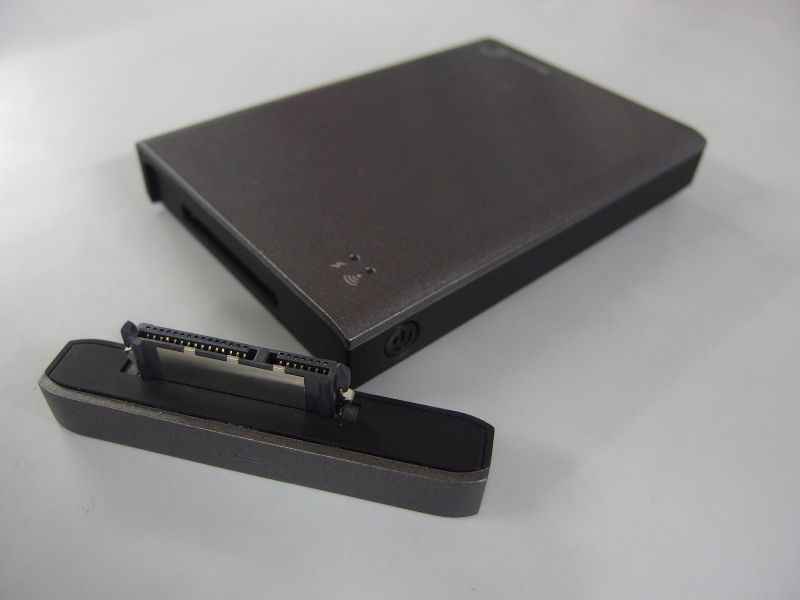 Streaming was flawless provided you are in the same room as the Wireless Plus. SD content can easily be accessed by over three devices, but with 720p and 1080p content we noticed that a same file can only be streamed simultaneously to two devices. If you are accessing different content type, you can connect upto 8 devices according to Seagate, but that will drastically bring down the battery life. We successfully connected four devices and streamed content off the Wireless Plus drive.
The Seagate Media app does not natively support all file formats, but if you have a relevant third party app on your device it will play those formats. On the iPad, if it does not natively support a video format, then that will not play using the Seagate Media app.
You can stream music while browsing through photographs or reading documents on the Wireless Plus. Pictures taking time to buffer maybe
The Seagate Wireless Plus boasts of a 10-hour battery life, but in our testing it lasted for 5.5 hours while playing full HD content. With sporadic usage and having lesser number of devices streaming content off it, you can easily clock in around the rated 10 hours.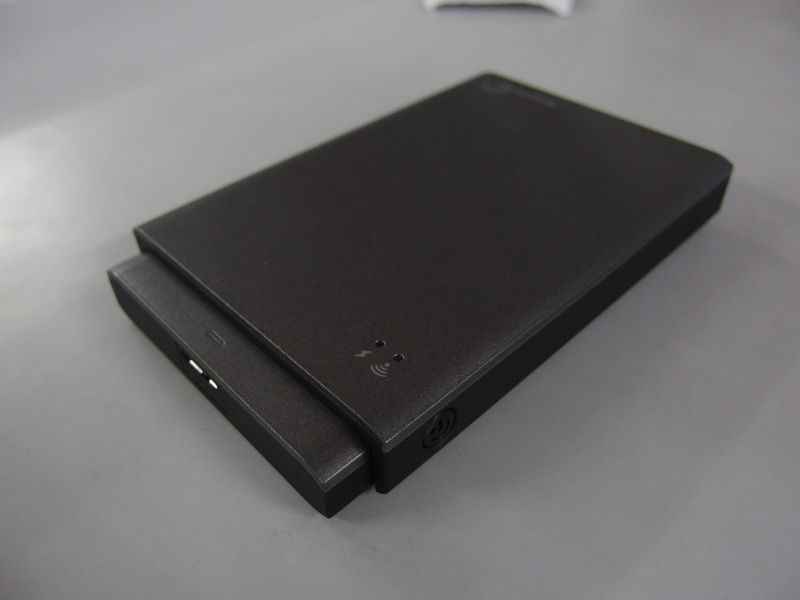 Verdict
The Seagate Wireless Plus is an ideal device for you, if you think that the 32GB or 64GB maximum storage limit on your smartphone or tablet is just not enough and you want to carry your whole library along. Great for content creators and travelling professionals. Its ability to connect multiple devices, share internet connections and ease of use work in its favour. Battery life is also pretty decent and it can be a great companion on long journeys. But at Rs.16,000 it is priced at quite a premium and surely not meant for everybody.