SanDisk iXpand Flash Drive for iPhone and iPad detailed review
We've always wondered why does Apple even sell devices with 16GB internal storage where other manufacturers start their storage options from 32GB and even 64GB. And just in case you are one of those who always keep running out of storage space on your device, this flash drive providing additional storage on your Apple devices might be just what you are looking for.
After the launch of the original iXpand last year, SanDisk has introduced the updated version of the iXpand. For the second version of the same, the company seems to have gone back to the drawing board as well as taken into consideration all the feedback that was given at the launch of the first version. As a result, what we have now is a newer version with a slimmer design, much-improved software and faster transfer speeds. They are priced at Rs. 3990 for 16GB, Rs. 4990 for 32GB,Rs. 6990 for 64GB and Rs. 9990 for 128GB storage capacity and offer a two-year warranty.
Build & Design
When it comes to designing, SanDisk clearly has undertaken a redesign, making this one far slimmer and pocketable than the previous one. The new iXpand is shaped like a regular USB drive with a loop. It comes with a full-size USB Type A 3.0 at one end and the lightning connector at the other. The USB Type A that can be plugged into laptops and desktops, curves around to a lightning jack that can be connected to the iPad and iPhone to transfer files. At first it may look like the curve is flexible, but in fact, it is made of hard plastic coated with a rugged rubberized material that also provides better grip. The lightning end is the only slightly flexible end to fit perfectly around the iPhone as well as the iPad. Both the ends are exposed and have no coverings, but just beside the lightning connector are two plastic holders that make sure the lightning connector stays in place when not in use. They seemed to be of very little use as they got worn out real quick- in fact just after a few hours of usage.
What's new
Something that also has changed drastically along with the device is the SanDisk iXpand Drive iOS app that is required to act as a file manager while using this device. The app is available for free and opens up as soon as you connect the flash drive with your device. The home screen of the app shows the large graphical representation of how much free space is left on your device as well as how much storage is available on the flash drive. Along with it, you also get various other tips and tools such as backup contacts, backing up your social media account etc. It also has the options to copy files to and from the flash disk, to view files stored on the flash drive as well as a shortcut to backup or restore data.
The copy option asks you to select the destination device and then allows multiple file selections for moving. If you select all the files, sadly there is no option of deselecting all and you will have to manually deselect. You also cannot select multiple folders directly, but will have to choose each folder and select files that need to be copied. After you're done choosing the files, just hit the 'Copy' button and all your files will be copied. You are also prompted if you want to delete the files you have already copied, in order to save space.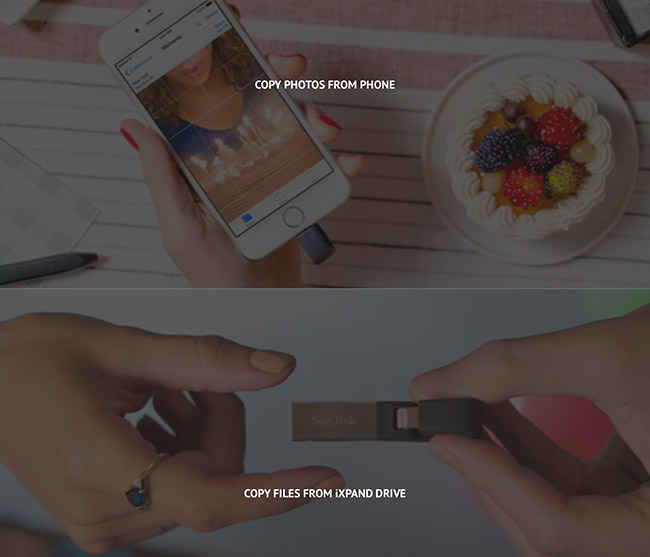 The second option of viewing and playing files stored on the iXpand allows you to access videos, audio files, images, office documents, PDFs, and many other files on the fly without taking up any space on the iPad or iPhone. There are various software level changes such as move, rename, etc. that you get in the view menu, along with the option to select and deselect files.
Pictures and Videos usually take up maximum space on one's phone and that is why the iXpand Drive software automatically makes backups of all pictures, videos as well as contacts to copy them to the drive. You also have the option to backup your social media account that can be restored later, when needed. The drive is also able to backup Live photos as well as supports 3D touch to allow quick preview of the content.
You also get complete control over your files on the flash drive as well as the ability to lock them thanks to the security features that come along bundled with the app. All of your password protected content is saved in the SanDisk Secure Access Vault, an application that is bundled along with the flash drive.
The app definitely seems to be feature-rich as well as far better in the performance front than what we had seen last year, but it doesn't mean it is perfect. It supports only portrait mode which makes it inconvenient to use in case you are used to working in the landscape mode with a keyboard connected. As we said earlier, the app launches automatically as soon as you connect the flash drive but sometimes the app tends to freeze on the startup screen and the only way to get it working is to either reconnect the flash drive or to kill the app and restart it.
Performance
As we all know that transfer speeds are not directly available on iOS, measuring the transfer speed and performance can be a challenge. Of all the time we spent using this flash drive, the transfer from the drive to the iPad as well as iPhone was smooth till the number of files didn't run into hundreds. A 100 MB folder took about eight seconds to transfer whereas files totaling up to 1GB took one minute and twelve seconds to complete. Moving files seemed to be a breeze. Transferring the same 1GB from a desktop via an Intel 3.0 USB took about one minute and thirty-six seconds, with speeds peaking at 51 MB/s but also dropped to KB/s for a brief 20 seconds.
The drive also tends to warm up a little on continuous usage around its metal parts, but nothing that makes it impossible to use it or hold it. Another drawback is that as iOS accepts FAT32 file system, you will not be able to transfer single huge-sized files onto this pen drive, due to the file system shortcomings.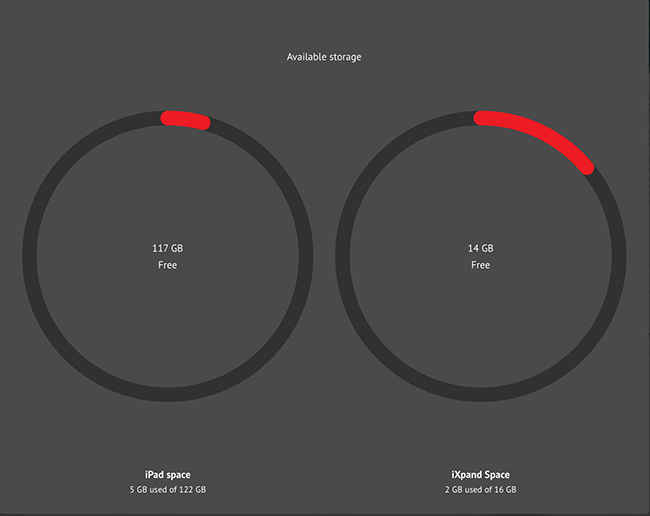 SanDisk's iXpand Flash drive delivers what it promises to. Priced close to Rs.3990 for a 16GB variant, you will definitely find cheaper options available in the market if you can compromise on the looks and the multi-feature application.