Kingston HyperX SH100S3/120G detailed review
Introduction:
Computer storage was always looked at as an unexciting area as compared to other components in computing but that changed only a few years ago with the introduction of consumer level SSDs in the market. Mechanical hard drives have ruled this space for far too long and now it's the turn of SSDs. Since SSDs provide blazing fast performance and insane access times which are way ahead of mechanical hard drives, it makes sense to buy an SSD now. SSD prices have also been falling steadily and almost everyone should think of getting one now as apart from performance, SSDs also consume less power, run cooler and quieter as compared to standard mechanical hard drives. If you've not yet switched to an SSD at least for your OS, you should definitely join the SSD bandwagon now because once you do so, you'll actually see the difference.
This time, we have the Kingston HyperX SH100S3 120GB SSD for review and it's aimed at people looking for their first SSD. Also, since this one is from Kingston's HyperX range of products, it's advertised to perform really well.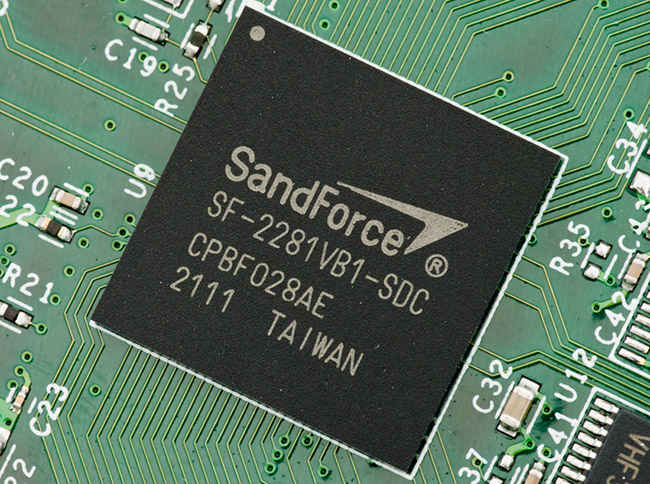 Featuring a Sandforce SF-2281 controller, along with Intel 25nm compute quality MLC NAND components, Kingston claims that it can provide sequential reads of up to 555MB/s and sequential write speeds of up to 510MB/s among various other rated speeds.
Unboxing and closer look:
The Kingston SH100S3 120GB SSD comes packaged inside a standard HyperX blue design based box and we received the SSD along with its upgrade kit inside as well. The box felt quite heavy and it's only after opening it we realised what added the weight. Opening it, you'll first see a few small information documents on top followed by the SSD right below which is kept at the centre with protective foam around it.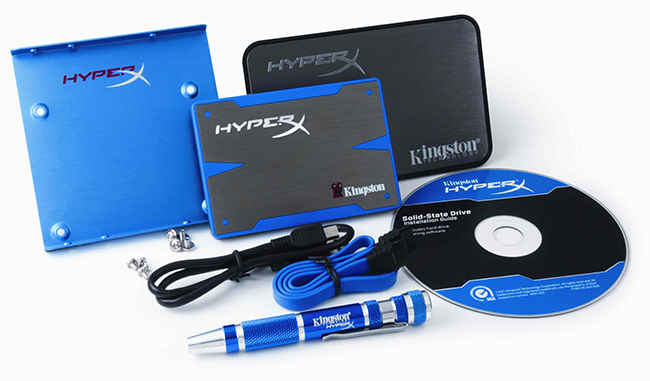 Digging deeper into the box you'll find that the SSD comes with an external enclosure that'll allow you to use it as an external drive. Mounting the SSD inside the enclosure is simple as you just need to slide a corner and pop open the top, align the SSD, slide it right in and close the top again. The included USB 3.0 cable can then be used to connect the drive to your PC.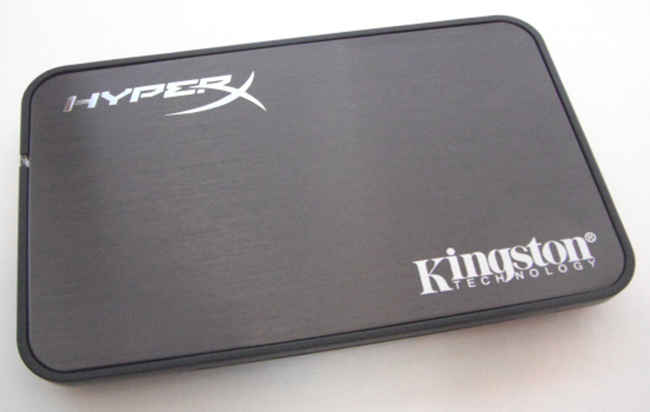 The box also contains a 2.5" to 3.5" drive bay adapter which means that you can mount the SSD inside your PC cabinet even if you don't have a 2.5" drive bay. Also, Kingston includes a heavy screwdriver that looks like a pen and comes with changeable bits. Along with a set of screws as well. This is a welcome addition to the boxed contents as it makes installing the SSD an easy job. They provide a SATA cable and a driver CD inside the box too. This CD contains an installation guide and data migration software that is helpful if you want to clone your existing Windows installation from your hard drive to the SSD.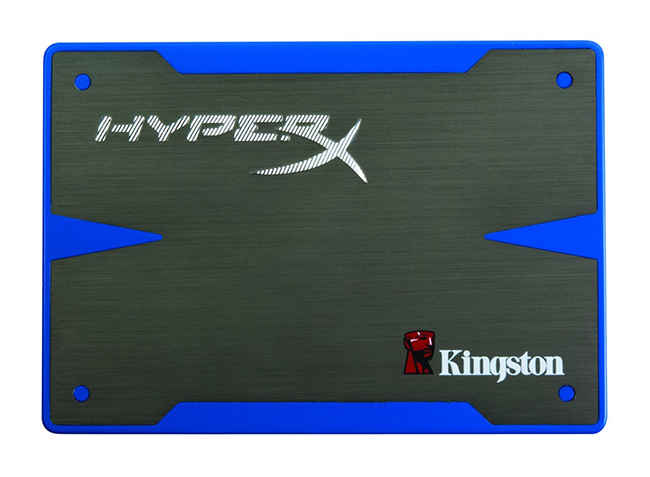 The SSD itself is designed quite nicely as it has a two-tone blue and silver colour design with a combination of metal and plastic for its body. The top part is designed nicely as it displays a raised shiny HyperX logo in one corner and the Kingston logo on the other. Ports are a standard fare like any other SSD and so is the back. As far as the build quality of the SSD and even the supplied accessories is concerned, we must say that all of it is well made and looks quite durable.
Performance Tests and results:
We used a mix of synthetic and real world tests to test the performance of the Kingston HyperX SH100S3 SSD. But before testing we made sure to securely erase it using DiskWipe software utility and used the One Pass Zeros erasing pattern to write zeroes on the SSD. This ensures that the SSD is free of any content. Our first synthetic test was CrystalDiskMark and we kept the test size as 1000MB for both random read/write tests while running five iterations of the test.
These are the scores received using CrystalDiskMark (Random):
Read (in MB/s):
Sequential/512K: 495.2MB/s;
4K QD32: 117.2MB/s
Write (in MB/s):
Sequential/512K: 138.3MB/s;
4K QD32: 140.1MB/s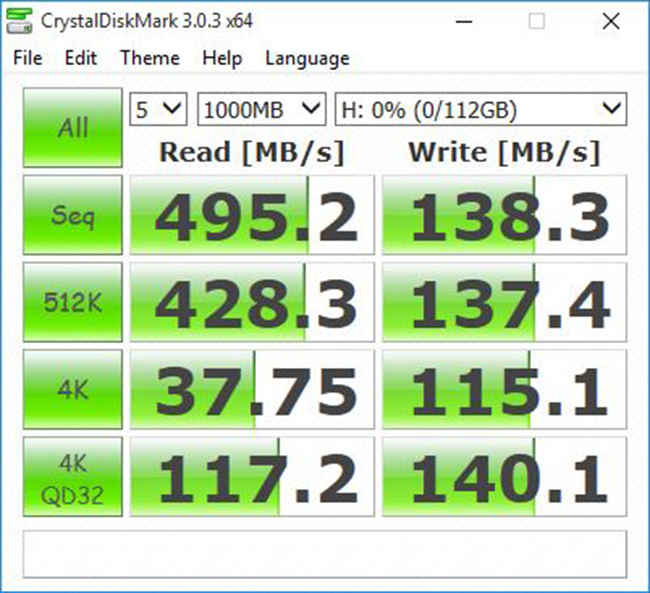 Next we used AS SSD benchmark to get the sequential and random read/write scores. We also received the access time from the AS SSD benchmark.
These are the scores we received in AS SSD benchmark:
Read:
Sequential Read (in MB/s): 490.02MB/s;
4K 64 (in MB/s): 107.69MB/s;
Access Time (in ms): 0.131 ms
Write:
Sequential Write (in MB/s): 87.63MB/s;
4K 64 (in MB/s): 90.49 MB/s;
Access Time (in ms): 0.244 ms
Overall Score: 438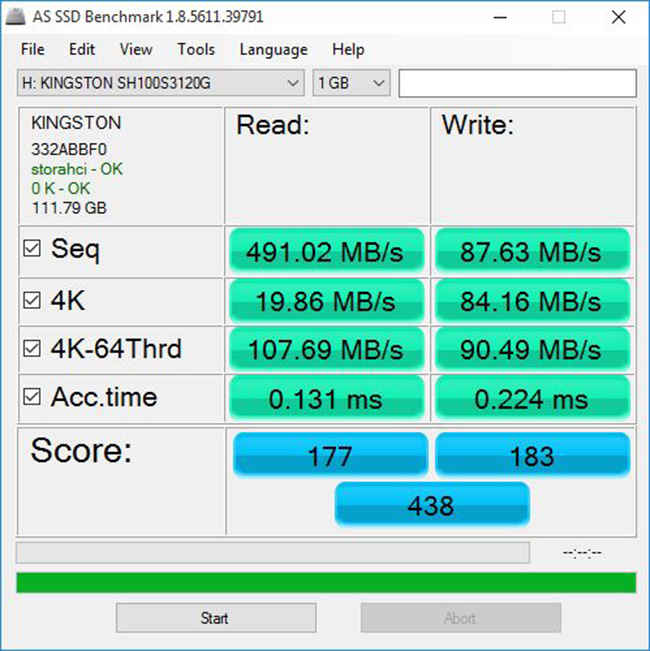 AS SSD Copy Benchmark:
Speed (in MB/s)
ISO: 181.40MB/s
Program: 173.15 MB/s
Game: 197.73 MB/s
Duration (in secs)
ISO: 5.92 s
Program: 8.13 s
Game: 6.98 s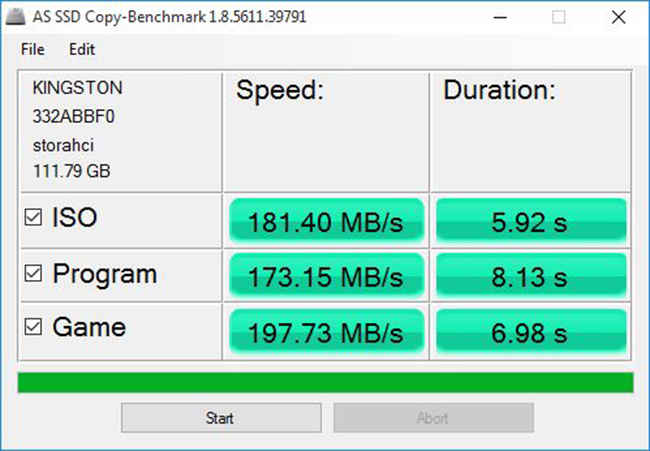 You can also check out the graph of the AS SSD Compression test to check out the performance of the Kingston HyperX SH1003 below: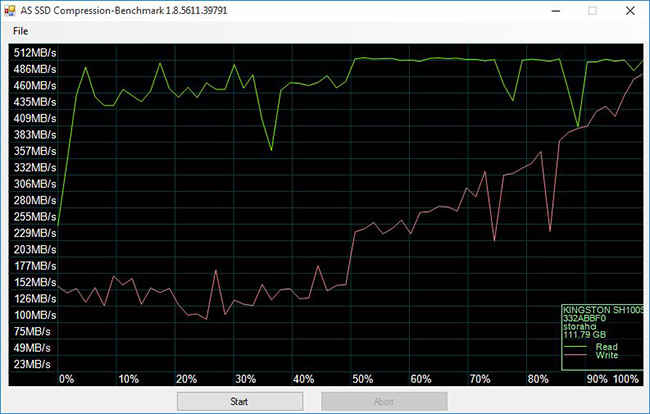 We also ran ATTO Disk benchmark with overlapped I/O, a queue depth of 4, transfer size between 0.5 to 8192 KB and a total length of 256MB. These are the results of the benchmark: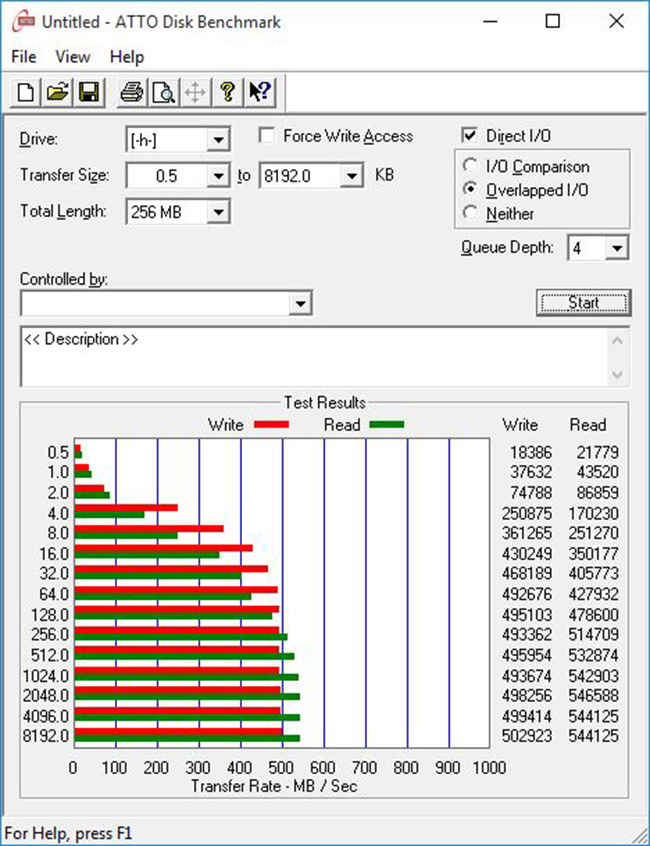 We can see that as far as read speeds go, the Kingston SH100S3 performs quite good and the difference in the claimed performance and the tested performance is acceptable. With sequential read speeds in CrystalDiskMark and AS SSD around 495 MB/s, this HyperX SSD is quite quick and the SandForce SF-2281 controller coupled with the Intel 25nm MLC NAND is the reason for that. But it's seen that the write speeds are on the lower side and all over the place when you see the results of synthetic benchmarks.
Finally, we did the real world tests as these tests are a true indication of how good is the performance of any particular SSD. We used a single 8GB sequential file for sequential read and write tests. And an assorted set of files of size 8GB for assorted read and write tests.
Real world test results:
8 GB Sequential File Write: 44 seconds
8 GB Assorted File Write: 122 seconds
8 GB Sequential File Read: 19.34 seconds
8 GB Assorted File Read: 102 seconds
Assorted and sequential read and write timings point to the fact that the SH100S3 is a quick performer and does well under regular desktop workload. We mentioned earlier about how the write speeds of this SSD were a bit on the lower side looking at synthetic benchmarks but the real world test results for write performance of the drive are alright since we could copy an 8GB assorted file in under 122 seconds.
Conclusion:
With a really good package that provides a lot of handy accessories and a performance that's good enough the Kingston SH100S3 120GB SSD is a decent offering. Although we found the write speeds to be low, this SSD is a good option if you're in the market for a solid state drive for the first time and want to experience the improvement that you get when you buy a SSD as compared to your hard drive. It might not be the highest performing SSD but at the price, it is a really good choice.
Features and specifications:
● Form factor: 2.5";
● Controller: SandForce® SF-2281;
● Components: Intel® 25nm Compute Quality MLC NAND (5k P/E cycles);
● Interface: SATA Rev 3.0 (6Gb/s), SATA Rev 2.0 (3Gb/s);
● Capacity: 120GB;
● Sequential reads 6Gb/s3: 555MB/s;
● Sequential writes 6Gb/s3: 510MB/s;
● Sustained random 4K R/W4: 120GB – 20,000/60,000 IOPS;
● Max. random 4K R/W4: 120GB – 87,000/70,000 IOPS;
● PCMARK® Vantage HDD Suite score: 58,000;
● Supports: SMART, TRIM and Garbage Collection;
● Power consumption: 0.455 W (TYP) idle / 1.6 W (TYP) read / 2.0 W (TYP) write;
● Dimensions: 69.85mm x 100mm x 9.5mm;
● Weight: 97g;
● Operating temperatures: 0°C ~ 70°C;
● Storage temperatures: -40°C ~ 85°C;
● Shock resistance: 1500G;
● Vibration operating: 2.17G;
● Vibration non-operating: 20G;
● MTBF: 1,000,000 hrs;
● Warranty/support: Three-year warranty with free technical support.