Stardock Fences 1.1 [Multi-monitor tools] detailed review
Fences is a great application that allows you to "fence" off the items in your desktop giving you a better organized and cleaner desktop where it is much easier to find the icon you are looking for. If you want to send your desktop icons to their own corners and have them stay there, this tool will be incredible useful.While it is not a tool for managing multiple displays it can be quite useful for managing desktop icons across multiple displays.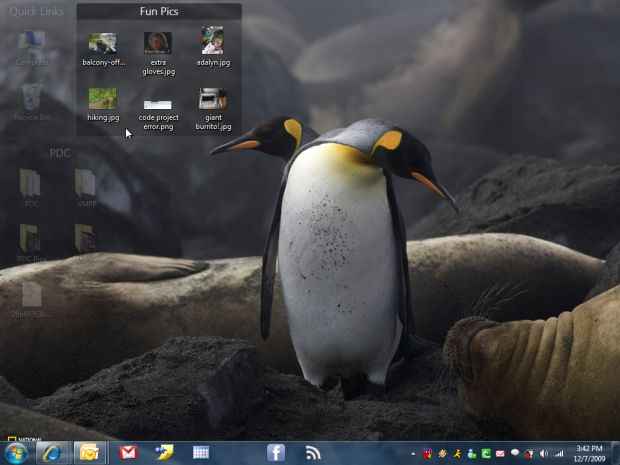 The desktop is a convenient dumping ground for your documents, downloads, and files copied of your friends' pendrives. Many software setups create one or more icons on your desktop (by default) after installing. A computer you've long enough will probably have a rather large random collection of application shortcuts, documents, images, videos, urls, folders etc.
I remember a long while ago, making wallpapers with nearly marked boundaries for different kinds of icons. The only problem was that the icons refused to stay in their places, and sooner or later I would give up on this system of organization.
Fences can organize this mess, by creating —as the application's name suggests— "fences" that border collections of icons. You can section off different areas on your desktop and assign them different names, and any icons which you add into these sections stay within their "fences".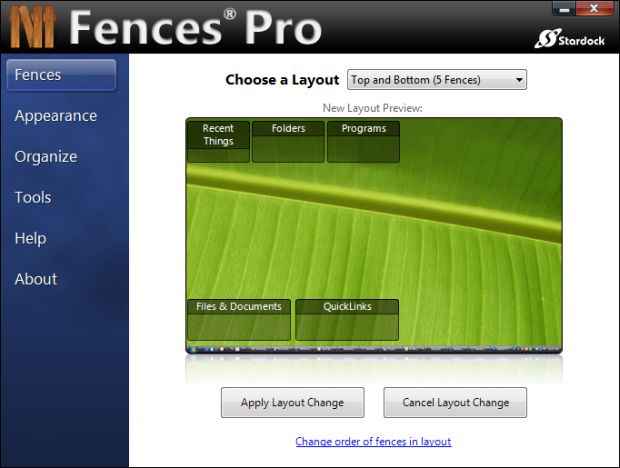 Fences not only ensures that each section of the desktop remains separate, but also makes each individual fenced region scrollable and sortable by its own rules.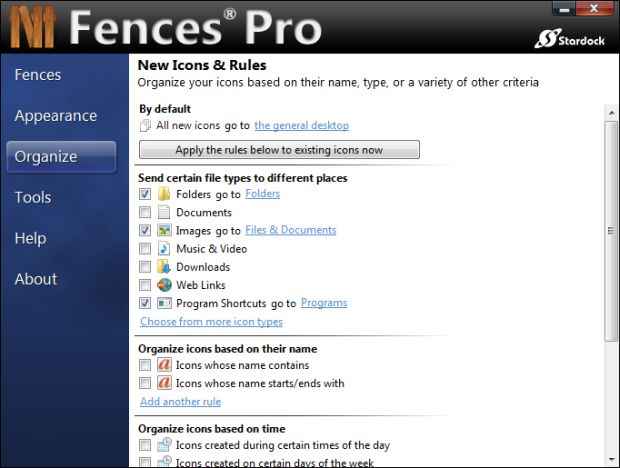 You can create fences with any criteria that you want, since the organization can be done manually by the user themselves, however the sorting of icons by user-defined rules can be automated as well.
Often the culprit in losing the layout of icons on your desktop is a game that changes the resolution of the monitor. The icons are forced to rearrange themselves when the resolution changes and you stand to loose the precious time you spend rearranging you icons. For this purpose Fences can take snapshots of your desktop layouts, so you don't lose your carefully arranged icons in case something goes wrong.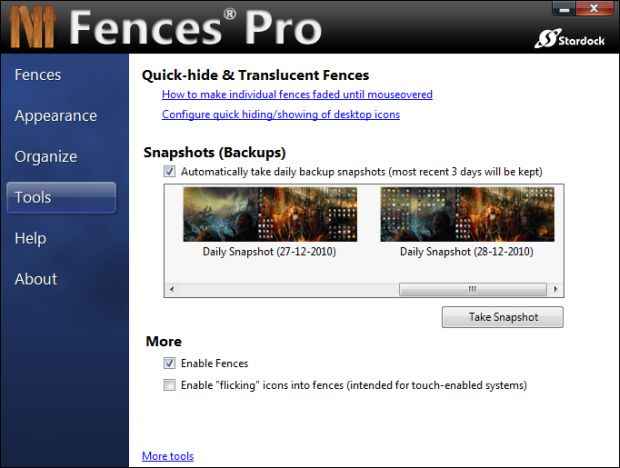 For an even cleaner desktop, Fences automatically hides all your desktop icons when you double-click on the desktop. You can exclude one or more fences from being hidden in this mode, so that on double clicking on the desktop, all unnecessary icons will hide themselves while the important bits remain accessible as ever.
Fences is quite stable and works without any problems even if you have hundreds of icons on the desktop. The hiding and showing of desktop icons is quite smooth. One feature that Fences should have added is to allow different fences to have different icons sizes. This way an image fence could show larger icons with image previews while general files and documents could be stored in lesser area.
One might wonder how such an application will help in a multi-display environment. Well, the fences you create can be placed anywhere, including on another monitor giving you more flexibility in placing your icons. Without Fences the placement of your icons is not very stable, and your icons will tend to migrate to the primary monitor. With Fences you can change resolutions and enable / disable monitors without losing your icons arrangements. There is a setting in Fences that enables storing the desktop fences and icon layouts on a per-resolution basis which can be very useful for multi-monitor users. With this setting enabled you can create different fence layouts at different resolutions and they will automatically be applied when at the appropriate resolution.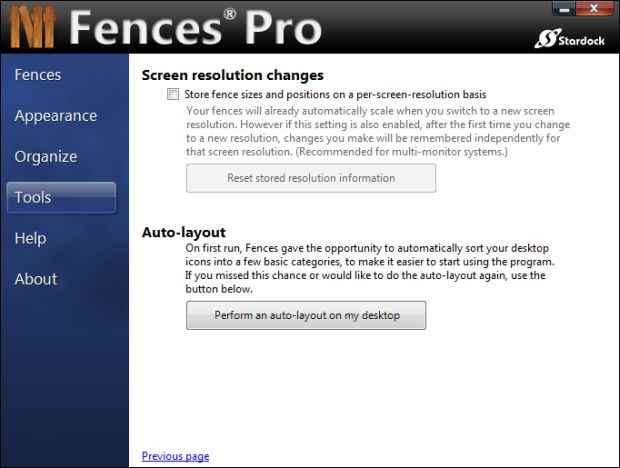 Fences is by Stardock, the creators of WindowBlinds. and other useful desktop customization applications. Fences Pro costs $19.95, however a free version is also available that doesn't include some of the features of the full version. The free version is adequate for use on multi-monitor systems, however automatic sorting of icons in Fences is an incredibly useful feature that is missing from the free version.

The following is a video of Fences in action: