Zebronics Max Pro detailed review
Mechanical keyboards are a worthy investment. Whether you're into gaming or typing, the satisfaction of tapping on those switches gets addictive pretty soon. Considered to be a luxurious item a few years ago, prices of these keyboards have drastically dropped over time. Hence, more people now have access to keyboards with mechanical switches. Although that has resulted in a deluge of mechanical keyboards in the market, big keyboard manufacturers have also started reducing the prices. The problem of these low-cost mechanical keyboards filled on online marketplaces is quality assurance. Your new cheap mechanical keyboard might last you for four to five years or stop working the next month. This is the reason why a warranty is a must before you go for them. Having said that, Zebronics entered the mechanical keyboard space in 2016 with the Zebronics Max TKL. It used knock-off or MX-compatible mechanical switches from Outemu that are based on Cherry's design with minor changes. Following the Max, they released the Zebronics Max Plus which was a full-size keyboard. Their latest keyboard is the Zebronics Max Pro that uses more durable switches lit with RGB lighting. Should you spend your hard-earned money over the Max Pro for your first mechanical keyboard? Let's find out.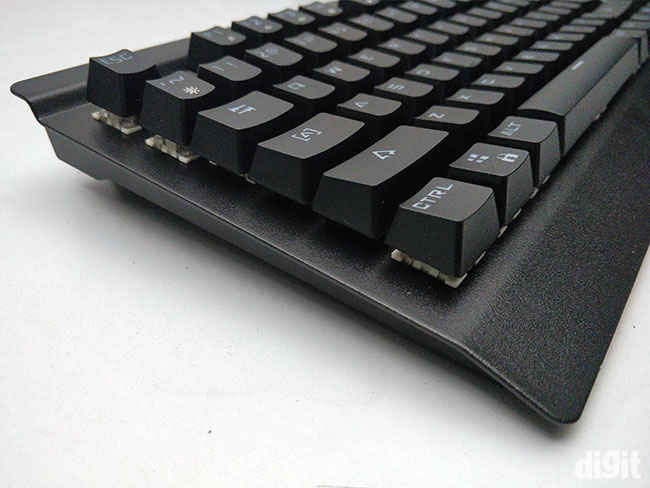 Specifications
Keyboard size: Standard, Numpad included (104-keys)
Keyboard backlighting: RGB
Switch type: Mechanical (Outemu Blue 50-million lifecycle)
Polling rate: 1000Hz (1 ms)
Key-rollover: Full-key rollover
Interface: USB 2.0
Dimensions: Wide – 44.62 cm, Length – 16.98 cm, Height – 3.79 cm
Cable length: 1.8m
Weight: 1.3 kg
Warranty: 1 year
Build quality and design
For its price, the Zebronics Max Pro delivers surprisingly superior build quality. The top steel frame shows no kind of flex while plastic is used for the rest of the body. It isn't too bulky but it still offers the weight of a sturdy mechanical keyboard. The design of the top frame is minimal with a rough texture coating and the brand logo at the bottom right.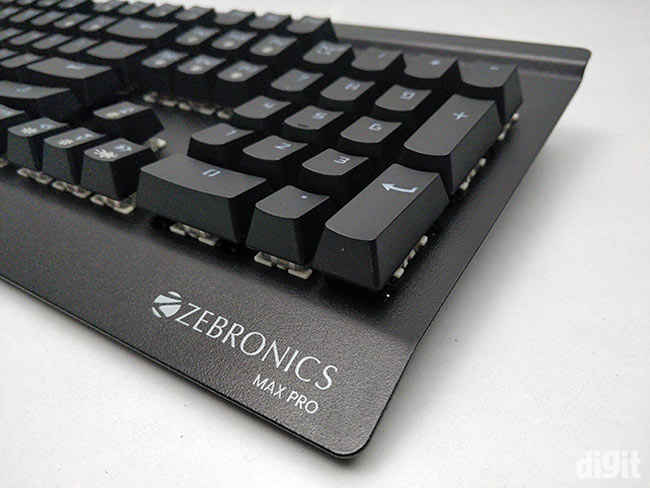 The Max Pro has a floating keycap design which means that there's no extra layer of plastic on top and around them. It not only looks better but the open design makes it easier to remove the keycaps and clean the keyboard as well.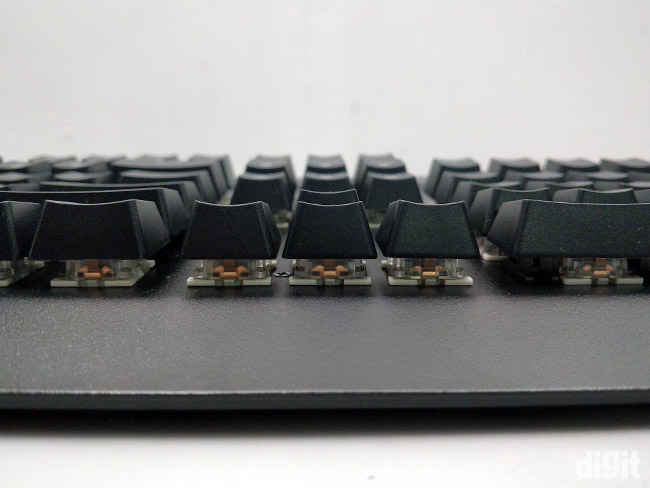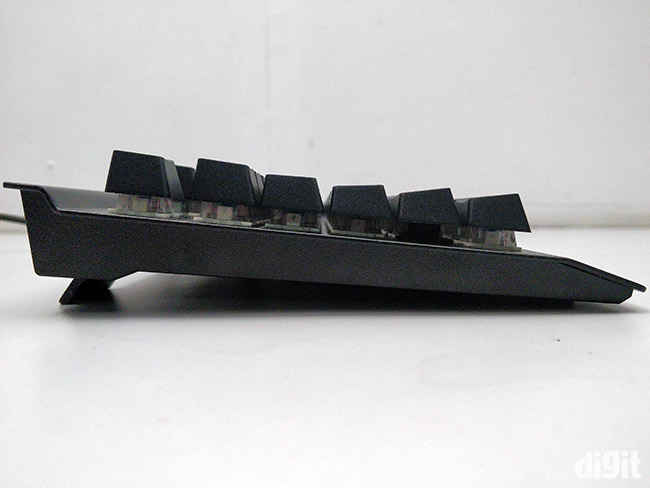 A trend of using double-shot injected keycaps on entry-level mechanical keyboards continues on this one as well. The only advantage they serve is a longer life of the legends or characters on the keycaps compared to the laser-etched ones. They are still made of ABS plastic just like other premium keyboard manufacturers. Almost all the keycaps had a snug fit on the switches and didn't pop out even after some rigorous typing, something which not all premium manufacturers can boast of. The reason behind this is the use of good quality keycaps, especially keycaps that have thick stems. We've observed that keycap stems that aren't dense enough tend to easily pop out while typing.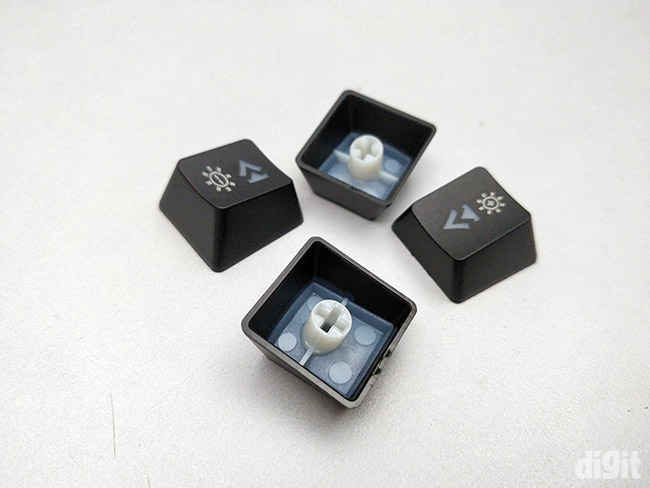 For many, the font of the keycaps might be trivial but for some, it's important. Since the keyboard is targeted for a gamer audience, the font has a different design. Although most of the alphabets and numbers might appear to be a neutral sans serif font, few of them are gamer-y.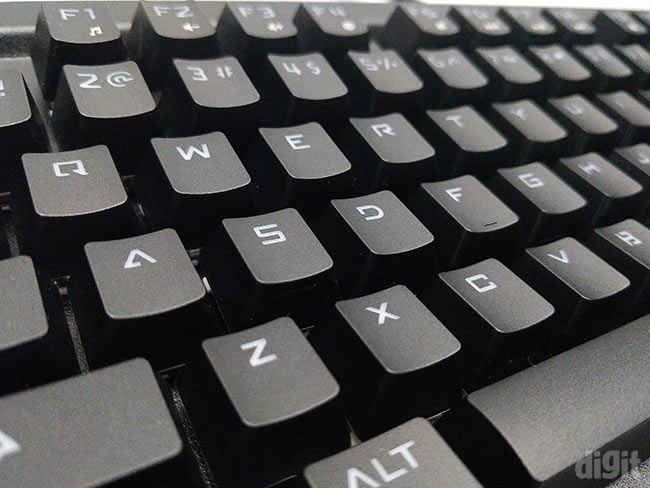 The cable is braided and is rugged enough to handle some rough handling. For cable management, Zebronics has installed two velcro straps towards the end of the USB connector. Speaking of the connector, it's Gold-plated so it should prevent rust in the long run.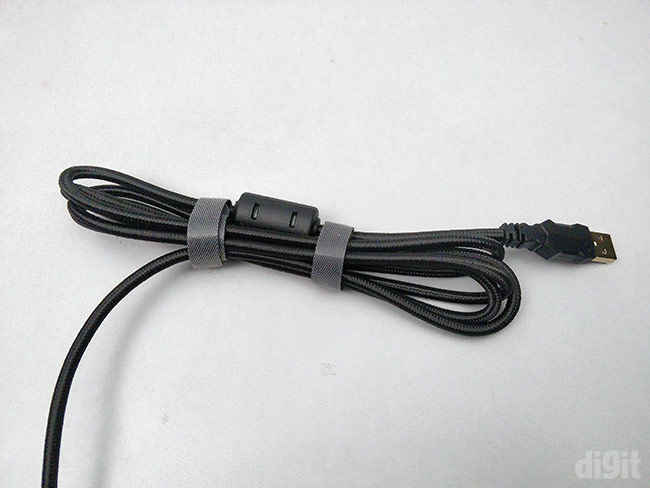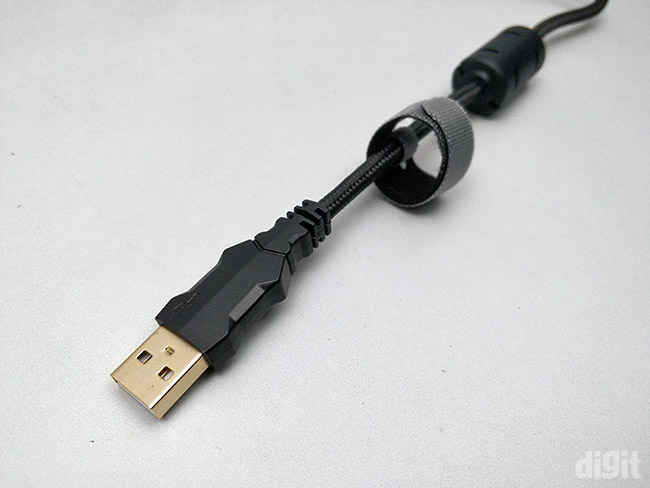 On the bottom, there's enough rubber padding to prevent any kind of slipping when you're using the keyboard. The extendable feet have a rubber base but the feet are slightly flimsy.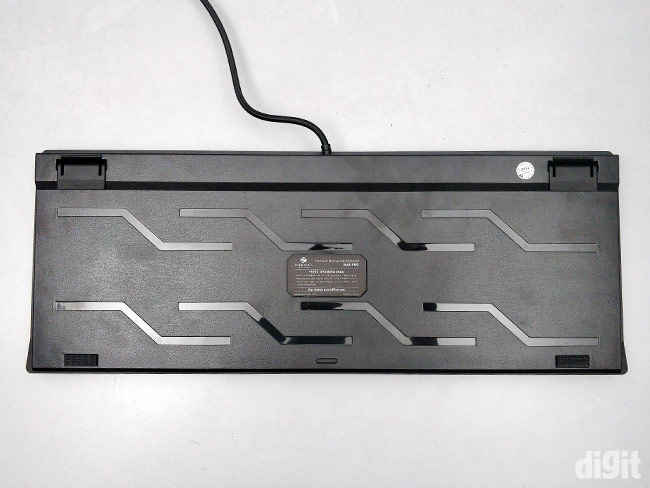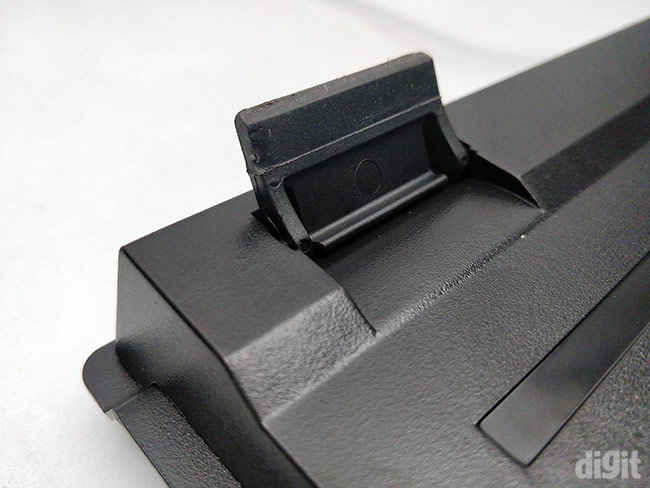 Features and accessories
Being an entry-level keyboard, you won't find any USB or audio passthrough ports. To verify key rollover, we use Switch Hitter. The Zebronics Max Pro supports N-key rollover just like its predecessors. All your keystrokes will be registered even when all of them are pressed simultaneously. However, you won't be really requiring more than four or five key rollover since there are hardly any games that need so many keys to be registering simultaneously.
You can control multimedia playback using the onboard keys. There aren't any dedicated buttons but modifier keys that can be accessed using the Fn key. Along with playing, skipping and pausing music, you can also increase, decrease and mute the volume.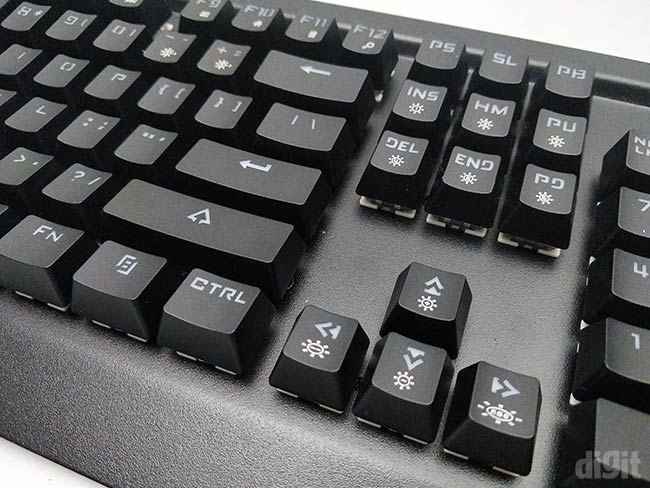 While the previous keyboards from Zebronics used mechanical switches with monochromatic LEDs, the Max Pro got an RGB upgrade. Every switch can now illuminate with different colours across the RGB spectrum. The keyboard supports up to 18 lighting effects. To change these effects, you can switch between the six basic lighting effects present on the Insert, Home, Page Up, Page Down, Delete and End keys. When you've activated any of those modes, you can cycle through different colours using the Right arrow key if that particular effect supports it. The direction of the lighting effects can be changed using the Left arrow key. If you want to increase or decrease the speed of the effects, you can use the '+' and '-' keys on the number row. All these keys have to be pressed in combination with the Fn key. There's no instruction manual inside the box, so you will have to spend some time figuring out the different lighting effects.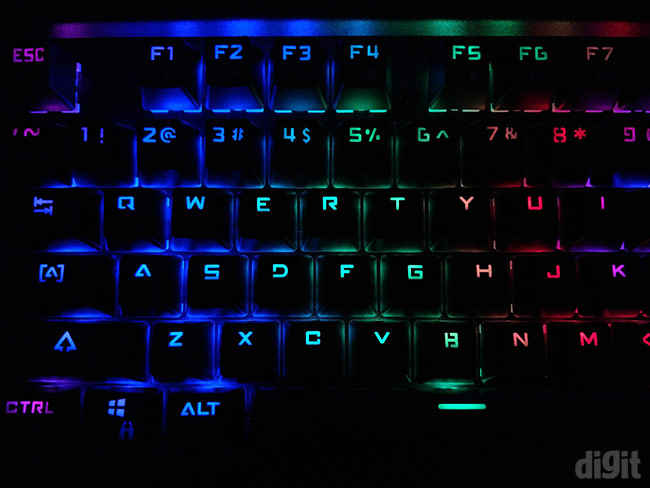 Apart from a few shortcuts, you can control the brightness of the illumination through five levels. It also has a Windows lock button that can be toggled by pressing Fn + Windows. It's difficult to find low-cost keyboards that support macro recording functionality. The Zebronics Max Pro is no different. Without any onboard memory to store profiles, you can't save more than the default profile. This means the keyboard will retain the last lighting effect you picked even after unplugging it. There's no software support and it's a simple plug-and-play keyboard. You can create a single custom lighting profile with individually backlit keys by switching to that mode with Fn + ~. Press the key combination and verify whether the LED indicators on the right are blinking. You can cycle through the eight supported colours by pressing Fn + Right key. This allows you to assign different colours in the same mode to different keys. Once you're done, press Fn + ~ again to save it. Whenever you want to switch to your custom profile, press the same key combination.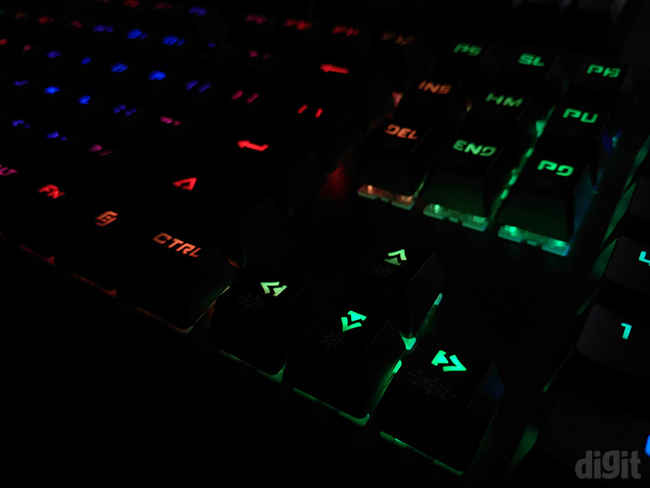 Zebronics has been using mechanical switches manufactured by Outemu since their first mechanical keyboard – Zebronics Max. They've continued the same clicky and tactile Outemu Dustproof Blue switches on the Max Pro. However, the specifications mentioned on their website seem to be different from the previous version. While the previous generation of Blue switches stated durability of 10 million keystrokes, the new RGB switches claim 50 million. The other difference is the actuation force where it used to be 55cN but now it has reduced to 50cN. We believe the difference could be the use of the newer switch variants that support RGB lighting since the previous variant was quite old with monochromatic LEDs. The Max Pro is available in only one switch variant. If you aren't a fan of loud, clicky and tactile switches, then you should look elsewhere.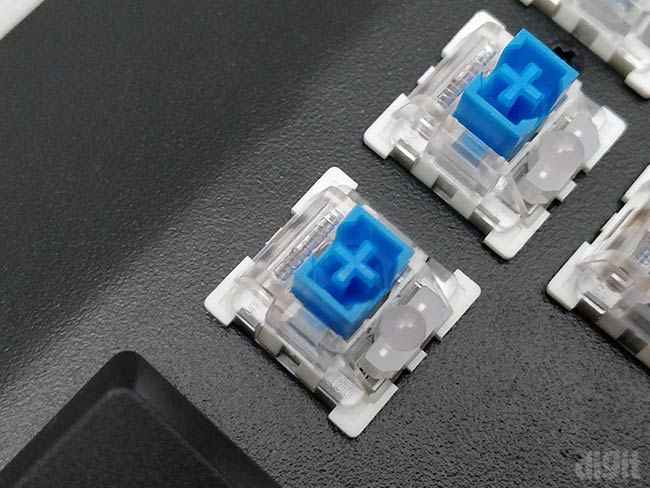 Coming to the accessories, the box only contains the keyboard. It doesn't ship with a wrist rest nor do they provide a keycap puller. Although the wrist rest is optional for many users, a keycap puller is essential for cleaning and maintenance.
Gaming and typing performance
Before we talk about our experience with the Zebronics Max Pro, you must know that your preference for a mechanical keyboard will be unique to you. It may or may not match with our experience since it's highly subjective. That being said, the Max Pro didn't disappoint at all. We played a few popular video game titles across different genres and didn't notice any input lag. Every key press was registered even when they were repeatedly spammed. Gamers usually tend to prefer speed and linear switches. The tactile bump is seen as a hindrance when you're playing, especially games such as Super Meat Boy where precision is important. You wouldn't want the tactile bump getting in the way when you need to make a jump under a tight time-frame. However, all of this is also subjective and you might just be comfortable with this switch. It's always best to spend some time physically experiencing various mechanical switches before making a choice.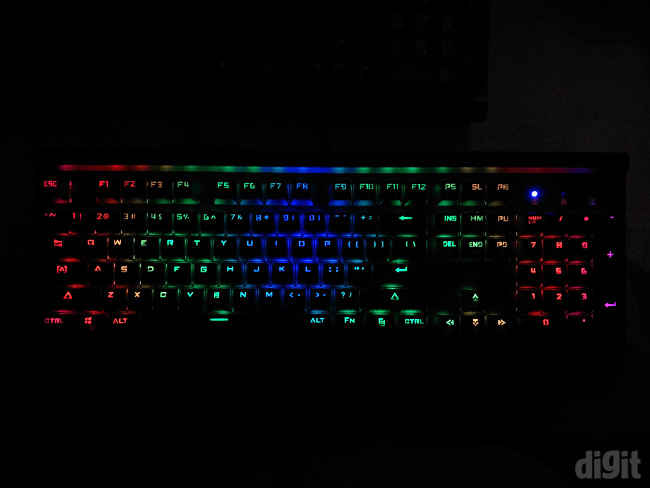 In our typing test, we try to tap on random keys repeatedly and quickly to check whether there's any key chatter. This problem happens with faulty switches and will eventually start developing after a decade in good quality mechanical switches. When your keyboard registers multiple key presses, even though you press a key once, it's a sign of key chatter. The Zebronics Max Pro didn't display any such behaviour. Clicky and tactile switches are usually preferred by typists because of the tactical feedback and the satisfying click of the keys. However, it can get quite loud if you're using this keyboard in a quiet environment, especially in the dead of the night. If you still love these switches then one way of dampening the noise is to use O-rings that can be bought from online marketplaces. That's the only solution since unfortunately, the Max Pro doesn't come in other switch variants. For comparison with the Cherry MX Blue, the Outemu Dustproof Blue is distinctly louder.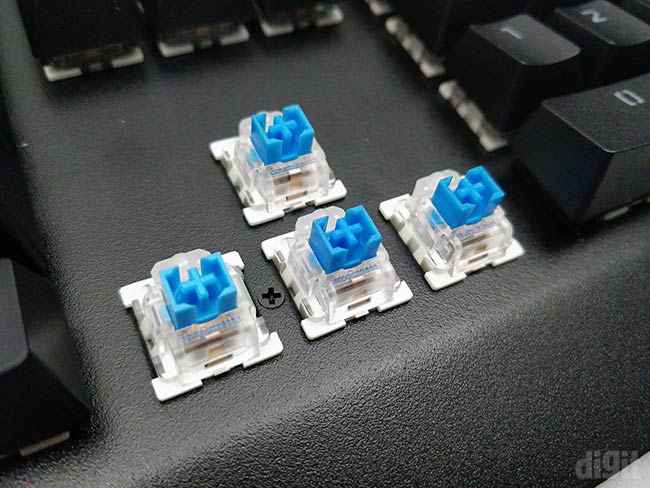 Although our review unit didn't display any faulty hardware or defect, it's always best to thoroughly inspect your new keyboard after opening the package. As already mentioned that quality control is slightly poor in the budget segment or low-cost keyboards, it's best to individually check whether all the keys (and LEDs) are functional. Hence, it's a good practice to buy such products from official channels that provide warranty in case of hardware failure.
Updated: Support and creation of custom backlit profile.