Transcend PF810 Digital Photo Frame detailed review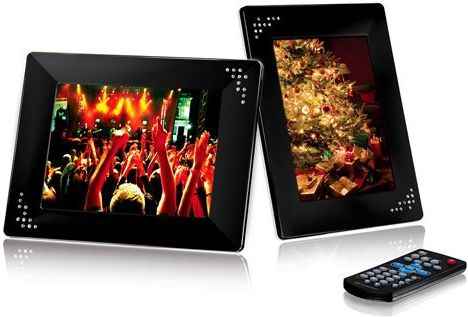 As more people begin using digital cameras there is a growing need for a way to showcase these without the messy business of taking out prints. Digital photo frames cater to this need.

The Transcend PF810 Digital photo frame is one of their largest digital photo frames with an 8-inch screen, however with a rather medioce resolution of 800x600. It offers an internal storage capacity of 2GB, which is plenty for images, and supports a number of storage expansion via SD / SDHC / MMC / MS / CF cards. It can even read images from a pen drive.

The Transcend PF810 Digital Photo Frame has quite a few high end features which add to its price but not as much to the value. For instance, the PF810 features an orientation sensor which will automatically displays the images in their correct orientation based on how the device itself is oriented. While this feature is certainly welcome, it is of doubtful utility in a device which is expected to be kept at a single place for extended periods of time. A manual control for the same might have sufficed for those who do change the orientation only once in a while.
Some useful features which do add to value are its support for music, videos and an inbuilt FM radio. This stands to be of great utility to people who would like to keep the device on their desk and would like a little more out of it than just a picture which changes every couple of minutes.
The Transcend PF810 Digital Photo Frame has inbuilt stereo speakers, and allows one to set it to play music while it is displaying images. The music player can play MP3, WAV, and unprotected WMA files, however leaves out AAC/MP4 format support. Using a supplied antenna, the device can also act as an FM radio, and sports an easy to use interface for configuring FM channels. It can also scan for and automatically configure channels. Another small point which increases its suitability as a desktop device is the presence of a calender which allows one to set alarms; and although it does not perform extraordinarily as an alarm clock or a media payer, it does each job sufficiently well.
The Transcend PF810 Digital Photo Frame quite easily connects to a computer for transferring images and videos. It shows up much like any other storage device such as a pendrive, and as such you can copy anything onto it besides image and videos. Any inserted cards will also appear on your computer, allowing you to manage all storage volumes on the photo frame together. However the copying speed isn't impressive, and despite being a USB2 device it only manages to give USB1 speeds. The device also seems to take quite long which enumerating folders containing images, videos and music, which is something it does every time you need to browse any of them.
The Transcend PF810 Digital Photo Frame features touch-sensitive controls right below the screen, which are usually not visible but light up when used. The controls are perhaps a bit too sensitive and give no tactile feedback. However, the control buttons are used consistently, and after a brief introduction, the device's controls are quite intuitive to use.
If you don't fancy using the controls on the device all the time, it also features a remote control, which is much simpler to use, and provides many more features -- besides the obvious advantage of allowing you to use the device from far. Since you can imagine keeping a photo frame in a more visually accessible but less physically accessible location a remote can come in quite handy.
In terms of configurations, the menu system of device seems a bit dated but works well. The Transcend PF810 Digital Photo Frame can be easily configured for the slideshow timing, transitions and effects. The display setting for brightness, contrast etc., are also available, and allow you to set the frame to display images the way you see them best.
Unfortunately like many other digital photo frames, the Transcend PF810 Digital Photo Frame runs entirely from a constant power supply. It has no internal battery and as such it cannot be used or run even for a shot while without a supply. As you can imagine, this is sure to create some restriction on its placement possibilities, and adds yet another clumsy mess of wires to the mix.

For any device which is centered around displaying images it is important that it be able to display anything you can throw at it, yet the Transcend PF810 Digital Photo Frame comes only with support for BMP and JPEG images, supporting a maximum resolution of 8000x8000 for JPEGs and BMP images up to the native resolution (800x600). While there are quite a few image formats out there, and it is impossible to have compatibility with all of them, at least support for PNG, which is a better loss-less format than BMP should have been present.
The screen is obviously a major part of the device, and considering how the device is to be used, one of the most important requirements is that the screen supports a wide viewing angle with as little distortion as possible. Here the Transcend PF810 Digital Photo Frame performs quite well and the display only begins showing a significant amount of distortion when viewed from impossible angles. However the screen of the device does offer poor contrast.
The device supports upgrading its firmware, and in fact one of the first things that was done before the device was tested, was a firmware upgrade to the latest version. The procedure for the same is simple. While this in itself might not seem like a significant feature, it does mean that any bugs in the device can possibly be resolved, as long as they are in the software.
Since a Digital Photo Frame is essentially just a photo frame which uses a digital display for displaying images than a printed piece of paper, perhaps the most important factor in choosing one is aesthetics. If you leave out the "digital" bit in a digital photo frame all you have is a photo frame, and since the photo will be of your providing, all you are finally paying for is a frame. So the frame itself is as important -- if not more -- as any other part. Although this judgement is highly subjective to ones tastes, we can tell you this much, the frame does look elegant with a glossy black finish and inset rhinestones, if you aren't overly discriminatory over these sorts of things.
The Transcend PF810 Digital Photo Frame certainly does not lack in features, and overall, it is good choice for those looking for more something more than just changing images. Most of the features such as the media and FM player, and its orientation sensor make it more suitable for use where it will be interacted with often, such as on your desk -- these features are useless if you keep it in a corner somewhere, just to be glanced at occasionally. For many people though, the extra features might not justify the high price of Rs. 9,500. If you are looking simply for a photo frame to display a slideshow of your photographs, and nothing more, this device might be an overkill.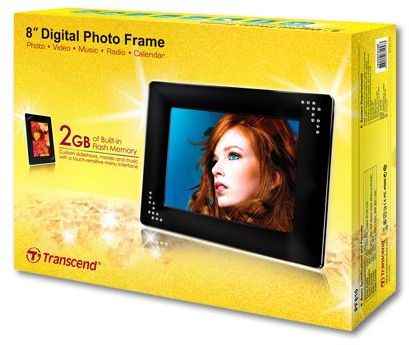 Pros of the Transcend PF810 Digital Photo Frame:
Large 8-inch screen
Plays videos, mp3s, and FM
Inbuilt calender and alarm feature
Upgradable firmware
Cons of the Transcend PF810 Digital Photo Frame:
High price
Very few image formats supported (JPEG and BMP)
Slow file transfer speed
No internal batteries for power
Specs of the Transcend PF810 Digital Photo Frame:
Screen Size: 8-inch screen
Screen Resolution: 800x600
Internal Storage: 2GB
Additional Storage: SD/SDHC/MMC/MS/CF/USB
Image Formats supported: JPEG, BMP
Audio support: MP3, WAV, non-DRM WMA
Video support: MPEG1/4 (SP/ASP), Motion JPEG, AVI, MOV, MPG, MP4, 3GP; Up to 720x576 @ 30FPS
Remote: Yes
Internal battery: No