Sandy Bridge Processors benchmarked detailed review
The most awaited processor line-up of this year is finally out.
Last time we saw so much hype around an Intel processor was when the six-core performance powerhouse Gulftown- Intel Core i7-980X was launched. Gulftown is still the fastest desktop processor on the planet, despite AMD coming out with its Thuban series of hex-core processors.
Sandy Bridge was announced in September 2010 at Intel Developer Forum in San Francisco and managed to vow most of us with its plethora of features including a graphics processor on the same die as the cores. Sandy Bridge being a new microarchitecture follows the 'tock' in Intel's 'tick-tock' cycle of shrinking process and new microarchitechture model.

Sandy Bridge is based on Intel's high speed 32-nm fabrication process and is the second generation of the Core i3/i5/i7 processors. Naming convention will be similar to the Core i3/i5/i7 series processors except that for Sandy Bridge based processors, the prefix 2 (indicating second generation) will be followed by the SKU. For instance, the two processors that we will see in the following pages are Intel Core i7-2600K and Intel Core i5-2500K. Suffixes like K, S, T and M will be seen in some processor based on their purpose. For instance K indicates processor with unlocked cores, M indicates mobile processors for notebooks and so on.
This line of processors will need a completely new socket – LGA 1155. These processors are not backward compatible on the earlier LGA 1156 sockets even though the size of the socket is the same. However, you can still use the cooler on your LGA 1156 socket on the new motherboards. At present, there are two chipsets namely Intel P67 and Intel H67 on which majority of the motherboards are based. Let's have a look at the processors on offer. We will only be looking at desktop processors for now and talking about Core i7-2600K and Core i5-2500K processors in the test.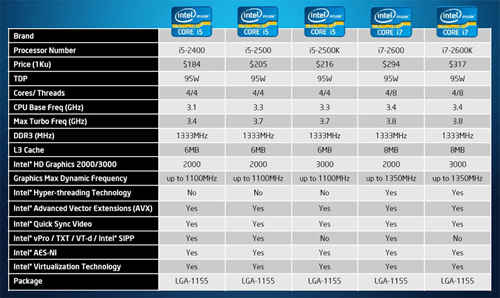 This line up contains processors meant for the enthusiasts, with the i7-2600K and i5-2500K coming with unlocked multipliers.