Samsung 860 Evo 250GB detailed review
Samsung has been enjoying the limelight in the SSD space thanks to their Evo and Pro series which have been leading the SSD performance race for more than two years now. Ever since OCZ went bankrupt and the R4 saw no viable successors, the consumer ecosystem opened up for the likes of high-performance drives from Intel and Samsung to take up the space. Intel was known for building reliable drives while Samsung focused more on the performance aspect except when the 840 Evo glitch caused performance to drop over time. The 860 Evo uses Samsung's fourth generation technologies including the 3D-NAND and the MJX SATA Controller. Thankfully, we haven't seen any reports of the slowdown glitch affecting the 860 Evo nor have we seen it in the sample drive Samsung sent us. This being the 250 GB drive, we're bound to see slightly reduced performance owing to fewer NAND chips that can be accessed in parallel. Let's see how the numbers match up to some of its competitors launched this year.
Samsung 860 EVO 250 GB SSD
Samsung didn't share any information regarding the new controller with us, nor is there any datasheet on Samsung's website for the same. So there isn't much to say about it except from what we can infer from the specifications. For starters, we see that the 860 Evo is now using LPDDR4 which is more power efficient compared to the older LPDDR3 that's used on most of the older SSDs in the market. Also, this is the 2.5-inch SKU, so expect slightly lower performance numbers compared to the larger capacity SKUs in the range. We're comparing the Samsung 860 Evo with another SSD that was launched this year and that too is of lower capacity, making this an apples to apples comparison in terms of capacity. The underlying technology, on the other hand, is vastly different.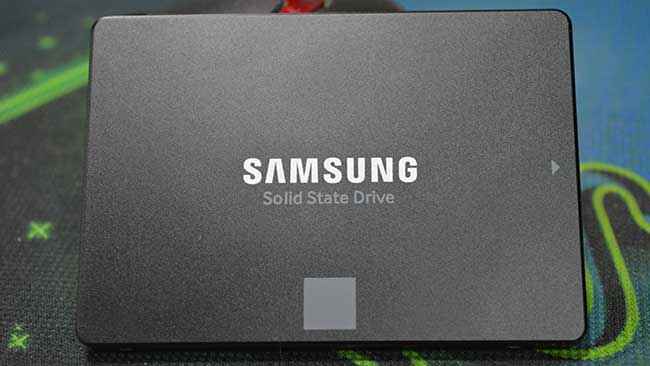 We're trying to source the M.2 variant of the same SSD, once we do get that, we'll update the graphs and then you can see if there's any difference at all. With every new generation of controllers and memory medium, manufacturers are really narrowing the gap between file characteristics as experienced on the M.2 PCIe and 2.5-inch interfaces. Unfortunately, because of the limitations of SATA, brands can only do so much.
Samsung 860 Evo

Capacity

250 GB

500 GB

1 TB

2 TB

4 TB

Controller

Samsung MJX

NAND Memory

Samsung V-NAND 3-bit MLC

DRAM Memory

512MB LPDDR4

512MB LPDDR4

1GB LPDDR4

2GB LPDDR4

4GB LPDDR4

Form-factor

2.5-inch

Seq Read

550 MB/s

Seq Write

520 MB/s

4K Random Read QD1

10,000 IOPS

4K Random Write QD1

42,000 IOPS

4K Random Read QD32

98,000 IOPS

4K Random Write QD32

90,000 IOPS

Idle Power

50 mW

Active Power

2.2 W

2.5 W

3 W

3 W

3 W

Sleep

2 mW

2 mW

2.6 mW

5 mW

8 mW

MTBF

1.5 million hours

TBW

150 TB

300 TB

600 TB

1200 TB

2400 TB

Warranty

5 Years
As expected, the inclusion of LPDDR4 has reduced the power consumption during active and idle states to much lower levels. It'll be interesting to see if these numbers stay that way during sustained write cycles.
Performance
Since the Samsung 860 Evo is still using TLC NAND, it does suffer from the typical characteristics of the older technology. We see that both of Intel 3D Xpoint devices seem to offer better sustained and bursty performance. This particular test is using low queue depth to see how the drive would react in day-today applications that show sudden transfers of short durations. Something a lot of applications tend to do when launched for the first time. The 860 Evo manages to score about 35 MB/s with bursty data and about 74 MB/s on sustained reads using 4K 1QD.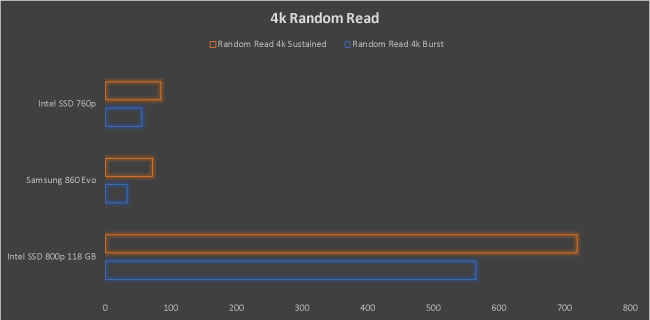 With random writes using the same file size and queue depth, we see that the Samsung 860 Evo offers better performance than the 760p with sustained data but still suffers when you consider bursty data.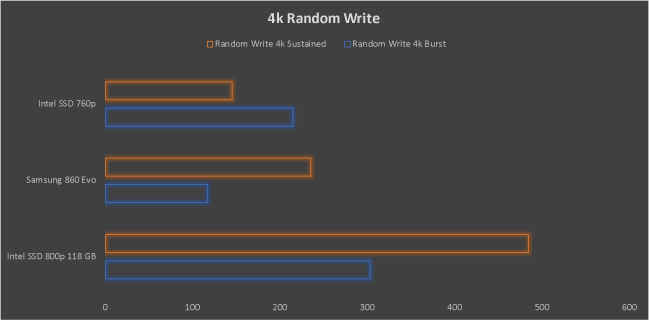 To get a better idea as to how the drive will perform when you're moving large files in and out, we have the 128k sequential tests and they generally cap out the read and write speeds of SSDs. The Samsung 860 Evo ends up offer 390 MB/s with bursty data and about 500 MB/s with sustained workloads.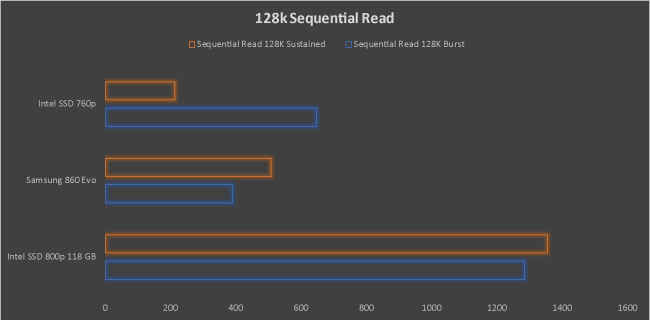 With the 128k workload set to write, we see the Samsung Evo turn the tide on the 760p with regards to sustained and bursty workload. Finally, the improved 3D V-NAND stack from Samsung can stand up to the newer 3D Xpoint.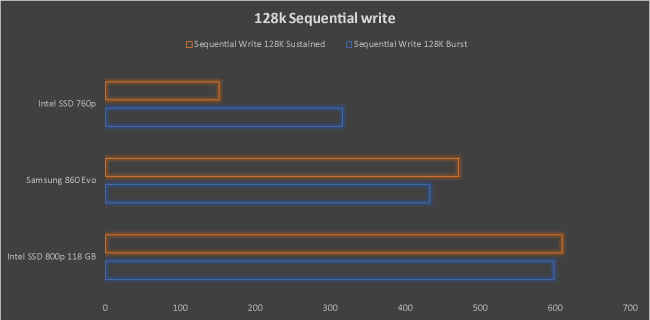 Lastly, we have the mixed workload benchmark which is more indicative of your average day to day usage where reads and writes are interspersed. It appears that the Samsung 860 Evo is definitely better than the Intel 760p, however, the newer 800p still leads the race.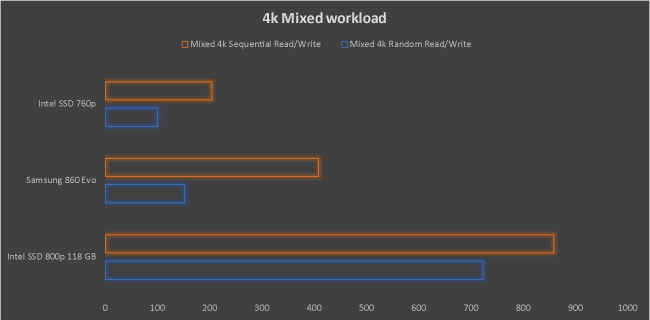 Samsung's new 860 Evo is certainly a viable contender among the SSDs launched this year. The Evo series have always been favoured by consumers who want a speed and capacity without breaking the bank. If pure speed is something that you aim for, then the Pro series is what you should be looking at.
Pricing
The Samsung 860 Evo retails at Rs.8,750 though you can find it for about Rs.6,000 on most PC component websites. At Rs. 35/GB, the Samsung 860 Evo isn't exactly the most economical option as Kingston, SanDisk and Crucial offer similar capacities for Rs.2,000 lesser, that's a 25% difference in the budget segment. Performance wise, the Samsung 860 Evo is better than those drives, however, when you are competing in the budget segment you need to compete on the basis of price. That's where the 860 Evo loses out.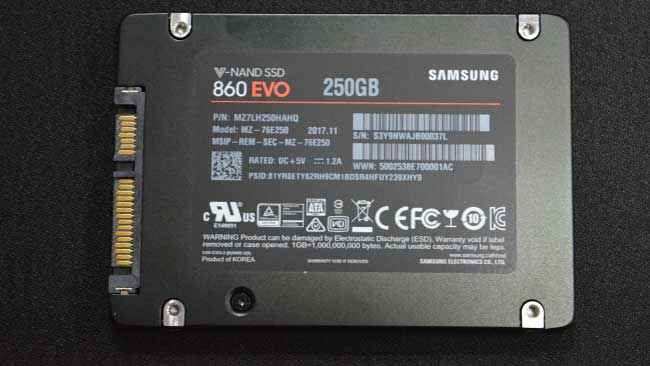 The Kingston UV400 is actually more expensive than the 860 Evo in American and European markets at $82 while the 860 Evo costs $79. In India, we see the tables turned. Those who want slightly better performance can always opt for the 970 Evo which include their latest 3D VNAND memory.
Verdict
The Samsung 860 Evo is no doubt a good SSD to go for. You get good performance and a 5-year warranty period. Moreover, the improved MJX controller and the use of LPDDR4 ensures that your power consumption values are much lower. So you can always use the 860 Evo in a laptop and gain slightly better battery life compared to the other SSD options. We're looking at an improvement that would range about 15-20 minutes but that's still a noteworthy gain. In order to compete in the budget segment, Samsung needs to drop the prices and match international pricing.
Samsung 860 Evo 250GB Key Specs, Price and Launch Date
| | |
| --- | --- |
| Price: | ₹8750 |
| Release Date: | 30 May 2018 |
| Variant: | 256GB |
| Market Status: | Launched |