Panache Air PC detailed review
The Air PC, an Intel Compute Stick inspired thumb PC from Panache, is the newest entry to the growing trend of miniature computers. Although, the Air PC runs on a full-blown quad-core Intel Processor, similar to what we saw on the Compute Stick, its performance is unexpectedly better – albeit slightly – when compared to the Intel Compute Stick we reviewed in the month of August.
It has 2GB of RAM, which isn't great for multitasking with multiple browser windows, streaming videos and local video playback simultaneously. But it is adequate for most tasks like document editing, web browsing, spreadsheet and video streaming individually. And frankly what else do you expect from a PC that's as small and pocketable as your USB pen drive?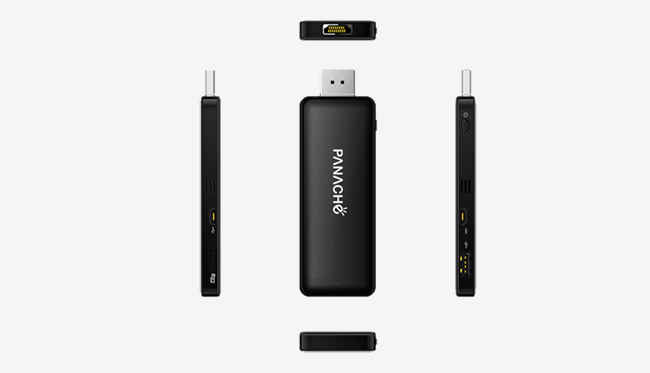 The microUSB slot on the Panache Air PC supports OTG which is also included in the packaging, along with an HDMI extender. The local video playback on the Air PC was quite seamless, although it did stutter a little in online video playback. The design is pretty slick, but the surface attracts fingerprints. The best part about the Air PC is it runs on a full licensed version of Windows 10.
Our verdict is for a price of Rs.8,981 the Panache Air PC may not be such a strong contender to the existing devices in the form factor, but it can still woo users owing to its licensed Windows 10 and the extra USB support via the OTG. The other alternatives to try out are the Intel Compute Stick and iBall Splendo which are priced around the same range.
Specifications
Processor: Intel Z3735F (Quad-Core Processor, 1.33GHz)
RAM: 2 GB DDR3
Connectivity: Wi-Fi 802.11 b/g/n, Bluetooth 4.0,
Ports: USB 2.0, Micro USB, HDMI, Micro SD
Storage: Internal 32 GB, Expandable 128GB
OS: Windows 10
Contact
Vardhaman Technology Pvt. Ltd.
Phone: 022-25007002
Email: support@vardhamantechnology.com
Website: http://www.thinkpanache.com