MSI Z170A Gaming M7 detailed review
Intel's Skylake platform has finally brought DDR4 support to the mainstream segment and the Z170 chipset is the very best that the platform has to offer. Processor overclocking, three independent display pipes and Rapid Storage Technology(SATA+PCIe) are some of the key differences that set the Z170 chipset apart from other 100 Series chips like the H110 and the H170. All these motherboards come with the new LGA 1151 socket rendering them incompatible with all older processors. MSI has plenty of Z170A motherboards and the MSI Z170A Gaming M7 is one of the best that they have to offer. As the name might have given it away, this board is part of their Enthusiast Gaming lineup incorporating quite a few features that aim at giving gamers the competitive edge that they need. Let's take a look at the board.
Packaging
MSI has decided to stick with the same old red and black colour combination for their Gaming series but the box looks pretty premium from the outside. The front side is has a very clean look with not many logo emblazoned across the face. On the rear you can see the highlights of this board. We must say that this layout seems a lot more organised and helpful rather than being a repetition of everything that's placed on all other faces of the packaging.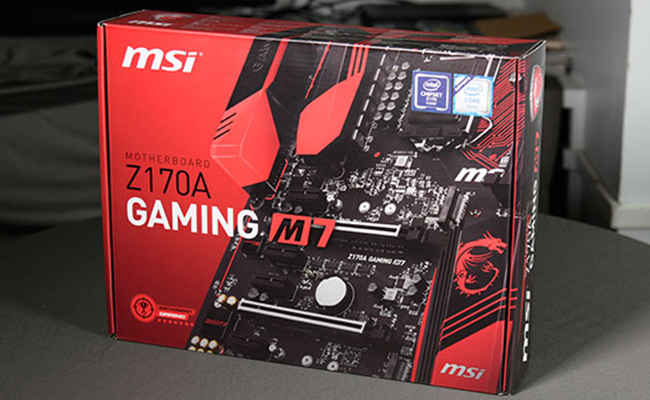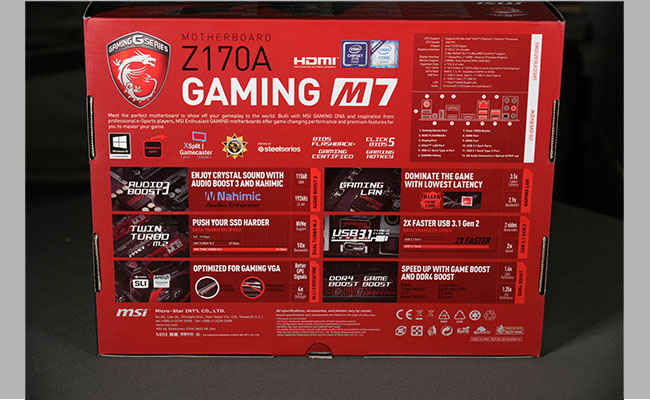 Straight off the bat, we see that this board comes with Nahimic's audio suite, Killer E2400 Lan, multiple M.2 slots, USB 3.1 and improved PCIe slots. We'll be looking at these in greater detail later on.
Specifications
To view the detailed specification list for different versions of the motherboard, please refer to MSI's official website.
CPUs Supported

6th Gen Intel Core i3/i5/i7 and Pentium/Celeron Processors

Socket

LGA 1151

Memory Supported

4 x DIMM, Max. 64 GB, up to DDR4-3600+(OC)

Chipset

Intel Z170 Chipset (Skylake)

VRM Design

CPU Power: 14 Phase

Memory Power: 2 Phase

BIOS

AMI UEFI BIOS with 64 Mb Flash ROM

Expansion

3 x PCIe 3.0 x16 slots (x16, x8/x8, x8/x8/x4 or x8/x8/x2)

4 x PCIe 3.0 x1 slots

Storage

6 x SATA 6.0 Gb/s (supports RAID 0/1/5/10)

2 x SATAe ports (PCIe 3.0 x2)

2 x M.2 slots (PCIe 3.0 x4 and SATA 6 Gb/s)

Networking

1 x Killer E2400 Gigabit LAN

I/O

6 x USB 3.0 ports

7 x USB 2.0 ports

2 x USB 3.1 ports (1x Type-A, 1x Type-C)

1 x PS/2 Mouse/Keyboard Port

5 x Audio jacks

1 x DisplayPort

2 x HDMI port

1 x Optical S/PDIF OUT Port

1 x Clear CMOS Switch

Audio

Realtek ALC1150 7.1 Channel High Definition Audio CODEC

Fan headers

5 x 4-pin PWM

Form Factor

ATX Form Factor (305 mm x 244 mm)

Miscellaneous Features

DDR4 Boost

XMP LED

Audio Boost 3

Nahimic

MSI GAMING LAN w/ LAN Protect

Gaming Hotkey

Game Boost

Impregnable Steel Armor

USB 3.1 Gen2 Type-C & Type-A

Turbo M.2

OC Engine 2

BIOS Flashback+

Mouse Master

XSplit Gamecaster V2

Click BIOS 5

Hardware Monitor 2

MSI Command Center,

MSI RAMdisk

MSI Gaming APP w/ FPS Counter

MSI Live Update 6

MSI ECO Center
Contents
The motherboard is accompanied by a handy set of accessories which is more than sufficient. The rear I/O panel sports the same look and feel as the rest of the motherboard with easy to read labelling. In the same price range, we've seen other boards offer slightly more with the rear I/O panel having LED illumination and some of the SATA cables covered in a plastic/nylon mesh. But then again, we're nitpicking here.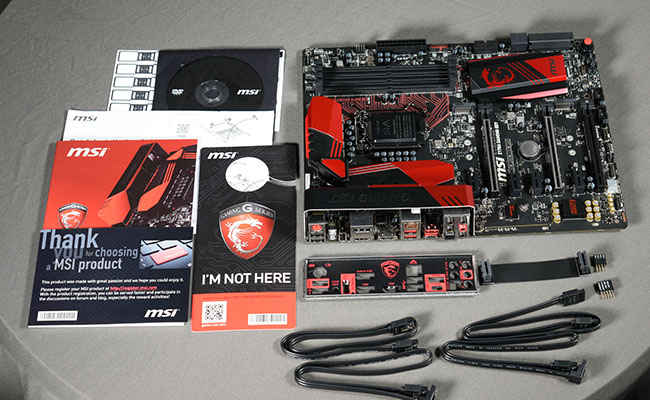 Here's the list of the entire contents of the box.
Motherboard
​User Manual
Rear I/O panel
Flexible SLI Connector
4 x SATA cables
2 x Easy header connectors
Driver disk
SATA cable labels
Door hanger
Quick start guide
Thank you card
Board Layout
There's barely any free space on the front or the rear of the motherboard and that's a good thing. The overall layout seems to be the what most ATX boards feature with nothing that could be described to be disruptive.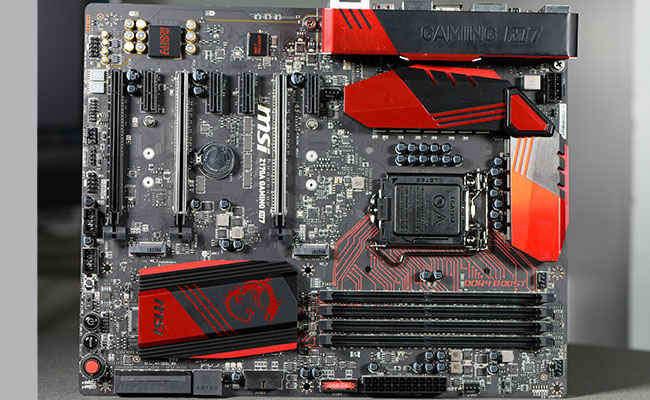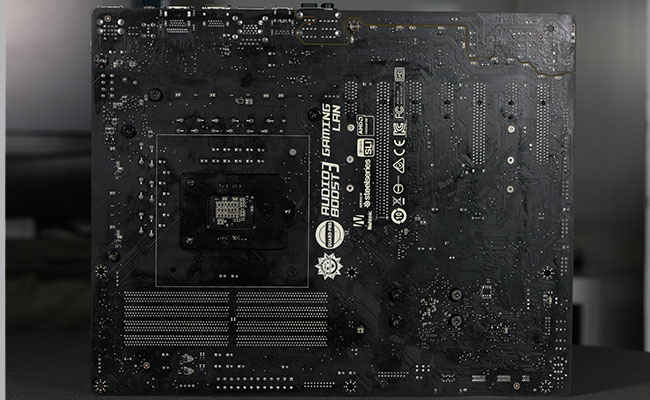 Now let's take a closer look at the motherboard.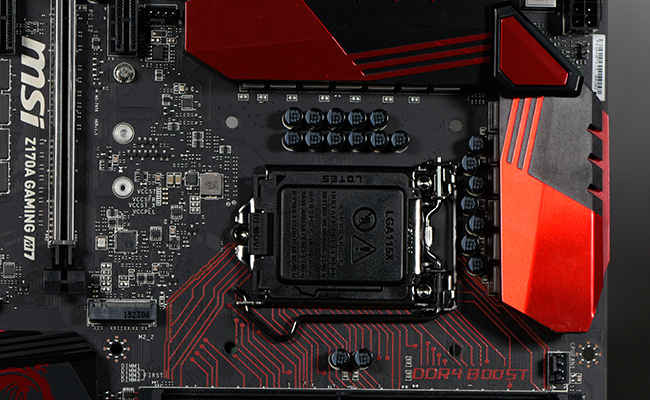 The MSI Z170A Gaming M7 features a 14-phase VRM circuitry for the CPU which is covered by quite a big heatsink. The M7 doesn't have any water-cooling pipes running through this heatsink unlike the Z170A Gaming M9 ACK. All components around the CPU aren't too tall, so as to impede the installation of high-end coolers. Moreover, there don't seem to be any traces running in close vicinity of the screw holes. Towards the bottom of the CPU socket, we see that they've placed one set of voltage-check pads for monitoring VCCST, VCCSFR, VCCPLL and VCCST_X. Lastly, there's a little bit of fancy artwork for their DDR4 Boost which will most probably end up not being visible once all the components are fitted onto the board.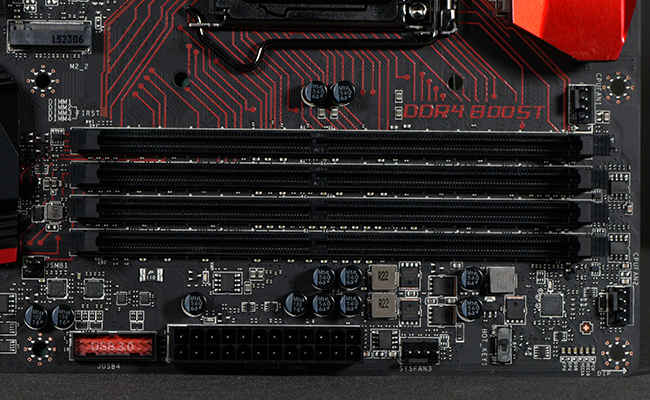 The four RAM sockets aren't spaced far apart and given the real estate around the area, it seems unlikely that further spacing could have been achieved easily. The slots have clips on both ends which isn't something we're fond of, we prefer the clips to be on the bottom with the top being slide-ins. And in the top-right corner we have a set of voltage-check pads for those interested in pushing the limits with some extreme overclocking. DDR4 has finally arrived onto the mainstream segment with the Sunrise point chipset and the memory throughput performance is off the charts. Dual channel DDR4 kits clocked at 2133 MHz can achieve around 32,000 MB/s and overclocked DIMMs running at 3600 MHz – which is what this board is capable of – can result in speeds of 49,000-50,000 MB/s which is truly mind-boggling and frankly, unecessary for any gamer.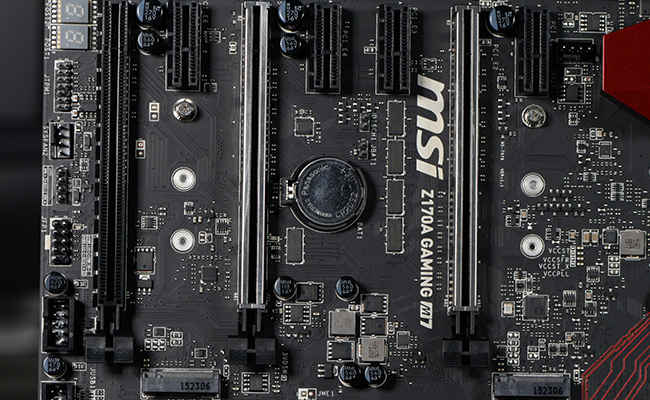 We've seen a few Z170 boards and most of the premium boards have a metal shield that reinforces the mechanical strength of the slots. Over the years, graphics cards have been growing in size and also have started to become a lot heavier, especially, higher end cards like the NVIDIA TITAN X and the AMD 295X2 weigh more than one kilogram. These shields not only help with preventing dust from clogging the pins but they're soldered at six to eight spots along the length of the PCIe slot which gives it the strength to handle more weight.
The other significant feature that most Z170 boards have are multiple M.2 ports. Data transfer speeds on SATA SSDs have been saturated for quite some time and we saw NVMe being added retroactively to the Z87 and the Z97 boards so it was only natural for the Z170 boards to push the limit further. With this in mind, the MSI Z170A Gaming M7 comes with two M.2 ports, both of which are hooked up to x4 PCIe lanes but only one supports NVMe. These ports also support RAID 0 and RAID 1 which with two high-end SSDs like the Samsung SM951 can achieve speeds of around 3 GB/s or more. Both ports support 2242, 2260 and 2280 form factor M.2 SSDs so you aren't losing out on compatibility though the last 1x_PCIe port could have been taken out in favour of adding support for a 22110 form factor. After all, that port would most likely be rendered useless once a GPU is inserted in SLI/CrossFireX configuration.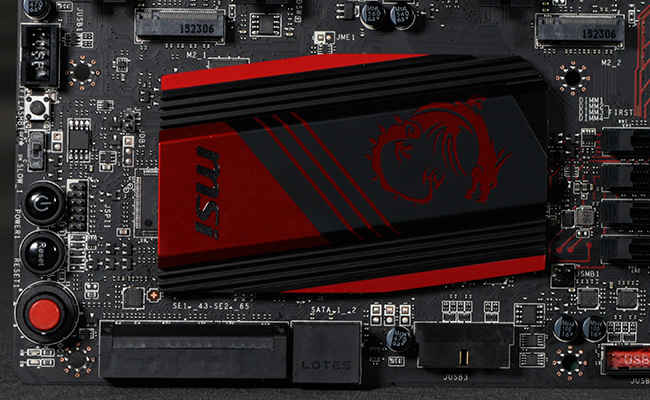 The PCH heatsink seems to be growing in size with each new platform that Intel releases. Even on this board, you can see that it occupies a sizeable area. Most of the buttons have been relegated to this part of the motherboard which makes it easy for those who prefer a more barebones configuration. It would have been better if the POST LEDs had been placed here as well rather than where it currently resides on this board.
The big red object in the bottom-left corner is MSI's GAME BOOST dial and it comes with a small button on top that switches control between the dial and the BIOS for overclocking. There are LED indicators right beside this dial to indicate which mode it's currently set to. The dial has marking along the edge that read 1, 2, 4, 6, 8, 10 and 11. These are different overclocking presets with 11 being the maximum which jacks your CPU all the way up to 5 GHz.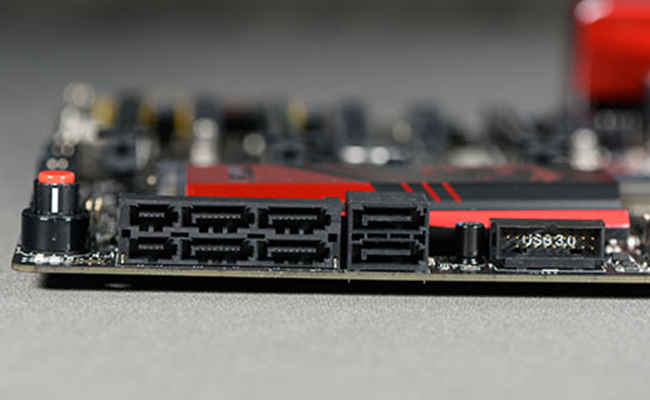 The SATA ports are all front-facing including one USB 3.0 header and this is a nice thing given that these ports would have been inaccessible with GPUs installed had they been top-facing. Four of these SATA ports support two SATA Express slots.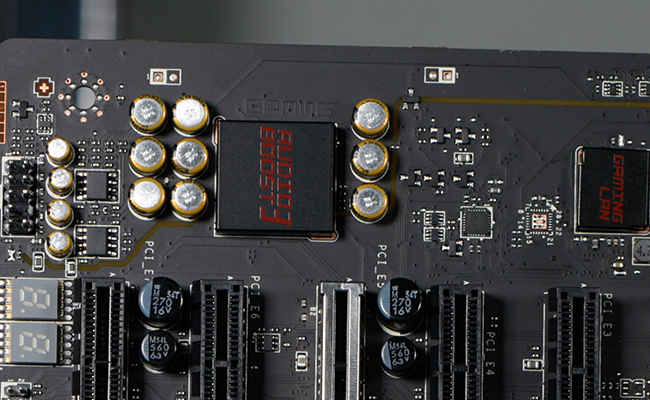 While other manufacturers tend to opt for more premium audio CODEC chips, MSI has stuck with Realtek's ALC1150 which isn't a bad audio solution but it does feel out of place on the board. However, the audio circuitry is isolated from the rest of the motherboard and the chip itself has EMI shielding and better capacitors(Nippon Chemi-Con). Even the Killer E2400 chip shares this side of the board but isn't sharing the isolated power circuitry that the audio chip is privy to. The ALC1150 is given a good boost thanks to two OPA1652 OP-AMPs that can help drive headphones with really high impedance (up to 600 ohms) but it would have been better had MSI given some level of hardware customisation with the audio circuit i.e. swappable OP-AMPs. To finish it all up, MSI has included Nahimic Audio Enhancer software suite which has been featured on their GT series laptops for quite some time. Overall, the entire setup isn't too much or too little and those who're really adamant about high quality sound would rather invest in a PCIe sound card and end the debate.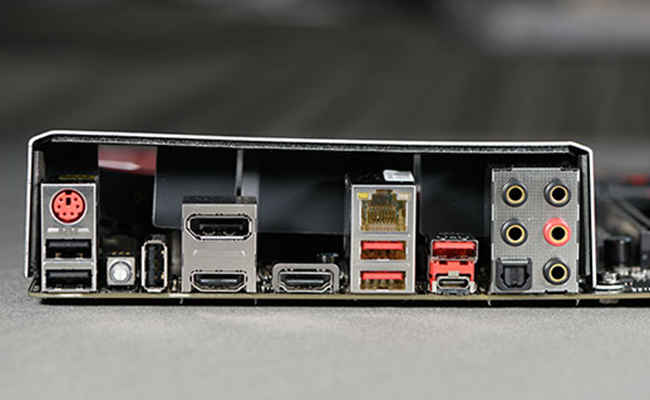 The rear I/O has all the connectivity options that you'd generally need, there are 2x USB 2.0 ports for your keyboard/mouse and even a PS/2 port for those who prefer to utilise n-key rollover that certain gaming keyboards tend to come with. Since the Z170 chipset supports three individual display pipes you can drive three monitors without having to worry about synchronised clocks. The 'clear CMOS' button is nicely recessed and the USB port right next to it is what you'd use to flash the BIOS in case of a failure. You don't need to have a CPU or a graphics card plugged in to use this feature. Then there are 2x USB 3.0 ports (red accents) and 2x USB 3.1 ports with one of them being Type-C. Lastly, the audio jacks are gold plated to prevent corrosion which is where it really counts. Most motherboards in this price segment sport dual Gigabit Ethernet ports with teaming but the MSI Z170A Gaming M7 only has one. GbE Teaming isn't a feature that's pertinent to gaming as such and the Killer E2400 does come with hardware level QoS settings that allow you to prioritise your gaming traffic over everything else so the lack of a second port isn't a disappointment.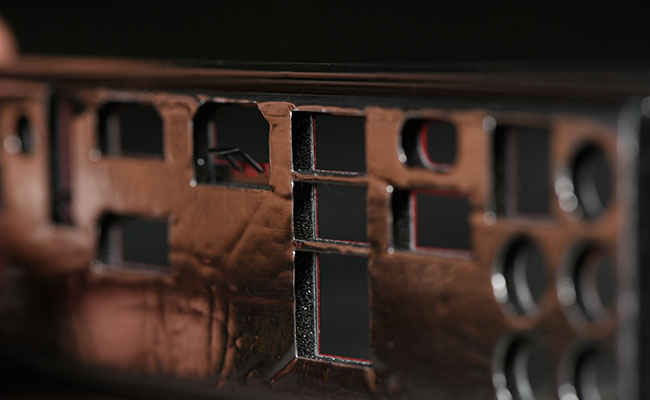 Did we mention the rear I/O panel has foam padding? Well it does and, we're nitpicking here, it wouldn't have hurt to add LED illumination here.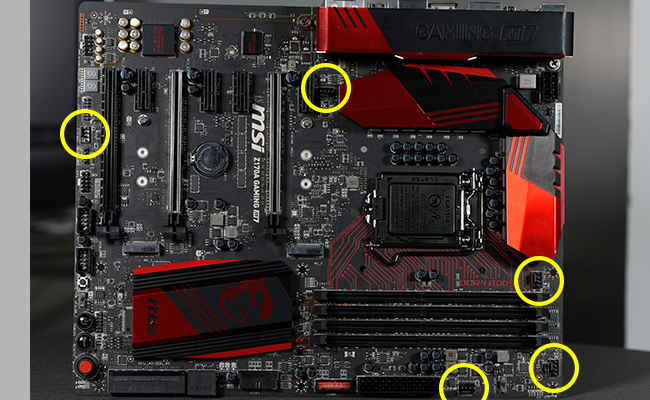 The MSI Z170A Gaming M7 has 5x 4-pin fan headers which are all placed along the periphery of the board with at least one header on each edge of the motherboard.
BIOS
MSI's new Click BIOS 5 does have a few marked differences compared to it's older iterations. The interface seems a lot cleaner and easier to navigate. In the EZMode, you get to see the current Game Boost profile at the very top which is followed by XMP, CPU stats, and a brief summary of the motherboard's state.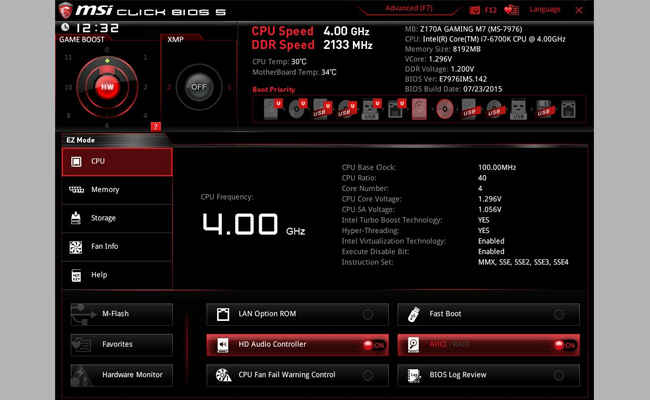 The advanced mode seems quite similar to the older version except for the Game Boost dial in the top which is an obvious addition given that the feature has only been introduced recently.
Conclusion
The Z170A Gaming M7 is one of the top Z170 motherboards that MSI has to offer with quite a few unique features of its own. The metal shields reinforcing the x16 PCIe slots, RAID on M.2 and the improved audio solution are some of the key features that make it a lot more appealing to the enthusiast user.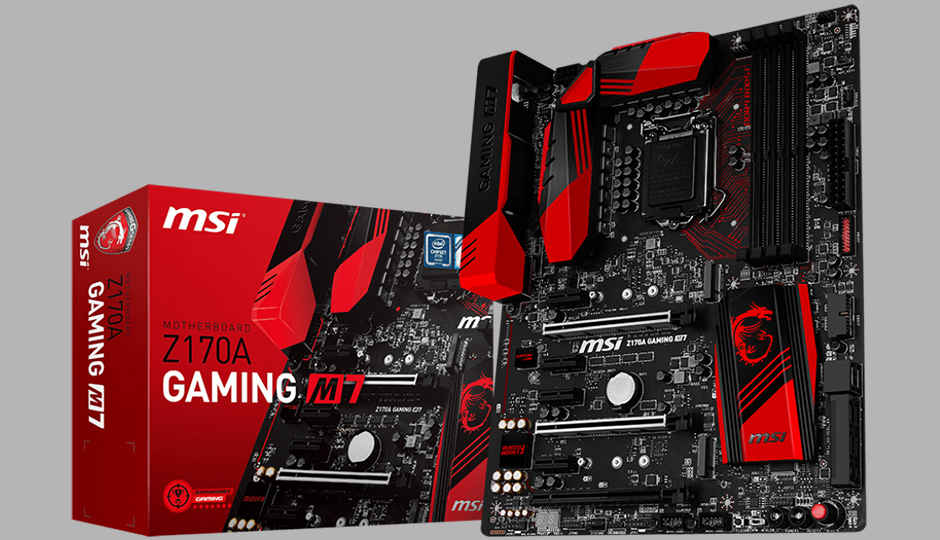 MSI has only one ethernet port on this high end board but it has opted for the Killer E2400 which comes with its own QoS presets. As for the improved audio, we see that MSI uses the Realtek's ALC1150 Codec coupled with dual op-amps which are further enhanced thanks to Nahimic's software suite. The two M.2 ports are both hooked up with x4 PCIe lanes and support RAID to give really high throughput. And if that wasn't enough then MSI includes a RAMDISK software to get exceptional speeds. Also, they've included a one year license for XSplit Gamecaster Premium which costs around $8.95/mo.
MSI has also paid attention to the board's overclocking capabilities by including features that other manufacturers generally segregate as separate sub-brands. Overclocking using keyboard shortcuts while running Windows and slow mode are two such features. The rear I/O panel has a Type C and Type A USB 3.1 port which is something we've noticed becoming common with Z170.
Overall, we'd say that you're getting a feature set that not only focuses on gaming but also overclocking making it a pretty good motherboard for the price.