Intel Core i7-8700K detailed review
Intel's Coffee Lake comes close on the heels of own Basin Falls platform. And it goes without saying that AMD's push for more cores in the CPU segment has led to one of the key changes that we see with the Intel Core i7 8700K – bye, bye incremental upgrades (at least we hope so). With Coffee Lake, Intel is bringing two additional cores across their CPU stack. This means you'll now get quad-core Intel Core i3 CPUs and hexa-core Intel Core i5 and Intel Core i7 processors. The ones we have today are the Intel Core i7 8700K and the Intel Core i5 8400. Since we've received the SKUs barely a day prior to the embargo, this review is being constantly updated as more benchmarks are completed. We have, of course, performed a few benchmarks across the board to test different aspects, so you can still gain insight into the performance of these new hexa-core CPUs from Intel.
Intel Core i7-8700K Specifications
Of the two SKUs that we have, the Intel Core i7 8700K is what most enthusiasts prefer as it is an unlocked SKU. The other SKU, i.e. the Intel Core i5 8400 is what most mainstream PC builds would prefer as it gives you six cores at an affordable price. We'd reported on the Coffee Lake spec leaks that came out last month, it seems that we won't be seeing the Core i3-8300 on launch. Aside from that and the TDP, most of the information obtained back them remains true. Let's take a look at the updated specs of the 8th Gen Intel Desktop CPUs that are being launched today.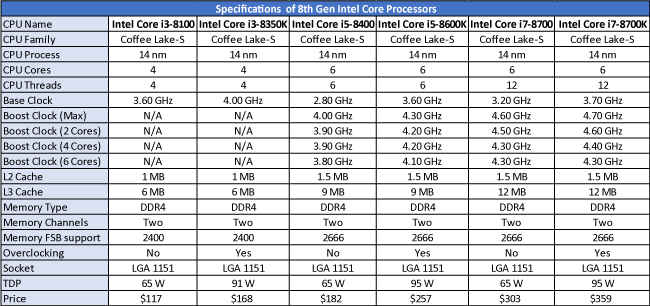 For the second time around, Intel is going to offer unlockable SKUs in all three segments with the Core i3-8350K, Core i5-8600K and the Core i7-8700K.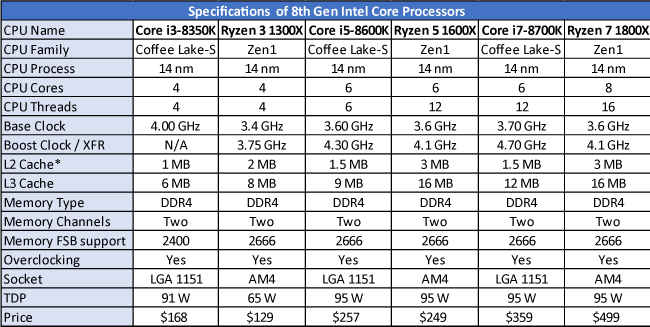 Compared to AMD's SKUs, we're still a bit behind when we look at the L3 cache and multithreading aspects. However, such a superficial observation rarely corroborates what we observe with benchmarks. Intel still has the lead when it comes to gaming and single-threaded performance, so you'll start seeing the full picture as we delve into the benchmarks. Intel CPUs also overclock better and the process is simpler in comparison to AMD CPUs as well. Before we get into the performance aspects, let's take a look at the new Coffee Lake platform.
Intel Coffee Lake Platform
The Coffee Lake platform is realised with Coffee Lake CPUs and Intel Z370 chipset based motherboards. Unlike all previous launches, Intel has reduced the number of chipset variants for Coffee Lake at launch. We'll only see Z370 based motherboards for now. So upgrading to Coffee Lake is going to be a more expensive affair at the moment since Z370 boards are generally the most expensive among the lot. However, board manufacturers know the same and they'll likely release Z370 based budget boards with a few features curtailed/scaled back to cut costs. Whoever makes the most well-rounded Z370 budget board in this period should ideally make the most sales till the other chipsets come in.
Speaking of the other chipsets, it seems that Intel is still working on these at the moment and they are slated for launch in Q1 2018 according to a leaked launch update document. The document seems fairly authentic but Intel can move things around anytime so these things can't be confirmed. According to the leak, the H370, H310 and B360 chipsets will launch in Q1 2018 and the more business-oriented Q370 and Q360 chipsets will launch in Q2 2018.
Intel will continue support for Optane Memory on the Series-300 chipsets with more SKUs set to be launched in 2018. For those in the dark, Intel Optane is a new memory technology that offers performance which is a hybrid between existing SSDs and RAM technologies. So you get RAM-like performance with the non-volatility of SSDs.
Compatibility between Coffee Lake and Intel 200-series chipsets
As news of the 300-series chipset started leaking out, it was assumed by many in the industry that this was a shady move by Intel to make more money via chipset sales. Moreover, during the embargoed briefing, we were provided with a not so convincing justification about the same. The justification provided was that Intel opted to increase power delivery for the extra 2 cores in the CPU by expanding the power I/O at the package level. This, in turn, led to more rage in the PC community.

However, Intel was not lying. CPUs do need more power as you increase the core count since each core requires a certain amount of current. And pushing more current through existing pins would simply lead to overheating at a much earlier stage. And this, in turn, has a cascading effect on the overall CPU as thermal throttling temp would be hit much earlier. Also, overclocking would be more difficult since the power pins could possibly burn out due to the excessive draw. Take a look at the Kabylake LGA1151 socket below. These were obtained from the Intel Datasheet for 7th Gen and 8th Gen.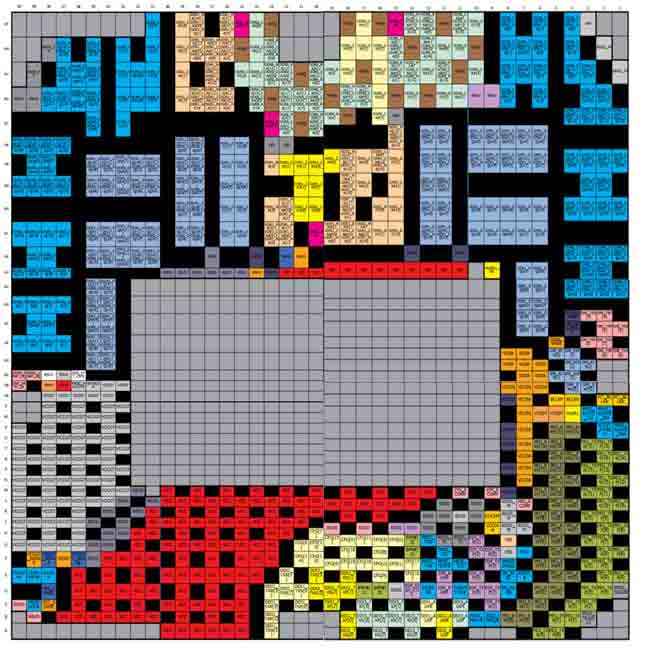 If the 200-series motherboards were designed to accommodate a greater number of VCC and VSS pins to support a 6-core or 8-core CPU, then it could have theoretically handled Coffee Lake easily. However, that's not the case. Adding 2 more cores to the Core i5 and Core i7 CPUs makes it imperative to make changes at the power I/O at the package level.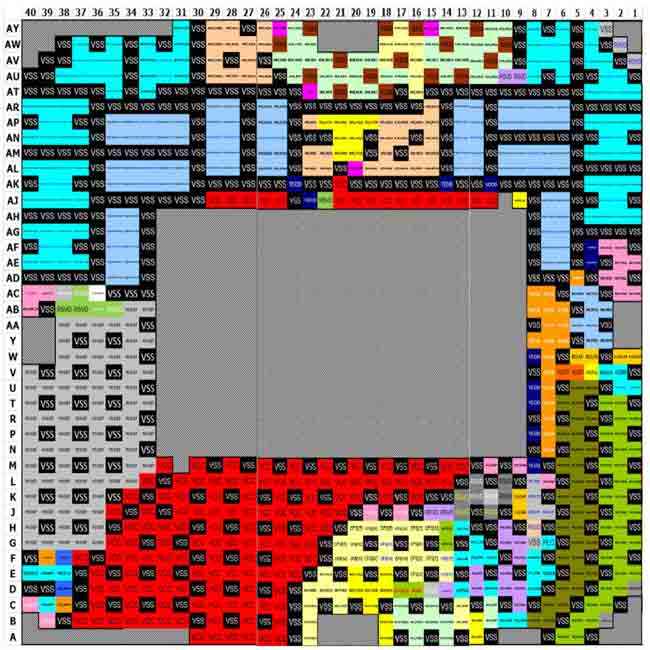 By observing the pin configuration of the Coffee Lake LGA1151 socket, we come to know that Intel has indeed added 18 more VCC and 14 more VSS pins as compared to the LGA1151 socket for Kaby Lake and Sky Lake systems. And this is the reason why you can't even have a 200-series motherboard with a Coffee Lake CPU.
Intel Core i7-8700K performance
We'll be comparing the Intel Core i7-8700K and Intel Core i5-8400 against the existing Intel Core i7-7700K, Core i9-7900X, Core i7-7740X, AMD Ryzen 7 1800X, 1700X, 1700 and Ryzen 5 1600X. Since our Test Rig has changed post Skylake, we can't use those scores at the moment but we'll get around to retesting those as well.
Intel Coffee Lake Test Rig
CPU: Intel Core i7-8700K & Intel Core i5-8400
Motherboard: GIGABYTE Z370 AORUS Gaming 7, ASUS ROG STRIX Z370-E GAMING
SSDs: Kingston HyperX Predator 480 GB / PNY CS1311b
HDD: Western Digital Red 3 TB
RAM: G.Skill Trident Z DDR4 3200 MHz clocked at 2667
Cooler: Noctua NH-U12S SE-AM4 / Noctua NH-D14 / Thermaltake Water 3.0
PSU: Corsair HX1050
OS: Microsoft Windows 10 (RS2)
Intel Core i7-8700K Cinebench R15 and R11.5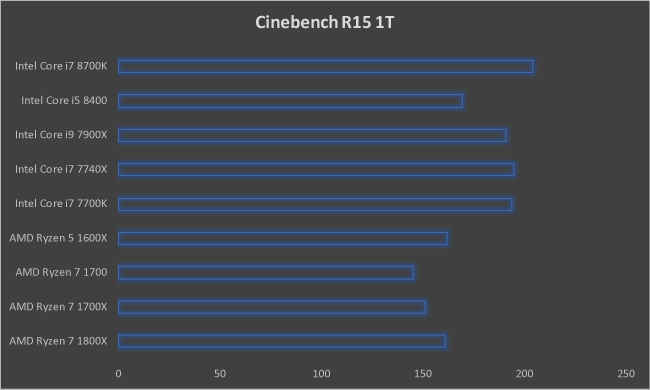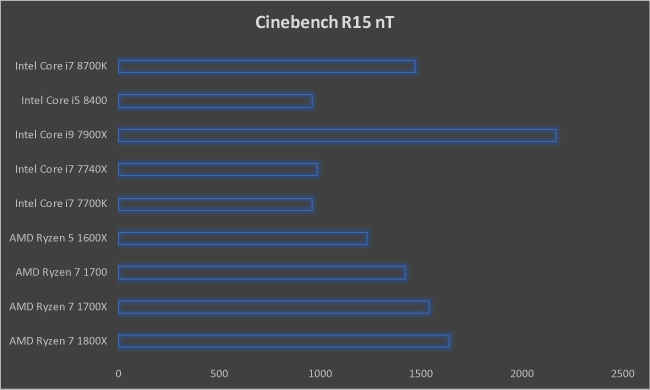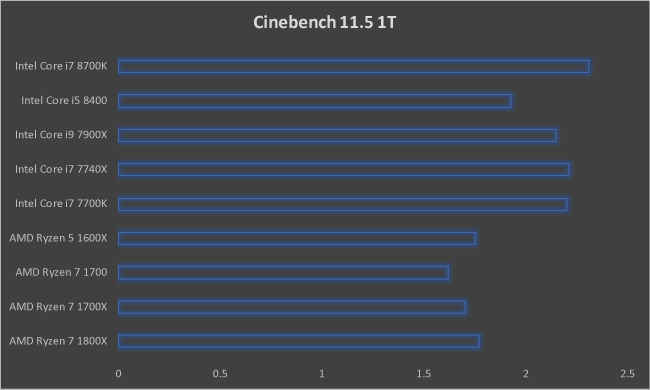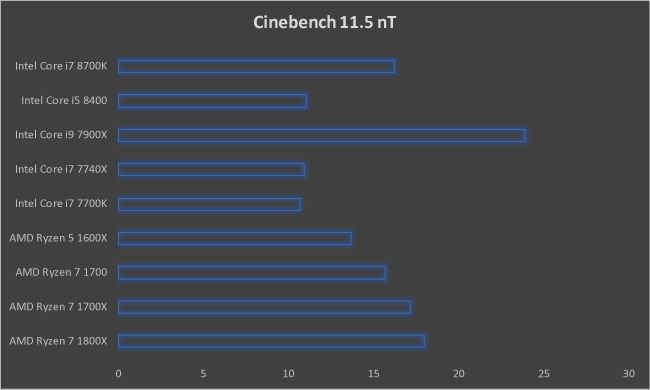 Intel Core i7-8700K 3D and Rendering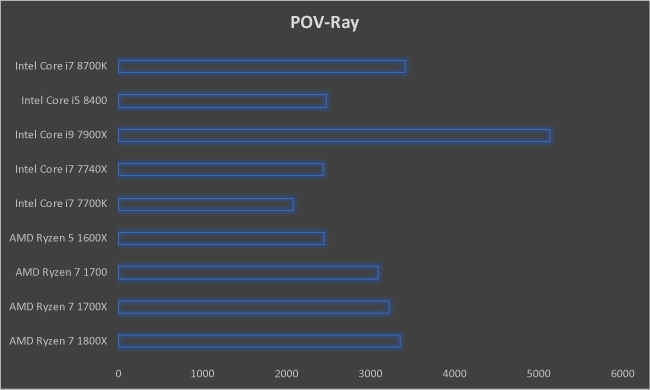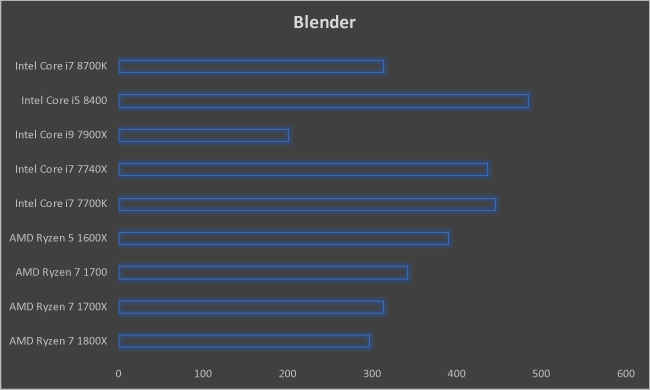 Intel Core i7-8700K Encryption & Decryption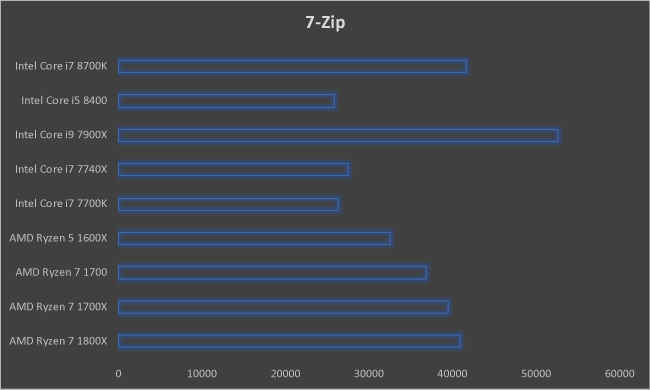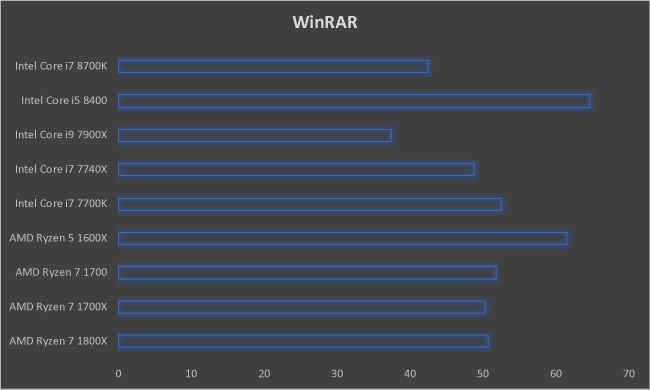 Intel Core i7-8700K Office Productivity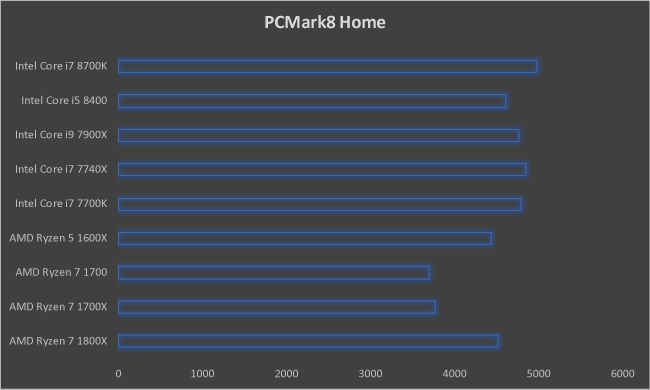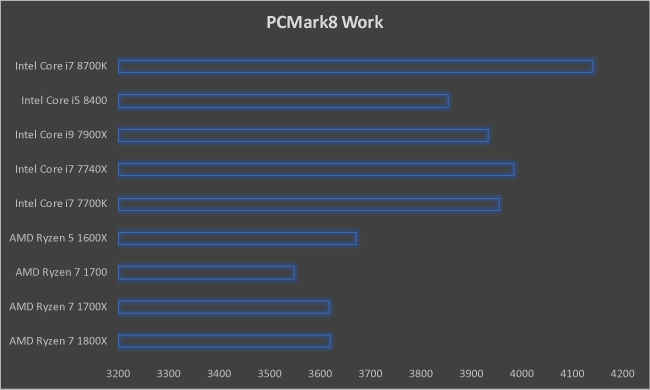 Intel Core i7 8700K Gaming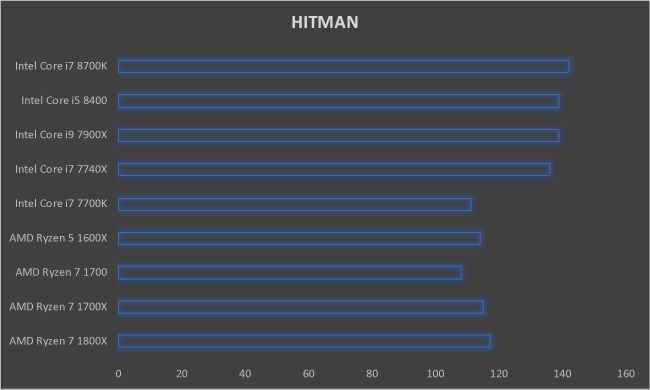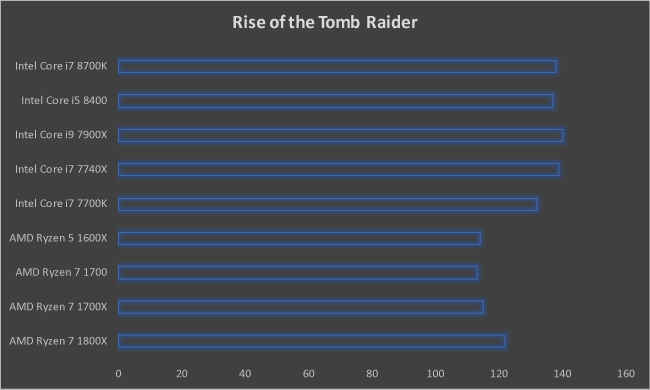 Overclocking the Intel Core i7-8700K
Since the Core i7-8700K is an unlocked SKU, we had to push it a little. We started off directly with the built-in profiles on the GIGABYTE Z370 AORUS Gaming 7 and the CPU easily scaled to 5.0 GHz. We choose to use air-cooling for the session. Nothing fancy, not even an AIO. The Noctua NH-D14 was more than sufficient for what we were doing. Getting the 8700K to 5.1 GHz needed a bit more Vcore. We found 1.41 to be sufficient for running the entire set of benchmarks at 5.1 GHz. However, 5.2 GHz wasn't that easy. Bumping the Vcore to 1.43 was more than enough to get the PC to boot. However, it didn't help with the benchmarks and we started seeing really high temps. Most often, we'd find the CPU throttling or the benchmark crashing. So that's where we decided to stop with the Intel Core i7-8700K till we get our hands on a better cooling solution.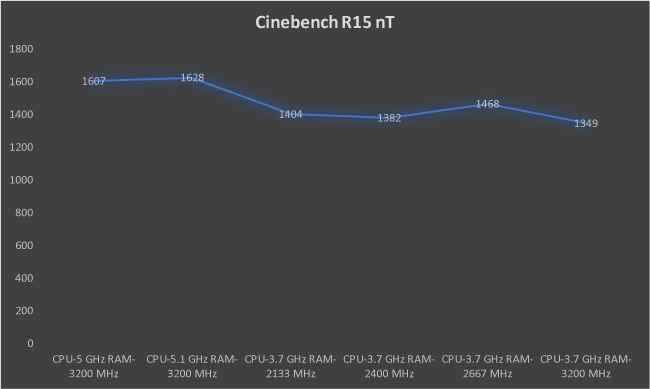 The key takeaway from this is that running mainstream CPUs at 5-5.1 GHz on air-cooling is easy. These tests were performed on an open bench with the ambient temperature being 24 degrees Celsius. The low point was obviously the CPU set to stock frequency but the RAM set to 2133 MHz which is lower than the default 2667 MHz.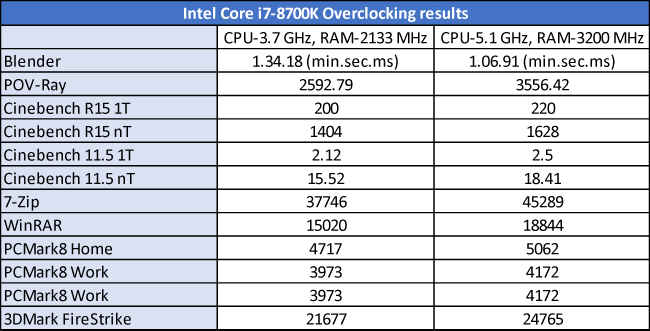 The percentile gain between the high-point and the low-point was 15.95% which is more than what you get between CPU generations. This was discerned from the multi-threaded runs on Cinebench R15. With single-threaded runs, the performance gain shrunk to 10% which is, again, a decent gain.
Memory Scaling anomaly
Another thing that we came across while scaling the RAM frequency was a dip in performance. We ran Cinebench with the RAM set at 2133 MHz, 2400 MHz, 2667 MHz and 3200 MHz. And then ran the test when we'd overclocked the CPU as well.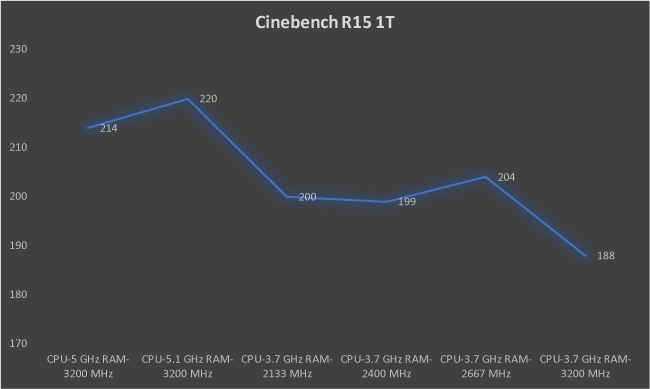 What we noticed was a degradation in performance. Between 2133 MHz and 2400 MHz, there was barely any difference. And upon increasing the FSB to 2667 MHz there was a pretty significant performance gain, however, when we pushed the FSB to 3200 MHz, the Cinebench score dropped. The overall drop was 6% which is quite weird. We'd run a similar test on the AMD Ryzen 7 1800X and the performance scaled along a positive gradient with an increase in RAM FSB as is the expected behaviour.
Verdict
Finally, we have a six-core Intel CPU in the mainstream segment. And the good thing about the Intel Core i7-8700K is that it's a 6-core processor that outdoes AMD's 8-core Ryzen 7 1800X in quite a few benchmarks. Given that its US pricing is lower than the 1800X's pricing, Intel has officially given rise to a better CPU. Intel's weakness was the lower core-count in the mainstream segment, which AMD clearly took advantage of. AMD's monumental IPC increment was still no match for Intel's capabilities. So despite the apparent lack of IPC improvement in Coffee Lake vs Kabylake, we still end up getting a better performance overall. There are rendering scenarios which are heavily multi-threaded where the Ryzen 7 1800X continues to shine but the gap has been reduced greatly. Gaming is an area where AMD still needs a lot of optimisation but Coffee Lake doesn't. We tried overclocking the CPU on the GIGABYTE Z370 AORUS Gaming 7 and managed to get it stable at 5.1 GHz on air-cooling. We even took it up to 5.2 GHz but not all benchmarks could run without crashes. All that remains is for the motherboard manufacturers to release a budget Z370 board and you have your next upgrade ready.