GALAX GTX 1070 EX OC detailed review
When we talk about providing the most value, we mean the GTX 1070 GPU. Whether GALAX's SKU stands up to the competition is something we'll find out as we go through the review. Like the ZOTAC card, even this one pretty much gives you your money's worth. So you'd be dying to know which card between the two should you be on the lookout for.
Packaging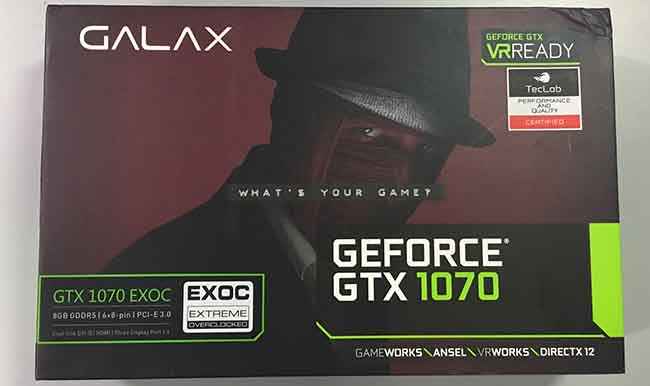 The packaging seems fairly simple and straightforward. Aside from the unavoidable NVIDIA branding across the front, the design is quite minimalistic. Towards the top-right we see a TechLab sticker which is GALAX's way of conveying that each graphics card is individually tested once it arrives in India. We haven't seen this particular sticker badge on any of the internationally sold SKUs so we believe this is an India-only arrangement. Either ways, it's good to know that a graphics card that costs upwards of Rs.40K is certified functional post shipment.
Again, the rear of the packaging is fairly simple as well. All features mentioned here are standard accompaniments for all GALAX graphics cards except for the tuning software which they refer to as - XTREME TUNER PLUS.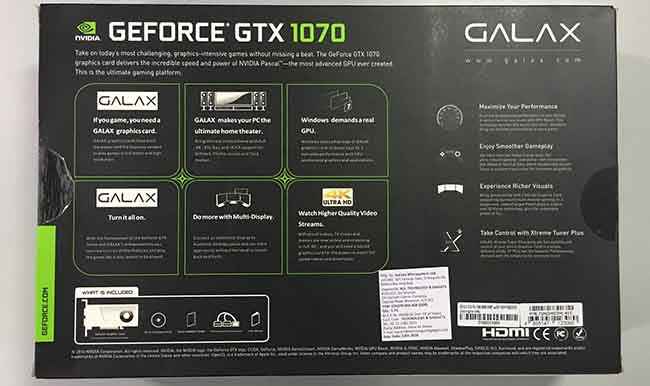 Inside the main packaging lies another box within which we spot the driver disc, user manual and the quick installation guide. Underneath which, we have a thin layer of foam and underneath that … the meat!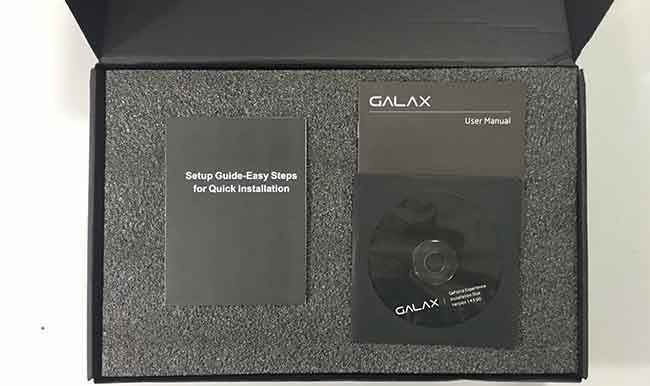 The GALAX GTX 1070 EXOC lies ensconced in slits within more foam and there are two 4-pin PCIE to 6/8-pin PCIE adaptors as accessories. Again, everything till this point is quite standard for most graphics cards we've seen so far.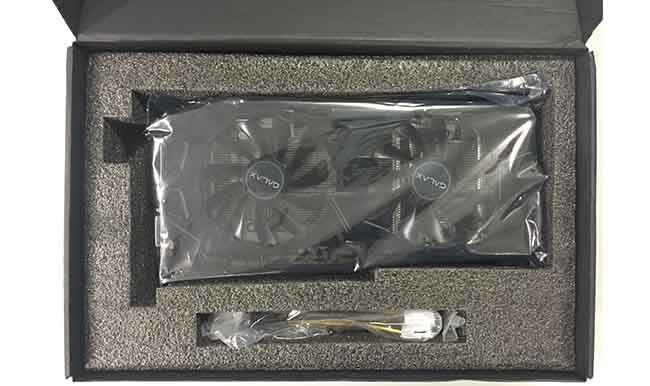 Now that we've seen the packaging for the card, we'll move to the graphics card itself and inspect the build quality. Given by all the different SKUs we've seen so far, we expect to see something unique with the GALAX GTX 1070 EXOC graphics card as well.
Build Quality
The GALAX GTX 1070 EXOC is a twin-slot graphics card which happens to be slightly taller than most cards. This increase in height is to accommodate the large cooling solution. Speaking of which, the front of the graphics card features two 100mm fans surrounded by a metallic shroud that curves over the top for some added protection.
While most manufacturers have opted for an alternate fin-design, the GALAX GTX 1070 EXOC opts for a hybrid design. The fin tips seem to have a lower slope than the rest of the blade. If we had a wind turbine, we would have opined if this is a gimmick or actually functional but we'll give GALAX the benefit of the doubt. And if you're one of those types who like to jazz up their cabinets with LEDs then these fans have red LEDs. Underneath the fans lie a huge aluminium fin slab that are quite tightly packed and have cooling tubes snaking through them.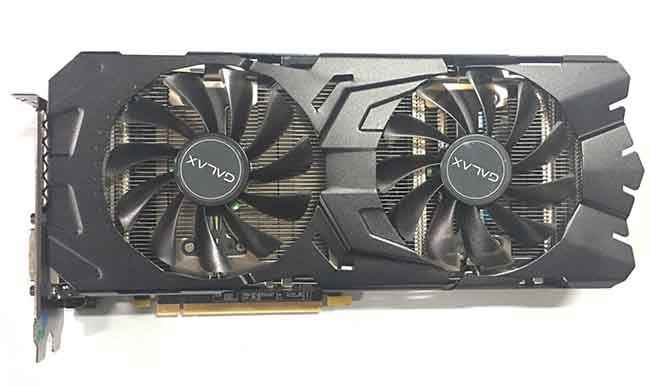 Flipping the card over on to its back, we see a protective plate that covers almost every centimeter of the PCB except for a few cutouts. The one behind the GPU aids with cooling while the cutouts on the periphery are for SLI, power connectors and V-check points.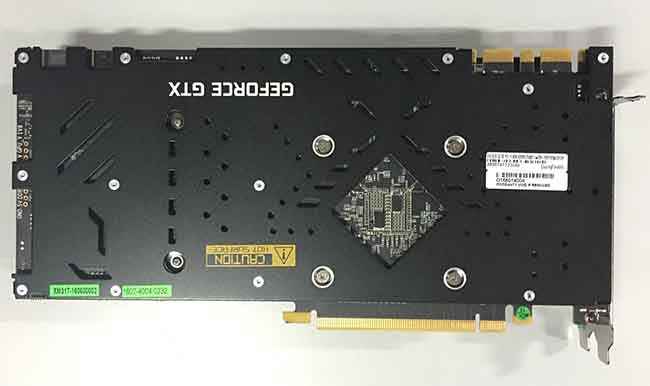 And for those interested in LN2 and H2 overclocking, we see voltage check points on the edge of the PCB. It would have been a little better if these points weren't obstructed by the mounting screw as seen below. Especially since there's plenty of space on either side of the mounting screw.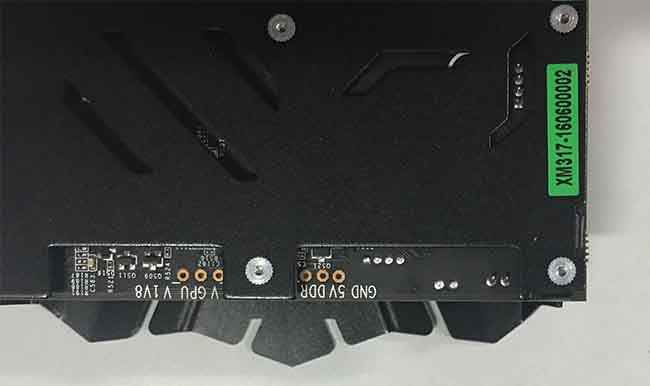 As for the connectors, it's a fairly standard setup with 1x DVI-D, 1x HDMI and 3x DP. Quite a few manufacturers have opted to switch one of the DP ports for an HDMI port to make it easier to plug in VR HMDs but that isn't the case here. If you use the HDMI port for your monitor then you'll need a separate DP-to-HDMI adaptor.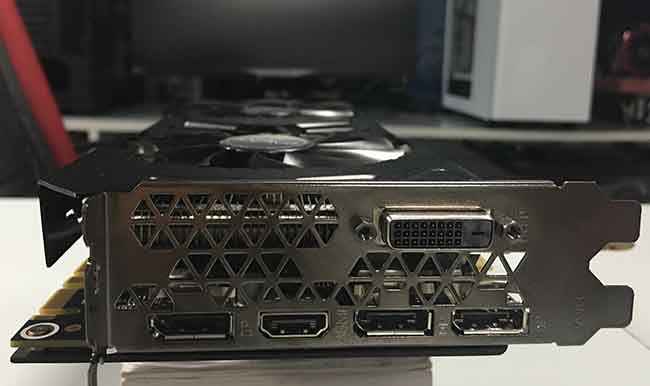 And lastly, the top view shows us a design flaw. Since there are no support structures holding the right-most edge with the PCB, we see it veering away slightly. While this poses no issues normally, having another PCIe card right next to the graphics card could pose an issue. At this point, we'd like to believe that it's only this one card which turned out so. On the left, we see the GEFORCE GTX branding which also illuminates along with the LEDs behind the fans. You can control this particular lighting with the XTREME TUNER software.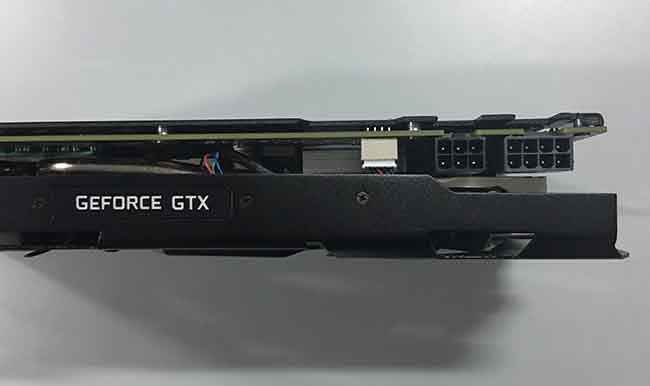 While a stock GTX 1070 or Founders Edition card only has a single 8-pin connector, the GALAX GTX 1070 EXOC has an additional 6-pin PCIe connector for a little more overhead to allow for better overclocking and to accommodate the better cooling solution.
Performance
The Founders Edition comes clocked at 1506 MHz and the GALAX GTX 1070 EXOC features a base clock of 1594 MHz. So how much of a performance increment are we looking at? We tried out 3DMark Fire Strike Ultra which scored a cool 4468 points and followed it up with Fire Strike Extreme and Time Spy for those who'd like reference scores.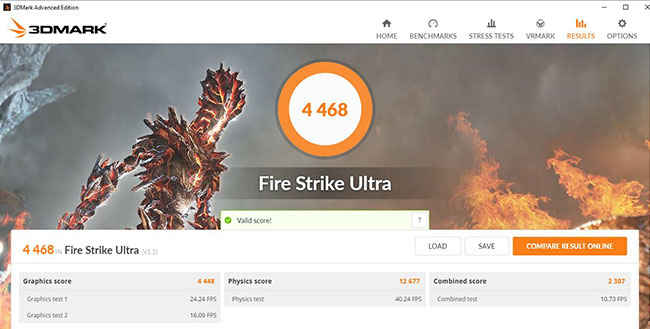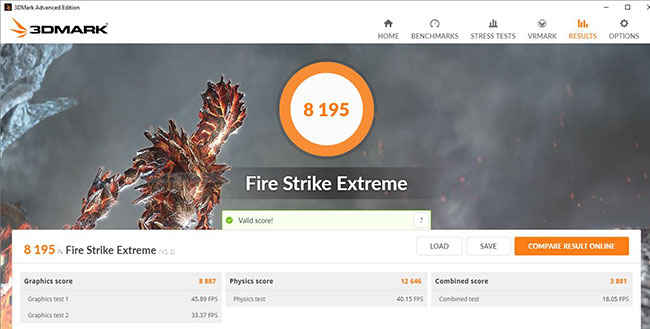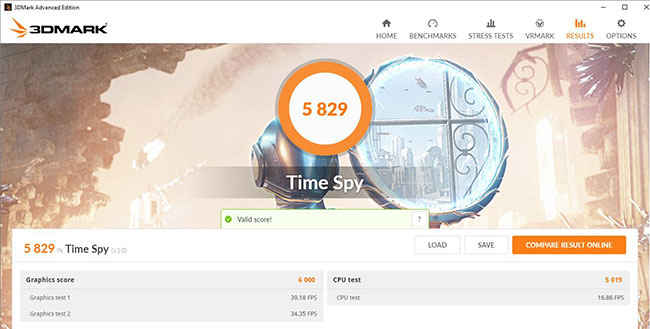 Post synthetic benchmarks, it was time to fire up some video games and first up was GTA V. The 1070 absolutely kills it at 1080p with frame rates that top out in the 150s. We see the same story unfold at 1440p and at 4K the frame rate teeters around 60fps. There were a few moments where the frame rates would drop below 60 but the game was still playable.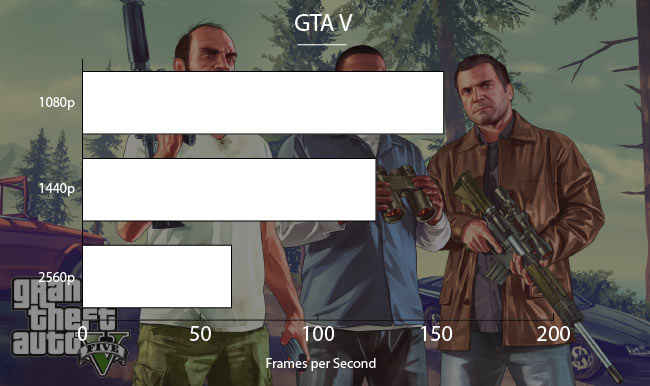 The newest HITMAN seems to be a little more intensive than the all favourite GTA V. 4K frame rates were below playable levels though we must admit that the settings we use for benchmarks are quite strenuous. However, the card seems to have no issues running the game at 1080p and 1440p.
Ashes of the Singularity is great for benchmarking DirextX12 and asynchronous compute performance. Here are the FPS scores.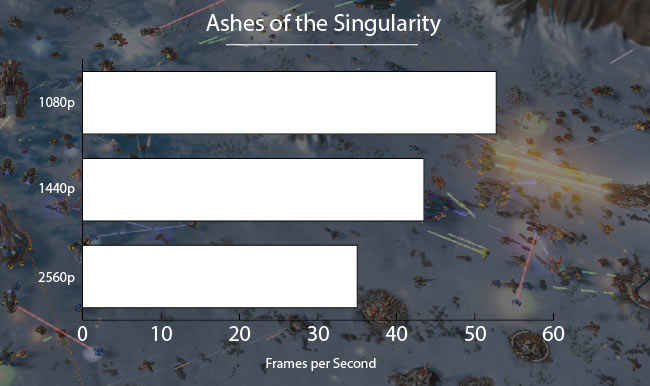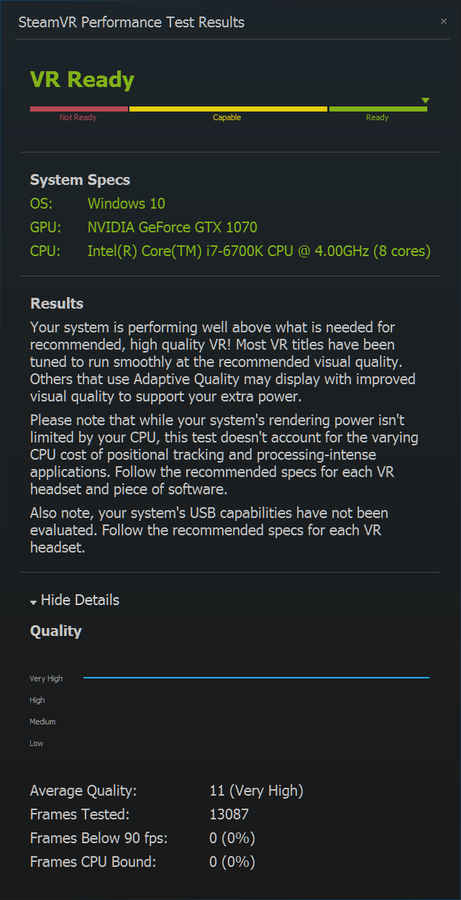 Performance wise, we're looking at very similar FPS scores and even synthetic scores aren't that far apart compared to the Founders Edition. The overclock manages to get you 2-4 FPS over the reference card. So what differentiates the two? You get a three year warranty period similar to most graphics cards but there are certain competitors like ZOTAC which offer a five year period. While those who purchase such high-end cards tend to upgrade as soon as the next generation comes in, they'd still prefer the five-year card over the three year card. And when you compare the prices, it's not that difficult a decision.
Verdict
GALAX has a HOF series where it really pushes the limit with premium quality components and features all the bells and whistles. So feature-wise the card doesn't have much going for it and even the warranty period is low compared to the competition. Given the competitive state of graphics cards these days, GALAX needs to add more value to their products if they are to be considered.
Specifications:
GPU - GTX 1070,
CUDA Cores - 1920,
Texture Units - 120,
ROPs - 64,
Core Clock - 1594 MHz,
Boost Clock - 1784 Mhz,
Memory Clock - 8000 MHz,
Memory Bus Width - 256-bit,
VRAM - 8 GB GDDR5,
TDP - 150 W,
Warranty - 3 years.