ASUS Rampage III Extreme Black Edition - Overclockers rejoice! detailed review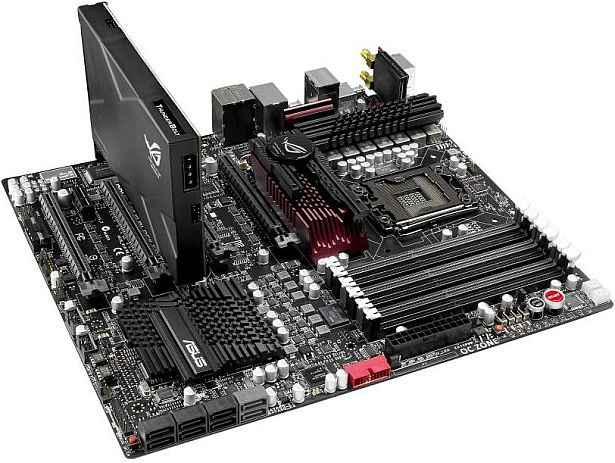 ASUS's Republic of Gamers series of boards are quite a rage amongst the enthusiast gamer community as a majority of its features are overkill for most users. The last time we tested an ROG board was quite a while back. Then came the barrage of the Sandy Bridge boards (the mini ITX form factor as well as ATX) followed by AMD's Brazos boards housing the AMD E350 APUs. In the midst of these entry level and mid range boards when we suddenly got a confirmation from ASUS that they would be sending us their Rampage III Black Edition board, we were delighted at the prospect of using the fastest Intel processor on the planet and running it through its paces after a long time. That the board was an enthusiasts wet dream was the icing on the proverbial cake.
Having tested ROG boards from the previous generations, we were expecting a similar packaging with the maroon coloured box housing the board. But what we got instead was a thick black box highlighting the logo and the product name. Like all the other high end boards, this box also has the gatefold design, where the front facing flap of the box opens up to reveal the motherboard behind the transparent plastic package. The features of this X58 board are highlighted all around the packaging.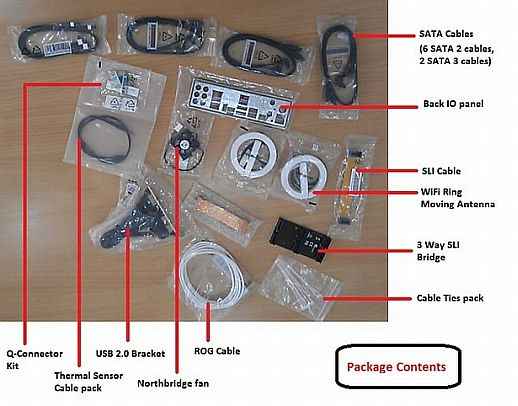 The Board
The board comes a beautiful matte black finish with top of the line components such as solid state caps, sturdy heatsinks, dedicated buttons for Start and Reset, etc. The heat sinks look quite attractive thanks to the minute extrusions on them. The northbridge heatsink comes in a two tone (black / maroon) colour and houses a ROG button that glows red when the motherboard is working, adding a dash of glowing red to the proceedings.
The layout of the board is quite good, with enough space between the four PCIe slots for a 3-way SLI or CrossFireX. There are two PCIe x1 slots as well.
We will not go into explaining each component of the motherboard, as most of pretty much standard components. We will focus on some interesting features as under.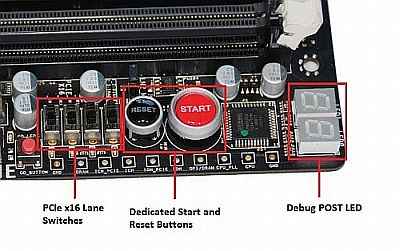 1) Dedicated Start and Reset buttons: This is a desirable feature for enthusiasts as it means no longer having to short two pins for these purposes.
2) Debug LED: This is located just above the Start and Reset buttons and helps you debug your motherboard issues based on the value it is displaying. Very handy tool as it expedites troubleshooting.
3) PCIe x16 Lane switches: Just beside the Reset button you will come across four switches, which are mapped to each PCIe x16 slot. So you can switch a PCIe x16 slot On or Off. This is particularly useful to troubleshoot faulty graphics card in a multi-GPU setup. You can only keep one PCIe slot on to see if the card is working or not based on whether, you can see the monitor working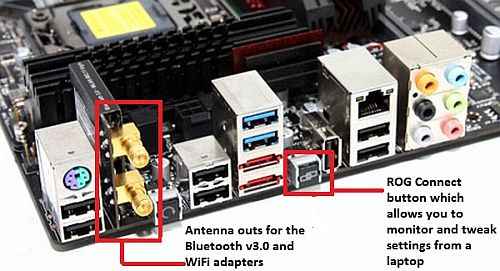 4) Bluetooth v3.0 and WiFi adapter: The board has an in-built WiFi adapter and a Bluetooth v3.0 support. This is found on the back IO plate and the board comes with two extendable antennas. You can use the onboard Bluetooth to overclock the board via the iROG connect feature.
5) ROG Connect: The back IO plate has an ROG connect button which can be used alongwith the ROG connect utility on your laptop to monitor and tweak your system remotely.
6) SATA 3 and USB 3.0 support: This X58 board comes with full support for SATA 6 Gbps with the help of the Marvell 9182 controller and USB 3.0 support thanks to the NEC
BIOS: Extreme Tweaker
Being an X58 board, the ASUS R3B has stuck with the normal text based BIOS. It was a good to see the familiar BIOS after going through a horde of motherboards having the UEFI BIOS. The BIOS follows the all black colour in its user interface. It is neatly divided into Extreme Tweaker, Main, Advanced, Power, Boot, Tools and Exit. The Extreme Tweaker tab is the most important and the most exhaustive tab amongst all as it has a variety of options to tweak your settings.
[RELATED_ARTICLE]We had mentioned that the board has a lot of features, but we were quite impressed with the sheer variety in the BIOS for overclockers. You can overclock by selecting either Manual, XMP profile or CPU level Up presets (from the Ai Overclock Tuner) to overclock easily if you do not want to go tweaking manually. Based on the processor, the CPU level Up will give you an option to select between two preset frequencies, after which the other settings are accordingly adjusted to run your system stable. To get more details on the CPU settings, you can enter the CPU Configuration option. For the purpose of overclocking, we had kept the Turbo Boost off. As you go further down in the list of options, you will get things like Extreme Over Voltage (OV) and Extreme OC and there are CPU voltage adjustment options.
Further down there is an setting called ASUS OC Profile which allows you to set upto 8 OC presets and select whichever one you want at ease.
Read on about the ASUS Rampage III's ROG Special Features, our verdict, and more, on the next page...
Also read,
ROG Special Features
1) Extreme Engine Digi : Considering this being an ROG board, overclocking the processor to its limits is a given. This requires the board to have a very strong power management system. Extreme Engine Digi is a mixture of hardware and software design elements which enable quicker heat dissipation, better electronic conduction to keep the system stable while under load. In the BIOS under Extreme Tweaker there is a menu for Extreme Engine Digi to tweak PWM voltage and CPU PWM frequency among other things.
2) ROG Connect: This is a feature that was seen in older ROG boards which allows you to tweak parameters with the help of an ROG Connect utility. You basically connect your notebook to the main system with a USB cable and you can check the POST code as your system is booting up, monitor temperatures, voltages and fan speeds, and even tweak settings on the fly. In short you can overclock in real time, using a Windows Utility.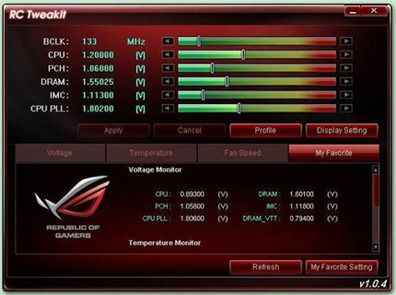 3) ROG iDirect: Dont want to use wires to tweak or monitor the system performance? Thanks to Bluetooth v3.0 support, you can use tweak parameters using your iPhone or iPad. Honestly we feel hardcore enthusiasts won't bother with these functions, it is still an innovative feature which allows you to wirelessly overclock your system!
4) ASUS Thunderbolt Combo card: This is a first we are seeing on any high end board. The ASUS Thunderbolt is a combo card which houses a 2.1 channel XONAR sound card along with the Killer E2100 Network Processing Unit (NPU). The E2100 NPU claims to reduce the lag experienced while playing games over a LAN network.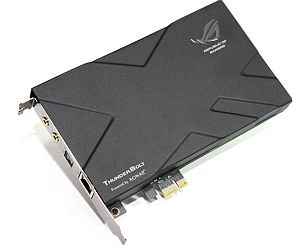 Performance
Considering this is an extreme high end feature rich board, we did not have any comparable board to test this against. We did run through our gamut of tests and also indulged in some basic overclocking, as not overclocking the board would have been blasphemous.
We tested the board with an Intel Core i7 980X processor and an AMD HD6850 card. As expected it aced the tests. On stock settings (Memory - 1333MHz and CPU - 3.3 GHz) PC Mark Vantage gave an overall score of 10300, Cinebench R10 rendering gave a multi-core score of 22842 marks, Video encoding (100 MB VOB to DIVX) took 22 secs whereas Crysis Warhead (1680x1050, med) gave 63 FPS. We overclocked the memory using the XMP profile 1 (Memory - 2000MHz) and the processor to 4.1 GHz - on air. The system ran fine without any blue screens, giving a 15 percent increase in benchmarks.
Verdict
This is the most feature-rich board we have seen to date. It comes with all the bells, whistles and fog horns and much more to satisfy overclockers. The build quality is top notch, on-board troubleshooting options are great, the add-on Thunderbolt combo card is a good addition and serving the dual purpose, the ROG Connect takes overclocking to a different level, etc. At Rs. 39,500 it comes at a price which is enough to configure a decent multimedia rig. But then, this board is meant for a select niche audience.
Specifications
[RELATED_ARTICLE]CPU Socket: LGA1366
CPU Supported: Core i7 Extreme Edition / Core i7 Processor
Chipset: Intel X58 / ICH10R
System Bus: Upto 6400MT/s
Memory: 6 DIMM slots, support upto 48GB of DDR3 RAM
Expansion Slots: 4 x PCIe 2.0 x16 (support x16; x16/x16; x16/x8/x8 and x8/x8/x8/x8 configurations); 2 x PCIe x1
Thunderbolt LAN/Audio card
Audio Chipset: SupremeFX X-Fi 2 Built-in 8-Channel High Definition Audio CODEC
Form Factor: Extended ATX Form Factor
Back Panel I/O Ports:
1 x PS/2 Keyboard
2 x External SATA ports
1 x LAN(RJ45) port(s)
2 x USB 3.0/2.0 (Blue)
7 x USB 2.0/1.1 (1 port also for ROG Connect)
8 -Channel Audio I/O
1 x Clr CMOS switch
2 x Wi-Fi antenna jacks
1 x ROG Connect On/Off switch

Price: Rs. 39,500
Test Scores Log Sheet
| | | |
| --- | --- | --- |
| Brand | ASUS | |
| Model No. | Rampage III Extreme Black Edition | |
| Processor Frequency | 3.3 GHz (stock) | 4.1 GHz (OC) |
| Memory Frequency | 1333 MHz (stock) | 2000 MHz (OC) |
| Performance | | |
| PC Mark Vantage (Overall) | 10300 | 11624 |
| CINEBENCH R10 | | |
| CPU (All cores) | 22194 | 26624 |
| WinRAR 3.9 (Multi threaded) | 3503 | 3615 |
| 100 MB file Video Encoding (VOB-DivX 7) (sec) | 22.1 | 21.85 |
| File Transfer (MB/s) 4GB file | | |
| Sequential | 56.01 | 60.41 |
| Assorted | 54.61 | 54.21 |
| USB 3.0 | | |
| Sequential Write | 67.14 | 68.14 |
| Sequential Read | 69.54 | 70.11 |
| Assorted Write | 29.35 | 29.53 |
| Assorted Read | 32.14 | 33.21 |
| Game | | |
| Crysis Warhead (1280x1024, med) | 66 | 67 |
| Crysis warhead (1680x1050, med) | 63 | 68 |
| Resident Evil 5 (1280x1024, med) | 138 | 148 |
| Resident Evil 5 (1680x1050, med) | 115 | 120 |

Contact
ASUS Technology Pvt. Ltd
Phone: 1800 209 0365
Email: reachus@asus.com
Website: www.asus.in
Also read,