Digisol DG-HR1070MSE 4G Mi-Fi Portable Broadband Router detailed review
Reliance Jio's disruptive strategies have caused a huge demand for portable Mi-Fi routers. Once a staple of one-the-go white collar folks, the Mi-Fi router has become a lot more ubiquitous. This isn't the first 4G Mi-Fi router from Digisol that we've come across, last year we'd checked out the HR-1070MS, a compact router with an OLED panel. It was quite the polished gadget and given all the different telephony service providers that have jumped on the 4G bandwagon, it was definitely time for an upgrade. The Digisol HR-1070MSE is a minor upgrade over its predecessor in a few aspects and not quite so in some other aspects. Let's take a look at what these are.
Features and GUI
With the HR-1070MSE, you now have support for LTE bands 3, 38 and 40 aside from UMTS and GSM 900 / 1800 MHz. So you're pretty much covered with all telephony service providers in the country. However, we see that the uplink data rates has dropped for TDD/LTE as compared to the HR-1070MS. This does affect Indian customers as you'll see later on in the performance tests. Reliance Jio uses TDD band and hence if you're using a Jio SIM with the Digisol HR-1070MSE, then your uplink speeds are going to be bottlenecked. As far as downlink speeds are concerned, there shouldn't be any problems.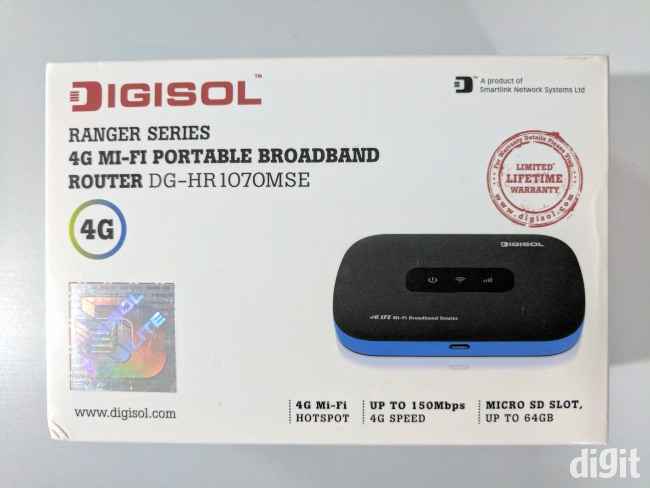 Connecting and logging into the web UI is very easy but there's an oversight for the UI design – it's not optimised for mobiles. You have to scroll sideways in order to access pages in the web UI which becomes a little cumbersome. However, you're only bound to login to the UI once in a blue moon so it shouldn't be that big an issue. All that's needed to fix this is to have different viewports configured in the CSS which is really simple to do. The UI has quite a lot of features which allow you to not only filter out traffic but also place restriction on which clients can join. Simply put, it has the UI of a normal sized budget wireless router.
Build
Like the HR-1070MS before it, the Digisol HR-1070MSE is surprisingly well built. We like the fact that Digisol has gone ahead and made the battery removable allowing consumers to give old units a new lease on life should the battery keel over and die. The key difference here is that the battery capacity has been reduced from 2800 mAh to 2000 mAh. Couple this with the fact that the OLED display has been replaced with a bunch of multi-coloured LEDs, the power usage of the device has reduced.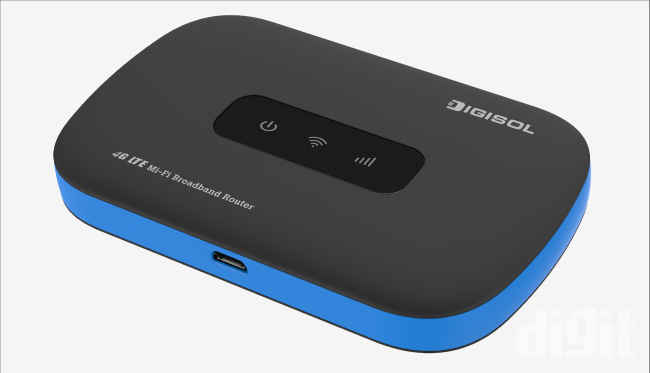 The cumulative effect of these design decisions is that the battery life of the Digisol HR-1070MSE remains unchanged at 5-to-6 hours of constant use. While an OLED display certainly made the HR-1070MS appear groovy, the fact is that the HR-1070MSE is functionally similar, so you aren't losing out anything except on aesthetics.

The topside of the HR-1070MSE has the power and the WPS buttons. Both of which are not flush with the surface so should you place it upon its topside or throw it in a bag with a lot of other stuff, then accidental presses are bound to happen. It would have been better if these were slightly recessed.

On the bottom of the Digisol HR-1070MSE we see the micro USB connector and nothing else. Neither the micro USB port nor the power and WPS buttons on the top are weather sealed which is something we'd like to see in a portable device. It's not an absolute must but it's definitely a plus. While testing the unit we noticed that the micro USB connector is a little iffy i.e. you need to yank the USB cable out once you're done. It's not a downer but we're nitpicking here.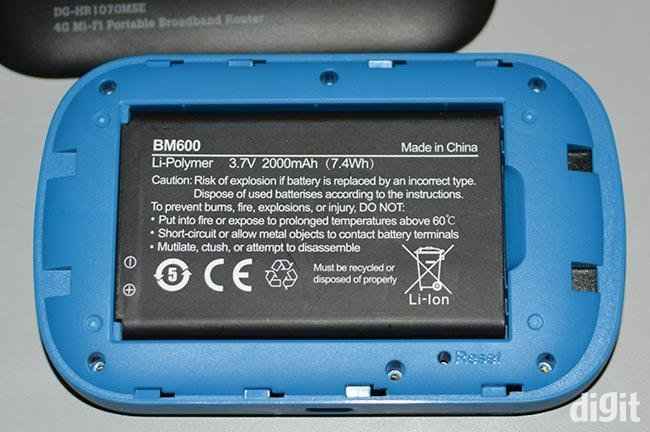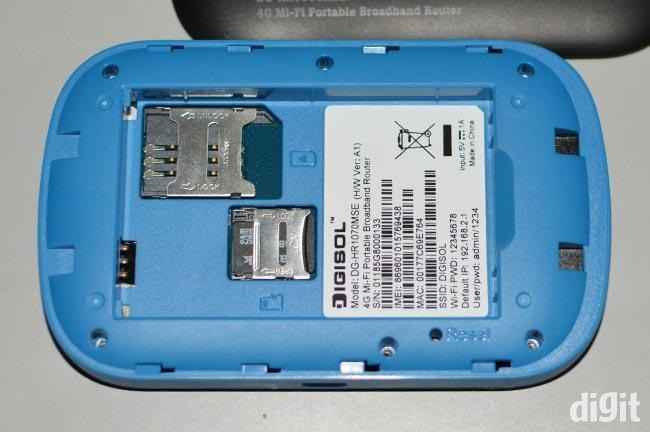 Upon opening the back cover, we see that the battery compartment and underneath that lies the microSD card and SIM card slots. The unit does not come with a microSIM-to-SIM card adapter which is certainly a necessity these days should you need to swap out the SIM card with your phone's SIM card. These days, there are very few phones shipping with full sized SIM slots.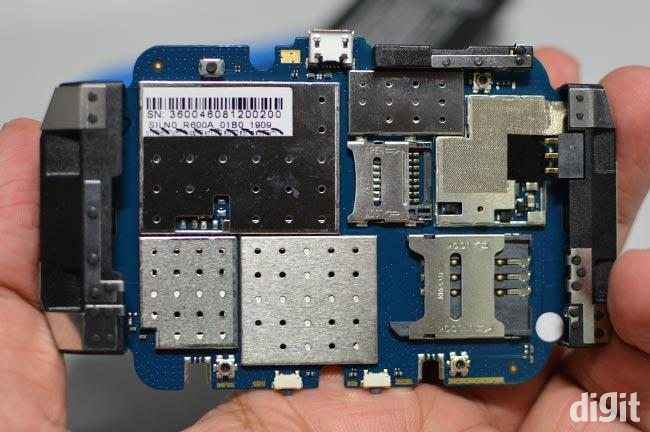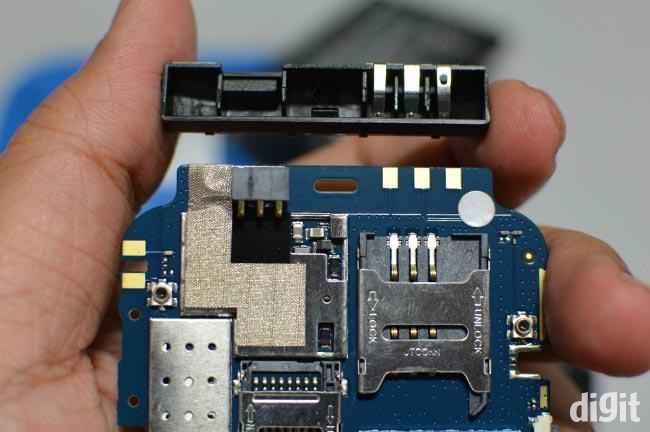 We disassembled the unit to peek inside and we're glad to say that the Digisol HR-1070MSE is quite well built. There are three detachable antennae and this should tell you that the best way to hold this unit would be by the top so that you don't end up blocking any of the antennae, or you can do what every other person is going to… just put it on a table. Another nice thing is that each element is properly shielded to prevent EMI from affecting the sensitive components.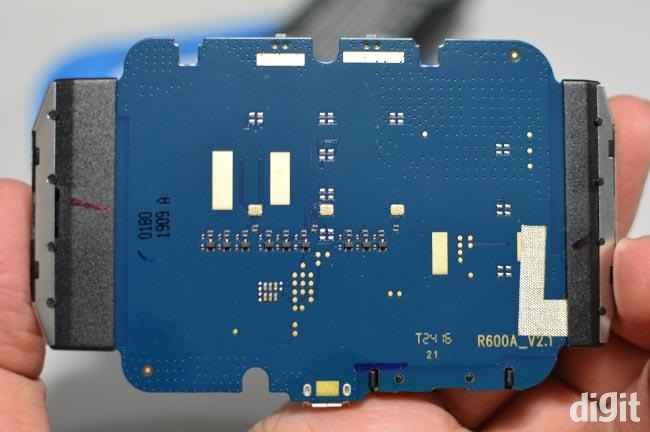 The underside of the PCB is mostly vacant except for the three multi-coloured status LEDs. Overall, the unit is quite well built on the inside and the only changes that we'd like to see are the height of the power and WPS buttons. Including a SIM adapter and a better battery would surely have been better as we see no reason why the older 2800 mAh battery should have been replaced with a 2000 mAh battery.
Digisol DG-HR1070MSE Specifications:
Model: DG-HR1070MSE,
Wi-Fi: 802.11n,
FDD: B3/TDD: B38, B40,
WCDMA: 2100 MHz,
GSM: 900/1800 MHz
WPS support: Yes
Battery: 2000 mAh Li-ion
MicroSD slot support: 64 GB
Dimensions: 106 x 65 x 16 mm
Weight: 105 gm
Warranty: Product lifetime.
Performance
We tested the Digisol HR-1070MSE against the new Reliance JioFi 4G Hotspot that costs Rs.1,999. We used the device indoors as well as outdoors in the dead of the night when congestion is least likely to occur at the towers. Indoors, the Digisol HR-1070MSE managed to channel 15.88 / 1.90 Mbps on uplink/downlink and outdoors this jumped to 19.97 / 9.56 Mbps. When the JioFi 4G Hotspot was tested at the exact same locations, the indoor speeds were at 15.46 / 3.44 Mbps and the outdoor speeds were 23.53 / 9.48 Mbps. 4G testing is very subjective since there are a lot of variables involved and you really can't get accurate measurements unless you get your own LTE base station to benchmark bandwidth against. The same SIM, when tested with a OnePlus 2, managed to get 28.67 / 19.97 Mbps outdoors. The highest we've ever managed to get on the OnePlus 2 is 84.40 / 21.25 Mbps so it's not like the OnePlus 2 hit an internal bottleneck especially since it's LTE Cat4 modem is rated for 150 / 50 Mbps.
We then tried out the microSD card reader with a Lexar Pro UHS-II microSD card and found the read and write speeds to be averaging at around 4.85 MBps. This is fairly average for a multi-function device though we'd have liked to see much higher speeds, especially since the microSD slot supports cards up to 64 GB in capacity. Such low speeds are going to be downer if you have to transfer large files.
Lastly, we checked out LAN speeds with multiple devices connected to the Digisol HR-1070MSE. You can have 10 devices connected to the Digisol HR-1070MSE at any given time and the ad-hoc network does allow for rapid file sharing. Large file sizes can bring on the pain which was also the case with the JioFi 4G Hotspot.