Xmarks Premium (12-2010) [Review] detailed review
Browser synchronization is something that is becoming increasingly important as our experience of the web is less tied to a particular computer. Most browser vendors themselves now provide such services: Mozilla offers Firefox Sync, Google too offers synchronization in their Chrome browser, and Opera has synchronization support with Opera Link. Most importantly, all of these services are free.
Technically, since Firefox Sync, Chrome Sync and now even Opera Link are all open and have APIs, it is possible to have a opera link plug-in for Firefox, and a Firefox Sync plug-in for Chrome, but the lack of such plugins means that for those running multiple browsers regularly, a single tool that manages sync across all browsers is needed.
That's where Xmarks comes in.
Xmarks is a popular browser synchronization service that was nearly shut down last year. Since then, it has been purchased by another popular service LastPass, which helps you synchronize passwords safely across computers, browsers and devices.
To continue operating, Xmarks is now a freemium service, i.e. they offer a majority of features for free, and for a small additional monthly / yearly sum they offer a few more features and services.
[RELATED_ARTICLE]The greatest feature of Xmarks is that it provides most of these synchronization features for free, and in addition, it works across browsers, and platforms. I use a number of different browsers having multiple profiles across a number of different computers, needless to say synchronization is very important to me. Till now I had been using each browser's own mechanism for synchronization, without synchronization between them. Xmarks for me is the perfect service.
Of all browser synchronization services, I am particularly fond of Firefox Sync, even though it does not synchronize as many things as Google's Sync solution for Chrome ‒ Firefox add-ons for example. Firefox Sync manages to give a fresh Firefox profile the same feel on all computer. The same awesomebar shortcuts work on all synchronized Firefox instances.
Xmarks touts synchronizing almost all the same things as Firefox Sync, so I decided to give the Premium version of Xmarks a try. Xmark's features are not consistent across different browsers though. For example, synchronizing history is only supported in Firefox ‒ as of now ‒ although most other browsers do not make use of history data as much as Firefox does, making it synchronizing such data mostly a waste. Additionally, using your own server for synchronizing is also only supported for Firefox. Synchronizing Open Tabs ‒ a feature a like a lot in Firefox Sync ‒ is not supported in Safari.
Here is a table of features across browsers and platform (as taken from the Xmarks website):
Browser/Platform:

Firefox

Internet Explorer

Mac OS X 10.5 (Leopard)

Mac OS X 10.6 (Snow Leopard)

Chrome

Operating Systems
Windows; Mac OS X; Linux
Windows
Mac OS X 10.5 (Leopard)
Mac OS X 10.6 (Snow Leopard)
Windows, Mac OS X, Linux
Supported Browsers
Firefox 3, Firefox 4 (Beta)
Internet Explorer 7, 8
Safari 4, 5
Safari 4, 5
Chrome

Features Supported

Bookmark Sync
Y
Y
Y
Y
Y
Backup and Restore
Y
Y
Y
Y
Y
Online Bookmarks Access
Y
Y
Y
Y
Y
Bookmarks Sharing
Y
Y
Y
Y
Y
Secure Password Sync
Y
Y
Open Tabs Sync
Y
Y
Y
History Sync
Y
Sync Profiles
Y
Y
Y
Y
Y
iPhone Bookmarks Sync
Y
Y
Use Your Own Server
Y
The service offers a majority of its features for free, with only a few that require a Premium account.
[RELATED_ARTICLE]First of all, with Xmarks is the rather important cross-browser aspect. The plug-in is free to download for a number of different browsers: Mozilla Firefox, Google Chrome, Microsoft Internet Explorer, and Safari. It already supports the latest Firefox 4 beta browser including the unreleased Beta 8 version. Additionally they intend to support Opera in the future as well.
If all you need is cross browser synchronization of bookmarks, then Xmarks does that marvellously well, for no cost. However Xmarks does more than just that, as you will discover shortly.
Other than the synchronization features, Xmarks also uses bookmarking data collected from its many users to give rankings to web search results that can augment Google's search results. In Firefox, Xmarks can even use this data to help you tag bookmarks, by giving a list of suggested tags when you are adding a new Firefox bookmark. While something like Delicious too does this, Xmarks integrates this feature into Firefox, and uses Firefox's own bookmarking mechanisms for the same. Xmarks also adds a "Site Info" button to you location bar that displays details about the domain you are visiting.
Site info panel in Firfox
Tag sugestions while adding bookmark
Search results augmented by Xmarks data
"Discovery" settings in Firefox
Xmarks requires that you install a browser extension for it to work on the browsers it supports. The extension itself is free, and can be downloaded and installed by anyone onto a compatible browser. The add-on requires you to log in to your XMarks account, after which it can begin synchronizing. What all you can synchronize will ‒ as we have said before ‒ depend on the browser.
You can choose what all you wish to synchronize, so if you do not want to synchronize your Password, you can turn that off. If you wish to synchronize between a Firefox and Google Chrome, you need not synchronize your History, since it is not supported on Google Chrome ‒ yet.
To make sure that your passwords are even more secure than your other data, Xmarks encrypts it on the user's computer before synchronizing it with their server. The passwords data is synchronized using a "PIN" code that you provide. You need to remember this PIN and enter it exactly in each browser you wish to synchronize your passwords with.
The Firefox and IE versions support a very useful option, which is to synchronize on browser shutdown ‒ either automatically, or after asking. In this case, Xmarks pops up a message ‒ only if you have unsynchronized changes ‒ asking if you'd like to sync first before shutting down. So the latest changes you make during any browsing instance ‒ and the changes you are most likely interested in any way ‒ are always kept up to date. This feature is not available for all browsers though.
Another ‒ currently ‒ Firefox-specific feature is History synchronization. Your browsing history has perhaps more impact while using Firefox than it does in any other browser. Firefox's URL bar, also called the "Awesomebar" pulls in data from your history to offer suggestions that improve as you use the browser. Needless to say your browsing experience gets faster over time, as you have to type lesser to get to the sites you want. Xmarks synchronizes your browser history, however instead of synchronizing your entire history ‒ which is bound to be large and fast-changing ‒ it only synchronizes the part of your history that has most impact on your awesomebar entries. When I tried it, the Xmarks history sync didn't manage to duplicate the same awesomebar experience that existed in the original computer. I got better results with Firefox Sync. History sync is still a newer feature, so perhaps it will improve over time.
Now for the really good stuff, Xmarks supports something called Sync Profiles. Sync profiles let you keep your bookmarks and password in sync across computer while still being selective about what content is shared with what computer. You can create a separate profile for your home and work computers, such that Xmarks will synchronize your "Home" profile content only with browsers associated the "Home" profile, and your work data is likewise only synchronized with your office computers. Of course you can create more than the two profiles, and Xmarks by default creates "Home", "Work" and "mobile.foxmarks.com" profiles. Bookmarks that are associated with your mobile profile will show up at http://my.xmarks.com/mobile/ so that can be accessed on the go. The surprising thing is that Sync profiles is not a Premium feature! It is free and accessible to all.
Now, synchronizing is a brilliant thing, but it can be a curse, as it can synchronize accidental changes in your browser as well as it does the rest. If you accidentally delete your browser bookmarks, or clear your list of saves passwords, you are out of luck! To rectify this, Xmarks automatically creates backups of your data, and stores them for as long as 3 months. This is a premium feature, and for some people, this alone will be worth the price of admission.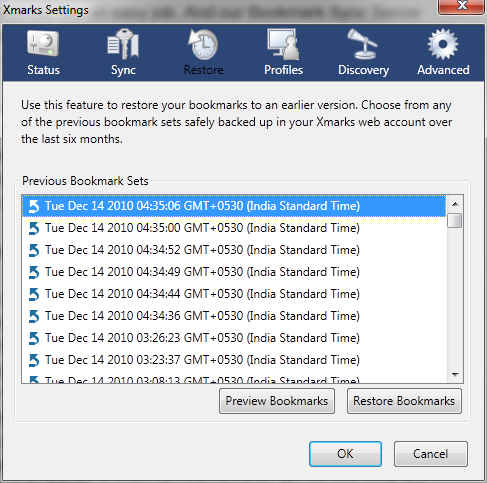 Another premium feature, that can be incredibly useful, is synchronizing open tabs. This feature is available in the Firefox Sync as well, but Xmarks takes this feature cross-browser, by allowing you to access tabs you opened in Firefox on your home computer in Google Chrome on your work computer. Each browser you synchronize your tabs with can be given a unique name to make it easy to recognize where you tabs are coming from. For example, your home Google Chrome instance could be called "chrome home" while your work I.E. instance could be called "IE work". In Firefox and Google Chrome it is possible to even restore entire window sets instead of individual tabs.
| | |
| --- | --- |
| | |
| Remote tabs in Google Chrome | Remote tabs in Xmarks |
If you are running an incompatible browser, you can still access remotely opened tabs using the online interface. The online interface is available even to non-premium users, however such users will not get the open tabs and backup / restore options. The online interface is quite rich and can do pretty much everything you can do using your browser. As we mentioned before, there is a simper version of this page available that only lists bookmarks from the mobile profile.
[RELATED_ARTICLE]Additionally, the online interface can be used to share your bookmarks and bookmarks folders. While sharing bookmarks is simply a matter of emailing the link to someone, sharing bookmark folders has a few useful features. For each shared folder, Xmarks will create a unique link that you can share with others, this points to a web page containing all the links the folder ‒ and if you opted for it, the subfolders as well. Xmarks also creates an RSS feed, that you can share with your friends and which will automatically update as you add more items to the folder. Finally, it also creates an embeddable widget of your shared folder for inclusion on your website or blog.
For premium users, Xmarks also has mobile clients, so you can access open tabs and bookmarks from ‒ currently ‒ your Android phone or iPad / iPhone. The Xmarks app is free on both these platforms, however it needs a premium account in order to sync. The Xmarks team is aiming to release clients for more platforms and browsers in the future.
The premium version of Xmarks comes at a rather low price of $1 a month, or $12 a year, which we believe is quite acceptable for the features offered. While it is difficult to argue against offering features for free, some features such as Xmarks Sync profiles would have made the premium package even more attractive. However even as it stands, Xmarks Premium is worth the rather low price.
Since it has been acquired by LastPass, there is a package offer available for those who wish to opt for both services. This combined package is offered at a bundle price of $20 a year instead of $12 $12 (Xmarks LastPass). While eventually the services are to be integrated, curently both are available as separate addons that provide overlapping functionality. Both can manage saved passwords, and if your password syncing needs are not that advanced, you can do with just Xmarks. This of course is just a temporary issue while Xmarks integrates into LastPass, and in the future you might see a significantly better product.
Click next for images of Xmarks on Firefox, Chrome and IE
Xmarks Firefox
Initial setup
Settings
Xmarks Chrome
Xmarks IE (Setup)