Xiaomi has launched the Mi Smart Speaker in India to take on the likes of Google Nest Mini and Amazon Echo Dot 3rd Gen. If you're surprised to see a smart speaker from the popular smartphone maker then you should know that the company ventured into the smart home category back in 2018 with its first 'Smarter Living' event to make a statement that it's an internet company while the public conception was limited to thinking it's still just a smartphone brand.
The Mi Smart Speaker isn't the first smart home or IoT product from Xiaomi, but it's the first speaker from the company with a voice assistant in India. What makes it interesting is the fact that it's just as affordable as you would expect a Xiaomi product to be. The speaker is priced at Rs 3,999, while early buyers can grab it as low as 3,499. Which pits it against entry-level smart speakers from Amazon and Google, who not only make the hardware for the speakers but also own their respective virtual assistants - Alexa and Google Assistant - the two mainstream assistants
The real task for the Mi Smart Speaker here is to bundle better value than its above-mentioned competitors in order to carve a place for itself in the entry-level smart speaker market. Did Xiaomi manage to do that? We find out.
Design and build
The Mi Smart Speaker measures 131x104 x151mm and weighs 853g. These dimensions make it a lot bigger than the doughnut sized Google Home Mini and Amazon Echo Dot. The overall size of the speaker is four to five times that of a Google Home Mini. While the size doesn't add up to the smarts of the speaker, it does provide it room for louder sound output, thanks to larger drivers. But that's something we'll talk about later in the review.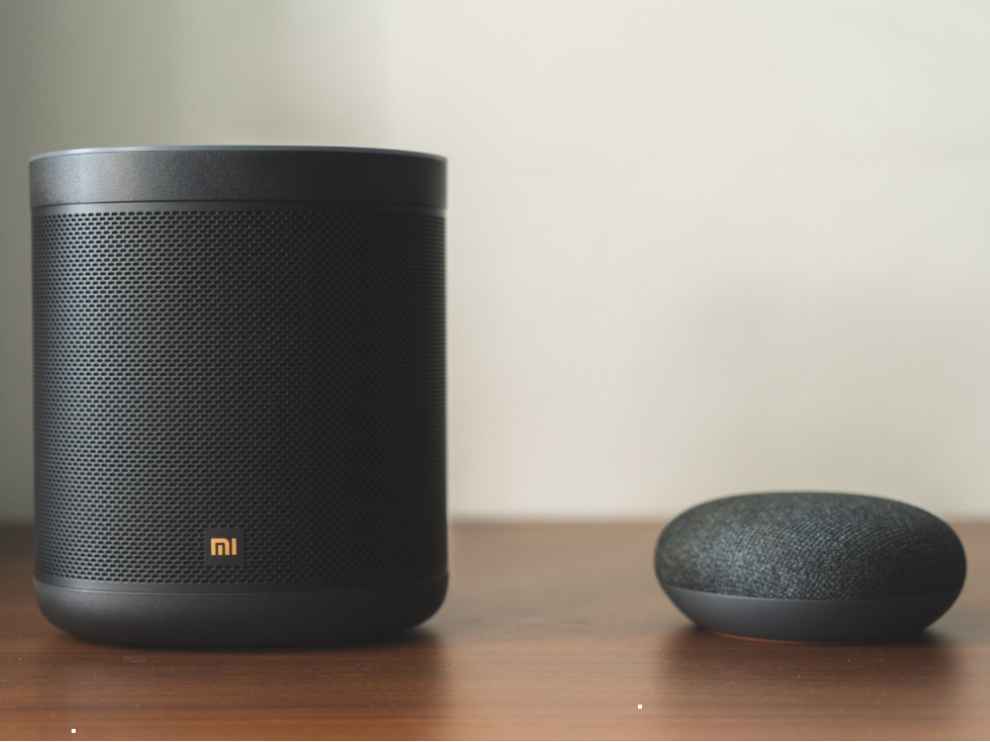 In terms of design, it's constructed with a combination of metal mesh wrapped in the centre and the frame is made of ABS material with a warm matte finish. It's fairly lightweight and the build is fairly good for an entry-level speaker. The company is making a big deal about the grill having 10531 holes, that apparently allow even distribution of audio. It resembles the Sonos Play:1's design language, and that's not a bad thing.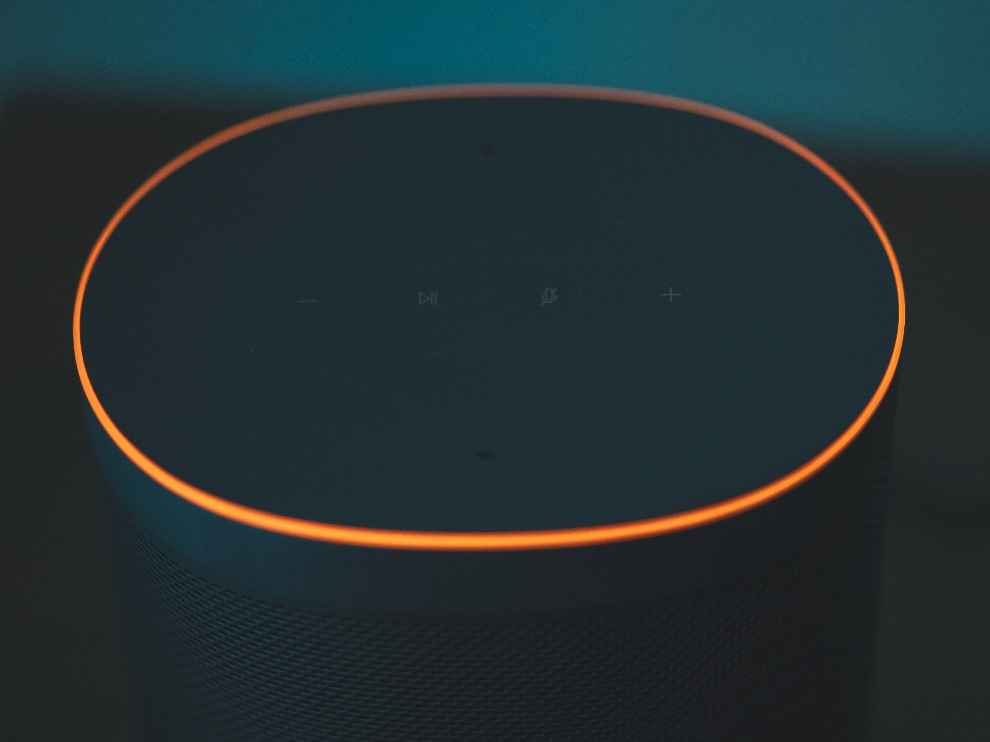 On the top, it has touch-based buttons bordered by a ring of aurora light band on the corners. These buttons allow you to control volume, turn off/on the mic and play/pause. Sadly the buttons aren't backlit, which will make it difficult to spot in the dark. The aurora light uses 24 LED light beads underneath to produce different colour gradients to add to its visual aesthetics. The two microphones are also placed on the top of the speaker.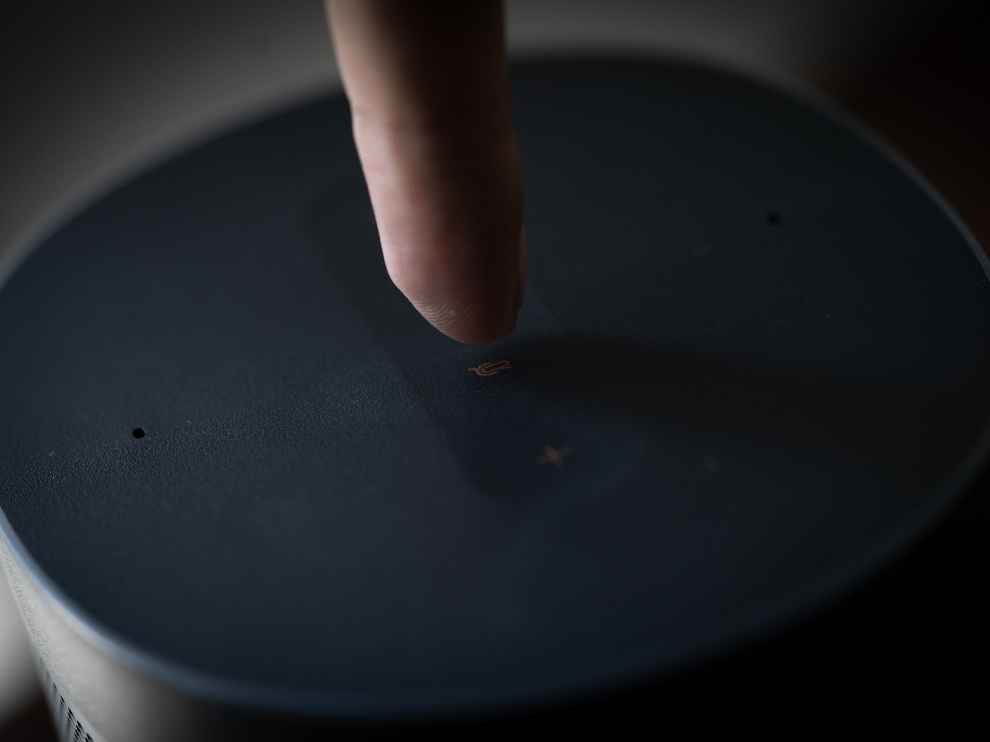 The bottom ditches sharp edges and has curved corners instead, along with four rubber tips to give it a firm hold on most surfaces. There are no ports on the body except for one that facilitates the power chord. I might be nitpicking, but the quality of the power adapter doesn't match up to the build quality of the speaker or simply to the ones that come with Echo and Google Home devices.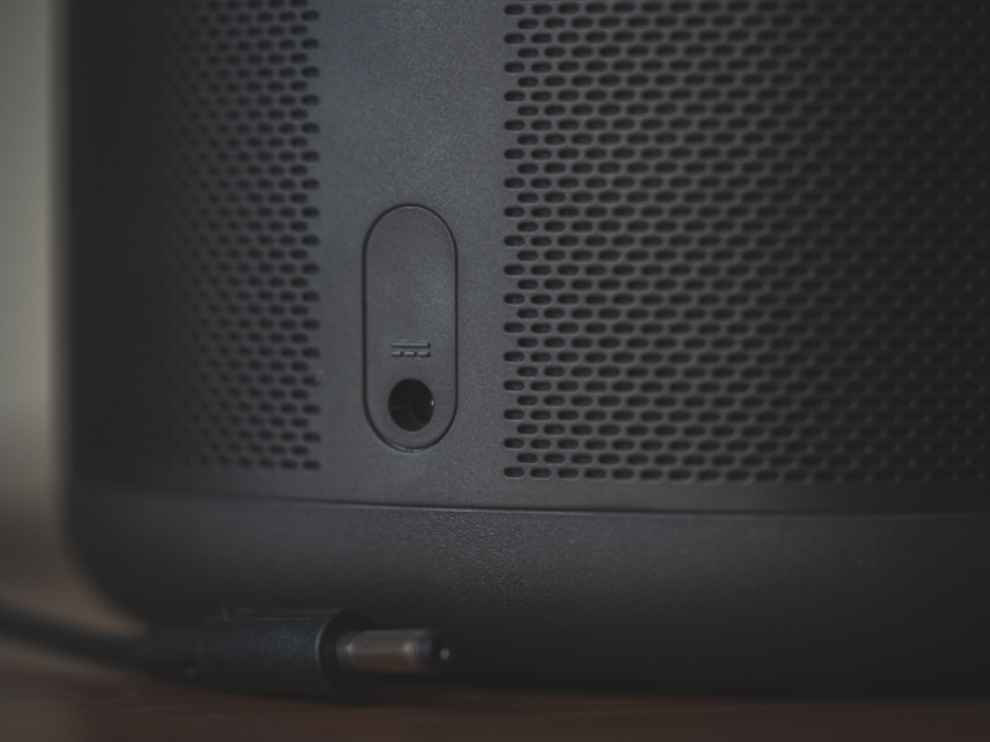 Microphone performance and voice response
While microphones and voice response are the spine of any smart speaker, it is one of the areas where the Mi Smart Speaker falls short. Xiaomi has used two far-field microphones on this one, placed right on the top to avoid any blockage. However, we found it to be inconsistent at a higher volume. I used it in a square room spanning over 200-250sqft area with the speaker placed in the centre, right next to my existing Google Home Mini.
It would be unfair to be overly critical about the voice response as it does a pretty good job at up to 70% volume, but I also can't deny it requires you to yell at it more than once when you pump up the volume to higher levels. Surprisingly, my Google Home Mini picked up my commands faster (on the same Wi-Fi network) and more accurately (from the same distance).
This is one area which, no matter the price, should work how it is intended to. A voice assistant should be as responsive as a real person sitting right in front of you. Imagine talking to someone next to you and not getting a response despite several tries. Yes, that's how it feels if you can't learn to live with it.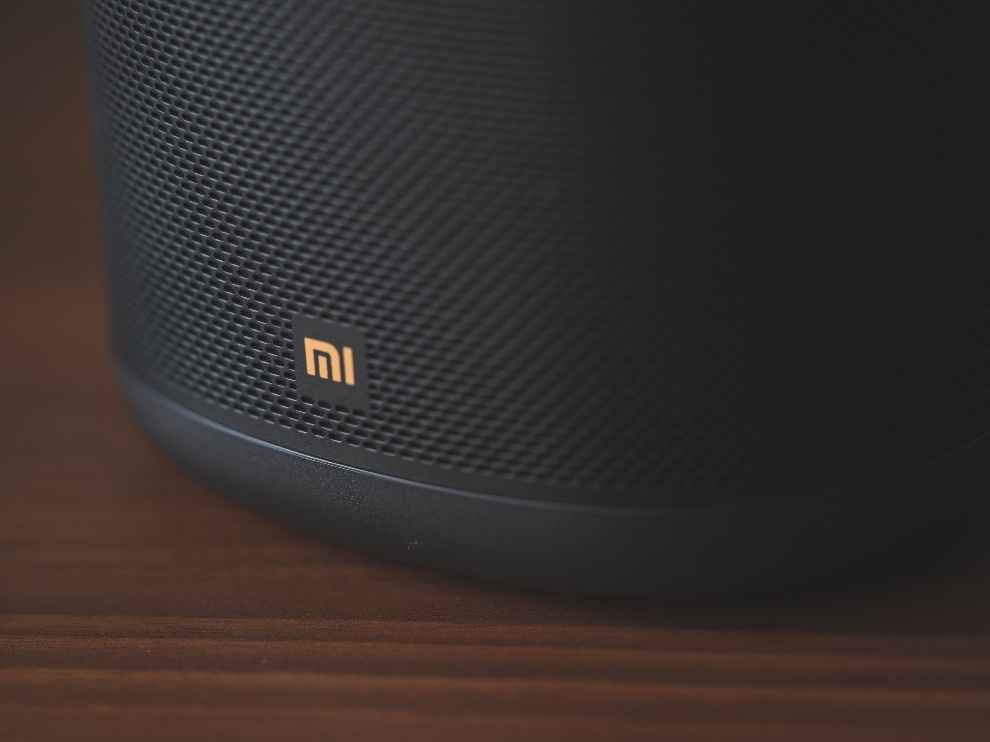 Audio Quality
Just like voice response, the audio quality of a smart speaker also matters while making a purchase decision. After all, you will be listening to music or maybe even a podcast. It has a 2.5-inch, 12W full-range driver with a paper diaphragm, which makes it far superior to the Google Home Mini or Echo Dot 3rd Gen, on paper. The voice coil and U-shaped air duct design at the bottom of the loudspeaker make room for more bass, which is also something that its competitors lack. It has 'DTS professional tuning', which makes it switch between human voice, mild and bass sound modes.
Expectedly, its sound output is much superior to its competitors. The Bass is prominent enough to be felt, but not something which can make your windows vibrate. I played genres ranging from hip hop to 80s classic rock, and it's surprisingly impressive compared to what I've heard on similarly priced smart speakers.
The quality of the sound, however, isn't as moving, although you can tune it as per your requirement using the EQ option in the Google App. It has a soft sound signature, which is good for music playback but not as much for voice. The DTS tuning seems to fail in eliminating unnecessary bass from podcasts or news. The bass, at times, overpowers the mids and lows, which eventually muffles the audio in some cases. Still, it's undeniably a no-brainer to pick this instead of its smaller competitors at this price.
In order to get stereo playback, you can pair up to two Mi Smart Speakers to get a more immersive audio output.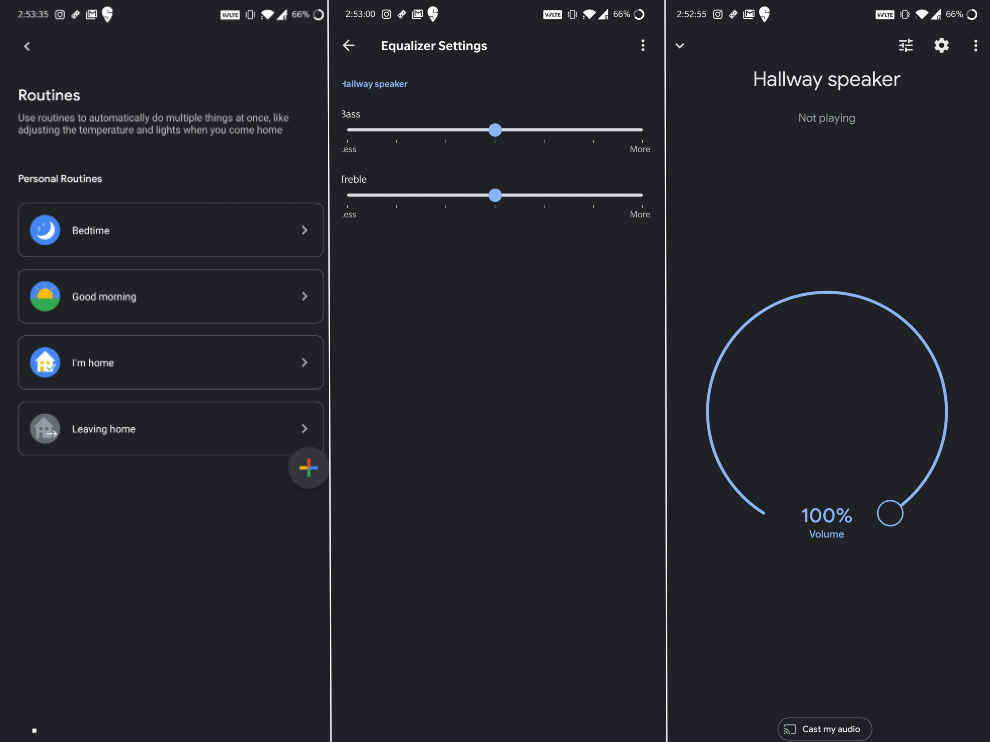 Smart Home features
Like any Google Assistant-based smart speaker, this one also lets you do basic tasks like setting reminders, booking an Uber, controlling IoT-based appliances and so on. The speaker also has Chromecast built-in, which worked just as intended when I tried to stream videos and music on a smart TV. You can speak to Google in Hindi and English, and it responds to you in the same language with equal efficiency.
It can also be used as a standalone Bluetooth speaker in case you lose Wi-Fi. You just have to command the Assistant to "pair Bluetooth" and it will automatically go into pairing mode. As of now, the speaker hasn't shown any issue in connectivity, pairing or simply detecting within supported apps.
Setup
The Mi Smart Speaker is pretty straightforward to set up. Since I've used and set up quite a few smart speakers, I handed over this task to my colleague who was setting up a smart speaker for the first time. You just have to plug the speaker to power it up, install and go to the 'Google Home' app (available on iOS and Android) on your phone, and it will automatically detect the speaker when it's in proximity. Once the speaker is found, just keep following the instructions. No rocket science here.
While setting it up, the Google Home app will ask you a few things like your preferred music and video streaming apps to customize it as per your usage.
Bottom line
The Mi Smart Speaker is a dream come true for first-time smart speaker buyers. It blows the Amazon Echo Dot 3rd Gen and Google Nest Mini out of the bush in terms of audio quality and loudness. It does everything a Google Assistant-based smart speaker can do, so the only downside is its inconsistent mic response, which can be overlooked, given its low-price.