Amazon Echo Spot detailed review
If you thought that having a listening device in your room wasn't unsettling enough, Amazon has now released the Echo Spot. This is a cute little clock for your home, except where there should be hour hands, you have a display and where there should be a solid frame, there is a…camera. The base is rubberized to ensure the Echo Spot doesn't slip off where ever it is you've placed it (in the event of an earthquake or whatever). The Echo Spot, Amazon says, does serve a purpose, one that would justify the price tag of Rs. 12,999. Since we refuse to accept any manufacturer's claims at face value, I took the ultimate privacy risk home to see if there was any legit value in the services I was being offered in lieu of my peace of mind. I kid. Amazon Echo Spot is not the biggest privacy risk. Or is it? Here's how that went.
Build and Design
The Amazon Echo Spot that adorned my room was built out of white plastic that felt smooth to the touch. At first glance, it may look like a little toy, but picking it up makes you realise the heft. The all glass display on the front under which the Echo Spot houses a 2.5 inch adds to the weight of the device for sure. The flat bottom of the Echo Spot comes with rubber feet that prevent the Spot from slipping off surfaces. This is a handy thing to have because this is what prevents the Echo Spot from taking a tumble in case you accidentally knock it. The top of the smart speaker features the volume control buttons along with a button to disable the far-field microphones that the Echo series of smart speakers are so well known for.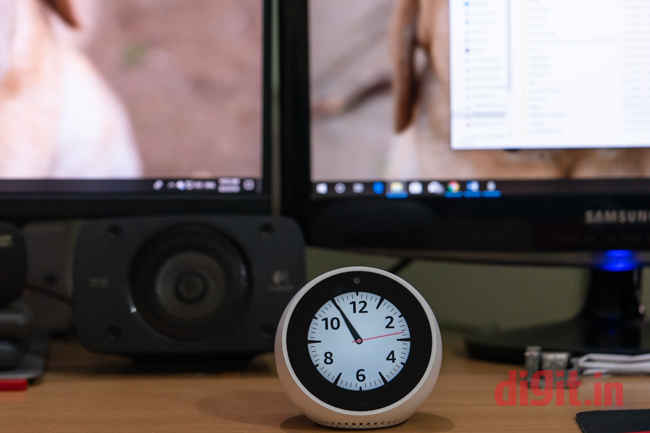 The Echo Spot has a very simple, elegant and minimal design. There's nothing to fault on the design language or the build quality of the Echo Spot. What is, however, notably missing is water resistance. For a smart-speaker that is designed to reside on a side table (or similar), the lack of water resistance is a little surprising. At home, it is very likely that someone would end up using the side table where the Echo Spot is placed to also put down a glass of water, or any other liquid. Maybe you host a small party at home and all the careless dancing results in someone accidentally spilling their libations on this little ball of plastic. There are definitely reasons for the device to have water resistance and we can only hope that Amazon takes that into account for the second generation of their smart speakers.
Setup
Setting up the Amazon Echo Spot is incredibly simple. Once it's powered on, it will guide you through the on-screen setup. You will be asked to connect to the Wi-Fi, followed by logging into your Amazon account. Holding the Echo Spot in the hands and typing is much easier than poking at the screen while it is placed on a table. The keyboard is a little squished and typos will happen, but since this is probably the only time you will ever need to use the on-screen keyboard on the Echo Spot, it's not a deal breaker. Once logged in, the Echo Spot should just show up on your Amazon Alexa app. This is a completely different way of setting up the speaker than what we've seen with the Echo and the Echo Plus, which require a smartphone to set them up. In comparison, the Echo Spot is a lot easier to get going, all thanks to the built-in display.
Features and User Interface
Now what you can do with an Amazon Echo device is the same for the most part, regardless of whether you buy the cheapest (Echo Dot) or the most expensive (Echo Plus). There are, however, a few minor functional differences, but with the Echo Spot, the things you can do is a number that only grows. Let's first examine what you are able to do across the board. All of the features are executed by Alexa, Amazon's homegrown Artificial Intelligence infused assistant.
Alexa skills allow you to do things like ordering food from Zomato, Food Panda, Faasos and even smaller services like Box8. You can have Alexa call you a cab through both Ola and Uber and while you wait for the cab to arrive, you can also get news from a number of different news outlets. Speaking of news, The Echo Spot makes good use of the screen by offering something called a "Flash Briefing," where it shows you news clips from the top headlines of the day. All you have to do is say "Hey Alexa! What's my flash briefing?" and the assistant starts off with the news followed by weather information. The novelty of this feature dies out after some time because eventually, you will be okay with just hearing the audio part of the briefing while you take care of other things.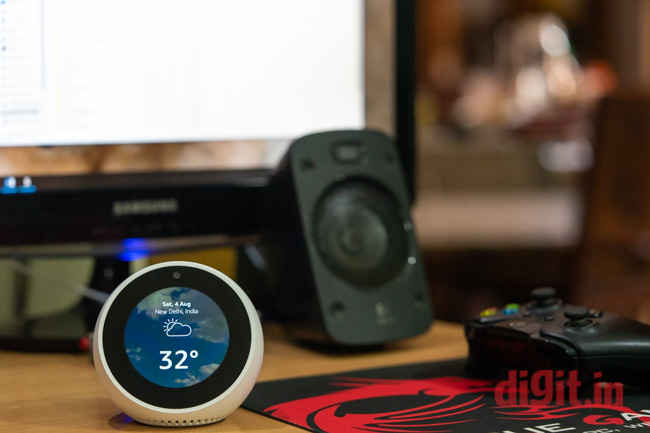 There are a mind-numbing number of things you can do with an Echo Spot. All these abilities are called Alexa Skills and there are thousands of them available in India. You can control smart devices such as lights around your home or your television. However, the Echo Spot does not come with a built-in hub, so if you want to control hardware, you're going to need to invest in a hub. The Echo Plus comes with a built-in Zigbee hub which makes it easy to directly pair smart lights and other smart devices to the Echo Plus. This isn't possible with the Echo Spot.
The Echo Spot also houses a front facing camera which can be used for video calls or sending a quick video message to your contacts who also have the Echo Spot.
Performance and Audio
The Echo Spot's main USB is the display, which is meant to make some things easier. You can watch videos, but on a 2.5-inch display, things aren't as visually appealing as you'd think. I placed the Echo Spot on a side table next to my couch, which was one of three spots it could have taken up in my room. During my time with the Echo Spot, I moved it to my work desk and a chest to the side of the room. The Spot stayed in each…spot (heh) for a period of one week each.
While the Echo Spot was on the side table next to my couch, my back would be to the device while I was working on my desk. Trying to use the Echo Spot in such an arrangement proved very problematic since I was required to turn every time I needed the Echo to do something. Issuing commands without turning didn't evoke a response from the device. Inferring any kind of performance metric from this kind of a setup would have been unfair, so the Echo Spot was moved to the front of the room, that is, on my work desk.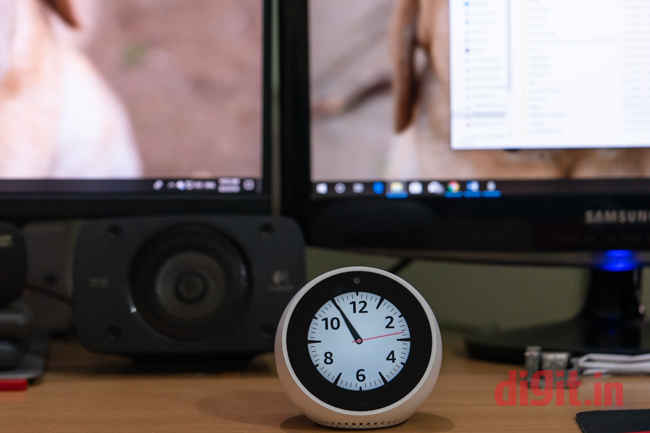 Once placed on the desk, the Echo Spot's responsiveness and utility increased drastically. When placed within direct sight, the Flash Briefings became a lot more useful and easier to consume. The command recognition became very accurate, with the Echo Spot recognizing the wake command 5 out of 5 times when sitting next to it and 4 out of 5 times when standing 10-12 feet away from it. Similarly, Alexa was also able to recognize requests to play music and weather updates. Alexa is now a lot more capable than she was when the service was originally launched in India. Now besides being able to get her to change the lighting of my room, I was also able to order food from Zomato.
Along with being able to perform tasks, the Alexa powered Echo Dot is also capable of playing back music. It can do so from services like Amazon's own Prime Music service and Saavn. Between the two, you've got practically most of the common music covered, whether its Rock, Jazz, Blues or Bollywood. When it comes to playback quality, the speaker is really good for Jazz, Blues, Pop music and even Bollywood. However, when it comes to Rap, Hip-Hop Rock or Electronic music, the sound is just too weak to impress. For rock music, the drums sound feeble and for Hip-Hop and Electronic, the bass is just too flat for it to be enjoyable. What the Echo spot does offer is an aux-output so that you can plug the Echo Spot into a better speaker for richer output. You can always pair the Echo Spot with other Echo speakers in the house and play music across all of them if need be. As a music playing device, the Echo Spot isn't the best choice out there. You're better off with the regular Echo or even the bigger, more expensive Echo Plus for that.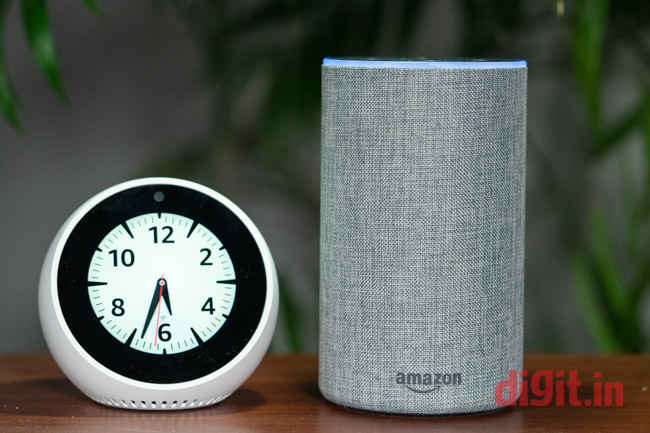 Bottomline
As a smart speaker, the Echo Spot does everything its brethren like the Echo and the Echo Plus do. The value proposition of the Echo Spot lies in its screen which is able to display videos, mostly of news clips if needed. It also functions as a very good-looking clock, however, with the built-in webcam, I couldn't help but feel uneasy putting this on my bedside table. The webcam doesn't really add much value, instead, only raises concerns. It would have been better had Amazon made the Echo Spot without a webcam, so that it could have been a great bed-side speaker, without inducing any more concerns of privacy. Other than that, the speaker is great and leaves very little room for complaints. Get it if you're interested in adding a cute little ornament to your side tables that doubles up as a clock and a smart speaker.