Amazon Echo Input detailed review
Smart speakers are a fairly recent phenomenon and not everyone may feel like investing the extra money into one. Of particular note would be the kind of users who already have a speaker system (irrespective of calibre) or even a Bluetooth speaker at home. It can be hard to justify the cost of an additional speaker, just for its smart capabilities, one which won't even connect to their main setup. For such people, Amazon now has the Echo Input, a little black disc that brings Alexa's smarts to traditional and Bluetooth speakers, at a relatively affordable price. But does the speaker offer enough value for money to justify its purchase? We find out.
What's in the Box
Amazon Echo Plugin speaker
Micro USB cable
Wall adapter
Aux cable
Build and Design
The Amazon Echo Plugin essentially looks like a coaster, albeit a slightly thicker one. There are two buttons on the top surface with a smartly placed LED indicator in between them. Around the periphery of the Echo Input are four holes under which are house four far-field microphones. The bottom side has a rubberised layer in order to prevent the Echo from slipping. Lastly, around the circumference at the back, you will find a micro USB port and a 3.5mm out, so that you can route the audio to your speakers.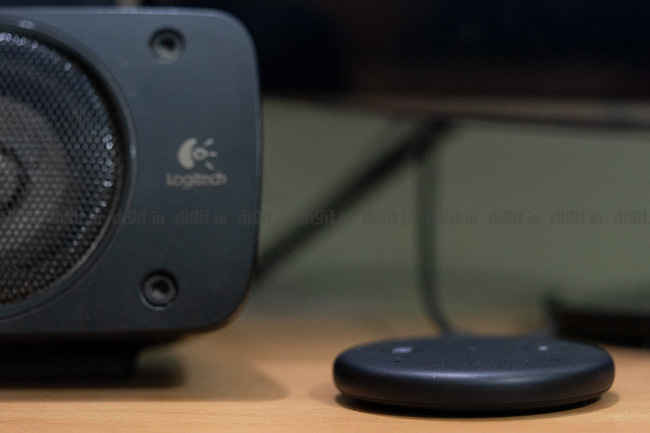 The Amazon Echo Input is this and basically inconspicuous
In terms of build quality, the Echo Input feels sturdy and minimal. There's very little to complain about here because well, there's very little here, to begin with. The Echo Input is slim enough to slip into your tight-fitting jeans, which means it can easily slip into a nook or cranny on your desk or table.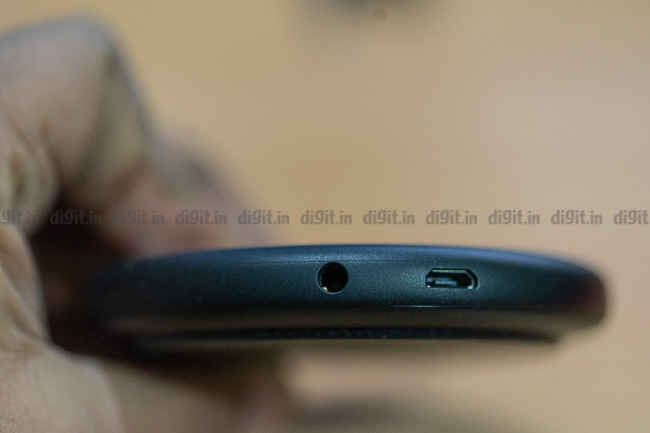 The Echo Innput has a 3.5mm output and a micro-USBB port for power
Setting up the Echo Input
Setting the Echo Input up is an absolute breeze. Once you have the device plugged into a power outlet, just fire up the Alexa app on your smartphone. You will find the new Echo Input in your "devices" section, ready to be paired with your account. That is literally all you need to do to get your Amazon Echo Input up and running. For pairing Bluetooth devices to the Echo Input (like a smartphone or Bluetooth speaker), just say "Hey Alexa! I want to pair a device." The Echo Input will start searching for any available Bluetooth devices and pair with the one of your choosing.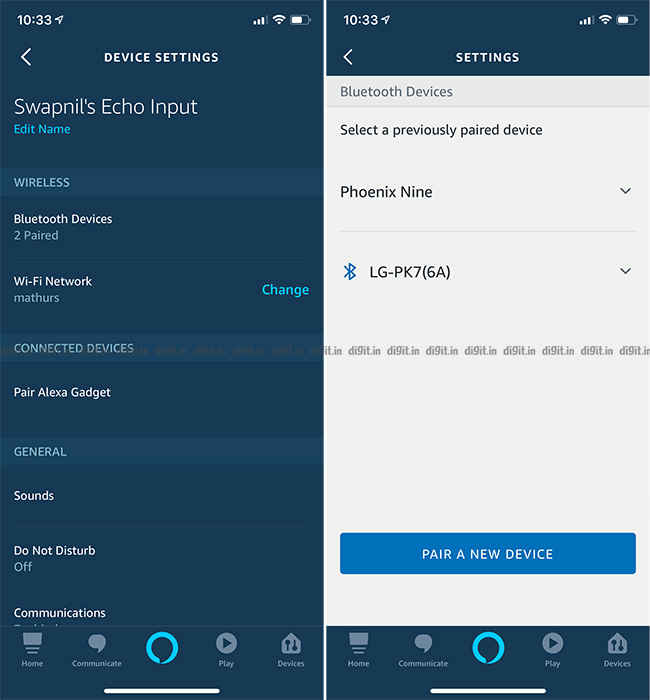 Pairing Bluetooth devices to the Echo Input is super easy
Now interestingly, if you have an aux-cable plugged into the Echo Input, and have an active Bluetooth speaker paired to the Input as well, the audio is by default routed to the cabled speakers. The only way to re-route audio to the Bluetooth speaker would be by unplugging the aux-cable. We wish Amazon would have made it easier to do this, either by voice command or through the app. Again, an easy fix via software, hopefully, Amazon will issue this soon.
Performance
The Echo Input has no speakers of its own. Its purpose is simple; to bring Alexa to your existing regular or Bluetooth speaker. This functionality can be achieved using any of the other Echo speakers, so what's so special about what the Echo Input? In all honesty, it is a device designed specifically for those who want to use their existing speakers with Amazon's Assistant, without having to shell out for a speaker they would never actually use (as a speaker). The Echo Input brings all the convenience of Alexa to your existing set of speakers, over both 3.5mm audio-out and even over Bluetooth. We tested the Echo Input in both conditions to see where it shines best.
Amazon Echo Input paired with speakers over 3.5mm audio cable
We first connected the Amazon Echo Input to our Logitech Z906 speaker system using the supplied 3.5mm auxiliary cable. Alexa was asked to play some classic rock from Amazon Music's library. Once the playback begun, we noticed that the output volume was too low. We had to crank the volume on our Logitech Z906 to almost 75 percent for the music to be loud enough to be enjoyed. In comparison, when the Samsung Galaxy Note 9 was connected to the same speaker using the same cable, the speakers had to be turned down to 30 percent to maintain the same level of loudness. We tried plugging the Echo Input into a smaller Logitech Z623 2.1 speaker setup and noticed that the overall volume output from the Echo was low even in this case. Hopefully, Amazon can rectify this with a software update.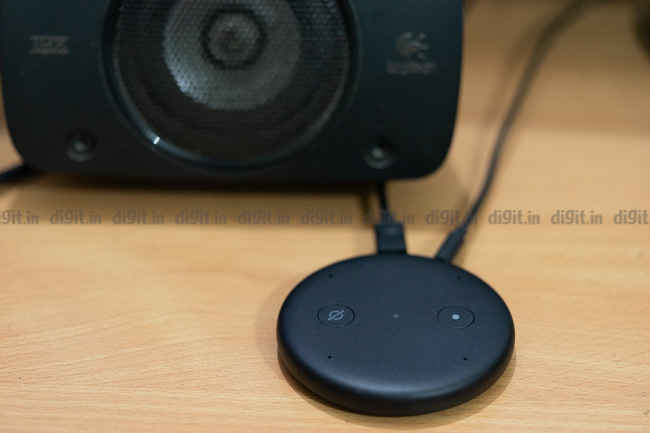 The Echo Input picks up audio commmands even when placed closed to a speaker
Low volume output aside, the Echo Input's ability to pick up commands was commendable. Even with music playing and the Echo Input placed right next to the centre speaker of our home theatre system, the microphones were able to discern the command. This the speaker was able to do 8 out of 10 tries from distances between 2 and 6 feet. Upon moving 10 feet away, the recognition rate dropped. We tried speaking louder so that the Echo would hear us above the sound of the music, but there was no discernible difference. Of course, once the music was turned off, the command recognition improved drastically.
Amazon Echo Input paired with over Bluetooth.
We also paired the Amazon Echo Input with an LG XBoom portable Bluetooth speaker. Again, we had Alexa play some classic rock from Amazon Music's library, which the Input admirably transmitted to the wireless speaker without any lag or drops. The Echo Input was able to maintain connectivity with the speaker even after being moved some 25 feet away from it. Moving the speaker farther than that led to occasional drops in the signal, causing the music to become choppy. When streaming music over Bluetooth, we found the volume levels to be adequately loud. The LG XBoom was a hair louder when paired with our Samsung Galaxy Note 9. It was not a big deal honestly. In terms of command recognition, the Echo Input worked just fine up to 8 feet away when the music was playing and the Bluetooth speaker was placed away from the Echo. When there was no music playing, the performance was roundabout the same.
Music Playback
The Amazon Echo Input is one of the cheapest ways to stream music wirelessly to a traditional, non-smart set of speakers. Essentially, anyone with a set of computer speakers or bookshelf speakers can use the Echo Input to turn them into a smart device. However, you can also finally stream music to your regular speakers over Bluetooth from your smartphone. This is a huge plus as it frees your smartphone from the tethers of an aux cable. Sure the volume is a little lower than we'd expected, but if you crank your speakers up, you won't feel like you're getting the short end of the stick. When streaming music from a smartphone to the Echo Input, there is no discernible drawbacks, save for the volume issue. For this particular reviewer, the Amazon Echo Input is a win-win device simply for bringing Bluetooth connectivity to a set of speakers which had none.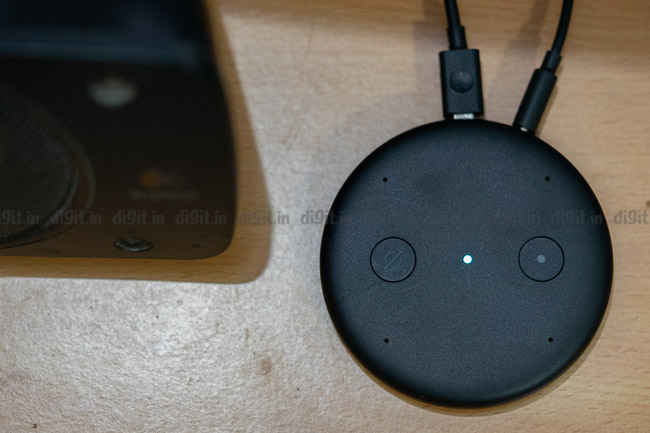 The Amazon Echo Input brings intelligence to regular speakers
Bottomline
The Amazon Echo Input is a barebones Alexa device whose goal is to bring the Amazon AI assistant to any speaker you may own. What this means is that for a price of just Rs 2,999 you not only get to fuse any traditional, wired speaker system with Alexa's smarts (yes, even home theatre systems), but you also get to add Bluetooth connectivity to them. The design makes the Echo Input almost invisible, but that doesn't mean it won't pick up your commands, within reasonable limits. In all honesty, after having used the Echo Input, it feels those of you who are budget conscious would be better off buying the Input along with a nice set of 2.1 speakers. The setup would make for a great all-around system for both AI tasks (courtesy of Alexa) and audio playback (for music and movies). If you feel like you need the best voice recognition possible, then yes, you could go for the Amazon Echo or the Echo Plus as their 7 far-field microphones (as against the 4 on the Echo Input) will give you better results, while still offering a 3.5mm line-out for you to plug into your speakers. Regardless, the Echo Input by itself offers great value for money.