Verdict
Targeted towards budget or entry-level gamers, the VPRO V510 manages to offer the basic features required for gaming. Additionally, it incorporates a spill-proof design in order to prevent damage from accidental spills. Hence, if your lifestyle includes a lot of eating and drinking on your PC table, this might just be the keyboard for you. However, we aren't sure to what extent the keyboard is spill-proof since the website doesn't mention any IP certification. There's a plastic frame underneath the keycaps that ensure the liquid is routed away from the switches, towards the four holes, finally to the bottom of the chassis.
The entire assembly is housed inside a plastic chassis which has a texture similar to brushed-aluminium that prevents fingerprints and oil impressions to an extent. The ABS keycaps are manufactured with double-shot injection that will ensure the longevity of the symbols. The USB 2.0 connector won't achieve an extended lifespan due to the absence of gold-plating but proper care can take it a long way. The V510 incorporates Rapoo-branded blue mechanical switches which have an actuation force of 50g and supposedly a lifespan of 60 million keystrokes. This is the first time we've experienced these switches and they feel more clicky and louder compared to Cherry MX Blues.
Full N-key rollover has been implemented on the keyboard which means that all your key presses will be registered even when simultaneously clicked. No software support is present but different functions such as changing the lighting effects, toggling the Windows lock key, muting, and toggling game mode, all can be done from the keyboard. We didn't notice any input error or visibly glaring problems in gaming or typing performance. The V510 is an entry-level mechanical keyboard selling at an affordable price tag. However, we would only recommend this if buying a spill-proof keyboard is mandatory for you. Otherwise, we would recommend a more affordable Zebronics Max Plus.
VPRO V510 detailed review
Introduction
Another company is targeting the budget gaming market in India with its entry-level mechanical keyboard. Rapoo has been known for selling peripherals, mostly mice and keyboards, for quite some time. Last year, they entered the gaming market with their gaming brand called VPRO. They launched a range of keyboards, mice, headsets and more. While we look forward to review the entire line-up, Rapoo sent us the VPRO V510 which is a mechanical keyboard using a spill-proof design to prevent damage from accidental spills. It also uses a different design for its mechanical switches, to make it easier for the liquid to flow down the keyboard chassis easily. Along with these small design choices, we'll be talking about several other aspects of the keyboard.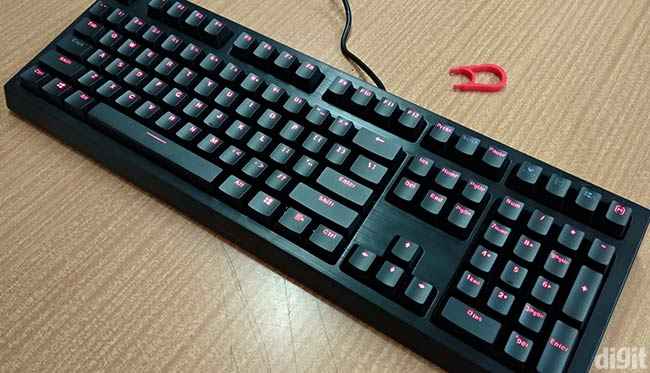 Specifications
Keyboard size: Standard, Numpad included
Keyboard backlighting: Single LED (Red)
Switch type: Mechanical (Rapoo Blue 60-million lifecycle)
Polling rate: 1,000Hz (1 ms)
Key-rollover: N-key rollover
Interface: USB 2.0
Dimensions: Width – 45.1 cm, Length – 15.3 cm, Height – 3.75 cm
Cable length: 1.8m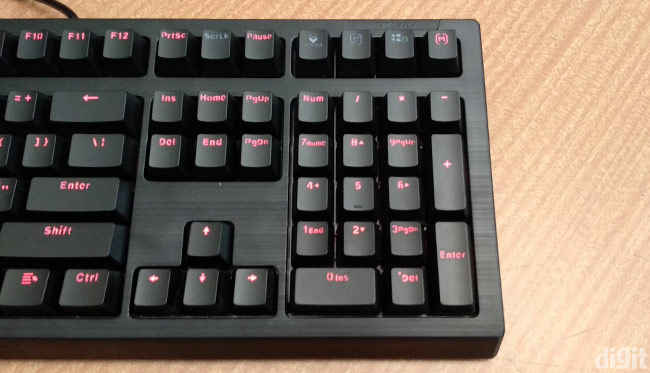 Features and accessories
The V510 is a pretty basic mechanical keyboard and since it falls under the budget category, there aren't many premium features present. However, it supports few basic features required for gaming such as full N-key rollover, backlighting support, and a Windows lock key toggle. In the Microsoft Keyboard Ghosting Demonstration, we observed that every key press was registered. We were able to register keystrokes even in combinations of the modifier keys and multiple keystrokes in different rows as well. So, you don't need to worry about your keystrokes not getting registered while you're using the WASD keys.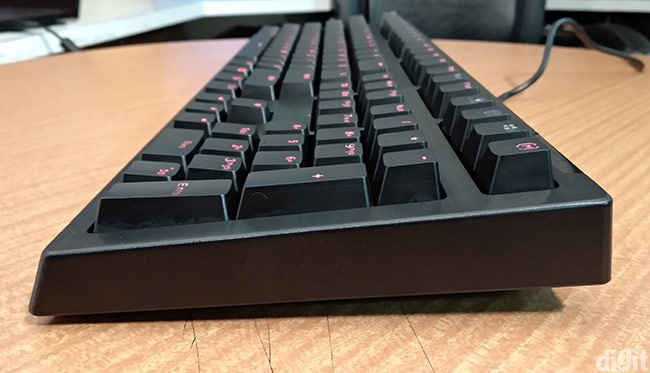 The keyboard has a monochrome Red backlighting with support for a maximum of 12 lighting effects. These effects can be toggled using the VPRO key on the top right section of the keyboard. You can increase and decrease the level of brightness using the up and down arrow keys along with the VPRO key. The same can be followed with the right and left arrow keys to change the speed of the lighting effects. Whenever you plug in the keyboard, the keys light up with a "V" formation on the middle of the keyboard. This is similar to a boot animation we see on phones and PCs, and it's the first time we saw this on a keyboard.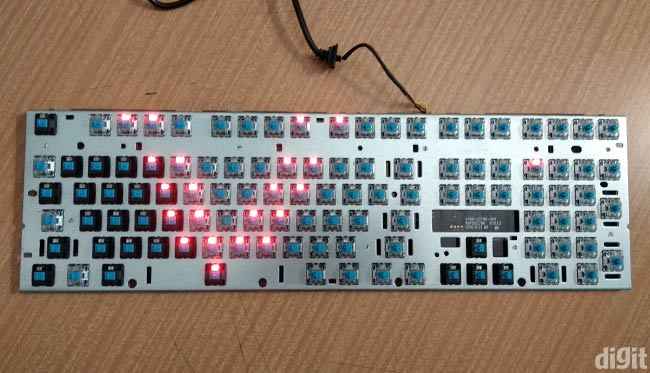 Surprisingly, there aren't any multimedia keys on the keyboard, not even as a secondary function. This could be a deal breaker for some since it's a default function present on almost every keyboard. You can only mute the volume using the Mute key on the top right. There's also a Windows lock key toggle and a Game mode key on the top right. A big shortcoming on the keyboard is the absence of symbols on the keys for the secondary functions. Usually, you would find two symbols on the keys denoting a secondary function such as brightness or multimedia control. The function keys pressed along with the VPRO key allows you to switch between the 12 lighting effects. On first glance, we didn't know about this and with some trial and error we figured it out. However, we've attached an image of all the secondary functions accessible with the VPRO modifier key below.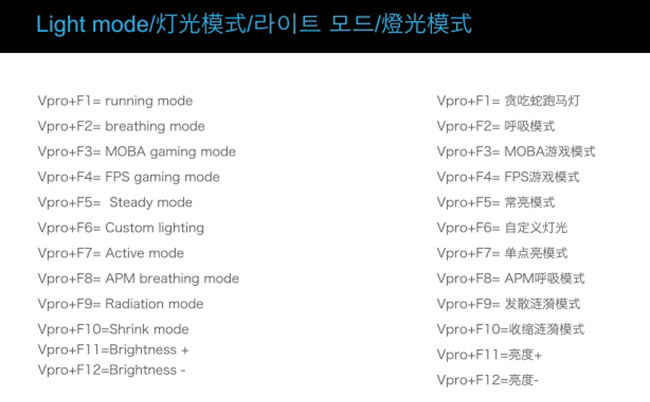 There aren't many spill-proof mechanical keyboards at this price range. It isn't a mandatory feature but if you're used to drinking around your keyboard a lot and are clumsy as well, this could save you from permanently damaging your keyboard. The website lists the V510 to be spill-proof but we aren't sure to what extent since there's no IP certification mentioned. There's no software support and the above mentioned features are all there is to the keyboard which can be controlled from the keyboard.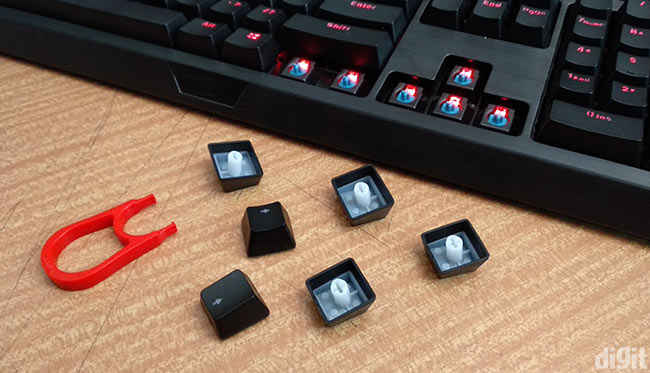 Speaking of the accessories, there aren't many things packaged in the box apart from the keyboard and a plastic keycap puller. Expensive keyboards don't package keycap pullers and it's great to see one in a budget keyboard. We would have appreciated if they had included a manual or quick start guide in the box since it isn't available for download from their website.
Build quality and design
A plastic chassis houses the entire keyboard with a textured surface on the top. The surface coating choice prevents fingerprints or oil impressions to a great extent. We've been noticing this trend where few budget mechanical keyboards have been shipping with double-shot keycaps. Although they feel the same with minor differences, they will eventually stand the test of time compared to laser-printed ones seen on expensive and premium keyboards. This means that the symbols and alphabets on the keys won't wear off sooner. The ABS keycaps have a thick stem, again pointing towards greater build quality.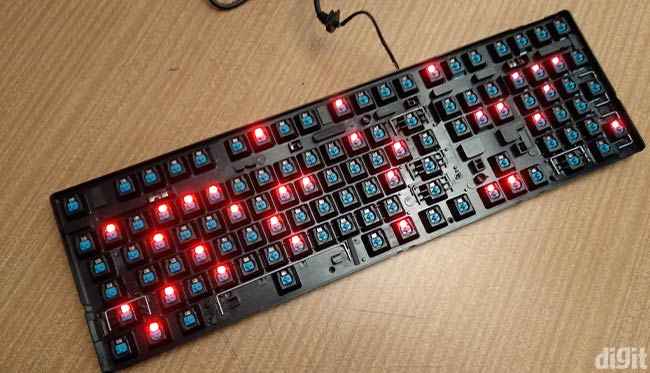 Opening up the keyboard can be a little painful after you've removed the screws below the rubber feet. There are numerous plastic tabs and you need to be careful not to break any of them. After opening up the top plastic panel, you'll come across another plastic frame fixed over the switches that is a part of the spill-proof design. This frame ensures that the liquid doesn't enter the PCB level and simply spills through the four holes at the lower part of the keyboard bottom chassis.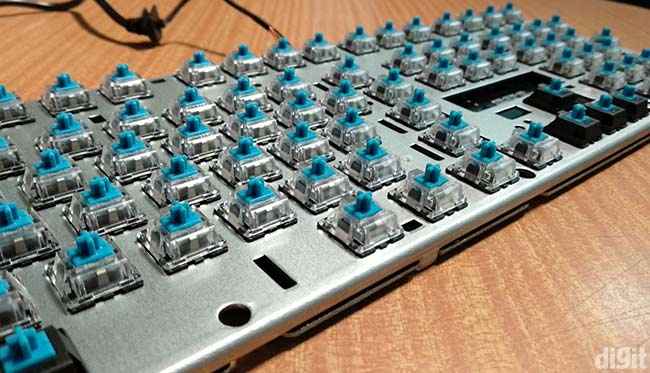 Removing this plastic frame reveals the metal frame and PCB which are soldered together. They have been soldered mostly to keep both of the parts rigid to prevent damage to the switches.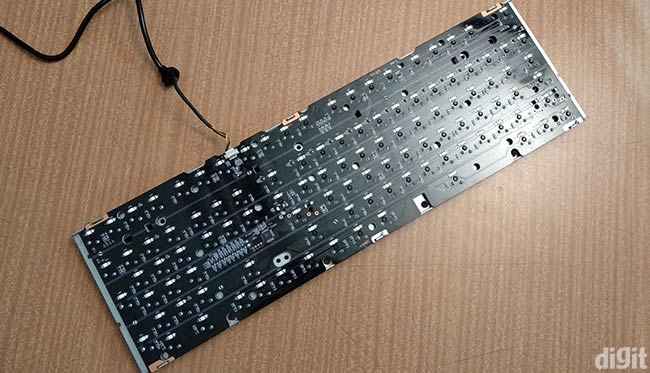 Rapoo's older mechanical keyboards shipped with Kailh mechanical switches but the V510 has Rapoo marked on them and they are colour-coded Blue. They are similar to Cherry MX Blues but the Rapoo ones feel more clicky and they are louder. They claim to have a lifespan of 60 million keystrokes with an actuation point at 2mm.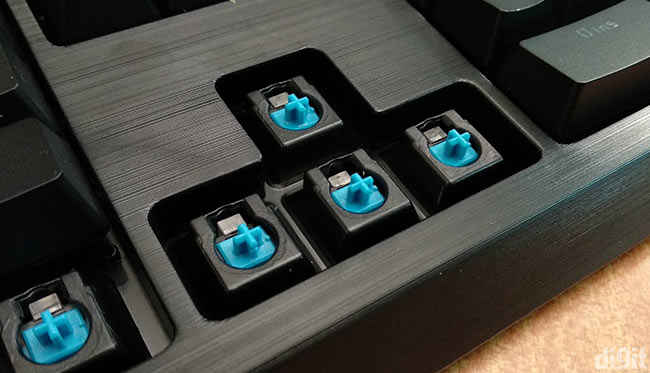 Turning over the PCB, we found diodes dedicated to almost every switch which indicates that the keyboard is capable of achieving a higher level of key rollover. We confirmed the rollover in the Microsoft Keyboard Ghosting Demonstration.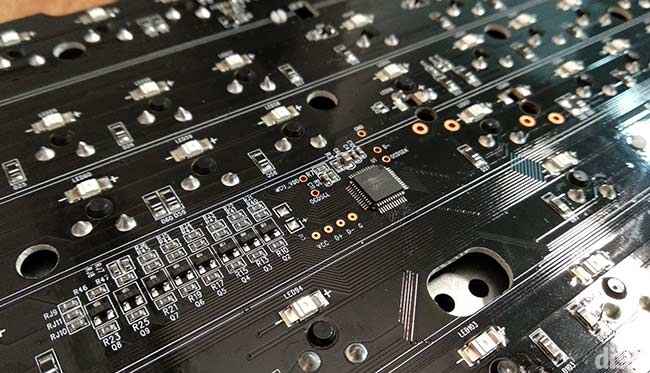 The font might not be appealing to everyone since it looks too gamer-ish. It's a personal preference but these things are usually changed in the next iteration based on feedback from customers or the community. Even though the interior consists of the extra parts for spill-proofing, the keyboard still maintains a regular height.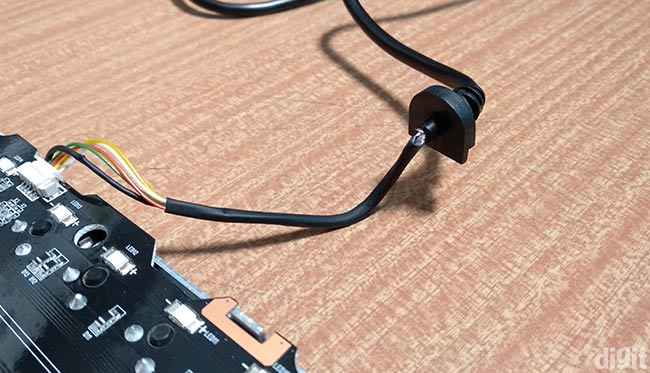 The end of the cable connected to the PCB has loose shielding but it could just be the case in just our review unit. The other end has a USB 2.0 connector which isn't gold-plated. You don't have to worry about any performance issues since they are implemented only to prevent rust.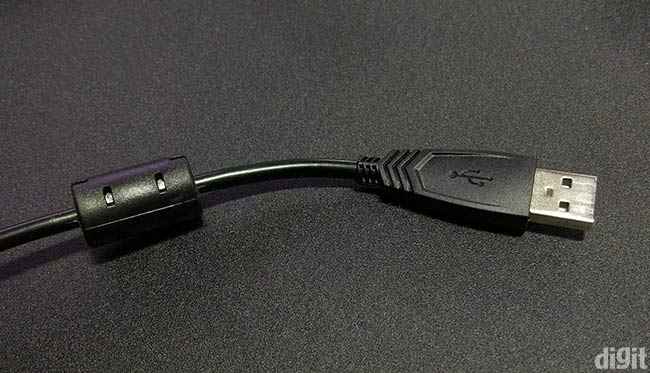 Gaming and typing performance
We used the V510 as our daily driver for a week and found no problems in performance. There weren't any ghosting or latency issues in games. It's been quite some time since we have received any keyboard that displayed any kind of ghosting or reporting issues. Whether it was an FPS game or a MOBA, we didn't face any issue with furiously tapping on the keys simultaneously. The V510 is a plug and play device so you don't need to install any drivers or software. The product page currently doesn't list any firmware upgrades, so it's safe to assume that we are running the latest firmware drivers.
Since the switches are similar to Cherry MX Blues, typing on them was a treat. Although a personal preference, the tactile and clicky nature of mechanical switches are preferred for typing. The tactile feedback is noticeable enough and doesn't feel too mushy. However, it isn't as sharp as the Outemu Blues or Razer Greens. These are subtle differences that you might or might not notice depending on your experience of using different switches. If you're coming from membrane keyboards, you might just love typing on this keyboard.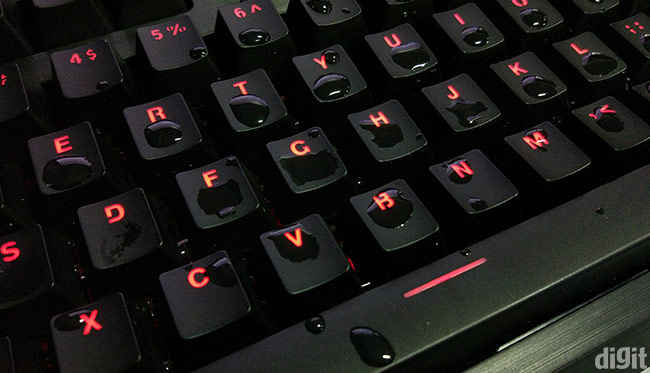 Spill-proof being one of their highlighted features, we couldn't wait to spill something intentionally over the keyboard. To keep things clean, we opted to spill clear water rather than aerated drinks or beverages since that would mean a lot of cleaning later. The keyboard survived an entire glass of water being poured over the keyboard while it was connected. And it managed to still register every keystroke. It won't survive complete submersion, obviously, but anything poured over the keyboard will simply spill out from the four holes at the bottom. The spill-proof design only works when the keycaps are attached otherwise the liquid will directly pour on the switches and fry everything. This is the case with any spill-proof keyboard.