Total War: Rome 2 detailed review
Imagine this: over 8,000 soldiers sporting gleaming armour, brandishing glistening swords, shields and pikes while behind them lines of cavalry soldiers try to placate their nervous steeds, steam pouring out of their noses, as they stare at a rapidly advancing mob of bare-chested Gauls. One of the cavalrymen breaks rank and trots ahead and turns to face the army. This man is better dressed- he seems to barely notice the heavy armour that's obviously weighing him down, and the shocking red plume set in his helmet tells you that this is a General. He clears his throat and addresses his men, he reminds them of their gods, of their wives and children waiting back in their homes, he reminds them of the oaths they took as soldiers of the Roman Empire, of how no man can die with a clean sword and why they are the finest men he has ever served with.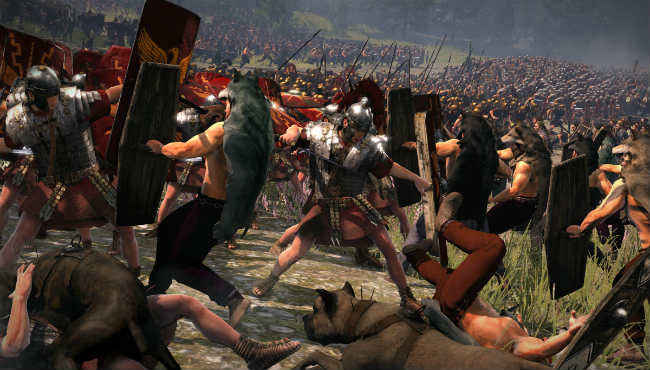 With the ability to render thousands of units at the same time, battles in Rome II can be gloriously messy affairs.
This rousing speech clearly has the desired effect. The men are pumped up, a few of them laugh fearlessly at the cloud of dust up ahead and bash their swords against their shields, creating a din that only seems to drive the adrenaline up. The General shouts a command and the men bend slightly in unison, the ones up front bring up their shields to face the Gallic horde while the rest hold their shields above their heads. The General looks at his cavalry and shouts another order. The horsemen divide themselves into two groups and then start trotting away in opposite directions, placing themselves on either side of their brothers-in-arms who are now safely encased inside a wall of bronze and iron.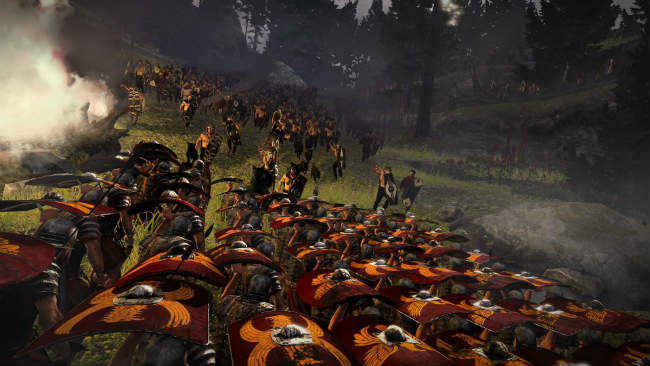 Creating a turtle-like shell with the help of shields is the best way infantry can protect themselves against missile attacks.
In the distance, the cloud gets closer and the soldiers can hear the guttural roars from within. They know that the Gauls may not be as well armed or well trained as them, but they can sure as hell put up a fight. But they also know what comes next. After the General shouts another order, they hear the pounding footsteps and soon hundreds of lightly armoured Velites come pouring out of the forest behind them, their thin but impossibly pointy spears rising up and down like the bristles of some gargantuan centipede. In a few minutes, the Velites have lined up in front of the infantry, and they hold their spears raised behind their heads ready to let them fly. The General looks at the horde, looks up at the sun and nods at the man-at-arms standing among the Velites. The spears fly, for a moment blocking the sun, like a migratory flock of birds and rain down on the horde.

With the howls of pain, you know the battle has begun.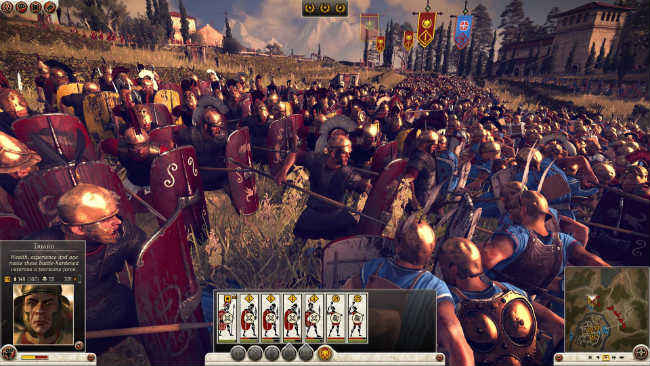 When you're up against an equally well-armed army, tactics become more important than brute strength.
At its best, this is the sort of gaming experience that Total War: Rome II delivers, an experience that cannot be matched by any game out there, and that's the truth. Unfortunately, (and never have I been so sad to write that 'unfortunately'), the road that leads to such an amazing experience is rocky and full of potholes, so much so that many gamers will never be able to actually witness it and will exit the game, frustrated and, most probably, with expletives poised at the tip of their tongues.

You bugs, you stones, you worse than senseless things!

For a game that's only for the PC, it is a damned shame to see how unoptimized Rome II is. I do not think there is yet a PC in the world that will be able to run this game at its maximum settings, and hey, that's alright. I didn't mind that with Crysis, because I could at least play that game by tweaking the graphics settings. With Rome II, irrespective of whatever permutations and combinations I tried (with only 1920x1080 resolution being the constant), the game would plod when things got messy in the game. And this was something I expected to an extent, considering that I own a fairly mid-range gaming machine with a 1.8GHz quad-core Intel processor, 4GB of RAM and a GTX 660. It doesn't mean that I wasn't disappointed though, especially since I expected Creative Assembly to do its best to ensure that the game would run on a system that almost meets the game's recommended specs.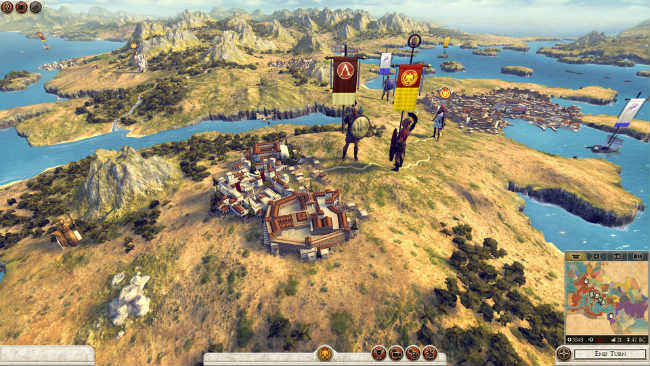 For something that looks pleasant and innocuous, the campaign map is responsible for plenty of expletives, both inside and outside the game.
And that wasn't the worst part. That made itself clear when I was about two hours into a campaign and in the campaign map, not even the battle map. Total War veterans will know that the campaign map is the visually less demanding part of the game that depicts the entire region within which the game is set. Two hours in, the game became almost unplayable with turns taking close to six (yes, six) minutes to complete. Switching off the 'Show A.I. moves' did zilch in reducing that time. At this point, I exited the game and swore that despite being responsible for reviewing the game, I'd be better off spending time doing other things.

Of course, the risk of losing out on my next paycheck proved to be a little strong and so, I restarted the game a day later, starting off a new campaign as the Britons (instead of Rome, like in my previous attempt). And soon, there I was staying up till three in the morning, reacquainted with the addictive nature of the game.

You know what? Screw you, Rome II.

The genius and the mortal instruments

Yes, Rome II is addictive, so addictive that I didn't mind the troubles it put me through. There is something about starting off with a fledgling village and then expanding out using bloodshed, sabotage, spycraft and diplomacy into other territories, with the entirety of Europe, West Asia and North Africa tantalisingly on the horizon, ripe for conquest. Apart from the tactically juicy battle maps, the campaign map lets you be both a warlord and an administrator, responsible for not only securing your borders (and expanding them) but also for making sure that your populace is happy, well-fed, supplied with slaves and efficiently taxed. Apart from those things, you can also hire agents to sabotage enemy provinces with a host of methods (poisoning village wells, burning down buildings; let's just say, you can't be good at Rome II by being good, if you get my drift).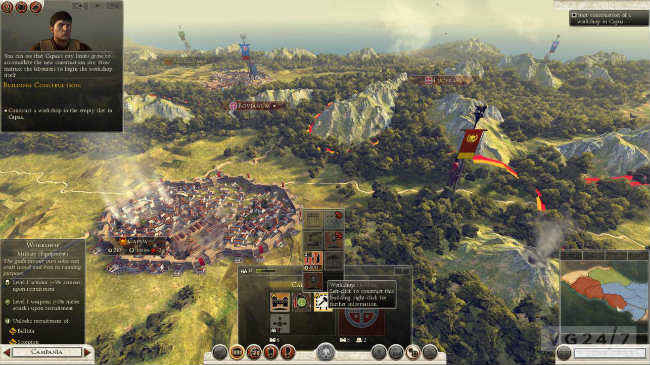 Along with military campaigns, you can also spend a lot of time trying to be a good administrator in Rome II.
The overall mechanics have also been streamlined and it really doesn't take too much time to learn the ropes, even if you've never played a Total War game. Later updates have added notifications to draw your attention to the things that need your attention during your turn, and have also greatly improved performance. However, don't expect to run this game on a mid-range machine, it still needs plenty of horsepower to chug along. While some veterans may find the game a little too streamlined, especially in comparison to previous Total War titles and Crusader Kings, I thought Creative Assembly did a great job with reducing unnecessary complications. Not only does that make Rome 2, perhaps, the most approachable game in the Total War Series, it also makes it better to play in a many ways. This is in contrast to Crusader Kings 2, an addictive game that I have poured almost fifty hours into, that I still don't mostly understand.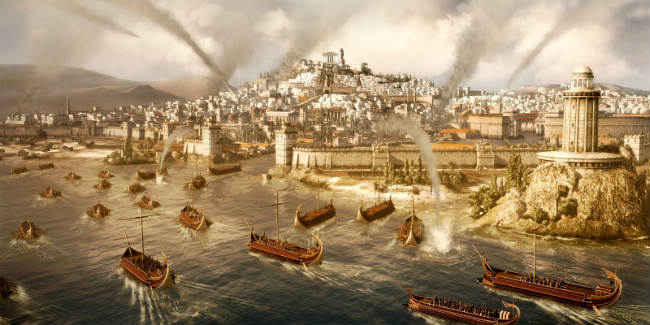 Navies are much more important in Total War Rome II with the ability to command both your ships and your soldiers at the same time in the battle map.
And then the end is known

Total War: Rome 2 is a game made up of widely disparate parts- some of which are exceptional to an extent that you know you are playing a Total War game, and some so headscratchingly obtuse (terrible optimization, technical issues) that you wonder if you're indeed playing a Total War game or a shoddy copy.

In my opinion, if you love the Total War series, you will be able to power through the issues and extract the vast amount of fun there is to be had. However, I really won't fault you if you do not want to invest time and money in a game that makes it so difficult to like it.

I'd still say that even if you don't buy Rome 2 right now, if you do see the game on sale sometime in the future, pick it up. You won't regret it.