Verdict
Tiger Woods 13 is the definitive golf simulation game to play, no doubt. Total Swing Control and a long, satisfying career are sure to keep enthusiasts hooked. But it isn�t the best game for beginners and has a few chinks that makes the overall experience fall short of being great.
Tiger Woods PGA Tour 13 detailed review
Introduction
The Tiger Woods PGA Tour series has always been the best golf simulation game to play either on your PC or a console. While the player is down in the dumps, struggling to find his legendary touch, the Tiger Woods series seems to be running into some problems as well. To use a golf analogy, it's like a wayward tee shot that lands in the fairway bunker. It's essentially a golf game meant for fans of the series who don't need a lot of explanation, but a beginner who's new to the Tiger Woods franchise may find the game difficult to enjoy.
New features
Not much has changed as far as life inside Tiger Woods PGA Tour 13 is concerned, it is still comparable to its predecessor (Tiger Woods 12) on various levels. Sure the odd blade of grass on the fairway looks more real and the game looks a lot more crisp and polish, but then wouldn't you expect it in a game with a yearly progression? The game is still the same, and therefore so are its tools -- tee it off on your favourite golf course, start an extensive career campaign, play at the prestigious Augusta course in The Masters tournament, and so on.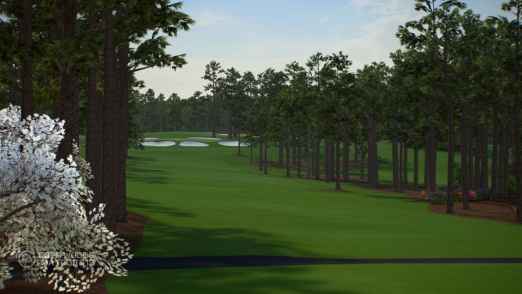 Yet, not everything is the same old. There are some improvements in both gameplay and addition of special game types. Take for example Tiger Legacy, a special career mode that lets you relive some of the important milestones in the early life and golf career of Tiger Woods from a young child till an established pro. New swing mechanics are in place under the Total Swing Control feature, letting you control the swing of your club subtly and entirely from the left analog stick. Country Clubs is an online multiplayer feature which either lets you create your own country club (add members by recruiting your friends) or join an existing one for a race to top the weekly leaderboard and unlocking special courses. These are some of the prominent new features in Tiger Woods PGA Tour 13.
Gameplay
The pace and tempo of a round of golf in Tiger Woods PGA Tour 13 is much the same as its predecessor. The fundamental change to a player's swing mechanics, the new Total Swing Control system, is an excellent addition to the game. Just like this year's Grand Slam Tennis 2 introduced players to the sheer range of shots just through the left analog stick, so does Tiger Woods PGA Tour 13. There's a new swing arc around the player which gives you a visual representation of your swing, as you pull the left analog stick of the controller down and up in a straight line -- at least that's the idea. But it's seldom as easy as it sounds. Subtle variations in the analog stick's travel directly impacts your shot and its follow through on the screen -- you can check this on the bottom left corner of the screen. Gone are preset shots and hitting the right power to sink putts in the older game, Total Swing Control really puts you in control of your golfer's destiny. As a result, sinking a 30-feet putt or playing that pin-point shot from the bunker leaves you with a great sense of achievement. This heightens the overall experience of the game, at least for enthusiasts -- beginners have a considerable learning curve to get around.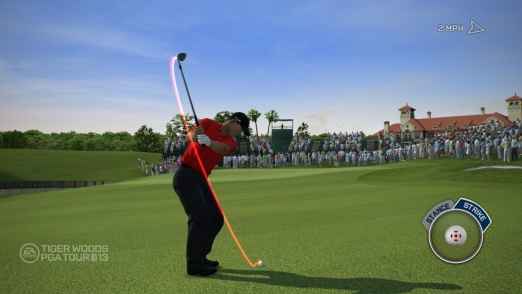 Simply put, the Total Swing Control is probably the brightest spot in this year's Tiger Woods PGA Tour 13. But I'm someone who's been acquainted to the EA Tiger Woods franchise since 2003, playing every iteration ever since -- the best Tiger Woods game ever has to be the one released in 2007. But I am aware that Total Swing Control comes with very little help and a short, hard-to-follow tutorial to get newcomers accustomed to the swing mechanic, and this may be frustrating for first-time buyers of the Tiger Woods PGA Tour franchise.
Next Page : Graphics, Online gameplay, and Verdict...
The career mode is long and the second best thing in Tiger Woods PGA Tour 13. As you progress from a rookie to a professional golfer on the PGA Tour, the path followed is very true to that of modern-day golfers in the real-world. You can, obviously, import your photo to enhance the facial resemblance of your in-game career mode player or mould every little feature of his or her appearance. It's a lot of fun. As far as motion sensing goes, the Move controls I played with worked very well, despite reading reports that the game's Kinect mode is frustrating to play. Tiger Legacy mode lets you relive the important golfing milestones in Tiger's life, and although it's ok for enthusiasts, it can be little frustrating for beginners without much help explaining how to play a shot or why young Tiger's doing what he's doing.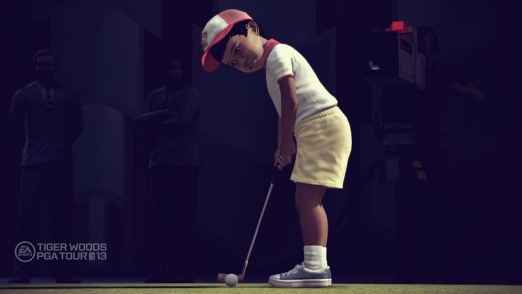 Apart from this, the game offers plenty of opportunities to unlock sponsor accessories and tools, before you tee-off on any course. There's a diversity of clubs on offer and their subtleties are prominently displayed on the golf course, so with a little practice you can settle down with the combination best suited for your style of play. Golf courses behave differently in different weather conditions, and this adds to the overall challenge of playing a round in Tiger Woods PGA Tour 13. I would've loved to see a custom save feature to leave a round midway, but unfortunately it doesn't exist in PGA Tour 13. What if there's a power cut? Did EA consider that a round of golf can be close to an hour for some players?
Atmosphere
The overall graphics in Tiger Woods PGA Tour 13 are expectedly better, player likenesses are more accurate, golf courses are exquisite and very well crafted -- just looking at them as you progress through a round calms you down. Little animations like the a player's trouser and shirt fluttering in the wind and the crowd reacting around the green to focus on a putt are interesting little additions to add to the overall realism of the game. We didn't encounter any drop in frame rates or other technical issues while gaming on the PS3. However, the in-game sound needs to be a little more lively -- I understand the game of golf is quite boring in this regard -- but here EA's doing a great disservice to itself by not making the game entertaining enough for new gamers, however niche Tiger Woods PGA Tour 13 may be in its appeal. In-game commentary needs to step up a notch as well, big time.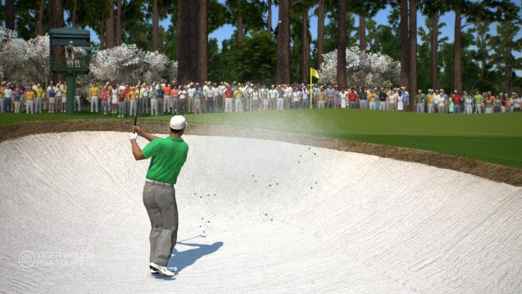 Online
Country Clubs is a great addition to online gameplay, as we mentioned earlier. There's a new Coins and Pins feature that has some bearing on online components of the game -- Pins are used to help you out when you're in trouble for stuff like better accuracy, shot previews, etc, and Coins let you refill consumed Pins. Coins unlock way too slowly, adding to the frustration, as EA just expects people to buy them online so you don't wait to unlock add-on content, courses and players. There are very few golf courses -- to unlock a new golf course, the option is to either play an inordinate amount of time trying to win difficult challenges or spend real money. The Country Club feature helps you earn Coins, but it's nowhere easy. In the end, the add-on features in this year's Tiger Woods PGA Tour 13 are plain exploitative.
Verdict
If you love golf simulation games, Tiger Woods PGA Tour 13 is the must-have game to play. It has an innovative Total Swing Control mechanic that is sure to have enthusiasts hooked on to the game for hours in pleasure, and the long career mode is also immensely satisfying. Gaming on the Move is fun as well. Basically, just playing a simple round of golf is quite good overall. Niche or not, what the game fails to offer is enough guidance for a newcomer to the franchise, which can severely affect their experience of the game. And we don't dig the new exploitative add-on content strategy of EA either.
Developer: EA Tiburon
Publisher: EA Sports
Genre: Sports, Simulation
Platforms: PlayStation 3, Xbox 360
ESRB Rating: E
Price: Rs. 2799 (PlayStation 3), Rs. 2799 (Xbox 360)
Reviewed on a PlayStation 3