Verdict
The Stanley Parable is a game that will make you question the very reason for your own existence and possibly cause a mild case of paranoid insanity and an aversion to the metaphysical. The Stanley Parable is an interesting game with a simple gameplay, but a very unique narrative structure. Definitely a must-play!
The Stanley Parable detailed review
Introduction
parable
/?pær?b(?)l/
noun
a succinct, didactic story, in prose or verse, used to illustrate instructive lessons or principles
You.
Are.
Insignificant.
The Stanley Parable is a game that is built to uncannily take a peek into your head and anticipate your every move, regardless of how creative you get in the game world. The creator is your God, and regardless of you trying to prove that you are in control of your life, you will be smitten. The Stanley Parable was originally built as a Hal-Life 2 mod before expanding to a standalone game.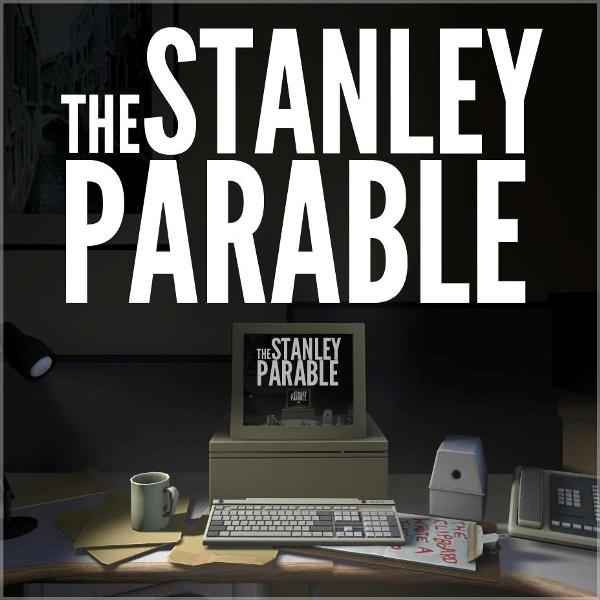 Advance warning: There is ONE spoiler in the review below. So please, make the meaningful decision.
The Stanley Parable is joins the likes of Dear Esther and Gone Home – story-based interactive gameplay with a penchant for messing with your head. Avoid at all costs if you dislike having dreams of walking down endless corridors with a deep voice whispering in your head telling you how worthless you really are. Also, expect to have your share of lightbulb moments. Some of the best moments in The Stanley Parable depend on how slowly they start making sense; because when they do strike you, the reward is in that moment of revelation itself.
Built on a healthy dose of witty (and occasionally, dark) humour and a heavy existentialist influence, this game is surreal and never fails to surprise you (well, unless you've played it a few hundred times over, but that can be said for anything, right?). It is engrossing to a point of making you actually talk to your computer and expect a reply. Followed by a moment of complete incredulity when you realize how stupid you really feel. The Stanley Parable pushes the metaphysical to a level beyond anything we have seen in gaming, so far.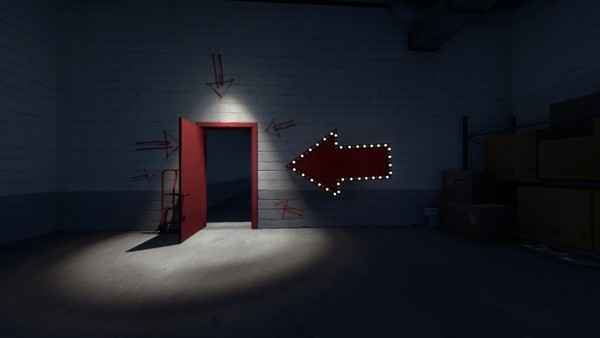 The RED Door
The Stanley Parable is smart, and sometimes borders on pretentious. The narrator is the saving grace in most of these situations, but he is, after all, one man against an army of billions of gamers. Cutting him that slack, there's also the problem of mechanical gamers who will follow the rules, refrain from stepping out of line, ending The Stanley Parable confused and completely missing the point.
Intelligent and insightful, this game is highly recommended for psychiatrists to conduct personality evaluations. On a philosophical level, it takes quite a few runthroughs to understand its depth, what with dozens of easter eggs and an equal number of possible endings (and even more routes to get there), this game will either enthrall you, or make you curl up in the corner and make you really wish the Matrix has you.
Before you choose whether or not to immerse in The Stanley parable, please remember – Not doing so…
...is also a choice.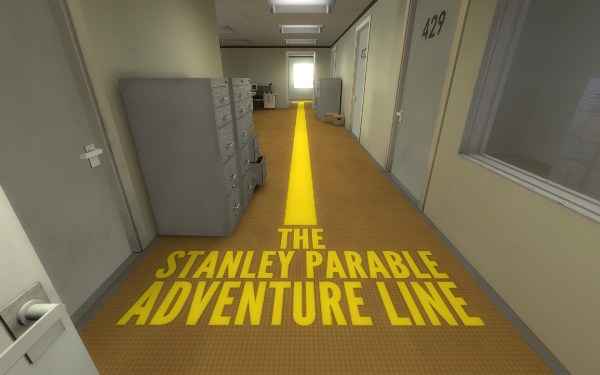 Can you stay on the Adventure Line?
Minimum System Requirements:
OS: Windows XP/Vista/7/8
Processor: 3.0 GHz P4, Dual Core 2.0 (or higher) or AMD64X2 (or higher)
Memory: 2 GB RAM
Graphics: Video card must be 128 MB or more and should be a DirectX 9-compatible with support for Pixel Shader 2.0b (ATI Radeon X800 or higher / NVIDIA GeForce 7600 or higher / Intel HD Graphics 2000 or higher - *NOT* an Express graphics card).
Hard Drive: 3 GB available space
Sound Card: DirectX 9.0c compatible