Verdict
Smite is a great game for people who aren't too elitist about the MOBA genre to try something new. It's got its upsides and downsides and is a work in progress, but it has great potential, what with the myriad Gods and cultures to explore, not to mention the thriving community behind the game. This is a game worth immersing yourself into.
SMITE detailed review
Introduction
Gods of myth and lore have always held a certain appeal. As children, all-powerful gods with their unique powers, vardaans (gifts that they'd benevolently bestow on the deserving) and abilities held a certain mystique. One could indulge in hours-long arguments about whether Zeus' thunderbolt could face off against Thor's mighty hammer. Could Mercury run circles around the mighty Ra? Who would survive the slugfest of death – Hades, Thanatos or Osiris (all Gods of death from different mythologies)? Above all – can gods from seven different mythologies work together to kick ass? The answers come in the form of SMITE – a game that allows people to put their click where their mouth is.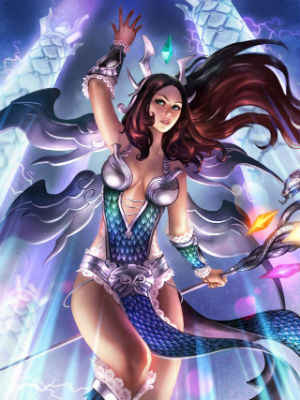 At the risk of sounding like hipsters, we got into SMITE before it became mainstream. Somehow though after that initial excitement, we got off the innovative MOBA in favour of some other games vying for our attention towards the end of 2012. Why did it fail to keep us hooked? Was it something inherent? Well the game's come a long way from its beta days. (If you're at all curious about our 2012 beta review, you can find it on the PDF archives in any of our special issue DVDs).
SMITE in Beta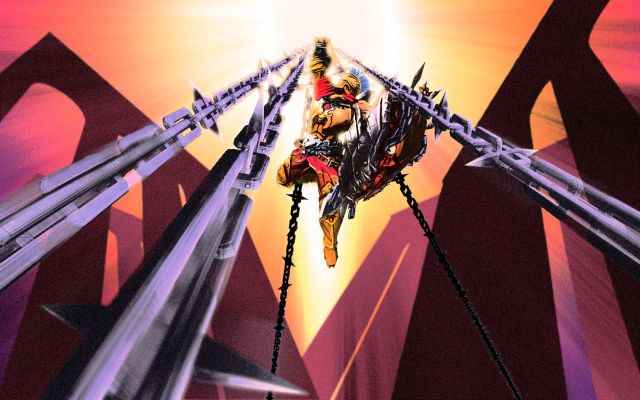 Over-powered characters are common in beta games but this one was just crazy...
Back in beta, some gods did seem to be a bit over-powered. Ares, for example, had an ultimate that chained everyone and bunched them together, leaving them sitting ducks for anyone with an AoE (Area of Effect) attack to pounce and end it. Ahh the golden age of penta kills in SMITE. But as with all MOBAs, patches try and fix imbalance and eventually excessively powerful gods were nerfed, weak gods have been given their dues and there is a counter for every attack in the game – if you have the knowledge and experience to make use of it.
What you have after all that effort, are realistically balanced gods that are only as good as the player behind them.
Intriguing, right?
But why would one play SMITE over the other MOBAs? League of Legends has been around for quite a while and DOTA 2 is so popular already. Even Awesomenauts brings in the challenge of playing MOBA as a side scroller. SMITE's unique playing point is the perspective. The third-person perspective puts the player right in the midst of the action.
A matter of perspective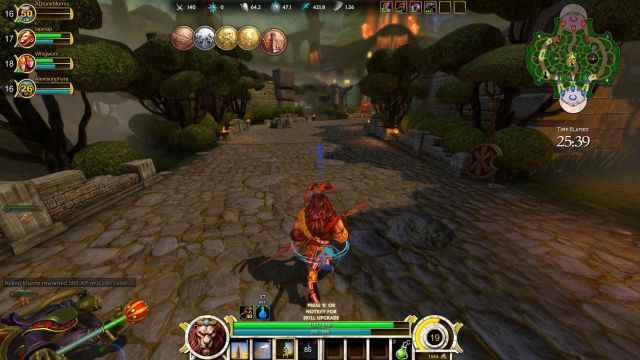 SMITE's third-person perspective
The game's perspective ensures that the gameplay is more fun to handle. SMITE doesn't have a steep learning curve, which is a huge advantage for newer players. The controls are a combination of the keyboard and mouse for both movement and attacks. This, personally, makes all the difference to the gamer. While other MOBAs have the overhead perspective and most movement and attacks are controlled by the mouse alone, SMITE takes this apart and pulls you headlong into the action of the game. Unlike other MOBAs, you have to actually aim at your enemy, whilst dodging attacks and coming up with a counter-attack of your own. You still have three lanes, five opponents and four teammates. But one can get more into the game when fighting the opponent up close. Imagine the perfect mash-up of World of Warcraft and Dota 2 – and you have SMITE.
The game itself
SMITE has 6 game types: Arena, Conquest, Assault, Joust, Siege and Domination. In the normal PvP mode, all except Joust are 5-versus-5 matches. Joust is usually a 3-versus-3 match, unless custom-made. The Domination game type was a part of the Beta stage, but was removed from rotation since it wasn't very popular. It now makes an appearance occasionally in SMITE's 'map of the day'. Siege is a recent addition to SMITE and is still in Beta phase, albeit well-received. It has elements of both Conquest and Arena game types.
The game as a whole is easy to understand. Even more so for anyone who's played a MOBA before. But it still requires some skill and at least a preliminary understanding of strategy to master. While some would consider SMITE to be a 'dumbed down' version of 'serious MOBAs', the game is all-in-all fun and the game creators make a commendable effort to keep it interesting.
SMITE – the community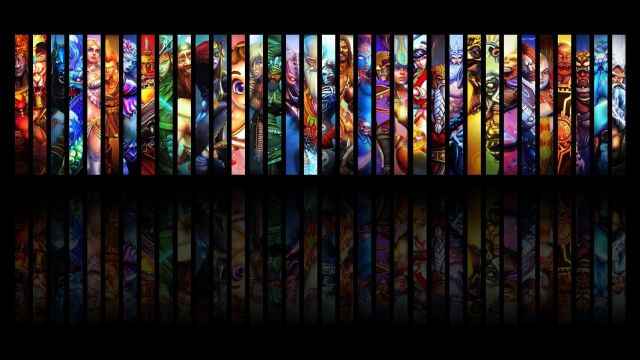 Gods in the game can be unlocked using the in-game currency (Favour) as well as the paid currency (Gems). The game has two leveling systems. Profile and God Mastery levels. The leveling system is based solely on the player's skill. The Profile Level indicates the player's proficiency at the game. The Mastery Level for a god indicates the proficiency of the player with that god.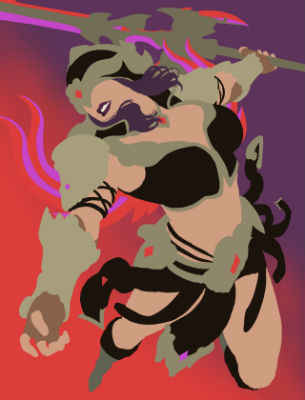 The game is primarily free-to-play, but also offers certain cosmetic upgrades to gods that can be bought. But these changes are purely skins and cosmetic upgrades, which do nothing to give you an edge in the game, itself. Thus making the game all about your skill rather than the amount of money you can throw at it. In addition to that, SMITE also allows for the power of Goodwill. You will only prosper as much as your reputation allows you to. A 100% Goodwill gives you a 30% boost in favour earned. Leaving games midway, intentionally feeding the enemy or simply being a jerk is reason enough for other gamers to report you for misconduct. Depending on the infraction, your Goodwill is reduced. Leaving a game during the god-selection stage directly brings your goodwill down to zero and bans you from the servers for at least half an hour.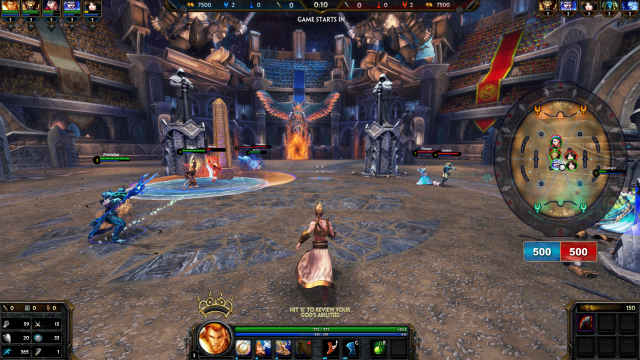 League matches are the epitome of skill in SMITE
Gaming in SMITE has two other features a new player may want to know about:
Clans can be created by anyone interested in gaming together, making it easier to group up. League matches are also held at intervals, where players compete to prove their worth. These can only be entered by players that have peaked at level 30, though.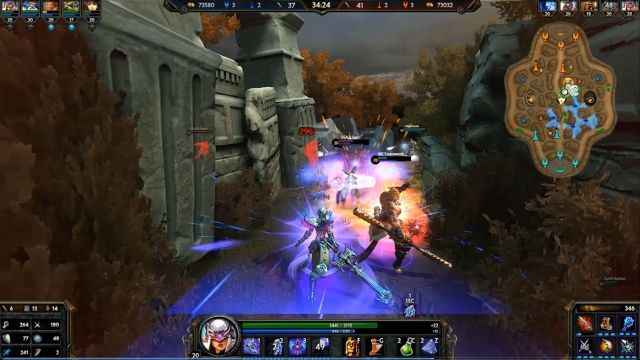 Fun, engaging and highly competitive.
To wind up, Smite is a great game. The UI can be confusing at times and could use some improvement. There are no servers in India, but pings are acceptable and disconnects relatively rare. Match-making is still an issue, but not as much as it was earlier. You get an average of 250-300ms latency, good enough to game smoothly. Despite all that, the future of this game seems bright, what with the myriad Gods and cultures to explore, not to mention the thriving community behind the game. This is a game worth immersing yourself into.
If you are planning to try the game out for yourself, which you should, how about share the love, and earning some karma points? Use either of these referral keys: http://dgit.in/statreff and http://dgit.in/webreff
See you on the other side!