Verdict
Keyboard and mouse combos usually are meant to offer a middle-ground between performance and price. The Rapoo V110 brings both an average mouse and keyboard to the table at a highly competitive price. We are impressed with the keyboard because even though it has a rubber dome beneath, it gives you enough tactical feedback for a satisfying typing experience. It doesn't include premium features but you'll find everything required to use it for competitive gaming as well. It offers lighting effects, Windows lock, brightness levels and a small wrist rest. The keycaps are removable, making it easier to clean. It also has a spill-proof design with four holes on the bottom for the liquid to spill out.
We don't have a high opinion of the mouse from a gaming point of view. The maximum tracking speed is below 1m/s which means quick flicks are out of the window. The mouse can still be used for casual FPS gaming and other genres where you don't need good sensor performance. If you're among the ones who tend to flick your mouse often, you will certainly have a bad experience. However, for regular usage, you wouldn't notice anything and it will work out fine for you. The four DPI levels are distinguishable in usage, also indicated by the changing colours assigned to each DPI level.
In spite of the flaws, expecting high or more than average performance is unfair at this price. Among the keyboard and mouse combos that we've tested at our labs, considering performance, features, build quality and the price, the Rapoo V110 comes out with a higher overall score
Rapoo V110 detailed review
Introduction
Before buying a keyboard and/or mouse, you need to decide on your primary use-case. Whether you want to use it for office work or for gaming. Under gaming, you have to keep in mind that if you're planning on going competitive, you will need to at least buy a mid or high-end mouse, even though you could do with a regular membrane keyboard. However, if you're low on budget but still want both, keyboard and mouse combos can be considered. The only problem is that you'll have to compromise on the mouse. Most of the keyboard and mouse combos we've tested have had a decent keyboard but a mouse with average and below-average performance. We never expect them to perform on par with the higher-end mice but their strongest point is their price. How well does the Rapoo V110 combo perform? Let's find out.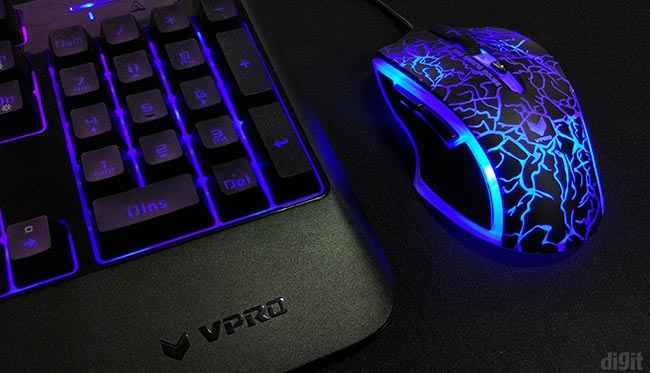 Specifications
Rapoo V110 keyboard
Keyboard size: Standard, Numpad included
Keyboard backlighting: Multi-colour LED
Switch type: Membrane
Interface: USB 1.1
Dimensions: Wide – 45.6 cm, Length – 10.4 cm, Height – 3.2 cm
Rapoo V110 mouse
Sensor type: Optical
Sensor: Avago A5050
DPI levels: 1000/1600/2400/3200
Switch: TTC Blue, Kailh Clear
LED lighting: Multi-colour LED
Interface: USB 2.0
Polling rate: 125 Hz (8 ms)
Cable length: 1.8m
Dimensions: Wide – 6.2 cm, Length – 12.4 cm, Height – 3.7 cm
Features and accessories
The keyboard and mouse combo don't have a long list of features to offer. Both provide the bare minimum required for regular usage with a few additional features catered for gaming. However, even though the keyboard is suitable for some serious gaming, the mouse isn't. We'll be explaining why in the performance section.
Anti-ghosting has been implemented in the keyboard, along with a key rollover of about 10 keys. You wouldn't require more than 6 key-rollover on your gaming keyboard but some headroom is always appreciated. This will allow you to simultaneously press multiple keys at once, something which is necessary while playing games. Backlighting on the keyboard has a couple of lighting modes and brightness levels. The extended bottom of the keyboard doubles up as a wrist rest. You also get a Windows key lock feature and some dedicated shortcut keys.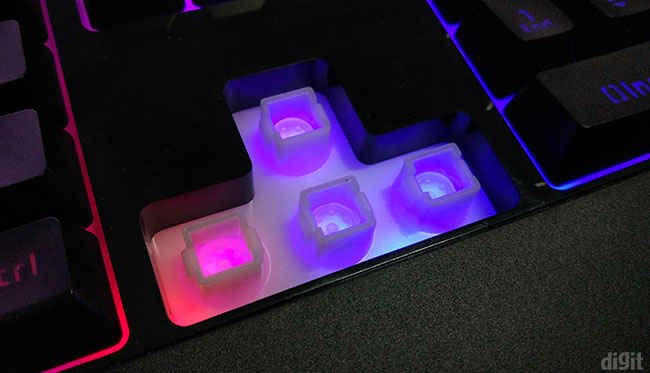 The keyboard also has a spillproof design indicated by the four holes to allow liquids to drain out. This feature hasn't been highlighted on the product page.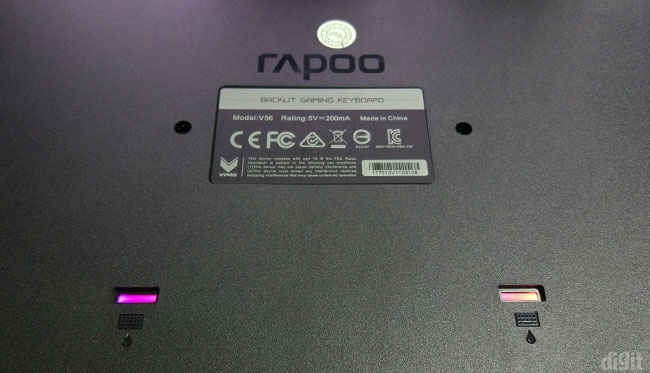 The mouse has four DPI levels of 1000, 1600, 2400 and 3200 as stated on the product page. They can be switched using the DPI button at the centre. All the DPI levels have a different LED assigned. So, whenever you switch the DPI, the illumination on the mouse changes. It has an ambidextrous design and patterns all over the surface. On the left side, you'll find forward and backward buttons. Powered by the A5050 optical sensor, the buttons used for the left and right click include TTC whereas the forward and backward button use Kailh.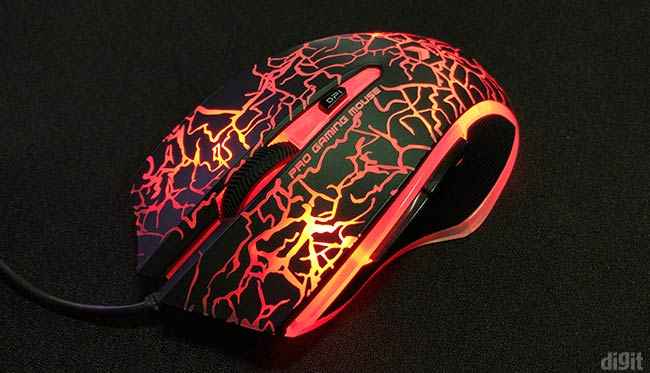 Build quality
At this price, the combo gives you what one would expect. The keyboard has a plastic body with a glossy finish on the top. The wrist rest has a rough textured finish which is also seen on the keycaps. Being completely made of plastic, the keyboard does tend to flex but not to the extent where it would break. The keyboard connects to your PC using a regular USB connector and a thin flexible cable.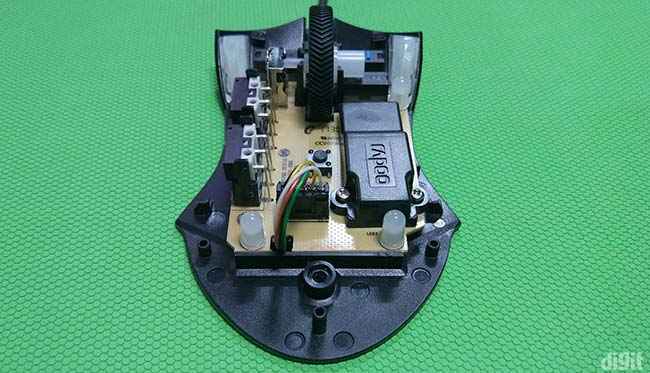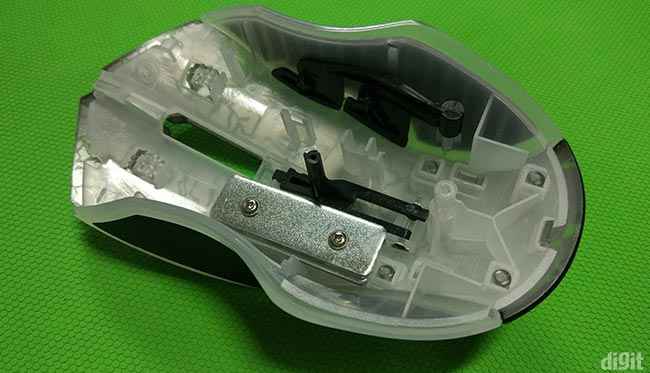 The palm area and right and left click region have a plastic coating. On the left and right side of the mouse, there's a textured rubber coating. There are two weights attached to the top surface of the mouse. It can be removed if you wish to reduce the overall weight. The optical sensor has a plastic cover screwed which is something we don't get to see even on premium gaming mice. The cover is mainly for protection and it can possibly block extra light from confusing the sensor's tracking. On the bottom, you'll find four PTFE feet which offer enough friction to the mouse. All the components of the mouse are well built for its price.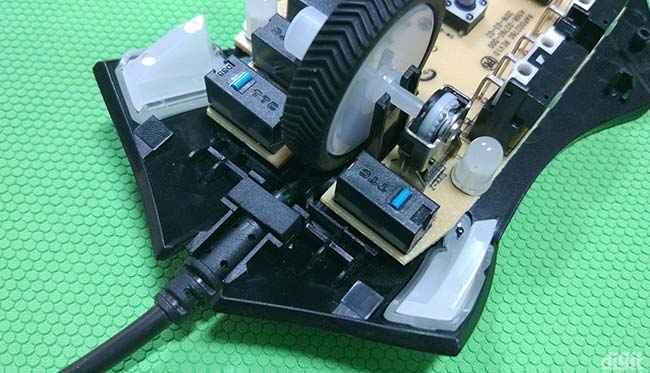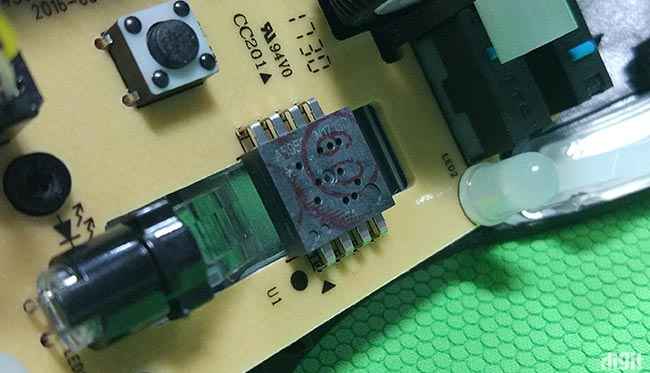 Performance: Rapoo V110 keyboard
You'll have a pleasant experience of typing on the keyboard even if you're coming from a mechanical keyboard. It obviously isn't better but it isn't as mushy as seen on regular membrane keyboards. This is possible with the stiffness offered by the keycap stem that pushes on the rubber dome. There's enough friction when the stem travels down to give you a slight tactile feedback. For gaming, we didn't have any problems. All our key presses were registered and we didn't notice any input lag. On Switch Hitter, we found the keyboard was able to register 10 key presses simultaneously which is more than enough for gaming.
Performance: Rapoo V110 mouse
Coming across good performance in optical sensors at this price is rare. However, you should expect good performance only if you intend on using the mouse for gaming or use-cases where sensor accuracy is required. The V110 mouse performs well up to its limitations. The threshold is its maximum tracking speed which is at 1m/s. If the mouse is moved at a faster speed, it stops working. This means you won't be able to use the mouse for intense games, mostly FPS games, where you flick your mouse a lot. Since the speed is too low, it was difficult to determine whether acceleration is present on the mouse.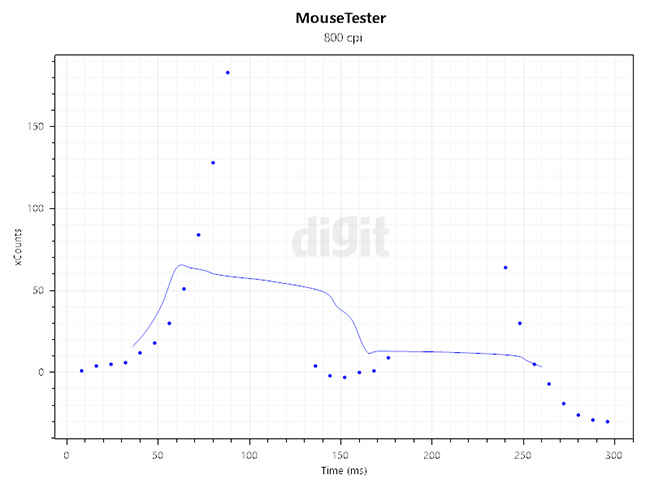 Sensor loses tracking in our standard testing swipe speed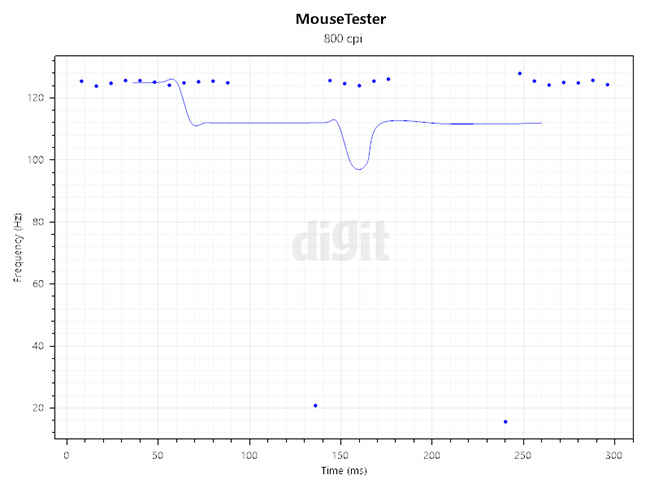 Polling rate at the standard testing swipe speed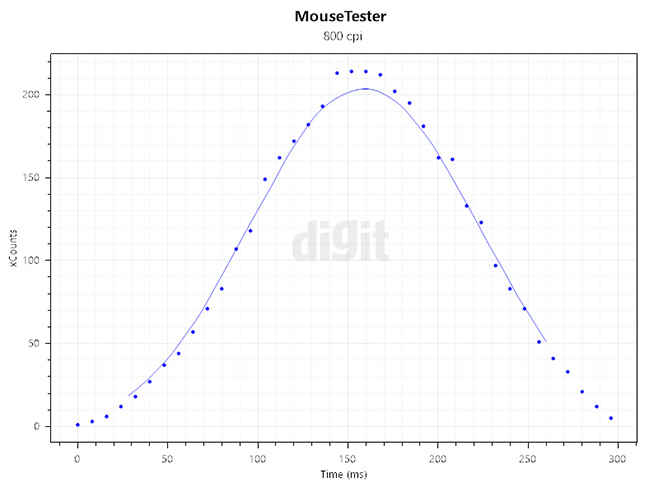 Sensor tracking at a slow swipe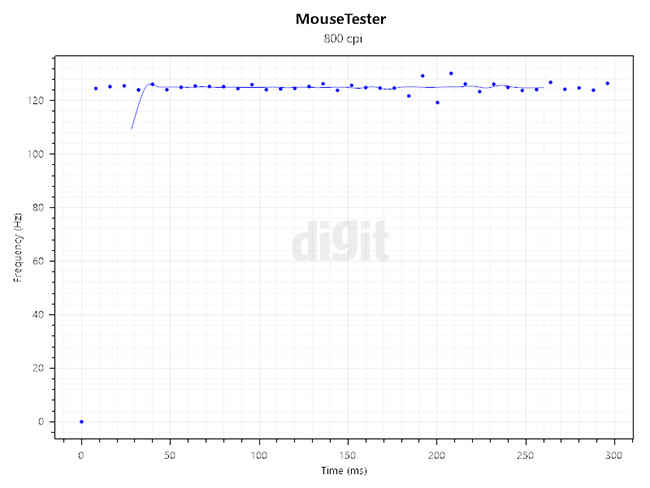 Polling rate in the same slow swipe
We also found the DPI steps to be incorrectly stated. The actual DPI steps are as follows: 800, 1200, 2400, 3000. Although this isn't a problem, the difference is way too much. All these problems should only bother you if you're planning on buying a mouse for competitive gaming. You will comfortably be able to play non-FPS games with this mouse. For regular usage, you don't need to worry about any of the problems.