Verdict
PES2014 lives up to its legacy and is bang-on target again in terms of on-field gameplay mechanics. It is based on the constant movement of players, on and off the ball and switching positions, which mirrors the approach to modern-day football. It lacks the gloss and glitter of its rival and has its own drawbacks, however, if you can go past the usual flaws and give it a go, PES2014 delivers where it's supposed to. Providing a solid base to build upon for its future. In the end its fair to say that PES2014 truly captures the essence of the modern-day game, something you expect in real time-football, as opposed to being a full-fledged commercial mainstream game. Definitely worth a shot!
Pro Evolution Soccer 2014 (PES 2014) detailed review
Introduction
Konami and PES Productions are back with the latest version of their highly anticipated flagship franchise - Pro Evolution Soccer 2014. Built upon the foundations laid down by its predecessor that was creative, challenging, and skill based, PES2014 lives up to the legacy of its previous iterations, and is bang on target again for what its known for- 'gameplay'. With the 'Fox Engine' being introduced, a new era has begun, injecting new life in the series without compromising on its original PES style. A shift to a new engine marks, arguably, the biggest change the series has undergone for decades.
Although the new foundation presents some huge benefits, especially when it comes to gameplay mechanics and graphics, PES2014 still does not capitalize on that potential, and there are a lot of nuances that need to be addressed.
Presentation
To kick things off, the first thing that you notice is the visual appeal of the gameplay compared to its previous iteration, not to forget its competitor (FIFA), as it's always been a bit of a 'David and Goliath' clash of the development budgets. How does a tiny Japanese unit compete against EA's big bucket of cash? Well, this year, they decided to start from scratch. Thanks to Kojima Productions' next-gen Fox Engine, PES looks so much better, without compromising on its gameplay. Although, player likenesses are a mixed bag this year with Michael Carrick looking astonishingly like, or probably better than his real life counterpart, while Luiz Suarez and Frank Lampard have come off the worst. Konami has assured that it will implement " up to 1000" new faces into PES2014 after the game has been released.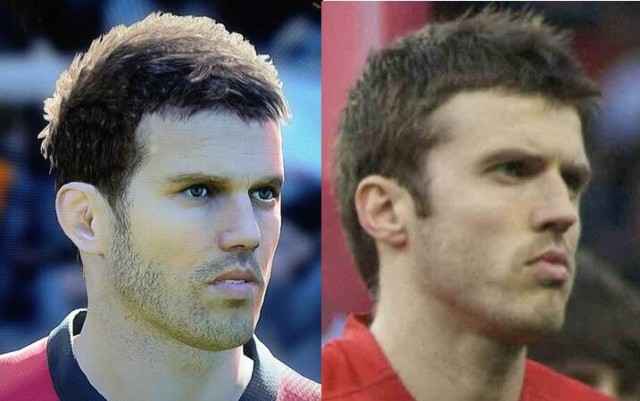 Carrick in PES 2014 vs. Carrick in real life

The difference is clearly evident in tangible terms while playing the game. From the texture of the grass to the fabric of the kit, stadiums have been entirely rebuilt with bustling arenas, PES has never felt so lively. In fact, the graphics are so high-end that it pushes the PS3 to the limit. At times there is an occasional lag in the game as the console tries keep pace with the visuals. For instance, when a shot goes wide or during a replay, stutters pop-up which could be annoying, although, it doesn't affect the flow but takes away the overall experience of the game.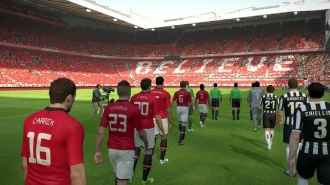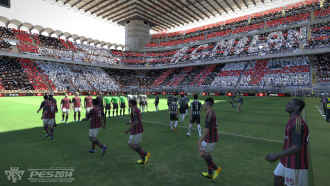 High-end graphics!
That being said, it's uncalled for that more effort hasn't been made to address PES' usual flaws. The UI looks woefully outdated, even when compared with PES 2013. Similarly, commentary is painfully boring and repetitive, much like its predecessors, at times not in sync with the on-field action. It lacks polish in comparison to its competitor, and you instantly notice, how significant having all those real world club licenses in the game is (along with pulsating match commentary) as it really brings the game alive. Especially club rivalries! The outdated interface and lack of innovation could be too big an obstacle, if Konami has any intent of reaching out to a larger global audience. It feels rotten when compared to the advancements FIFA's Ultimate Team is making every year.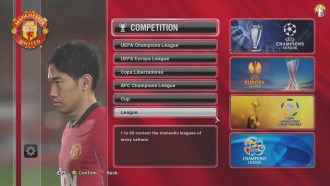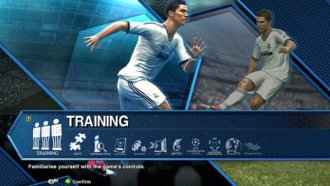 UI appears woefully outdated, even compared to its predecessor (on the right)

Licensing
The Pro Evolution Soccer franchise is chronically hamstrung by the lack of official licenses and this year is no different, a perpetual issue as FIFA has been bagging licenses left, right and center in the past few years. Konami has very few official licenses, especially when it comes to overall stadium licenses and the world's most popular- English Premier League.
Even though all the players are there, you still yearn for that feeling of wearing your club's official jersey. PES old-timers have been ignoring this aspect as they are more concerned about the game's on-field mechanics, but then again, for a novice it becomes a significant absence.
Nonetheless, PES is the only football simulation having official rights to the most prestigious football tournaments on the planet – the UEFA Champions League and Europa League. This year saw the addition of the Chilean and Argentine premier leagues along with the Asians Champions League.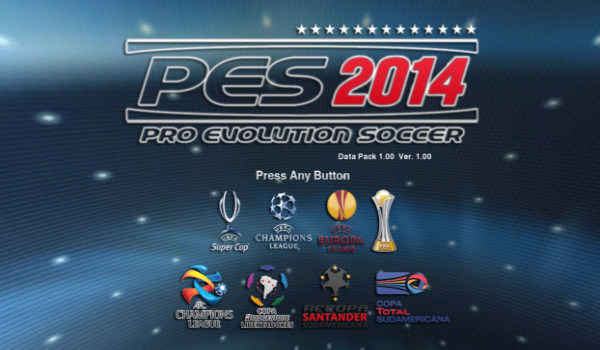 Official title of UEFA Champions and Europa League
Gameplay
PES2014 is based on the constant movement of players on-and-off the ball and switching positions, which mirrors the approach to modern-day football. The game sticks to its DNA, pulls it off again in terms of on-field gameplay mechanics, built closely upon its previous iteration. Short passing remains swift and crisp while lofted balls can be put to much greater effect. It truly captures the essence of passing and movement and slotting the ball into space never felt so real. The gameplay requires genuine soccer sense and vision, apart from a mere combination of a well timed button press. Thus, making the game purely skill based.
The new 'True ball tech' makes everything physics-driven as it centers everything around the ball, giving players total control when determining their body angle to receive the pass. It means, that the ball can be chested or flicked passed an opponent, nodded into space or on to a team-mate. It also allows closer control and dribbling appears to be much tighter than before. The ability to nod the ball ahead while sprinting is a really cool mechanic when taking on players, specially in one-on-one situations.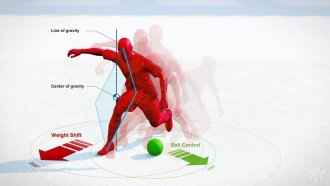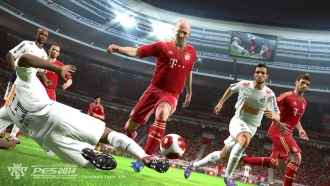 'True ball tech' allows more freedom than ever
It also features the Motion Animation Stability System (M.A.S.S), designed to present more visually realistic player collision response when tackled. It acts on a situation depending upon the direction and the force with which a player is tackled. Factors such as size and power would determine the impact with which a player would respond to a tackle or a shove. It ensures that the players and the ball respond in the same way as in a real life situation.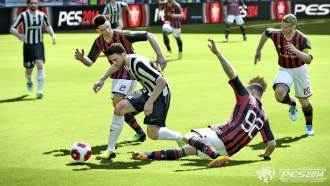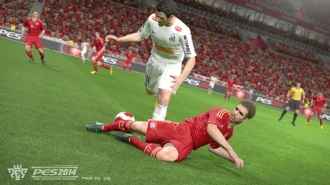 Real-time player collision response
This is the first game I've come across that mirrors humans in motion with such precision, rather than depicting mere puppets running all over the park.
However, the game's defensive AI is a bit of a let down which makes PES2014 much more physical. This eventually produces an unnecessary amount of tussling, which is fine when a player is stuck in some corner with his back to the goal, but at times it can get annoying preventing you from unleashing that killer through ball or long range screamer. The defensive AI is at times so dull that players don't even react to balls which can be easily defended or intercepted. Defenders usually maintain a very high defensive line, if somehow you manage to clear past the last defender, he gets outrageously high speeds to eventually catch up on you, which seems really weird. You'll find goalkeepers taking odd positions and struggle dealing with lofted shots in particular. Shooting long range piledrivers is a lot of fun, though you would prefer these shots whirling past competent, sane goalkeepers for that satisfaction you get when you see the net ripple. "All goalkeepers are crazy", they say in football and PES2014 some how manages to live up to that.
The 'heart' element has also been introduced, which takes into consideration mental attributes, in addition to player style and skills. The mental statistics of a player will have direct impact on a player's performance and eventually on his team mates, bringing in a more emotional feel to the game. These mental attributes can have an impact on a player's performance and can adversely affect performance particularly while having a bad game. On the contrary, moments of individual flair and brilliance can have a positive response on team mates. It does make the game interesting as there really is that element in a real game , but in terms of gameplay it does seem a bit subjective. The real impact that this feature brings becomes clearly evident in important matches such as the UEFA Champions League semi-finals, where you actually see the crowd go ballistic when your home team scores – and for the next 10 minutes or so, you'll notice how pumped up all players are.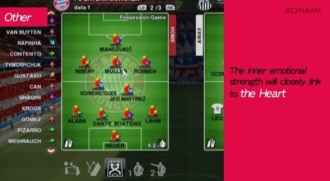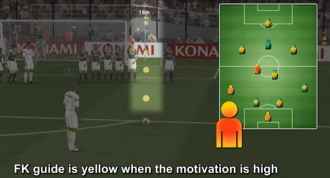 Mental attributes impact individual performances
The changes the new engine brings may, at times, sound like a change for the worse, but play for a while and you'll start getting comfortable with the game, then you can master it and appreciate the depth within the game. Mastering ball control will take some time. After that early awkwardness, you begin to anticipate things such as when flick-on's are possible, when you need to hold off your marker or slightly delay the ball to fend off the oncoming defender, it's all about instinct and once you get a hang of the nuances involved, PES2014 is super fun.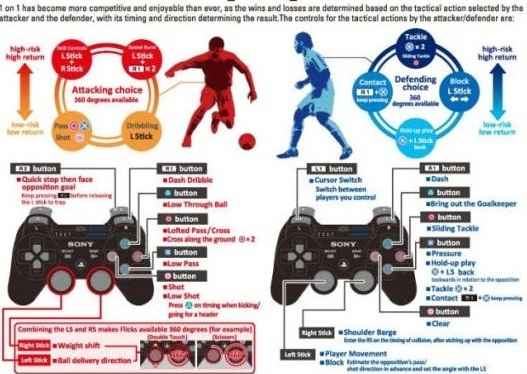 Features the new 'Advanced Controls' Mechanism
PES brings a fair number of game modes this year. This year's edition marks the return of both 'Master League' and 'Become a Legend'. In the latter, you play as a single player, either somebody who already exists or someone completely new, on a mission to be the best footballer ever. Unlike, its previous versions, you even have an option to become the best goalkeeper in the world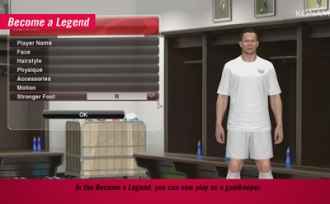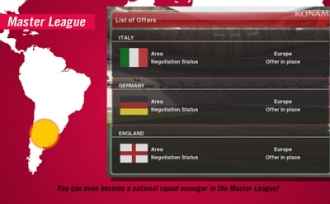 become the no.1 goalkeeper! be the manager!

This year's Master League Online (MLO) has been tweaked a bit so as to mix things up. You have an option to choose from three different playable leagues - Association (fast and physical), Continental (technical) and Galactico (superstars). These sub-categories correspond to different styles of play. You can even switch between any of the three at any point of time, though, you need to earn 20,000 'Total Asset Points' to enter Galactico.
Except the Galactico, all leagues have a wage cap, which means that you have a fixed amount of wages or Player-Cost points that cannot be above the specified amount. Points are earned on the basis of results of the number of matches played, points collected can be used to buy players. Master League Online seems a lot more promising and the best way for exciting and entertaining gameplay.The 'MLO' mode is free of charge, though, it is a massive download not included in the disc.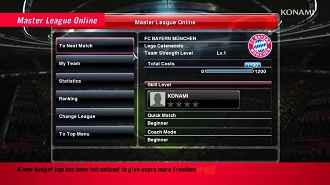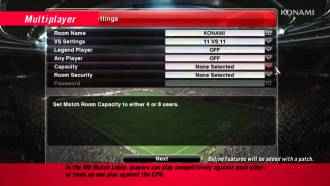 Wage cap introduced in 'MLO'
Nonetheless, online features aren't as alluring as FIFA, apart from Master League Online, PES2014 doesn't enjoy the privileges of game modes its rival has at its disposal. It lacks in terms of gameplay options off the field, with most of the modes largely unchanged offering minor improvements.
Unrivaled in its pursuit of soccer gaming excellence, PES has made a return to being more of a deep simulation of football, contrary to being a high-tempo game, with plethora of online gameplay options, something you can just jump into with your folks and have a kick about. There's still so much Konami needs to address to make this an irresistible alternative.
Tested on PlayStation 3
Developer: PES Productions
Distributor: Konami
Genre: Sports, Simulation
Platform: Windows, PS3, Xbox 360, PS2, PSP,
Price: PC: Rs 2,499, PS2: Rs 1,599, PSP: Rs 1,899, PS3 and Xbox 360: Rs 3,999