Verdict
Ninja Gaiden is one of the best action game series ever made and if you are apprehensive about investing in this one, you should at least try the demo of Sigma 2 which is available on the PSN store � you may be pleasantly surprised.
Ninja Gaiden Sigma 2 detailed review
Introduction

Tomonobu Itagaki has left the building, and yet, the show must go on: what's left of Tecmo's Team Ninja studio have gotten together to develop Ninja Gaiden Sigma 2 for the PlasyStation 3 console. As expected, development head Itagaki's departure has had significant effect on some of the key elements of the game.
The Two Ninja Clans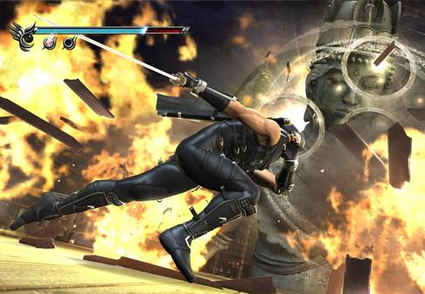 You can either look at this game as a sequel to Ninja Gaiden Sigma, which was released on the PS3 in 2007 or you could call it a port of Ninja Gaiden 2, an Xbox 360 exclusive released in June 2008. Whichever way you look at it, this Ninja Gaiden on the PlayStation 3 is a very different beast compared to its Xbox version.
Even though the game retains the dismembering Obliteration moves from Ninja Gaiden 2, blood is a rare sight in Sigma 2. Most enemies (like Spider Ninjas) bleed some kind of glowing liquid of various hues, while others have green blood or oil oozing out of their dismembered corpses. Overall, gore in the game has been drastically toned down.
Additionally, veterans of Ninja Gaiden on the Xbox will find Sigma 2 far easier to beat – almost a walk in the park. Enemy encounters in a chapter (or level) have been reduced and the number of enemies you find at a time on the screen is also low. In spite of more bosses in the game, the battles themselves are far easier to win as the damage done by the player is greater and no longer dependent on which body part is hit.
Ninja Dog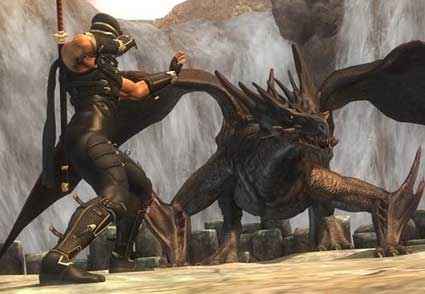 Playing on 'Warrior' difficulty, which is the highest level available during the first play-through, I was able to breeze through the first eight or nine chapters without the need to cast Ninpo (magic) or purchase any healing items. In fact, Ninpo feels more like an added luxury rather than an essential strategic addition to your arsenal, as one can beat the game without ever casting Ninpo.
But there might be a positive to this, depending on where you come from: Ninja Gaiden has always been reputed to be a difficult franchise to play, let alone master, and that has made the games elitist, to a certain extent. With rebalanced difficultly, more people should be able to enjoy the awesomeness that is Ninja Gaiden since the game still retains its tight combat mechanics.
WMD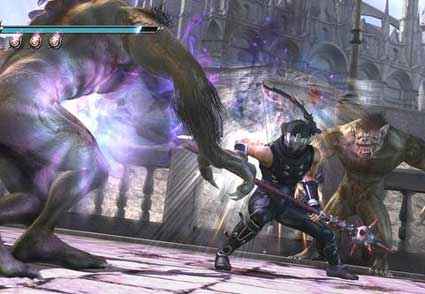 Ryu's weapons stash has changed a bit compared to Ninja Gaiden 2. There are two ranged weapons available now, including a new one called Howling Cannon. All other ranged weapons from the X360 version have been left out. Simple shurikens are permanently mapped to a button on the gamepad and always available to be thrown in conjunction with any of the other two ranged weapons.
On the other hand, all melee weapons have been retained; additionally, Dabilahro makes a comeback in its new avatar of Enma's Fang. Upgrading weapons does not cost anything in this version, but it is tightly controlled by the game: Not all Muramasa shops will have the option of upgrading weapons, and the upgrade level is locked with progress of the game.
From the Dojo of Colossal Bosoms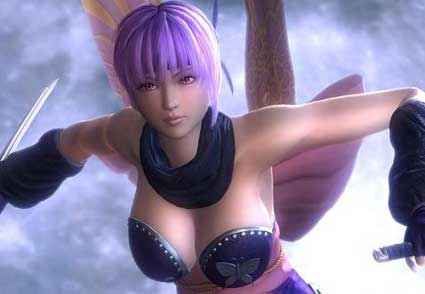 Rachel, the demon huntress from the first Sigma game, makes a comeback as a playable character. Joining forces with her are two other familiar maidens: the ninja Ayane and the shrine maiden Momiji. They each come with their exclusive arsenal – a melee weapon, a ranged weapon, and a Ninpo power – along with the infamous
Sixaxis Support
.
There is also one level dedicated to each of the three characters, woven into the main storyline. Once you have finished these chapters, that particular character becomes available for the multiplayer co-op mode. These female characters may appear to be frail and even vain; however they are well-designed and can easily hold their own against the enemy horde.
Master Ninja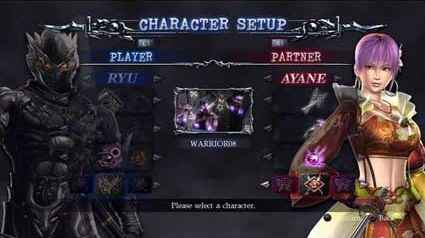 Additional content comes in the form of alternate costumes that are available to be unlocked for all the playable characters in the game, including Ryu Haybusa. Also, there are new boss encounters in the game and at least one of them makes a return; apparently not satisfied with the ass-kicking he received in Ninja Gaiden 1.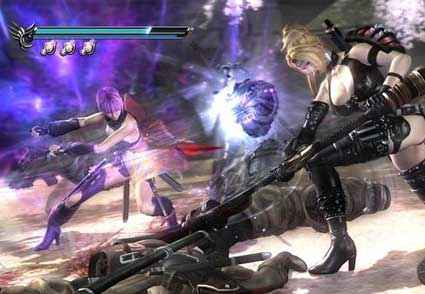 Visually the game appears to be an improvement over the X360 version. It justifies the 3GB installation with visibly improved frame rate. The game can also output graphics at full HD resolution (1080p), something that is not very common on the PlayStation 3. Also, textures appear to be of higher quality and the colors are more vivid. On the flipside, however, there are stray issues with collision detection while in combat.
Gaiden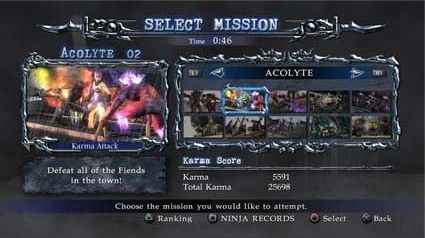 After you beat the game on any difficulty, two new game modes are unlocked. 'Chapter Challenge' retains all the weapons unlocked during the single-player campaign, along with the upgrades you might have made. The objective is to play through the game once again, one chapter at a time, maximising the Karma score and then uploading the results on the online Leaderboards.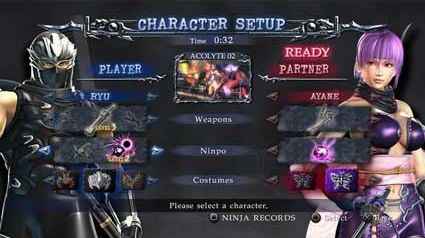 The other mode is called 'Team Mission' and it challenges the player with waves of enemies while being confined to a fixed-sized combat arena. Again, the objective is to rack up Karma points; however, in this mode, you have a partner to help you and effectively share the glory of victory. One can choose their partner to be either A.I. controlled or team up with another player on the PSN network. In addition to the game's protagonist, Ryu Hayabusa, you can also choose to play or partner with Ayane, Rachel or Momiji.
Teaming up with your partner when casting magic will result in what the game calls "Ultimate Ninpo" – an explosion of epic proportions. If your partner loses all hit-points, you have to rescue him or her; otherwise you will fail that mission.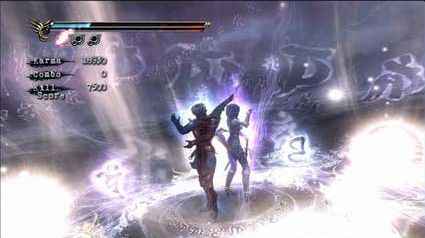 At the end of a mission, the game tallies and rates your Karma score and displays breakup of the kill-ratio between you and your partner. From here, you have the option to upload your Karma score, save video of the battle in 'Ninja Cinema' or to simply move on to the next mission. There are a total of 35 Team Missions to beat with an increasing level of difficulty.
Playing online was mostly a pleasant experience with only the occasional lag – given the frantic pace of the game, it's understandable. It usually takes a few minutes for your Karma score to reflect on the Leaderboards; however, sometimes, it takes a very long time. All in all, the game's net-code is pretty solid and co-op missions are a welcome addition.
Feat of Hundred Slashes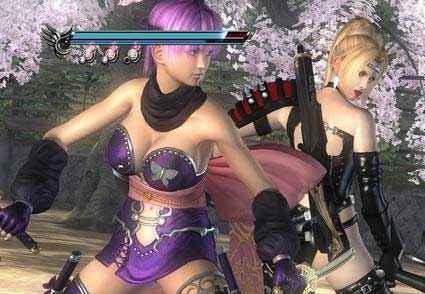 If you have not played Ninja Gaiden before due to its challenging combat, we would suggest giving this one a go. Even though this game is not as simple as most of the other beat-'em-ups, Sigma 2 has been rebalanced to favour the player.
Relatively speaking, the game also packs a lot of content – for a first timer, the single player campaign can take about ten hours to complete. After you've done that, there are 'Chapter Challenge' and 'Team Mission' modes to keep you busy for another few hours. At the end of all this, if you are feeling cocky, you could attempt to beat the game at Mentor and subsequently Master difficultly – not simple tasks by any means. If you like collecting game trophies, there are trophies for mastering all four playable characters, their weapons, Ninpo and even some special moves.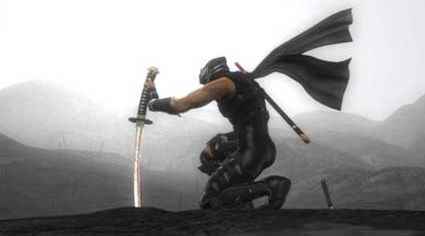 Ninja Gaiden is one of the best action game series ever made and if you are apprehensive about investing in this one, you should at least try the demo of Sigma 2 which is available on the PSN store – you may be pleasantly surprised.
Rating: 4/5

Details:
Genre: Action, Beat 'em up
Developer: Team Ninja
Publisher: Tecmo, Techmo Koei
Platform:
PlayStation 3

Distributor:
Milestone Interactive

Price:
PlayStation 3 – Rs. 2,799