Verdict
This is no racing simulation, but a non-stop powered-up ride that tests your gutsiest moves from Career to Multiplayer as a racer, and hones your seek and destroy instincts as a cop.
Need For Speed: Hot Pursuit - Slick rollercoaster [PC] detailed review
Introduction

Gleaming orange, tearing air, I cut right to avoid an oncoming truck on the two-lane black top winding through an ochre landscape, blip the handbrake, and point my McLaren F1 at the apex, hold down the nitrous and drift 200 metres before straightening into a gate that serves as my shortcut to the other side of the next curve, fusing sand onto the once slick rubber of my squealing tires.
Sounds familiar…Nope, it's not Burnout, no matter what the imagery wants you to believe. Those are real performance and super cars licensed by their manufacturers, just converted into toys using pixels and physics modeling. Engineered to accept my inputs, and to create an atmosphere that enables unparalleled feats of my driving ability across the verisimilitude of topographies Seacrest County seems to offer. Need For Speed: Hot Pursuit from Criterion Games – flashing lights in my rear view mirror, and all that.

While you can't chain burnouts together, you sure can pull off moves just as spectacular as in the Burnout series, controlling drifts while swerving between lanes at 234 kmph, with physics benevolently forgiving you for hitting nitrous too early on the exits. Do it while turning, and though you won't actually gain speed like Burnout, or spin out like Underground 2, you maintain a nice and steady speed through the corner instead – no wheelspins here.
A good way to describe the game's controls and gameplay – very forgiving and stunningly fun. Criterion simplifies everything down till your fearless coming to grips with the game's artificial physics is all it takes. You will be doing all the tricks in no time, gaining nitrous without thinking.
The graphics of the game are very realistic, enough so that you don't feel too stunned looking around, though the motion blur in turbo mode is something to behold. The cars are exquisitely modeled, and the scenery is flawless, with barely any superfluous elements like lens flares and smoke to distract. No over-saturation, no funky ShowTime.
The game is set in Seacrest County, a place that offers various environments and climates, from mountains to beachfronts, deserts to hills. The cars are possibly the best part of the game, with such beauties as the Bugatti Veyron Grand Sport to the McLaren F1. There are plenty of cars to unlock, but no real garage to speak of - you get to pick from unlocked cars for the relevant series (Performance, Super, Hyper, etc.,).
You can choose any car you've unlocked for 'Free Roam'ing the 100 miles of the county's road, but don't hope to chase down racers or do some running yourself in Single Player mode, that's only for Multiplayer.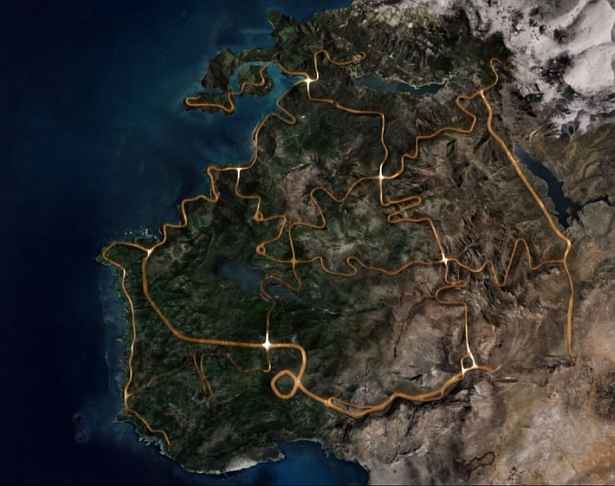 The player has seven different types of events to choose from in Career mode: Race, Duel (between two racers), Preview (time trial of a yet unlocked car), Gauntlet (time trial with cops chasing you), Hot Pursuit, Time Trial, Rapid Response (cop time trial), and Interceptor (one racer vs. one cop), the last two of which are meant to be played as a cop.
Racers in Hot Pursuit and Gauntlet events have access to up to 4 weapons to be used 2-3 times within an event against rivals and cops – including EMP, Jammer, Spike Strip, and Turbo. While Turbo is defensive, you can still ram cops or rivals with it. As a cop, your weapons are mostly the same, though you can also unleash road blocks and helicopters (to drop spike strips ahead of the leader).

[RELATED_ARTICLE]NFSHP's Autolog is a new feature that will soon see the light of day again in Shift Unleashed. It's your racing social networking platform, allowing you to share your victories and photos, compete against friends on a track by track leaderboard, or keep track of the latest news from NFS. This in itself is perhaps not too exciting if you aren't the social type, but it is still worthy of trying - you might just find yourself excited about beating your friend's best time on a particular track, or showing off pictures of a particularly spectacular takedown.
While Autolog is all about being connected, you can enjoy the game offline as well. Do that, become good, and then dialup – NFSHP's multiplayer is its ultimate selling point, there is nothing better than playing cops vs racers with real egos at work - giving it some serious replay value for the ardent show-off.
Verdict
Buy! This is no racing simulation, but a non-stop powered-up ride that tests your gutsiest moves from Career to Multiplayer as a racer, and hones your seek and destroy instincts as a cop.

Series Background
Need For Speed: Hot Pursuit is the 16th Need For Speed game released by Electronic Arts, counting back from the original The Need For Speed (1994) game. This makes the reason it has been called NFS11 (instead of NFSHP3) a mystery, unless you subtract five: 2009's NFS: Nitro – made exclusively for the Nintendo Wii and DS; 2010's Need For Speed World – a cross-platform racing MMO; as well as the relatively unsuccessful trio – Carbon, ProStreet, and Undercover.
Rating: 8/10

Details
Genre: Racing, Arcade
Studio: Electronic Arts
Publisher: Milestone Interactive
*Platforms: PC (MS Windows), PlayStation 3, Xbox 360

Price:
PC (MS Windows): Rs. 999/-
PlayStation 3, Xbox 360: Rs. 2,499/-

*Reviewed on PC
MSI TwinFrozr II HD 5830 - Phenom II X4 B50 @ 3.1GHz - 2GB DDR3 @ 1333MHz