Hollywood Movie Studio detailed review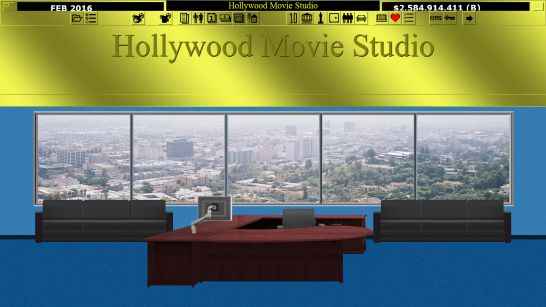 Hollywood Movie Studio is an indie simulator created for the purpose of simulating the experience of managing your own film studio.
For those who were gaming in the mid-2000s may remember a game by Lionhead studios called '
The Movies
'. It was a very well-made simulator which borrowed the visual style and gameplay of
The Sims
and adapted it to running a film studio, allowing you to assume the role of an omniscient and nearly-omnipotent God-like figure and control the world of movies.
Bring that down with respect to graphics, and jack it up a notch with respect to text-based realism, and you have Holywood Movie Studio.
Hollywood Movie Studio is the third version of a 1997 game called '
Hollywood Mogul
', and based on available information, not much has changed in the game, except, maybe, bug fixes et al.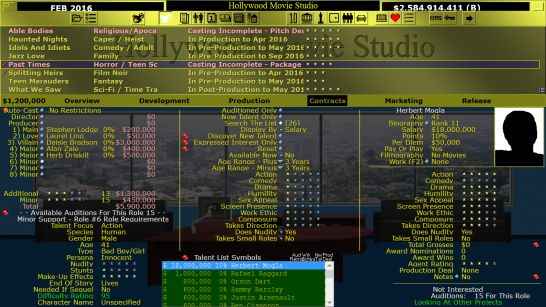 In the game, you play a manager of a big-shot film studio in Hollywood, who has to plan film production by the month and improve the studio's income, popularity and overall business standing. You deal with deadlines, schedules (based on American holidays and public occasions), actors, up-and-coming filmmakers and buy and sell scripts keeping the studio as priority.
Admittedly, the game has a bit of an uphill learning curve, but it is intriguing, nonetheless. At least for the audience it is designed for – namely people in the film industry. 'The Movies' also has the upper hand (though to be fair, that game's eight years old, as opposed to Hollywood Mogul, which came out in 1997) with respect to presentation.Yet, playing it for a few hours has barely let us scratch the surface. And considering it's a one-man-made indie game, one can cut him some slack on that front. Hollywood Movie Studio should be a good tool for film school students, though.
The game is available for a trial download at the Hollywood Movie Studio
official website
. So give it a whirl and see what you think.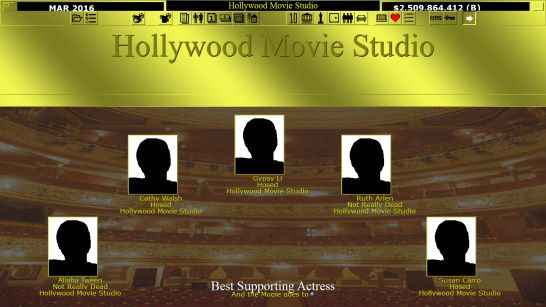 Minimum System Requirements:
Windows® XP or better
128 MB RAM
Mouse
Speakers (Optional)
150 MB Install (Plus Additional Space for Saved Games)