Verdict
Tennis fans fed up of playing Virtual Tennis and looking for an addictive alternative, your wait is over. For EA Sports� Grand Slam Tennis 2 is here, and it does plenty to keep you hooked with a solid tennis game which largely impresses with a radical new control system but isn�t without some key disappointments
Grand Slam Tennis 2 detailed review
Introduction
Grand Slam Tennis 2 isn't perfect but hailing from EA's stables, the game is probably one of the best tennis game on the market, with a revolutionary control system that forces you to re-learn everything you know about playing a tennis game with a traditional game controller. Compared to the original Wii-only predecessor, Grand Slam Tennis -- which was a casual cartoony affair, Grand Slam Tennis 2 is a much more serious attempt towards giving tennis aficionados a world-class virtual tennis game to play and enjoy.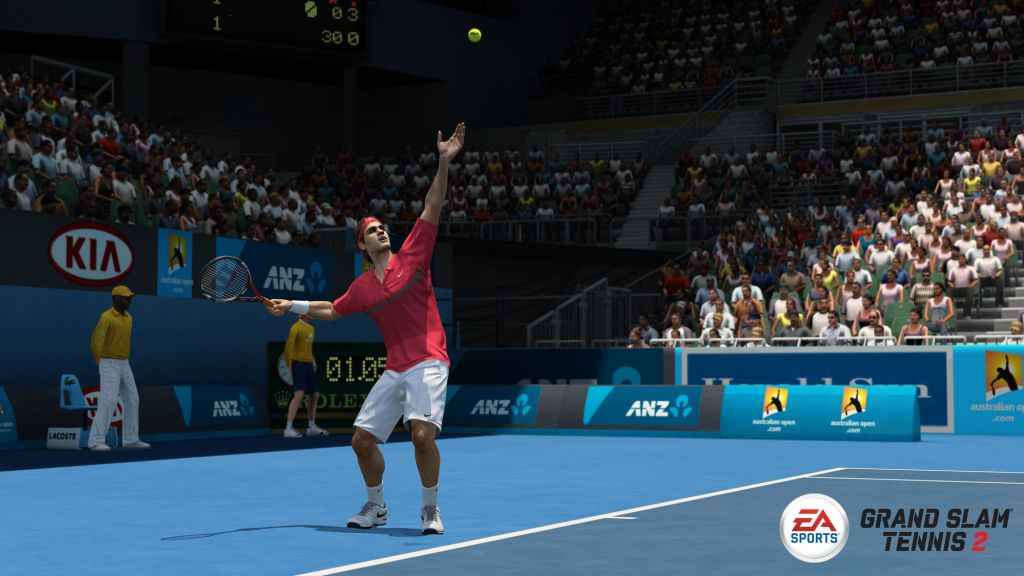 Being an EA title, you know the studio will leave no stone unturned to make the game as realistic as possible. And that's what Grand Slam Tennis 2 is all about. There's well-crafted tennis players with amazing visual detail (each with their individual playing styles and on-court mannerisms) playing at all the four major tennis tournaments -- Australian Open, French Open, Wimbledon and US Open -- and a select few EA competitions at different locations around the world. The courts are spectacular, and the pace of game actually changes from surface to surface -- clay court games are full of rallies, while the hard court surfaces are full of games with heavy baseline shots. Replays come with an ESPN logo animation like you see on live televised games.
Grand Slam Tennis 2 features such modern greats from the men's game like Roger Federer, Rafael Nadal, and Novak Djokovic, while the female contingent is prominently represented by Maria Sharapova, Serena Williams, Venus Williams, and Ana Ivanovic. Past legends like Pete Sampras, John McEnroe, Martina Navratilova, Lindsay Davenport, and Boris Becker are also included in the game, all of them spitting images of their real person.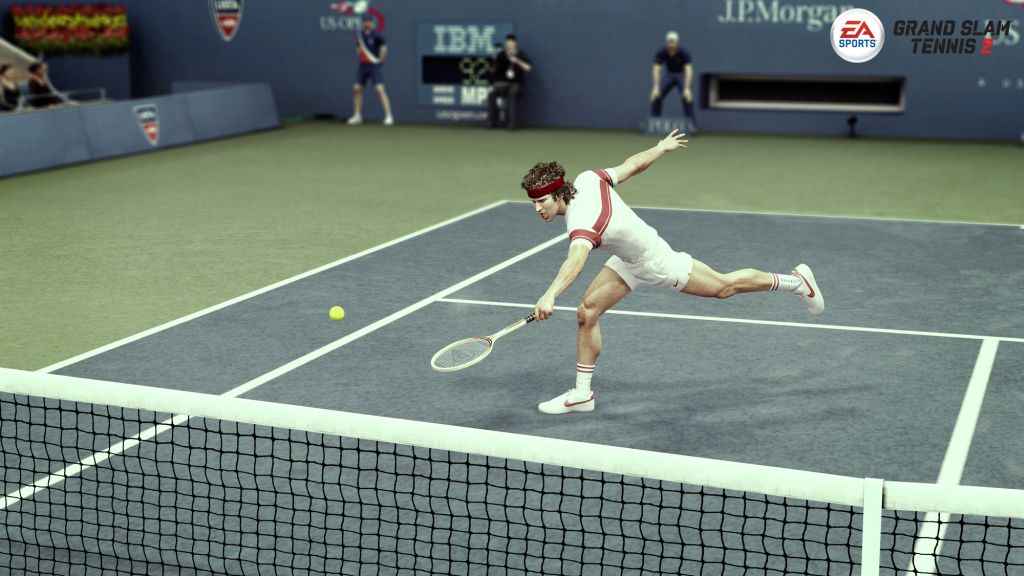 Forget the visual brilliance, what will keep you busy in the first few hours of Grand Slam Tennis 2 is a whole lot of practice sessions to figure out the overhauled controls. EA calls it Total Racquet Control and it places a heavy impetus on the PS3 and Xbox 360 controller's right analog stick. It's a careful combination of power and precision. Apart from a carefully placed lob and drop shots, all other strokes -- flat, top spin, and slices -- including shot direction are fully controlled by just the right analog stick. While EA provides a classic button-enabled option, we highly recommend the new Total Racquet Control system to play virtual tennis games like never before. Sure, it does take time getting used to -- heck, it's also agonizing and frustrating at times -- but it's a good system. At times the dividing line between a top-spin backhand and a sliced backhand are non-existent, but such instances are few and far in between once you master the Total Racquet Control mode. Overall, EA has built a unique system that it will no doubt fine-tune in the game's next iteration.
Grand Slam Tennis 2 has the following options to offer. In the game menu, you have Play Now - to immediately play a single or doubles exhibition match. Game Modes allows you to take a Career path, reprise some of yesteryear's greatest games in the ESPN Grand Slam Classics, and play a Tournament. The next option in the on-screen menu is Training, which has a Tennis School (coached by John McEnroe's voice-over), with fine tuned practice of ground strokes, net play, serves. Practice court involves playing with a cannon ball placed on the opposite side of the court. Online game option is the next bullet in line, giving you access to quick matches against opponents or friends or enrolling into an online tournament. Leaderboards are also maintained. It's important to note that although the game ships with EA Online Pass voucher codes, EA has disabled this feature because of certain registration bugs. The game's Creation Zone lets you create a player from the grounds up or you can Share A Pro. There's plenty to keep you busy here.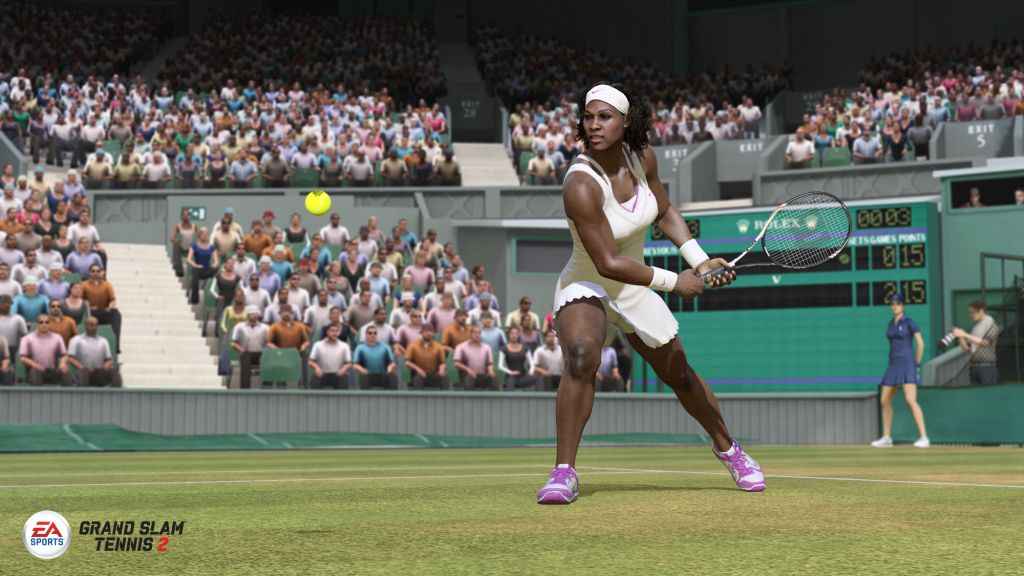 One of the greatest USPs of Grand Slam Tennis 2 is the mix of modern greats and past legends on its roster of players. Talk about comparing players from different generations based on stats and numbers, here you can actually pit Sampras against Djokovic, McEnroe against Nadal, Sharapova against Navratilova, and more, to see who comes up on top. Great attention to detail is given in player features, their clothing style and accessories. The game also supports Move motion controller, in case you need a good workout while having fun. Online gameplay with friends or random listed games is a fun experience as long as you're on at least a 1 Mbps connection.
Not all is hunky dory with Grand Slam Tennis 2, though -- how we wish it was. Despite our thumbs up to the Total Racquet Control mode, mastering the controls is a bit difficult, the learning curve too steep on the controller. We are extremely disappointed that EA didn't spend time on including a few more players (male and female) to attract greater attention and give gamers greater choice. Why isn't there a likeness of such stars of the tennis world like Caroline Wozniacki, Martin Del Potro, Kim Clijsters, Li Na, Marcos Baghdatis, Andre Agassi, Steffi Graf, or more exciting players, one will never know. The in-game commentary by John McEnroe and Pat Cash is largely repetitive, which can distract you rather than immersing you in the game.
However, keeping aside these minor niggles, we think that EA's Grand Slam Tennis 2 is one of the best tennis games around -- sadly, there's no PC version for now. It has a strong foundation and a radical new control system that distinguishes itself from other tennis games available in the market. It's a little rough around the edges, it isn't yet a finished product like FIFA 12 or Madden NFL, but Grand Slam Tennis 2 has a good thing going on for now and it's a lot of fun. Expect EA to make it even better next year.
Details
Developer: EA Canada
Publisher: EA Sports
Genre: Sports (Tennis)
Platforms: PlayStation 3, Xbox 360
ESRB Rating: E
Price: Rs. 2499 (PlayStation 3), Rs. 2699 (Xbox 360)