Verdict
FIFA 13 builds on the good work started by EA with FIFA 12, making the football simulator experience better than ever. A few new features really help the game attain new heights in mimicking realism, making this a bright new chapter in EA's celebrated football franchise.
FIFA 13 detailed review
Introduction
If you're a football fan in India, chances are that you always look forward to two days every calendar year -- the opening weekend of the English Premier League and the launch of EA's latest FIFA title. EA's stranglehold and utter domination of the virtual football simulator game, slowly nurtured towards much adoration, has been noteworthy.
The disruptive bet of a new physics and gameplay feature introduced in FIFA 12 has been tweaked and perfected in FIFA 13, whereby the game doesn't deviate too much from FIFA 12 and works towards improving the overall experience of the product. And FIFA 13 does so pretty well.
Presentation, new features
The mechanics of the game hasn't deviated much from FIFA 12 to FIFA 13 -- the look and feel of the menus, cut scene animations, background atmosphere, physics, etc. But having said that, FIFA 13 admirably builds on the foundations of FIFA 12 by heightening the sense of realism experienced within the game. You can play real-life matches that reflect the form and shape of a team at any given day – you can't pick injured players, team morale is reflective of league position, etc. – and the feature should be a great hit among fantasy football fans.
Prime among new features added to FIFA 13 is the skill games you have to take part in before kicking-off a game – in FIFA 12 you had to run with the ball on the training ground which would transform into a packed arena. In FIFA 13 you play the skill games before kick-off, these are short snippets or challenges – run into a designated area of the penalty box and put the ball in the top right corner of the net, take precise penalties, score a header, etc. – randomized to help you focus before a game. It's a great way of fine tuning technical parts of gameplay, too. Another aspect of the game that adds another level of realism to FIFA 13's overall appeal is the in-game commentary – the dynamic duo from FIFA 12 haven't changed, but they call upon Geoff Shreeves and Alan McInally for updates from other live games and players injured during the game, respectively. This interplay between the commentators works seamlessly and is another nod towards FIFA 13's mission towards improved realism in the game.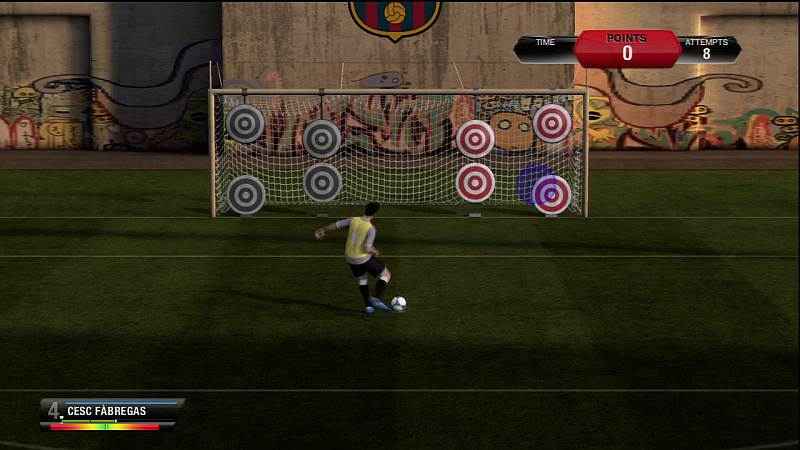 FIFA 13 is the first game in EA's football franchise to support motion controllers – yes, both Move and Kinect are supported. But gaming on the Move at least isn't a fun experience – you still have to use the left analog stick for player movement and the Move held in the other hand to point a cursor on the screen to aim passes, lobs or shots. Controlling and playing FIFA 13 through the Move motion controller isn't as intuitive or natural as playing a round of golf in Tiger Woods PGA Tour 13 or swinging a racquet in Grand Slam Tennis 2. Motion controller support is clunky on FIFA 13 and it's a work-in-progress for EA, something to focus on and fix in the next installment of the game.
Gameplay and graphics
You won't notice anything drastically different between FIFA 12 and FIFA 13's gameplay, other than a few subtleties in the latest version of the game. Player physics is fine tuned to further enhance depth and immersion in the game -- collisions are much more natural, the ball's momentum matters while receiving a pass, player's position plays a vital role in this regard, dribbling is even finer and precise than before, and that's just a few noteworthy improvements. First Touch Control is the latest addition to the game, after the previous installments focused on dribbling and defensive aspects of the game.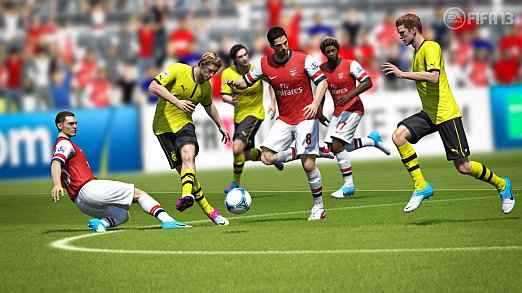 FIFA 13 continues the encouraging gameplay mechanic tweaks introduced in FIFA 12 by making the game a little less predictive, and for all the right reasons. Sure it's still easy to score a goal and yes the goalie could be more manoeuvrable but overall FIFA 13's gameplay is very good, we have no complaints. And watching a game unfold on the screen isn't far removed from the real deal. FIFA 13 successfully delivers a first class gaming experience, where one really feels that it's far more than just a football simulator. Player likenesses have been improved, as usual, compared to the past version of the game, and all the new kits look great on them -- crowd animation remains largely unchanged, though. Glitches are either non-existent or next to none.
FIFA 13's offline 'Become A Pro' and 'Manager' career game modes are a great way to spend time playing the title until FIFA 14 comes out. Minor nods to improving the long haul of a career game mode are evident -- for e.g., Manager mode gives you an improved home page, with descriptive coverage of things affecting your performance, players demanding to be in the starting lineup, CEO recommendation on a prospective player you're signing or offloading to and from the team, and more. All of these are minor changes, but they help FIFA 13 become a better game than FIFA 12. The online gameplay is largely unchanged, with FIFA 13 introducing a Game of the Week which lets users take a crack at every weekend's best game played with the same lineups and match conditions.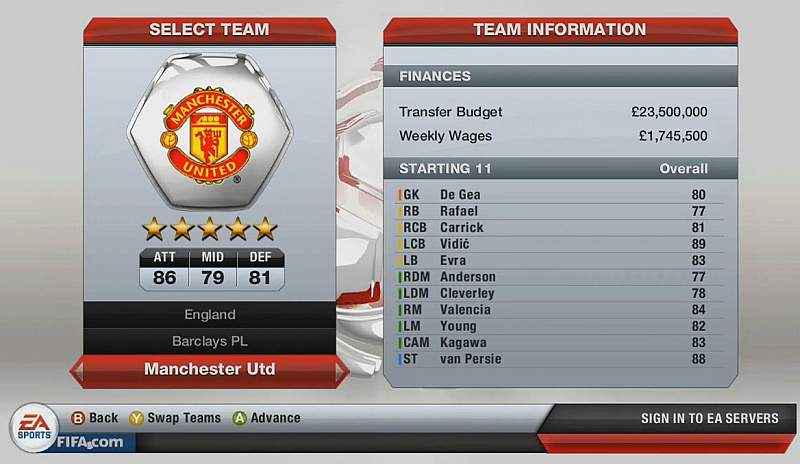 Conclusion
So should you buy the new FIFA 13? It's a bit of a silly question, akin to asking Apple fans whether they'd buy the new iPhone 5. Some would question the pragmatism of spending Rs. 3,000 on a game that's largely similar to last year's edition with a handful of cosmetic overhauls and expected evolutionary upgrades. But that's what we invariably end up doing, us football fanatics -- think of EA's annual FIFA titles as subscriptions that we gladly renew every year. Fans of the franchise don't even think twice before buying it, so invested they're on EA and FIFA's promise on churning up a truly spectacular football experience on our virtual screens. Surprisingly FIFA 13 is a better game than FIFA 12 and introduces features that the previous game lacks, minor updates or not, with features that you can only experience and enjoy in the latest installment of the game.
PES 2013's gameplay may be slightly better than FIFA 13's, and for people choosing between the titles an overwhelming reality remains. Those who have never played EA's FIFA titles before, suffice to say that right now FIFA 13 is the definitive, most realistic and comprehensive football simulator experience you'll ever play until FIFA 14 releases next year.
Tested on a Playstation 3
Developer: EA Canada
Publisher: EA Sports
Genre: Sports, Simulation
Platform: Windows, Xbox 360, PS3, PS2, PS Vita, PSP, Wii U, Wii, Nintendo 3DS, iOS, Mac OS X