Verdict
With its bevy of official players and leagues as well as excellent presentation, FIFA 13 easily is one of the best mobile representations of the Beautiful Game. We just wish it had better controls.
FIFA 13 for iOS detailed review
Introduction
What is more regular than the monsoons and is sure to descend on your mobile devices in the third quarter of every year? Yep, we are talking of EA's FIFA series of football games that have pretty much become a regular feature of the mobile gamer's calendar over the past few years. And 2012 is no exception. The football season in Europe has barely got into its first few weeks and we have a new spanking football title from EA for iOS devices, with an Android avatar expected shortly as well. On offer are the usual official team franchises, real team sheets and more eye candy than ever before.
Mind you, it does not come cheap - we had to part with $ 6.99 to get it on our iPad and iPhone 4S (it is a universal app, praise be) and then spent close to a day patiently waiting for all 1.36 GB of it to download on to the aforementioned devices. Aye, you need a deep pocket and a speedy broadband connection to get this game. One downloaded, however, it moves along on a brisk pace on most newer iOS devices. However, if you have anything older than an iPad 2 or iPhone 4S in the tablet or phone department, you are going to have to put up with a lot of lags.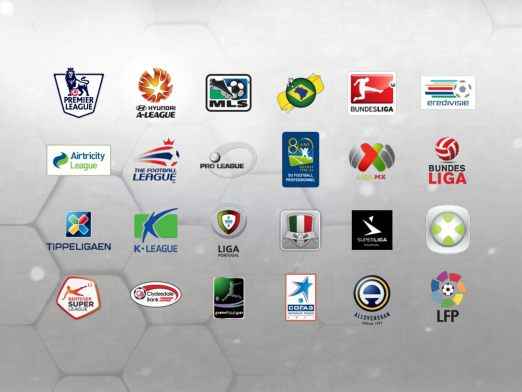 Hey, this is the FIFA franchise. Which means that there are official teams galore.
New comers to the FIFA series would be well advised to get into Quick Match mode - you can choose between a match-up between two teams, a practice session or if you are the adrenaline seeking types, just head to the tie-breaker mode. FIFA junkies of curse can go right ahead and get their hands dirty either in the Tournament, Manager or Online mode. Speaking of which, yes, the game has an online mode where you can either play a quick match with other folks online or have a more ordered Friendly - in each case you will need to log in to EA's ORIGIN online system to be able to play a match. The experience did not leave us in raptures but was decent enough, provided one has decent bandwidth (do NOT try it on a 3G connection is our advice, for reasons of both gameplay as well as expenditure if you are on a pay-as-you-use plan).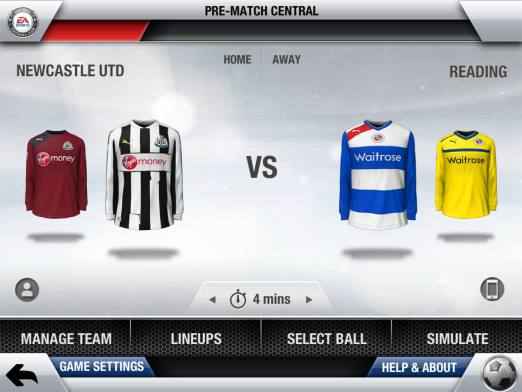 You can tweak line ups, select jerseys, choose balls, play a simulation...whatever FIFA 13 lacks, it sure ain't features.
But we are getting ahead of ourselves. For FIFA addicts, the soul of the game is in the Tournament mode. There are lots of official leagues to choose from ("30 leagues, 500 teams, 15,000 players...") and as ever, you can mess around with line-ups (yes, real names and all), formations (just drag and drop players into the slots where you want them to play) and yes, we are coming to it - go out on the pitch and take on the opposition. And it is here that the game really hits you, especially if your playing it on the new iPad. The playing arenas are beautifully detailed from the stadia to the grass on the pitch and the players and officials look spot on, as long as you do not get too close when an element of weirdness starts setting in, in best video game rendition.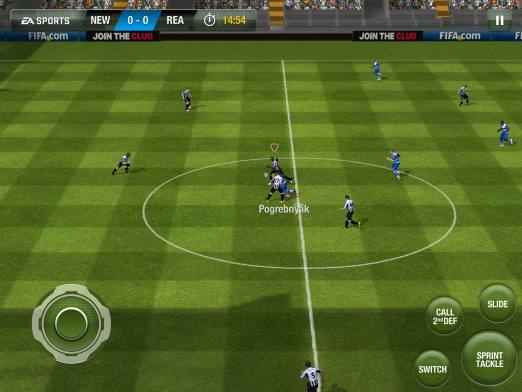 Gameplay is more measured and the pitches and players look awesome during match play. The onscreen control buttons, however, are still there.
Gameplay, regrettably (in our opinion), does not move too far from the FIFA tradition. You control movement from an onscreen D-pad on the left lower corner of the screen, while on the corresponding right corner are another set of buttons whose functionality depends on whether you have the ball in your possession or are trying to win it off an opponent. If you have the ball, the buttons will give you the option to pass, execute a skill move, sprint or just take a shot at goal. If on the other hand, you are defending a goal, your options will be a sprinting tackle, a sliding tackle, an option to switch defenders or call another defender for aid. Those who have playing FIFA will find themselves right at home but if you are newbie, we would recommend being patient as it takes some time getting used to, and the arrangement is not exactly intuitive - we cannot understand why Sprint needed a button of its own and could not have been implied by an extended holding of the forward direction button. The pace of the game too has been turned down just a notch ( a lesson learnt from PES, we wonder?), which is a good thing as it enables one to make better planned passes, turn on the skills more often - you just hit the "skill" button and move your finger in a small grid to make your player execute some neat tricks - and actually think before lunging into tackles. Yes, this is definitely not the crazy button mashing exercise that older editions of the game were. You can also choose to play the game purely as a manager controlling the action from the touchlines as well, and maneuvering your club to greater glory, although we would advise you go for a football management sim if you are REALLY into that sort of stuff - this one really has been designed for on-pitch action.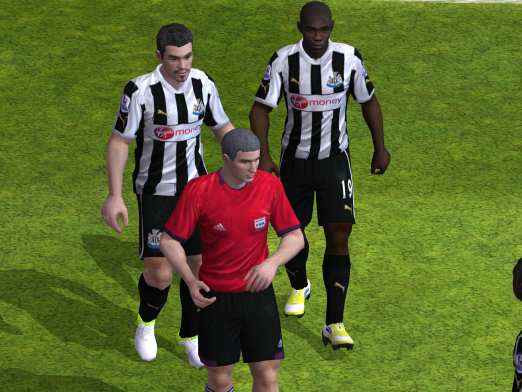 The players and officials are best seen from a distance. Get too close and they start looking just a bit unreal. To make matters worse, the ref booked one of us!
That said, we are not major fans of having controls on the lower extremes of devices, as it converts the game into a two-handed experience, a far cry from the one-handed swipe-to-play ease of games like Virtua Tennis Challenge - something that comes to the fore only when you are taking free kicks and penalties here. In fact, if you are playing this game on the iPad, we would advise you to put the tablet on a stand of some sort for the best playing experience - holding the tablet and twiddling all the controls can be a bit of a problem. And yes, the slow motion replays remain an irritant - one does not always like to see every goal from a multitude of angles.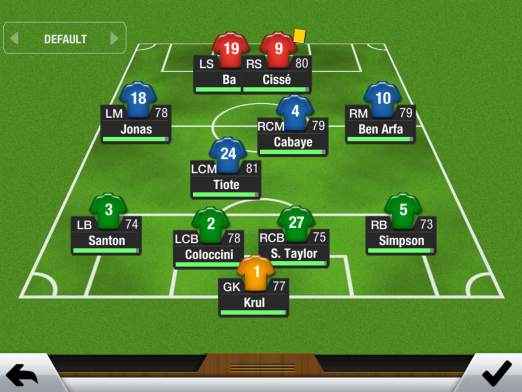 Strategic thinkers will love the ability to move players around in formations with just a drag and a drop.
But that is just us being a tad antsy. The stark fact is that FIFA 13 is by far the best looking football sim we have played on a mobile device as of now. Yes, we do wish it had borrowed something from the likes of Flick Kick Football and Fluid Football in terms of ease of use, but diehard FIFA fans will not mind being in familiar territory, with real team names (hey, Liverpool are called "Liverpool" and not "Merseyside Reds"!). It looks good, plays well on newer iOS devices and has gameplay that will enable those who have been playing the series for a while to hit the ground running. Most people would not ask for more. Regular as clockwork, FIFA 13 has set the benchmark for mobile football games - now let's see what the likes of Real Football and PES come up with.
Available from: iTunes App Store