Verdict
Far Cry 3 is one wild and crazy ride through a tropical paradise hiding a dark and sinister story. Combining themes like exploration and survival, the game proceeds at a great pace, heightening the amount of fun before multiple climaxes that bring the ride to an abrupt (and untimely) end.
Far Cry 3 detailed review
Introduction
Far Cry 3 is a potent and heady mixture. It's an action adventure game with elements of stealth and RPG that does a good job complementing a fast-paced, thrilling story which dwells on revenge, drugs, and self-exploration. Its first-person action is raw and intense, immersing you headlong into the rich, vibrant world you inhabit, complete with a diverse flora and fauna. Far Cry 3 doesn't put a foot wrong while its single-player campaign lasts, concealing its subtle flaws cleverly.
Starting off, you find yourself in the shoes of one Jason Brody, a seemingly regular guy who's heading towards Rook Island to enjoy a typical tropical vacation with his mates and brothers. But things take an ugly turn, Jason's vacation ends prematurely as he and his friends are abducted and held captive by a gang of pirates and their maniacal leader Vaas. And before the long opening cut-scene ends, you find yourself in some mysterious corner of the island, alone and away from your friends. You escape from Vaas (for now) and are left to piece together your course of action. Revenge, and other things. Alone and out of his comfort zone, Jason has his work cut out for him.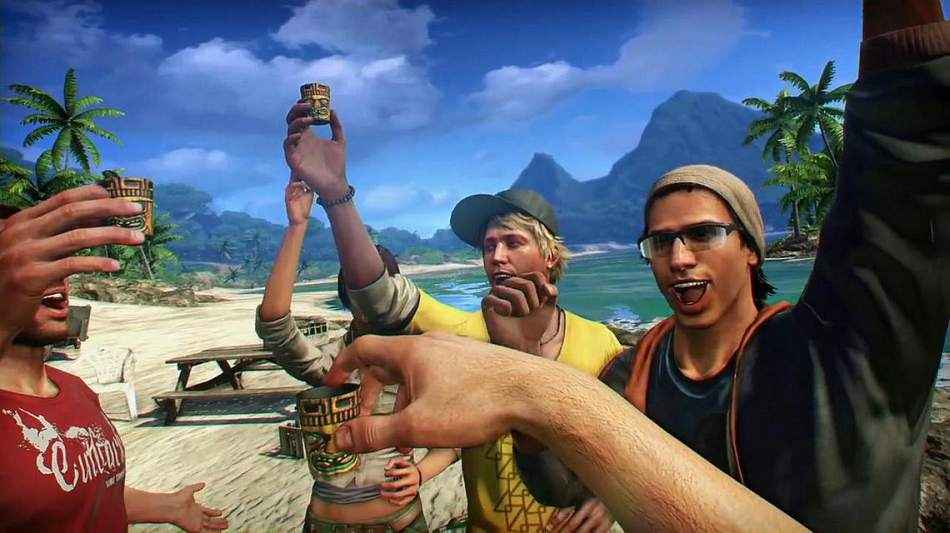 The good times don't last too long at Far Cry 3's beginning
Whatever Jason has to do, the (in-game) universe couldn't have picked a more picturesque location to do it in. If there's one thing in Far Cry 3 that really shines in all its splendour it has to be the environment you play the game in. Not only full of steep mountains, decked with rivers and waterfalls, Rook Island is abuzz with all kinds of life -- exotic plants and animals. Both herbivores and carnivores roam around in the dense tropical jungles of Far Cry 3's main island, and they aren't just found on terra firma -- sharks and turtles can be found in the encircling seas. It's really hard not to get lost in this lush, green paradise, forget the campaign and go on an exploration drive. Because you never know what you'll encounter, at least for the first few hours of gameplay, and that's the beauty of Far Cry 3's sandbox environment.
Another great aspect of Far Cry 3 is that it lets you take advantage of the environment to aid you in your missions. Hiding in a dense bush lets you remain hidden from unfriendly eyes (there are pirates all over the island), fire isn't just for show but it burns and kills, trapped animals can kill and devour your enemies (and you, too, if you aren't careful) if you lead them on, you can paraglide off a cliff or swim submerged through a waterbody to move around. There's so many things to do in Far Cry 3's world, so many different ways to execute a mission.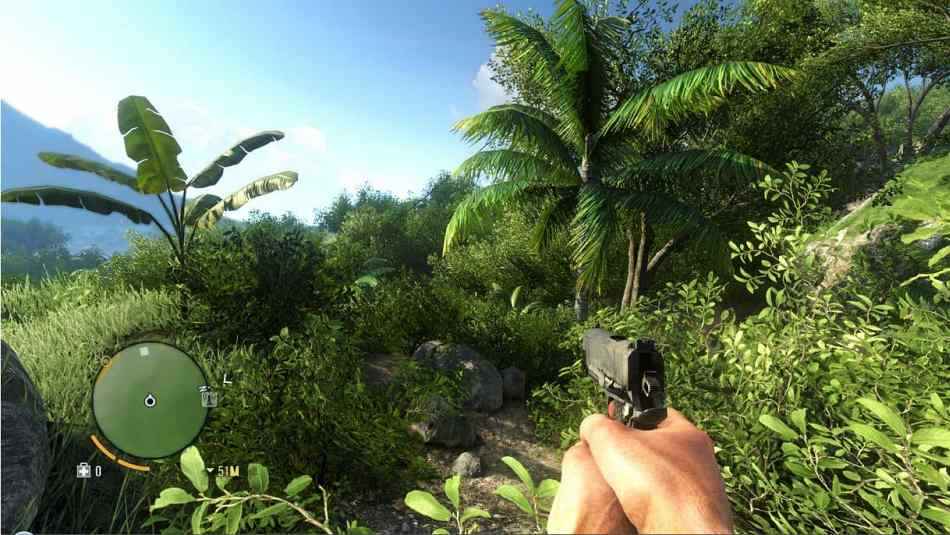 Exploring the unknown jungle in Far Cry 3
As far as gameplay is concerned, Far Cry 3 juggles various core elements pretty well. First-person shooting is standard stuff, but elements of RPG help unlock new skill sets for Jason -- extended breath underwater to taking down two enemies at once. Stealth mechanics of the game are almost exactly same as those in Assassin's Creed III -- and why won't it be, as both games hail from Ubisoft Montreal? A meter starts filling if you're directly within an enemy's field of vision and range -- hiding wipes it clean, while the meter fills if the enemy's discovered your location. While there are no closets to hide fallen victims in to like in Hitman: Absolution, but you can drag and hide them away from plain sight in Far Cry 3's landscape. It's great fun alternating between a sneaky assassin that kills in stealth or meeting a small army headlong with explosive armaments, both style of gameplay are rewarding.
Apart from the single-player campaign, which is a brilliant flip-flop between cold harsh reality and drug-induced stupor, the gameplay does have few lows. Capturing enemy outposts is a large chunk of Far Cry 3's non-linear mini game offering, and while each outpost is different from another, the act of capturing them quickly loses its draw and just becomes a bit of "going through the motions". Far Cry 3 also requires you to locate and climb atop radio towers strewn across the island to unlock them on the map (and score other bonuses), which can also get a bit too repetitive (as is the case in Assassin's Creed). The scope of Far Cry 3 also deserves a much bigger campaign, which, as brilliant as it is, ends much too quickly.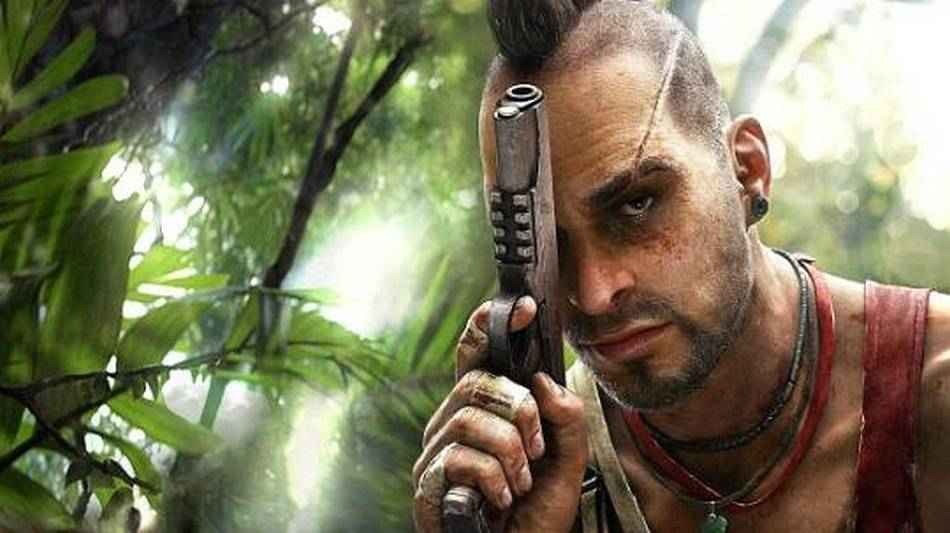 Vaas, the totally nuts villain that inhabits Far Cry 3
Far Cry 3 has an iconic villain in the form of Vaas, who's totally nuts, and his now popular monologue on "the definition of insanity" promises to be a cult hit. While Jason is pitted against him for the most part of the game, other antagonists are revealed as the plot thickens. Jason begins the game fighting for revenge and rescuing his friends, but the mysterious Citra and Jason's gravitation towards the Rakyat tribe add an unexpected twist to the story and move matters towards a heady conclusion. Keeping you immersed in the game is a very good soundtrack of jungle beats, quick tempo tracks and suspense-filled tunes that start and end at just the right time, always true to the mood of the game -- there's plenty of silence in there, too -- it's brilliant.
AI is quite intelligent in Far Cry 3, whether it's human or beast. If you snipe too many outpost guards from one direction, chances are the remaining party will guess your location and ultimately call for reinforcements. We didn't encounter any bugs while playing this game on a PS3. Competitive multiplayer mode isn't as absorbing as Far Cry 3's single-player campaign. However, what you will spend hours playing is undoubtedly its multiplayer map editor mode.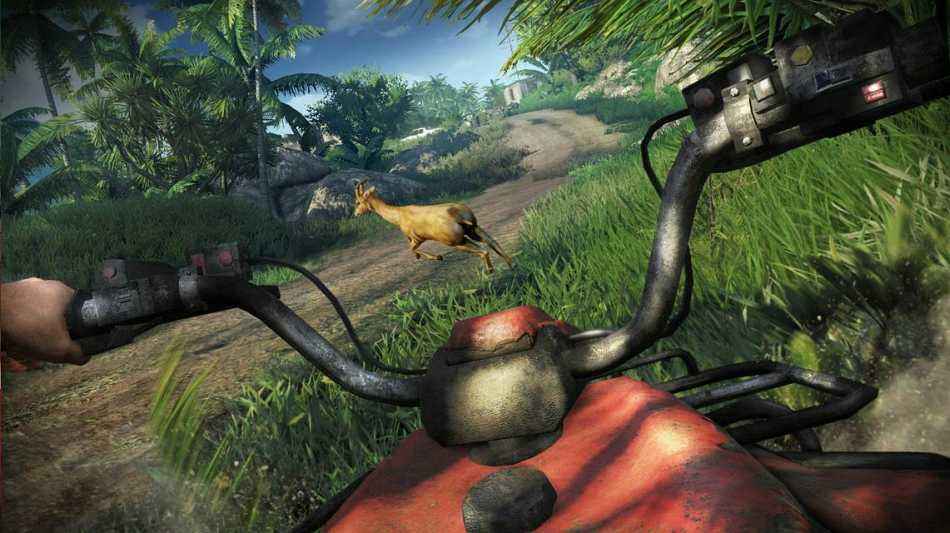 The jungle is alive and teeming with life in Far Cry 3
Verdict
Far Cry 3 is an amazing ride. It has a fantastic interactive environment that you can't stop yourself from exploring; crazy, psychotic characters inhabiting a roller coaster plot; a first-person campaign and gameplay that sucks you in from the get go. The sense of freedom the game gives you to do exactly what you want to do is commendable, and part of its appeal. Overall, it's just a top game, one that you must play -- whether you've played the first two games or not.
Genre: FPS, Action, Adventure
Developer: Ubisoft Montreal
Publisher: Ubisoft
Platform: PS3, Xbox 360 (Rs. 2,799) / Windows PC (Rs. 999)