Verdict
I would definitely recommend this game; especially to those that are looking for something that is right in between an arcade-style racer like NFS or Midnight Club and racing simulations like Gran Turismo or Forza Motorsports.
Colin McRae: Dirt 2 detailed review
Introduction

After the untimely demise of the Scottish rally legend, Dirt 2 comes across as much as a tribute, as it is a follow-up to the success of Dirt. As far as this game goes, the void left by Colin McRae's absence has mainly been filled by two American rally drivers – Ken Block and Travis Pastrana.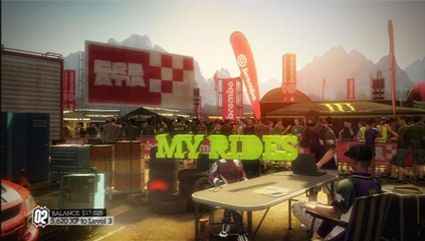 The game's career mode starts off with creating your racer profile by selecting you name, gender, nationality and picking a nickname that the game will use to refer to you. This follows into a video tutorial that walks you through the basics of the game. Along with your race-cars, the game provides you with a trailer that acts like a hub and doubles up as the game's menu system. Races in Dirt 2 take places in multiple locations and across four continents – North America, Europe, Asia and Africa.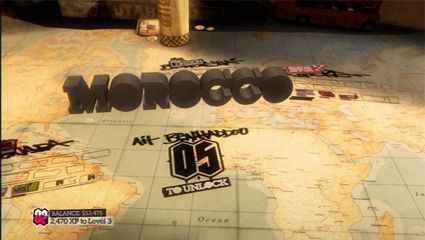 The racing events in each of these regions are laid out on an events map as they become available. The primary objectives of your career are to earn experience points and money. Experience points are earned by winning races and reaching certain milestones in the career.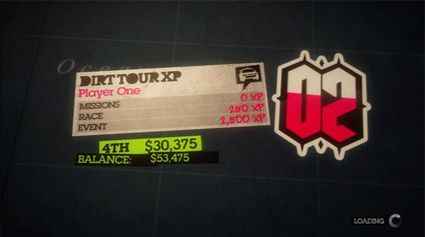 As expected, XP points add up to advance your character level; which is essential since certain racing events become only available after reaching a certain level of experience. Money is obviously earned by winning events; however, the amount of money earned per event depends on the difficulty level that you select before each race. You can use your cash to purchase new rides or to upgrade cars you already own.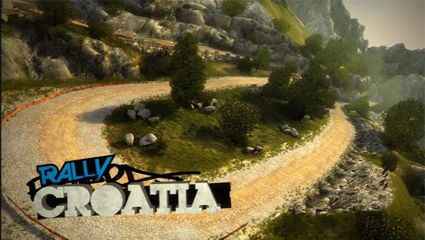 There are two types of race tracks in Dirt 2 – traditional rally circuits that are completely off-road dirt tracks, and hybrid tracks that are a combination of dirt and tarmac sections. There are several event types available on these two tracks – circuit races, last man standing, one-on-one challenges, rally, etc. There is another race type worth mentioning called Gate Crasher, where the objective is to achieve the fastest lap and smash through as many "gates" as you can.
All the races on the map essentially add up to be qualifiers for bigger events like the X Games and World Championship events. Winning these big events reaps a major payout in terms of cash, XP and sometimes even new rides.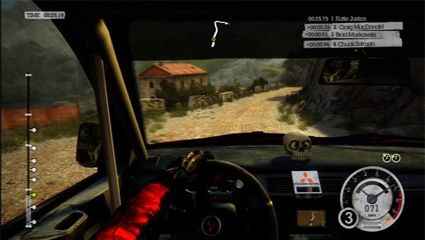 Other bonus rewards come in the form of liveries (skin) for cars, dashboard and windshield toys, horn types and rally partners.
When you sum all this up, there is plenty in the game to keep an average gamer busy for about 15- 20 hours. For me, the best experience was racing in rally events – essentially racing solo in a point-to-point event over some beautifully crafted tracks. The game's graphics engine does a pretty good job at delivering the whole experience of racing through the rugged race tracks. You get to race through the wilderness of Malaysia, the deserts of Morocco and gravel-filled roads in China.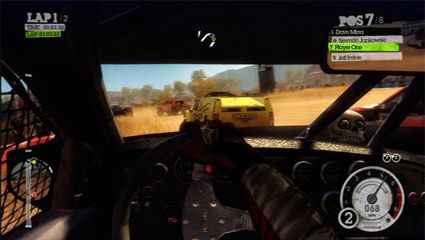 But a word of caution to casual racers: even on lower difficulty levels, the game keep you on the edge. Being the first to cross the finish line requires some deft touches with finesse – push you car in one direction too hard and you'll spin out of control. The 'Flashback' feature of this game comes as a saviour for less skillful racers such as me.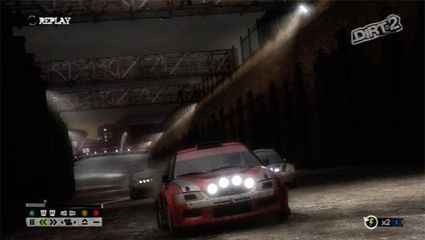 For a limited number of times, the game allows you to correct your mistakes by letting you "rewinding" the race within a specific timeframe. In absence of this feature, of course, one mistake could potentially compel you to restart the race. The number of Flashbacks per race and varying degrees of driving assists are available depending on the difficulty level you choose before each level. These features combine to do an admirable job at satisfying the casual racers, Zen masters of racing and everyone in between.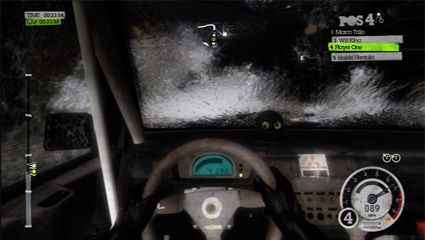 Overall, my experience with Dirt 2 was quite enjoyable, although there were times when I wished those Buggies were not so damn difficult to handle. Thankfully, the way the events are setup, you can avoid certain races and still achieve major landmarks in your career. There is a good variety of vehicles in this game – from the burly Hummers to those delightful machineries from Subaru and Mitsubishi; and then there is this particular ride that looks like a cross between an F1 car and a bulldozer. Sweet!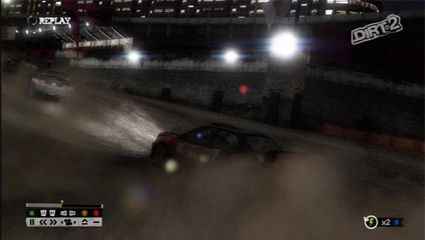 In spite of the near-4GB installation on the PS3, there were instances of texture pop-ins. Add to this the only major gripe I have about the game – the time it takes to load a race. The relatively high load-times are especially unpleasant during multiple race events like the World Championship, where the rush from a previous race is often lost staring at the loading screen.
I would definitely recommend this game; especially to those that are looking for something that is right in between an arcade-style racer like NFS or Midnight Club and racing simulations like Gran Turismo or Forza Motorsports.
Rating: 4/5

Details:
Genre: Racing
Developer: Codemasters
Publisher: Codemasters, SCEE
Platform:
PC, PlayStation 3, Xbox 360, PSP, DS, Wii

Distributor:
PS3, PSP - Milestone Interactive

Price:
PlayStation 3: Rs. 2,499

PSP: Rs. 1,499