Verdict
Bastion, the popular Xbox Live, PC and Mac game, has been 'reimagined for the iPad.' Can a game designed for a mobile platform be a near-exact copy of its console counterpart? And actually a whole lot more fun? Bastion on the iPad answers both these questions in the affirmative, and goes right into our list of must-download apps.
Bastion for iPad detailed review
Introduction
Like it or hate it, what you cannot deny is that the iPad has added a whole new dimension to the term "mobile gaming." Yes, we had had our share of games with stunning graphics on iOS and Android devices before Apple's tablet came along, but that large display suddenly yanked mobile games out of time-pass territory into something a tad more serious, and well into portable console territory. And driving this transition are a host of games that combine cutting edge graphics and great storylines with the simplicity of a touchscreen's interface - Infinity Blade and Batman Arkham City Lockdown were prime examples of games that succeeded in doing this. And now, we can add a new title to the list: Bastion.
The name Bastion will ring a bell with most hardcore videogame fans - it first made a name for itself when it popped up on Xbox Live Arcade, Steam and the Chrome Web Store in 2011. Its innovative graphics, effortless gameplay and arresting soundtrack made it an instant hit, selling more than half a million copies in 2011 and leading to its arrival on the Mac App store in April this year and now it is on the iPad via the iTunes App Store. And here's the real story - it is present in almost its full glory. No shortcuts here - this is the real deal. Mind you, it does come light in terms of download and wallet impact - you will have to shell out $4.99 to download it and then sit patiently through a 540 MB download. A word of advice - be patient. Any doubts you have about either will disappear the moment the game starts.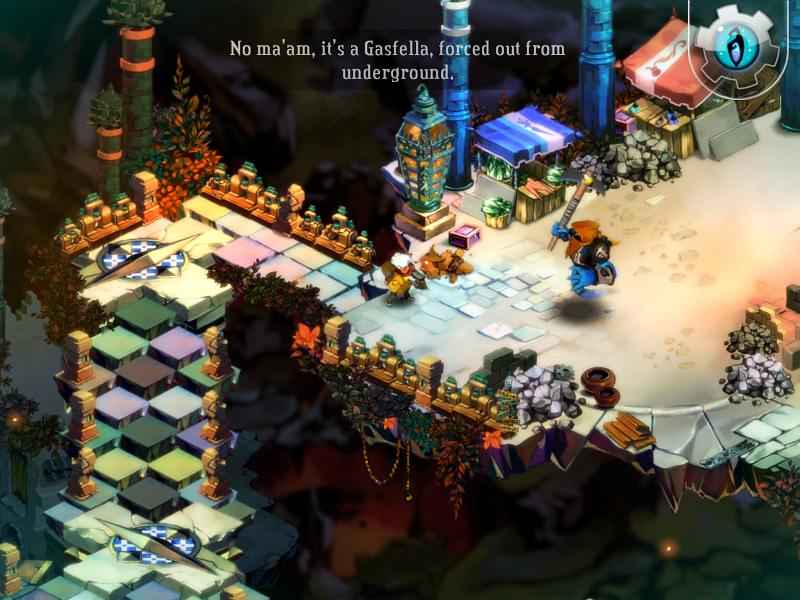 And it starts in best Bastion tradition, with the main character, The Kid, lying on a piece of land that seems suspended in the sky (remember Septerra Core, anyone?). And as he moves, steps keep forming beneath his feet and the world starts taking shape in front of his very eyes. And what a world it is - right out of watercolour territory with bright colours, rich detail, and then, there is the dry voice of the narrator (who seems right out of The Good, The Bad and The Ugly) and music that switches from funk to disco to rock, depending on what The Kid is doing. Yes, it is a top-down view of the world, but in terms of sheer spectacle and ambience this is a game in a league of its own. And on the Retina Display of the new iPad, it is nothing short of swoon-worthy.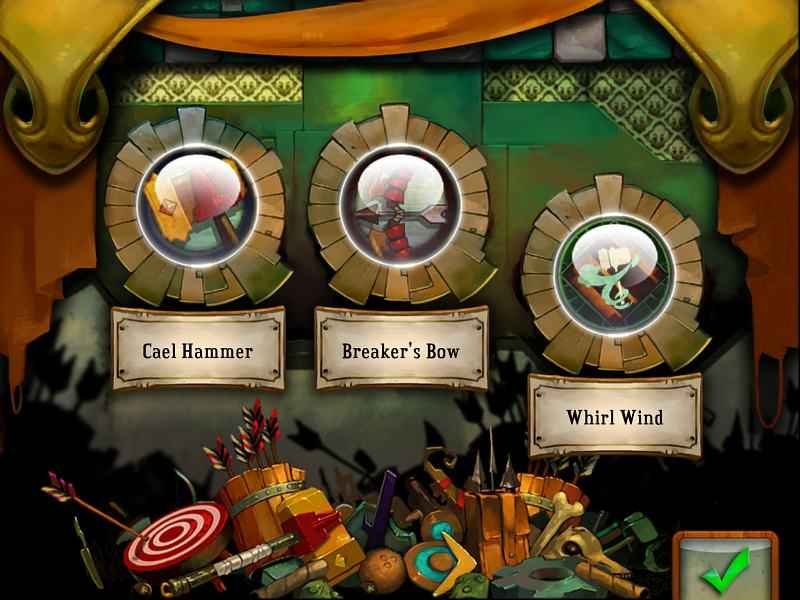 Speaking of what The Kid is doing, as the game progresses, you discover that he is from the city of Caelondia, which has been fractured - literally, as it is in pieces - following an event known as the Calamity. The Kid has to travel to the Bastion where all citizens were supposed to go if and when something catastrophic happened. He does get there to find only an elderly man called Rucks (he of the dry voice who is also the game's narrator) who tells him that he is the only one to have made it to the Bastion. Of course, things need to be set right. Of course, The Kid has to do it. Staple game fare, right?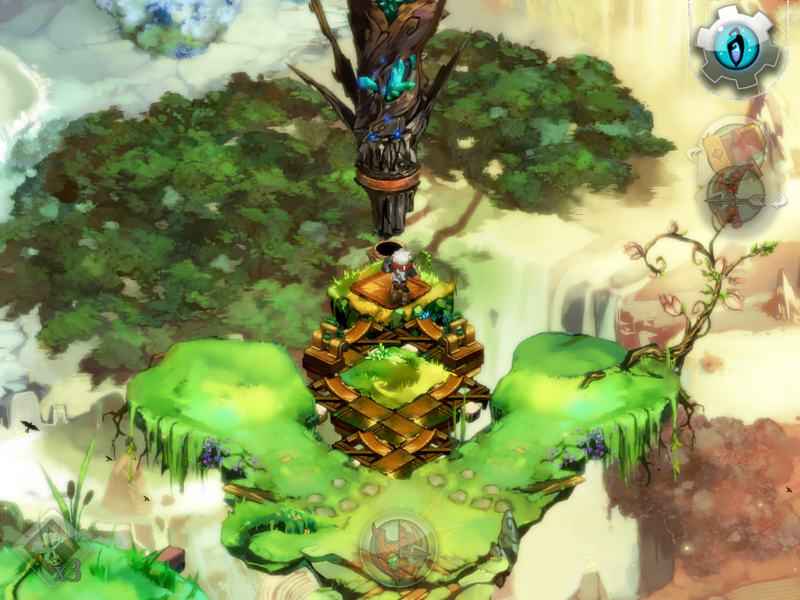 What is, however, not so staple is the way in which The Kid goes about his task. There are vast expanses to travel and he can speed things up by collecting Cores and placing them in a machine which lets him travel more quickly and can also revive his city. Of course, the path is not easy. There are enemies who vary from squishy floating creatures to more vicious and savage ones. And The Kid has to take them all on, collecting weapons and currency, drinking potions (and making odd trips to the Saloon), adding new attack capabilities, and even building structures to help him in his mission. It is RPG meets adventure and action in a magnificent world. And all topped off by a storyline that is nothing short of compelling - there are even alternative endings!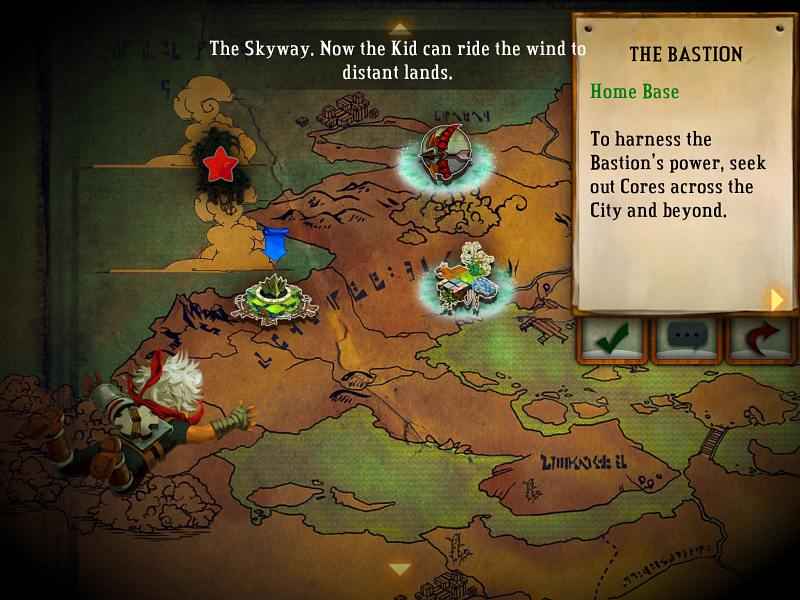 All of which would have been more than enough to make Bastion one of the best games we have ever played on a mobile device. But developers Supergiant have pulled off a massive coup by actually adapting it totally to the touch interface of the iPad. Yes, you can have onscreen control buttons too if you wish, but we would advise against it, given the sheer simplicity and intuitiveness of the touch interface. To move The Kid, you just need to tap on the place you want to send him to (it should be visible on the screen) and he pretty much takes out whatever comes in his path, and a double tap helps him dodge attacks. Yes, it can be a tad too simple at times - it would have been nice if one could make The Kid choose which enemy to attack instead of throwing him into the middle of a firefight and settling back to watch him tackle things, with the odd dodge here and there - but we did not really mind. And we had fallen in love with the narrator's voice by the time we were half an hour into the game (we did not realise it has been that long really!).
Great music, great graphics, great sound, great story - Bastion ticks all the boxes. Is it perfect? Well, nothing is, but we can certainly say this - watching The Kid run with the ground appearing beneath his feet as if by magic, seeing him twirl his pistols before he takes on a bunch of enemies, or just hearing the narrator advise him on what to do next is an experience that no one should miss. This is as good as mobile gaming gets. And the only reason we do not give it a 5/5 is because nothing is perfect. But we are very tempted to!
If you have a new iPad and do not download this game, you are not just missing something. You are missing a lot. Get it, now!

Available from: iTunes App Store
Price: $4.99