Verdict
When it comes to aesthetics of keyboards, the coating and colour make quite a difference. The build quality on the Cerberus Mech RGB feels premium with its black-matte finish on the metal frame and keycaps as well. The metal frame doesn't scratch easily and only oily fingers will leave fingerprints. The keycaps also have a premium finish but the stem underneath is less dense than the default keycaps found on Corsair keyboards. This might affect the durability but they managed to maintain a snug fit on the mechanical switches.
The Kailh Brown switch on the unit that we had received has a higher actuation force (60g), hence it feels heavier than what you would find on Cherry MX Brown switches with a 45g actuation force. Because of the higher actuation force, the switches feel like a cross between Cherry MX Black and Blue. Even though there isn't much of a difference in the interior design between the two switches (except the Gold crosspoint), the Kailh variant claims to achieve a higher durability of 70 million keystrokes.
The Cerberus software needs works in terms of design and ease of use. However, you will be able to record macros, sync programs to the five custom profiles, disable keys, assign other key functions, and toggle between the lighting effects. And yes, the keyboard supports RGB lighting. The Cerberus Mech RGB has a great price considering what it offers in terms of build quality and features. The software does need improvement but the primary features such as macro recording and backlighting can be easily controlled right from the keyboard itself. This can certainly be your first RGB mechanical gaming keyboard if you're ready to spend the amount.
ASUS Cerberus Mech RGB detailed review
Introduction
Mechanical keyboards have flooded the gaming market in the past few years. The use of knock-off switches has ensured the existence of budget mechanical keyboards under Rs. 3,000. However, they fall behind in terms of good build quality and features. Of course, you can play games and type on these keyboards while enjoying the satisfying feel of mechanical switches. Being accustomed to membrane keyboards, one might actually love the transition to these mechanical keyboards, and manufacturers are making it affordable for them. Joining their Cerberus lineup of budget gaming peripherals, ASUS sent us their Cerberus Mech RGB mechanical gaming keyboard to our labs.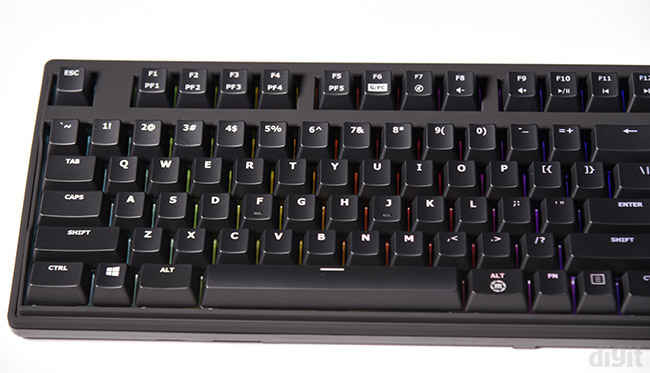 Specifications
Keyboard size: Standard 104-key
Keyboard backlighting: RGB LED
Switch type: Kailh Brown (70-million keystrokes)
Polling rate: 1,000 Hz (1 ms)
Key-rollover: Full N-key rollover
Interface: USB 2.0
Dimensions: Width – 44.8 cm, Length – 15 cm, Height – 3.5 cm
Weight: 1.25 kg
Cable length: 1.8 m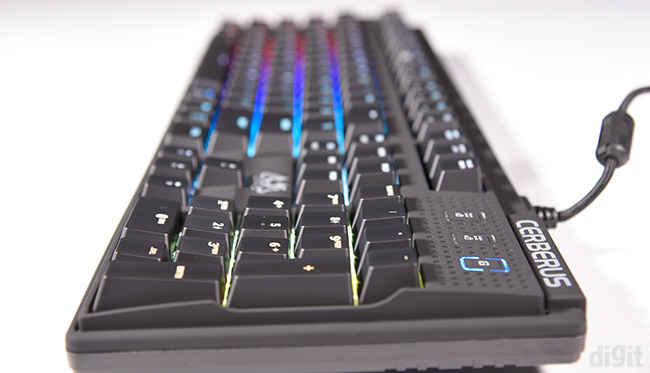 Features and accessories
There aren't many features to discuss on the Cerberus Mech RGB which is why it scored less in this parameter. However, it covers all the basic features required for a gaming keyboard such as a high N-key rollover, LED backlighting, macro recording, etc. The keyboard supports full N-key rollover which means that it's going to register every single key press even when all the 104 keys are pressed simultaneously. It does sound like an overkill but it's nice to have such a premium feature. You'll find per-key RGB lighting on the keyboard which is another feature people love these days. This keyboard incorporates the entire gamut of RGB colours along with seven preset lighting effects. These lighting effects can be changed right from the keyboard using modifier keys. It also supports up to five user profiles where you can assign the necessary lighting effects and macros in them individually. Speaking of macros, the keyboard also supports on-the-fly macro recording. The macro recorder will let you record a sequence of key presses and assign it to a specific key. Other than that, you also get a Windows lock key to prevent accidental clicks while in-game.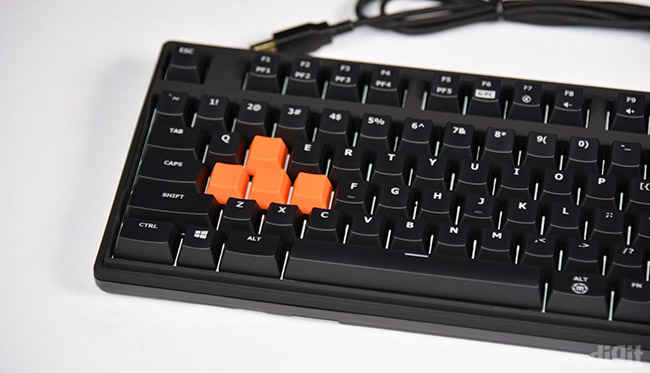 The Cerberus Mech RGB is available in Red, Brown, Black and Blue Kailh RGB switches. Our review unit shipped with Brown Kailh RGB switches. Apart from the keyboard in the box, you'll find four extra orange keycaps to replace your WASD or arrow keys. You will also find a plastic keycap puller, something that all manufacturers should include in mechanical keyboards. There are no USB passthrough or audio ports, and although you get software support, it isn't really required.
Build quality and design
Considering the price of the Cerberus Mech RGB, the build quality is surprisingly great. The entire chassis has a matte finish preventing smudges and fingerprints. But you wouldn't want to use this keyboard with oily hands since it will leave an impression. We didn't have anything to complain about the chassis and central frame of the keyboard. However, we've observed several keyboards saving cost by using keycaps with thin stems. The stems are the part which enables the keycap to be mounted on the mechanical switch. In our experience, we found the thinner ones to be flimsier leading to the keycaps not getting a snug fit on the switches. But compromises have to be made in quality somewhere on the keyboard to keep the cost down. The cable is braided, ending with a gold-plated USB connector. There's also an adjustable ferrite bead on the cable whose weight ensures the cable does not protrude out of your cabinet when connected.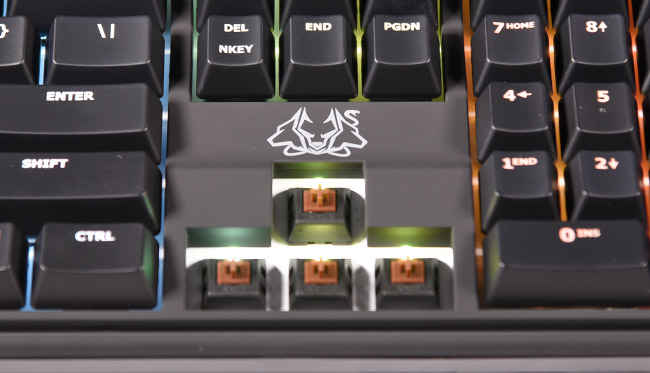 ASUS claims that the Kailh Brown mechanical switches will survive up to 70 million keystrokes. If this claim is true, these switches will last 20 million more keystrokes than the current Cherry MX switches. Of course, these are new switches and it hasn't been long enough to determine whether this claim is going to stand strong or not. The Kailh Brown switches feel heavier than Cherry MX Brown switches and that's the only major difference we could feel.
Gaming and typing performance
Using the Cerberus Mech RGB for gaming was the same as using any other mechanical keyboard. The keycaps weren't flimsy to the point where we found it displeasing to use like the Gigabyte XK700. All the keystrokes were recorded and there wasn't any visible lag in the input. With the benefit of the on-the-fly macro recording, we didn't have to spend time on the poorly built software. Either they could revamp the software to enhance the existing features or allow users to continue controlling everything right from the keyboard. Saving different profiles is a feature that not many budget mechanical keyboards support. This allowed us to save different macros and lighting illuminations for different games and switching between them from the keyboard.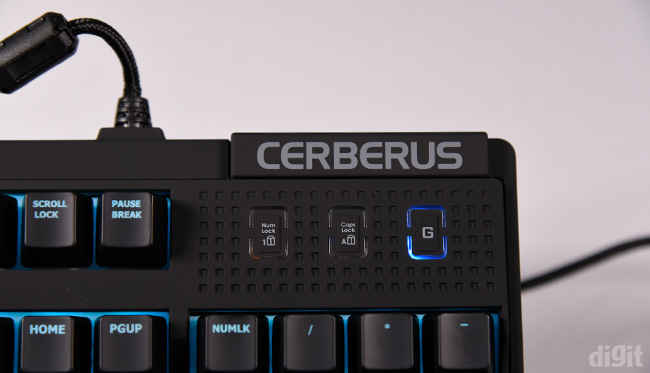 Since the switches are Brown, it stands between Blues and Reds. If your daily routine includes a balanced usage of gaming and typing, you might love the feel of typing on Brown switches. The keycaps have a snug fit on the switches and even though they felt wobbly, they didn't come off easily. However, the wobbly nature of the keycaps might sound loud at times, whereas the switch makes less noise compared to Blues. The tactile bump is distinguishable easily, making up for a great keyboard for typists. Since it supports macros and custom profiles, you can set up a productivity profile for yourself when you're typing. This will enable easier shortcuts such as copy and paste to be assigned to any desirable key.