Sony Cybershot RX100 IV detailed review
Introduction
The RX100 by Sony has been an excellent camera for those looking for semi-professional grade imaging within a compact form factor. Sony has evolved its compact camera across the years, and now we have the Sony RX100 Mark IV, Sony's latest compact camera. Is it worth investing in it, seeing that it is as expensive as a DSLR? Here's describing what its worth, and where it fails.
All that has changed
To begin with, the fourth edition of Sony RX100 has a new 1-inch sensor, along with a number of incremental upgrades. The maximum continuous shooting rate has increased from 10fps to 16fps, and the camera's electronic shutter can take the RX100 IV's shutter speed all the way up to 1/32000 sec. Another notable upgrade is the capability of taking 4K resolution videos, which was previously limited to 1080p, or Full HD. The NP-BX1 battery pack, with battery stamina of 1240mAh, is rated to last for 280 shots, as opposed to 320 shots on RX100 Mark III. The electronic viewfinder now has a resolution of 2.36 million pixels, in place of 1.44 million pixels previously. The Sony RX100 Mark IV does not get the hot shoe that was last seen on the RX100 Mark II, owing to the built-in flash module and the pop-up electronic viewfinder. The Zeiss Vario-Sonnar T* 24-70mm f/1.8 lens remains the same – the compact, fast module which does suffer a certain amount of distortion at certain settings, but can be dealt with.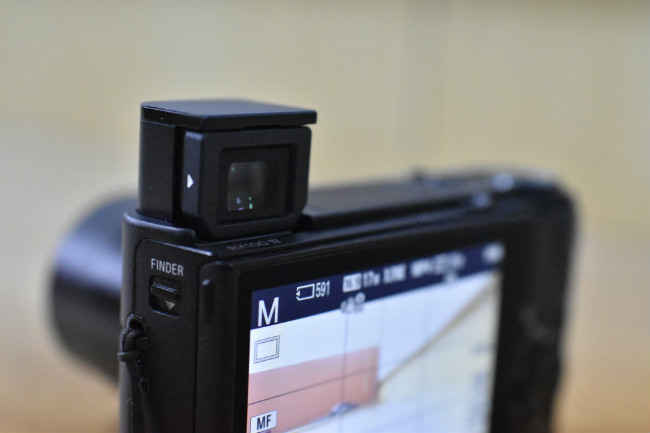 "The electronic viewfinder now has a resolution of 2.36 million pixels..."
Build and Design
The Sony RX100 Mark IV has made a mark in the market of advanced point-and-shoots and mirrorless cameras with its compact body and good imaging performance. It is possibly one of the smallest camera units – one that actually fits into trouser pockets. Even mirrorless cameras like the Nikon 1 J5 are slightly larger. It has a dial on the top for modes, and one on the rear for scrolling and settings. The top houses the flash module and the electronic viewfinder, and popping it up switches the camera on.
You can actively switch between the live viewfinder and electronic viewfinder. Take your eye away from the EVF, and the live viewfinder comes to life, and vice versa. The top also houses the zoom toggle, and the on/off button. The bottom houses the battery and memory card slots, sealed in with a flap. It also has support for tripods. The front houses an AF beam assist, and the lens. The rear live viewfinder can tilt, and even reverse upward to serve you for an occasional self portrait or a group photograph at a party. The rest of the buttons are standard, with four buttons (connectivity, Menu, playback and delete/cancel) arranged around the scroll dial and the central button, and the Movie button is at the top-right corner.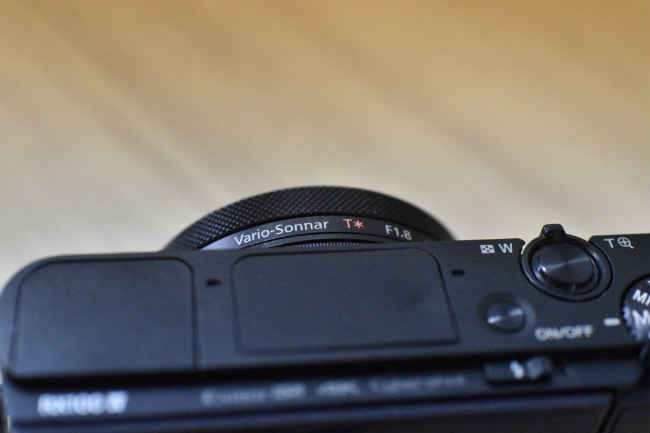 The build is sturdy, well-built and portable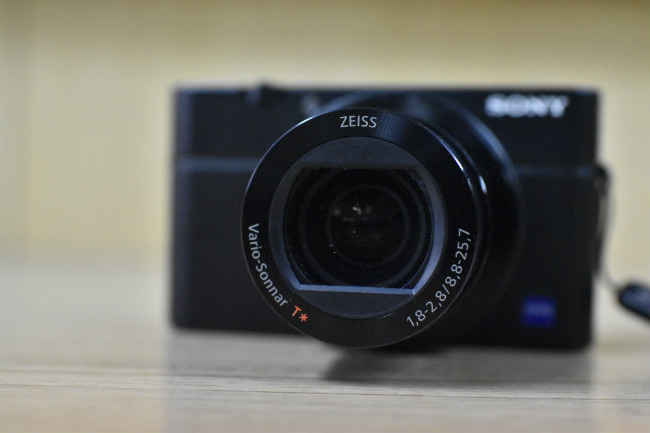 Despite the limited range, the lens is brilliant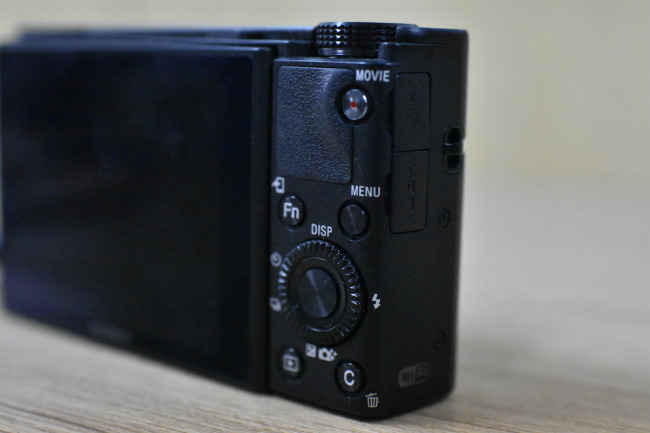 The only rubber found on the body is the thumb panel
Bearing a device with such a compact shell, the Sony RX100-IV has no separate hand grip, but the light weight of it should ensure that you do not find it hard to hold on to. Sony has kept its design the way previous RX100 cameras have been over the years – neat, uncluttered, ergonomic. The right side also has a microUSB port, and an HDMI port, hidden away in rather stiff flaps. There are hoops on both ends for you to attach wrist-holders, which is a handy element that Sony has added here – you can also knot in a neck suspender, or wrist-holders, depending on your preferred hand.
Over time, the base groove of the lens of the Sony RX100 Mark IV accumulates a lot of dust particles which are difficult to be cleaned properly. You would rather keep it well-maintained, than regret later. Having stated all of this, though, the Sony RX100 Mark IV is an extremely well-built unit, with decent-grade metal build quality. The only trace of rubber you will find here is the thumb-strip beside the Movie button – rest your thumb on it, and your index finger will fall near the shutter button. It is for these tiny optimisations that the Sony RX100 Mark IV makes so much sense, and has been a loved product over time.
Imaging Performance
This is where the Sony RX100 Mark IV gives value for the price you pay. The RX100 does miss the power of interchangeable lenses that compact-body mirrorless cameras have, but within the compact shell, the RX100 Mark IV provides you complete manual control over your photographs. Focusing manually is easier with the EVF, and is better than the autofocus mechanism, which is not the fastest if you have a heavy composition. The Sony RX100 IV has an issue with its autofocus mechanism, where it simply fails to lock on to an object. The issue does not remain when your subject is in close range and background is minimal, but for other situations, it refuses to lock on to the subject.
You get manual control over your shutter speed, ranging from 30" to 1/2000" (mechanical) and 1/32000 (electronical). The lens ranges between f/1.8 to f/11. At f/1.8, images have a certain amount of distortion, and at f/11, images face softening on the edges, because of light leaking through the iris. However, on standard, and even diverse situations, imaging is majorly improved, with Sony fitting a 1-inch Exmor RS sensor into this tiny device. The image quality that the Sony RX100 Mark IV renders is one of the best that any compact camera has ever produced. Couple that with extensive manual controls, a good electronic viewfinder and a fast lens, and you have one of the best compact cameras ever.
While I stated that certain images face softening or distortion at certain situations, the 24-70mm lens is better than what a number of other mirrorless or compact cameras use. Yes, the fixed range of 24-70mm is hard to do with at times, but for the most part, it retains good imaging performance, the most crucial aspect about a camera. While mirrorless cameras provide interchangeable lenses and that is a big advantage to have, the quality of the lens included here somewhat justifies the restricted zoom and the fixed lens, and if you're one looking to use it as a second device to your professional setup, or a semi-professional who either does not require zoom (telephoto) lenses or has a separate camera for it, this one is for you. The Sony RX100 Mark IV focuses well during brightly lit situations, and while there is a slight amount of noise when you shoot into darkness in the evening while pointing at a brighter subject, what's noticeable is its excellent dynamic range. While larger cameras with larger sensors like the Nikon D5500 renders better images in lower light, the Sony RX100 Mark IV performs better than the Canon EOS 750D in low light, and for a small camera without DSLR-like flair, that's saying something.
"What's noticeable is its excellent dynamic range"
What you will find in the Sony RX100 Mark IV is that it has excellent focusing mechanism – silent and smooth, and manual focusing is a delight. The autofocus modes, however, are a little tricky to handle. For instance, if you are shooting with two people in a frame, the RX100 IV always tends to focus on the person in the background, and a possible firmware flaw does not allow it to lock on to a subject. This aspect remains even with spot focus tracking and spot metering modes, and I've almost always shifted to manual focus to fix this. Another excellent factor about the Exmor RS image sensor is its low noise renders, even at ISO 1250. While at ISO levels higher than ISO 2000 images inevitably start getting very noisy, the excellent sensor on the Sony RX100 Mark IV renders better image than any compact camera we've used till date. To add perspective here, the Nikon D5500 is a benchmark around the 50k price point of cameras for an all-rounder device with excellent dynamic range and brilliant low light performance, with low noise in photographs. While the Sony RX100 IV does not perform as well, and understandably so, it still renders better low light, silhouette and high ISO images than the Canon EOS 750D and the Pentax K-S2, and this is a pint-size advanced compact camera taking on DSLRs.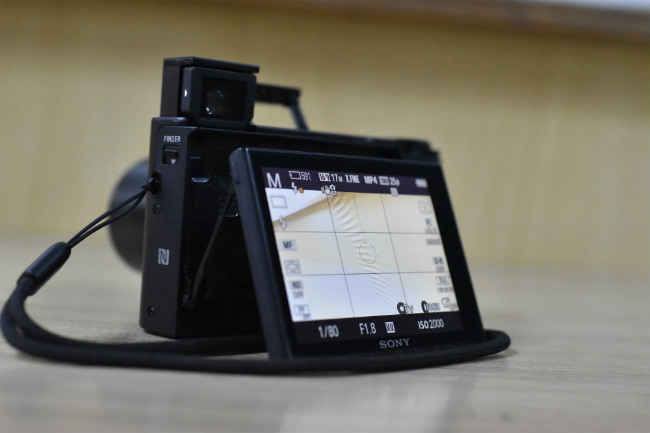 The electronic viewfinder and the tiltable live view display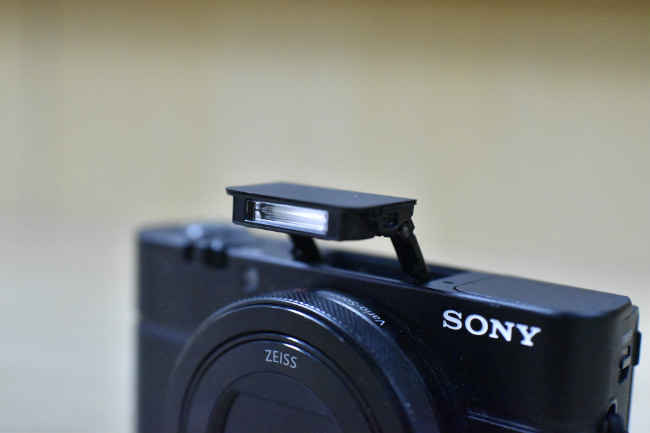 The built-in flash module is an added bonus
The latest addition to Sony's RX100 lineup is 4K video recording capability, and HD slow motion videos. With the excellent dynamic range that the sensor presents, videos are largely noise-free, and the manual controls help you gain a wider control over it. In fact, you can actually use the Sony RX100 Mark IV to shoot semi-professional movies – an interesting addition to the pint-sized powerhouse if you happen to be an amateur filmmaker. Daylight video is excellent, and colours rendered by the Exmor RS sensor are true-to-source and crisp, with only slightly increased contrast levels.
Overall, if Sony rectifies the issue with the autofocus mechanism, the RX100 Mark IV is possibly one of the best compact cameras we have ever laid our hands on.
Battery
All of this, however, comes at the expense of one thing – battery. The 1240mAh battery pack is weaker than what the Sony RX100 Mark III had, and on regular usage, you will need to charge it halfway through third day of shooting. Approximately, that is about 180 photographs, and 12 minutes of 1080p videos – something that is a major letdown for a pocket device that is otherwise ideal to take around, wherever you go.
There's no severe discharge of battery on standby, though. While you are not shooting, or shooting moderately, you can actually make the RX100 IV last you through an entire week, or a little more. Tricks of saving battery power on the Sony Cybershot RX100 Mark IV – shoot in 1080p, and ensure that you use the EVF only when you need it.
Sample Image Gallery
Note: All images have been resized to thumbnail. Click to enlarge and view the full photographs.
Bottomline
The Sony Cybershot RX100 Mark IV is one of the best, if not the best compact camera in the market. For a price of Rs. 60,000, you get possibly the smallest body size in a semi-professional camera, full manual control over your photographs, and good dynamic range. What goes amiss is an erring autofocus mechanism, no hot shoe for external mic attachment, a fixed wide angle zoom lens, no touchscreen input, and a rather weak battery. With all of these factors taken together, if you can do with a smaller lens and the weak battery, go for it if you want a small body camera, and it will almost always satisfy you.