Sony Cyber-shot DSC-WX300 detailed review
Sony's been keeping real busy, pumping camera after camera into the Indian market. After the NEX-3N and the Alpha-58, there's a little something for the point and shoot aficionados. The Sony Cyber-shot DSC-WX300 is an incredibly compact point and shoot camera that sports a 20x optical zoom lens. The specs are pretty standard for this category, but what's not standard is the incredibly tiny form factor it comes in. But is the size enough for you to spend your money on this camera?
So Tiny You'd Think it's a Toy
We're not joking. When we opened the box of our review unit and found the Cyber-shot DSC-WX300 inside, we thought that Sony had sent us one of those dummy models you find in stores. A little poking and probing later, we realized that it was indeed the real thing. The Cyber-shot DSC-WX300 is so incredibly small it's not even funny. The phone is about as thick as two iPhone 4's stacked on top of each other and as wide as a pack of cigarettes. The Cyber-shot DSC-WX300 isn't just compact, it's also incredibly light weighing in at just 166 grams, just 31 grams heavier than an iPhone 4. In comparison, the Canon SX240HS weights 224 grams and the Sony Cyber-shot HX20V tips the scales at 254 grams. Both these cameras have a 20x optical zoom too, and are the top two in our list of travel zoom cameras, a spot that the Cyber-shot DSC-WX300 is definitely threatening.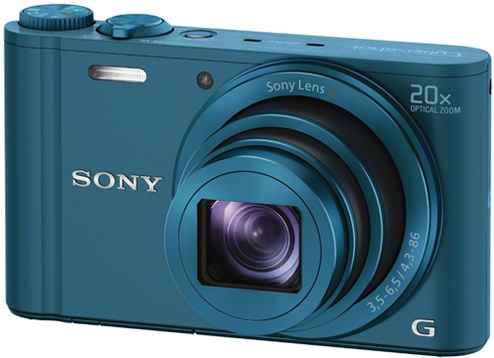 The front and back plates of the camera are constructed from high grade plastic while the top and bottom plates are metal, possibly magnesium alloy. Overall, the build quality is rather good, especially for a camera that costs under Rs. 20,000. Ergonomically, the camera has a very intuitive placement of buttons, the usual clutter on the right side. The buttons aren't too hard to reach or press, except for the "delete" button which is a little too close to the edge of the back and yet, too close to the menu button. We've accidentally pushed one when we mean to actually push the other, so some caution is definitely recommended. A funny incident happened during the course of this review. This particular review put the camera in the pocket of his favourite denims (which he happened to be wearing at the time) and went out for a little get together. On the way back, he freaked out because he didn't have the camera in his hand and drove back a considerable distance, turned his friend's room upside down and had several pseudo heart attacks, only to realize that this little munchkin was in his pockets. That is how inconspicuous the Cyber-shot DSC-WX300 can get.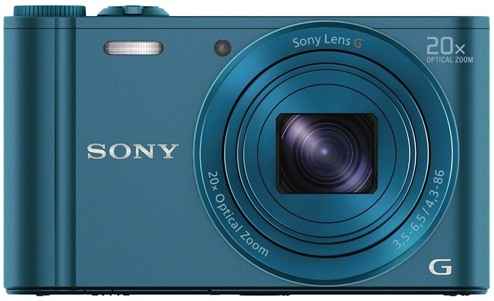 Probably one of our favourite things about the Cyber-shot DSC-WX300 is the fact that it doesn't just come in the boring black colour. Sony's throwing a little colour party and red, brown and blue are all invited.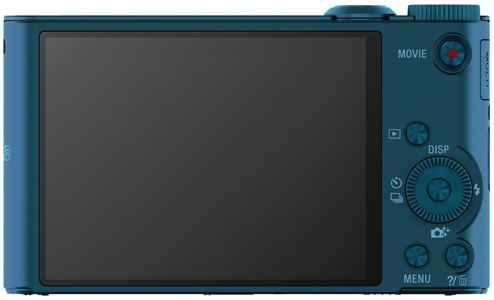 How Much Can You Fit in There, You Ask?
Well, Sony managed to fit an 18 megapixel sensor in here, but tis the 1/2.3-inch slab. Then there's even that notorious Bionz processor chip in there that handles offloading the sensor data onto the memory card. Not just that, but the Cyber-shot DSC-WX300 is also capable of pushing out 10 frames per second as its top burst speed. Somewhere in that tiny little shell also resides an AF module that impressed us one shutter press after another.
The Sony Cyber-shot DSC-WX300 camera also incorporates a set of picture styles just like almost every other modern day Sony camera, so that's not really something to write home about. The mode dial is nice though on top, but one quick glance and you realize that it is missing the aperture priority, shutter priority and manual modes. The camera unfortunately doesn't support them. It does, instead, have a panorama mode and a 3D mode. The other modes on the dial include Superior Auto, Intelligent Auto, Scene, Program and Background Defocus. We felt that having Superior Auto, Intelligent Auto and Scene on the mode dial was extremely redundant, and a full suite of PASM modes could have been built into the camera.
The best part about the Cyber-shot DSC-WX300 however happens to be the fact that it houses a 20x optical zoom lens, capable of going from 25mm-500mm and f/3.5-6.5. A year ago, when we handled the Sony HX20V, we thought THAT was a thin camera for a 20x optical zoom lens, but the Cyber-shot DSC-WX300 pales it in comparison. The lens is incredibly smooth and silent while it zooms, which is good if you need to be silent while shooting.
Small Camera, Big Performance
Quite frankly, when we received the Cyber-shot DSC-WX300, we didn't have a lot of expectations. We started with the studio setup where we shot the Cyber-shot DSC-WX300 off in Program mode through the entire ISO range. As expected, we started seeing a performance dip after ISO 1600, with ISO 3200 starting to develop strong noise in shadows and the Red channel rather quickly. At ISO 6400 and above, the camera was shooting multiple frames for effective noise reduction, but the images are far from useable. They were not only underexposed, but also had a very strong colour shift and a significant loss in details.
| | | | | | | |
| --- | --- | --- | --- | --- | --- | --- |
| | | | | | | |
| ISO 200 | ISO 400 | ISO 800 | ISO 1600 | ISO 3200 | ISO 6400 | ISO 12800 |
Walking around with the Sony Cyber-shot DSC-WX300 is a little more comforting, seeing how the JPG files from the camera aren't incredibly ridden with compression artefact. The lens can get pretty close to a subject for decent macro shots, but that only happens when you're shooting in iAuto mode. We went on a little "drive-by shooting spree" with the Cyber-shot DSC-WX300 and found two things, one very impressive and the other incredibly annoying. The great thing is that the camera can almost instantaneously lock focus and shoot. It's so fast that it can be a little disconcerting sometimes. The downside, however, happens to be that after every shot we took, the camera blacked out for a few seconds. We used a 64GB Sandisk Extreme Pro UHS-I card with 95 MB/s read/write speed so we know it wasn't the card.
Overall, the image quality was pretty consistent, even with the flash enabled. Of course, you can't be too close to your subject if you shoot with the flash on, but we're sure everyone would like the colours out of the Cyber-shot DSC-WX300, though we should warn you, the blues tend to fade out a little. The red skull image in our gallery was shot on a deep blue couch, but in the photograph, it comes out a lot lighter than it actually was.
Conclusion
The Sony DSC-Cyber-shot DSC-WX300 is a tiny little camera with big specs. It shoots fast and it shoots pretty decent images. It's got an incredibly fast focussing system and it even shoots decent video. IT does lack in the low light area, but if you're not too picky about using the flash you should be able to get away with decent images. The image stabilization on the camera is pretty good too, so if you're shooting at the full 500mm in good light, you won't have to worry about a tripod or a proper stance and what not.
That being said, do remember that the Cyber-shot DSC-WX300 does not offer any manual control. In fact, there's no partial control either. This is a full auto camera, but it does do a pretty decent job at detecting what you're trying to shoot with it. This is an incredibly slim camera and if style quotient is your thing, then the Cyber-shot DSC-WX300 will compliment you very well