Sony Alpha SLT-A58K detailed review
Sony's built a reputation for itself when it comes to DSLRs, given how their cameras come with a really nice twist. Their Semi Translucent Mirror technology has allowed Sony to push really fast burst rates into even the lower-end cameras. Their entry level cameras often come crammed with more features than a DSLR has room for, but the question of whether the camera performs smooth and well still remains. This is exactly what we're going to be finding out in this review of the Sony Alpha SLT-A58K.
Build and Ergonomics
We've consistently maintained that entry level DSLRs often tend to skimp on either the material with which the cameras are built or size. On the Sony Alpha SLT-A58K, we felt neither of these to be true. From the minute you pick the camera from the box, you can feel the incredibly sturdy build of the camera. While the camera is made of polycarbonate plastic, it feels incredibly solid. We wouldn't dropping the camera, but if it did take an accidental tumble, we can assure you nothing would happen to it.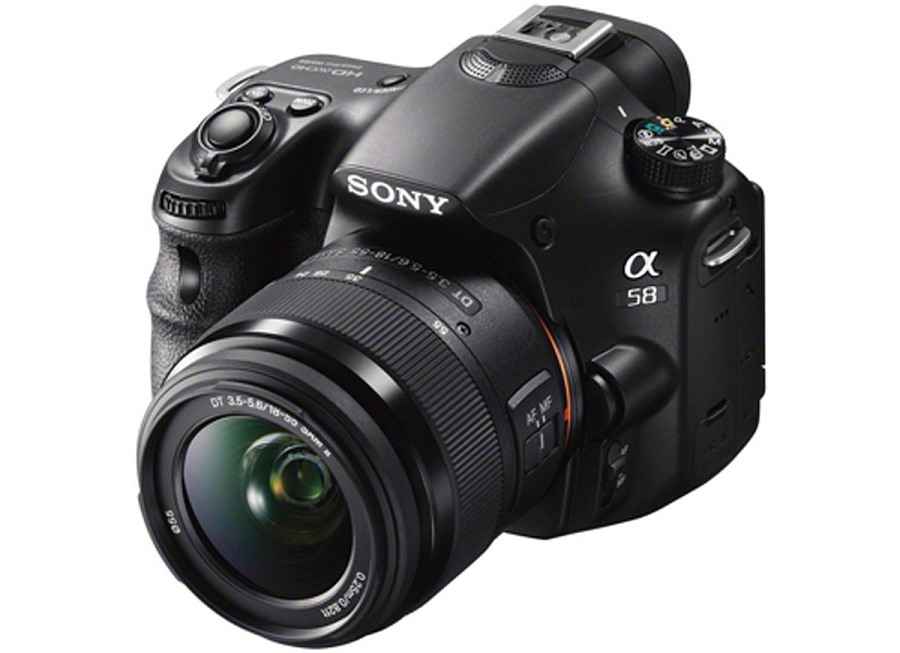 The contours on the camera's front grip and the thumb rest are incredibly comfortable. We had six different people shoot with the camera for some time and they all agreed that holding the camera was incredibly comfortable to hold and shoot with, and these are people with all kinds of hand sizes. The thumb rest on the back is also just gently enough curved to accommodate most sizes of thumbs, without becoming uncomfortable.
Just being able to hold the camera comfortably isn't enough. One also needs to be able to access the various functions incredibly quickly, especially on a DSLR. Towards this end, Sony has done a pretty decent job with the button layout, which happens to all be on the right side. Depending on your hand size (and strength), you can get away with using the camera with a single hand. What we really like about the Alpha SLT-A58K's button layout is that the jog dial that changes all the values is placed inside the front grip (like the Nikons), which makes changing settings incredibly fast.
Features
The Sony Alpha SLT-A58K packs a 20 megapixel APS-C sensor coupled up with a Bionz processor that allows the Alpha SLT-A58K to hit a blazing fast 8 frames per second burst mode. Part of this is also facilitated by the fact that the Alpha SLT-A58K ditches the traditional mirror box assembly in favour of a semi-translucent mirror. What this also means is that the image you see in the viewfinder is courtesy a gorgeous 1.4 million dot OLED screen, which is extremely responsive. In the earlier cameras that utilized an EVF, we'd often notice a slight delay in what we saw and what the final image captured was, as minor as it may have been, but was still an annoyance. That problems seems to have been eliminated from the Alpha SLT-A58K.
The screen on the back of the Alpha SLT-A58K disappointingly sports a resolution of just 460K dots. The screen does pull out, but it only tilts and does not swivel. Given how screen technology is one of Sony's biggest fortes, it's a bit of a let-down to see a standard 460K dot screen on a DSLR. We'd have appreciated at least 921K dots, as 460K dots are usually reserved for lower end point and shoot cameras.
The Sony Alpha SLT-A58K also now comes a Panorama mode, in-camera HDR, Dynamic Range Optimizer and auto object framing, all features that are starting to quickly become standard across DSLRs, but generally don't show up together in one camera. It's nice to see Sony put all these extra bells and whistles into one neat package.
Performance
No matter what added features a camera ships with, at the end of the day, it is a tool for creating images and that is precisely what it must do well. We tested the camera with the standard 18-55mm f/3.5-5.6 Kits lens as this is the setup most people will be using. We first took shots of our standard test scene through the entire ISO range of the Alpha SLT-A58K. Interestingly, the Alpha SLT-A58K uses an incredibly smart technique for high ISO noise reduction.
| | | |
| --- | --- | --- |
| | | |
| ISO 100 | ISO 200 | ISO 400 |
| | | |
| ISO 800 | ISO 1600 | ISO 3200 |
| | | |
| ISO 6400 | ISO 12800 | ISO 16000 |
While most other cameras employ heavy noise reduction algorithms to clean up a particular image shot at high ISO, the Alpha SLT-A58K shoots off three frames simultaneously and then uses them to generate one noise free file. It is sort of like the "dark frame extraction" method astro-photographers have been using for years and it is quite effective.
We noticed that even up at ISO 6400, the images were extremely clean, although the images do become a little soft. ISO 12,800 and 16,000 are somewhat clean as well, but there seemed to be a distinct colour shift in images shot at this ISO level. Images shot at ISO 6400 and below are incredibly good, showing no signs of colour shifts or softness. We did feel that even with the higher ISO's the lens is quick to close down the aperture as we zoomed through the range, so the shutter speeds were consistently slow. We'd strongly recommend purchasing a prime lens if you're looking to shoot good quality low light photos.
In real world shooting situations, the Alpha SLT-A58K does a pretty good job too. The autofocus is rather quick, though it is cumbersome to change AF points. The Alpha SLT-A58K has 15 AF points with 3 cross type down the centre of the frame, and toggling between those individual points is rather tedious as one needs to press the "Fn" button first, move over to the AF option and then select Single Point in order to move the selected AF point around. Most cameras generally provide a direct access to this method by default, but the Alpha SLT-A58K doesn't seem to have one. The AF tracking does, however, work rather well, especially if you're using one of the cross type AF points.
Conclusion
The Alpha SLT-A58K is everything one would expect from an entry-level DSLR and more. It shoots good images and does so FAST. The autofocus system is pretty fast too, limited only by the cheaper kit lenses. It's a great little starter camera, but there are a few quirks about the Alpha SLT-A58K that would make us consider other options.
For starters, there is the 460K dot screen on the back, which is pretty low-res. If Sony's going to play the big game, it really needs to pull out all stops. Then there is the issue of the EVF becoming very noisy very quickly in low light. If you're shooting in conditions dominated by red light (we know a few people who use low wattage red light bulbs to light up their rooms), and shooting in that condition using the EVF can be quite frustrating.
Last, but not the least, the AF point management isn't optimized well enough for quick response. While setting it to auto mode does a good enough job of acquiring focus, but if you like a little more control and want to play with the Single Point AF mode, you're going to have a bad time. If you can look past these few hiccups, you are going to absolutely love using the Alpha SLT-A58K, as it delivers not just good images, but also a certain peace of mind thanks to its sturdy build quality.