Pentax K-S2 detailed review
INTRODUCTION
Pentax's latest reintroduction to Indian shores is through the undertaking of Ricoh Imaging. With the Pentax K-S2 here, Pentax's entry-level offering has a lot to give to first-time DSLR users, who might not be adept at taking utmost care that DSLRs often require. We had the white-liveried unit of the Pentax K-S2 in for review, and straight from the side-sling bag, the Pentax K-S2 appears sturdily built and durable, although it might not be the best in terms of looks.
Despite its long-standing name and heritage in the imaging business, Pentax has recently been revived under the brand name of Ricoh Imaging, after being dissolved in 2008. Presently undergoing revival, some of the key aspects that Pentax spoke about at its India launch in New Delhi are high dynamic ranges and weatherproofing across its entire range of DSLRs. Does the Pentax K-S2 live up to the high expectations that I had? After almost one month of usage, here's what I've inferred.
BUILD, ERGONOMICS, DESIGN
The Pentax K-S2 has a much heavier body in comparison to similar cameras by other companies. While the dimensions are similar to the Nikon D5500, it is still larger than Nikon's latest – the amazing performer that has definitely set the benchmarks of entry-level DSLR performance. The larger body of the K-S2, however, is for a reason. The Pentax K-S2 is weather-proof, and you can take it shooting in dusty environment, or even completely submerge it underwater. All buttons, ports, viewfinder and every single element on surface have been proofed and sealed, and this may come very useful for shooting in extreme conditions. Additionally, the body is very sturdy, and although Canon and Nikon's counterparts do look more attractive (or, as attractive as DSLRs can look), the Pentax K-S2 is built to survive a number of accidental falls – a crucial, welcome addition to the world of DSLRs. The buttons, however, are somewhat tacky, and feels like cheap plastic. The five-way buttons cluster beside the live view display are particularly wobbly, something that you wouldn't be targeting if you're spending almost 50 grand on a camera.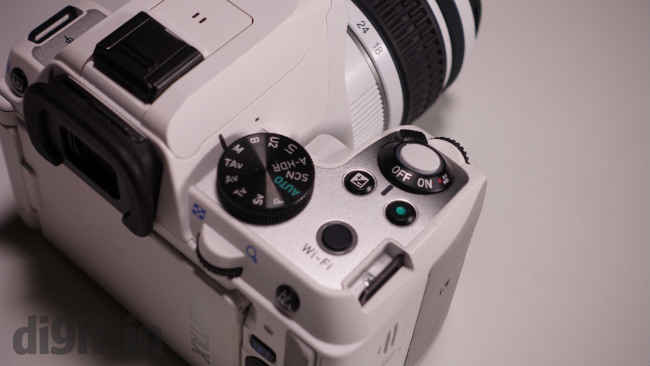 Switch on the camera, and two individual LED rings light up – a green ring around the shutter button, and a blue one around the OK button in the function button cluster. This does add a nice touch to the otherwise large and bulky build, and particularly adds to the aesthetic aspect when you leave the camera on in darkness. The power toggle is a three-way switch – toggling between on, off and video modes. If you are one used to switching on the live viewfinder and hitting the record button to shoot videos, this might take you a while to get used to. There are two rings, ably placed for the index finger and thumb, to adjust shutter speed and aperture in manual mode, and find other relevant function in different modes. However, despite the convenient spacing, the overall bulk of the build, coupled with the heavier weight of the body itself, makes it unwieldy to work around too conveniently with.
The Pentax K-S2, including the battery pack and the SMC DAL 18-55mm f/3.5-5.6 kit lens, weighs 860 grams. In comparison, the Canon EOS 750D weighs 780 grams, and the Nikon D5500 weighs 670 grams. This makes the K-S2 nearly 200 grams heavier than the Nikon D5500, and the difference is noticeable when you hold the two cameras alongside, and even separately. While much of this weight has been added on due to the weatherproofing, the hand grip provided is particularly short, and coupled with the heavier weight of the unit, you can be left with more chances of dropping the device.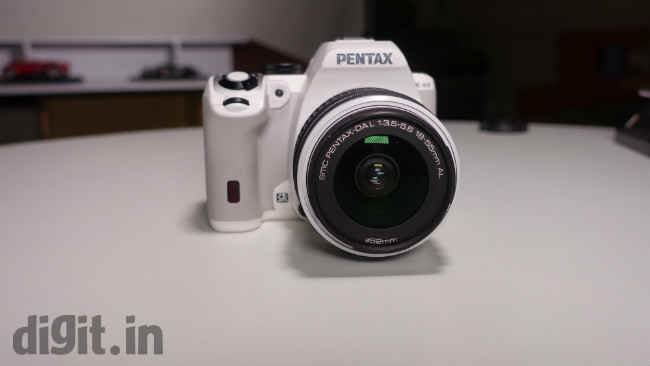 Other notable differences between the Pentax K-S2 and other competitors are the lack of touch input in this viewfinder, top-left corner placement of Live View/Delete button (which is usually placed in the bottom right corner), lateral optical viewfinder adjustment (other cameras employ small dials here), and larger bezels surrounding it. All of these viewfinder-centric factors have an overall negative impact on ergonomics. To sum it up, the white-liveried Pentax K-S2 is a welcome change from the different textures of black that we've come to see from most DSLRs (Nikon tried to break the monotony with red bodied DSLRs), and the weather-proofing has added much to its functional utility. However, with wrong designing in terms of ergonomics and a much heavier body coupled with a rather loosely made lens, it loses out on more than what it gains.
IMAGING & VIDEO PERFORMANCE
Stick to manually adjusting shutter speed, exposure, white balance and ISO, and leave the focusing to automatic, and the Pentax K-S2 will surprise you. Despite the noisy autofocus mechanism that makes the lens feel cheap, it is fast, and accurate. Even in poorly lit conditions, the Pentax K-S2 does really well by perfectly using its autofocus beam. What persists with the Pentax K-S2 is the ease of shooting and an easy interface, although that comes with the compromise of amateurish design.
Concentrating on the shooting aspect, the Pentax K-S2 houses a 20.1-megapixel APS-C sensor, and shoots well in good lighting conditions. The image processing engine is fast, although the white balance demarcations are slightly off. In broad daylight, the Pentax K-S2 is as good as these cameras get. The entry-level DSLR has a fast shutter mechanism, and there were no notable aberrations in the pentaprism viewfinder. In the extended period of my usage, the sensor did not seep in any major dust or foreign particles, ensuring my trust in the build durability and the weatherproofing on the Pentax K-S2.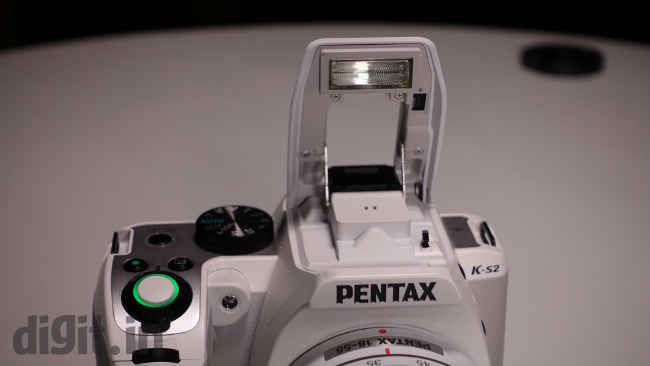 The overall image quality is very good, even in low light conditions. With increasing ISO and warmer light, the Pentax K-S2 keeps image noise in check. Shooting on autofocus in such situations is an absolute delight, owing to the fast detection mechanism. In manual focusing, the focus ring is not the smoothest, and is too fast-rotating. It took me a few days to get used to it, after which it became considerably easier to pinpoint the focus on an object.
Shooting in burst, though, makes the camera slow down. While continuous shooting is rated at 5.5fps, the Pentax K-S2's highest average continuous shooting was around 4fps, much slower than what is officially rated. The K-S2 gets its standard array of aperture-priority and shutter-priority shooting modes, and at times, the autofocus tended to be more noisy than accurate, taking almost upto three seconds to focus on narrow objects. In ISO levels higher than 1600, photos tend to get softer as the image processor tries to reduce the noise. Hence, at ISO 12800, the images rendered become too soft, and is one of the limitations of the Pentax K-S2.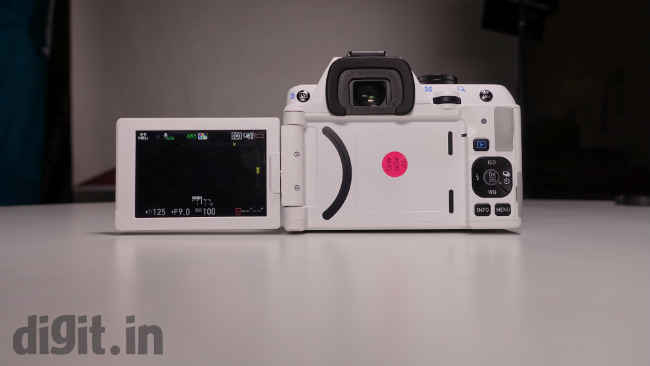 Additionally, the Pentax K-S2 took marginally longer than other DSLRs in time taken in starting up to shooting first image, although switching to video and starting recording was fast. In video recording, the quality can be passed as decent at best, and while shooting a video in itself is very easy, the quality is not as good as what the likes of Canon and Nikon have on offer with their latest generation entry-level DSLRs. In low light, there is too much noise in frame, while there is a slight hint of interpolation when you shoot fast-moving objects. In areas with warm lighting conditions, the Pentax K-S2 shoots relatively noisy videos, and somewhat oversaturates the frame, in relation to the white balance setting that you choose.
The Pentax K-S2 also has a mode called A-HDR, which captures three images in HDR mode, and superimposes them on one another, creating a textured image that is heavily saturated. In dimly lit conditions, images shot by the Pentax K-S2 in A-HDR is too noisy, and even looks bad. Images rendered in this mode looks similar to the artificial effects modes that Nikon cameras have. Battery life of the Pentax K-S2 is also weaker than the other two DSLRs. On an average day out on tour, shooting about 100 images a day, I needed to charge my camera midway through the fourth day. On similar shooting, the Nikon D5500 gave a battery life than extended up to almost eight days.
IMAGE SAMPLES
View post on imgur.com
PRICING, AVAILABILITY, ACCESSORIES
The standard 18-55mm single lens kit with the Pentax K-S2 is selling at around Rs. 47,000. As of now, it is available on Amazon. You will also get the double lens kit with 18-50mm f/4-5.6 wide angle and 50-200mm f/4-5.6ED telephoto lenses, for about Rs. 54,000. Considering its price point, the Nikon D5500, with a compact body, wider range of lenses and accessories, and manifold better imaging and video performance is priced at about Rs. 48,000 for the 18-55mm lens kit, and Rs. 60,000 for the 18-140mm lens kit. Even the Canon EOS 750D is available on Amazon at a price of Rs. 52,000 for the 18-55mm lens kit. Availability for the Pentax units will not be as wide as Canon or Nikon's, seeing that it is just picking up speed in India.
In terms of accessories, while most filters, camera straps, bags and tripods will be compatible with this, the point where it will lose out on are Nikon and Canon's vast array of lenses, and robust service centre distribution. That said, Pentax does have a number of high performance lenses, ranging from 10mm fisheye to 560mm telephoto, and you will have a decent gallery of lenses to choose from. However, getting your hands on one instantly might be an issue.
BOTTOMLINE
The Pentax K-S2 is a very good DSLR for beginners and casual users, and the weatherproofing adds to its utility. On top of it, it is a definite upgrade over the older generation Pentax K-500, that we had reviewed earlier. But, areas where it lacks is refinement in operation and build. Image quality rendered is good, although video is somewhat compromised. The ease of operation is good for beginners, while the heavier body is not. On top of all this, looking at its price of almost Rs. 50,000, it is hard to recommend the Pentax K-S2, over the more common Canon EOS 750D, Nikon D5500, or even their predecessors – the likes of Canon EOS 700D and Nikon D5300. All of these cameras will render good quality images, and the lighter bodies, coupled with the easier availability of lenses and service centres will be ideal for beginners. The Pentax K-S2 is good, but in light of the recent competition, is just not good enough.