Nikon Coolpix S6400 detailed review
Nikon recently launched 17 new cameras into the Indian market, a selection that aimed at pleasing pretty much every kind of consumer out there. Amongst the many cameras launched, there was the Coolpix S6400, over-shadowed by its celebrity-endorsed brother, the S6500. We've had the camera for some time now, and we feel that it may not be getting the attention it deserves. Here's why.
Build and Ergonomics
The Nikon Coolpix S6400 measures just 1.1 inches in thickness and 3.8 inches in length. It stands 2.4 inches tall, which is shorter than a box of Tic Tacs. Nikon's managed to keep the dimensions so well-constrained by removing the usual set of buttons you'd find on the back, and replacing them with a 3-inch touchscreen. Next to the touchscreen are two thin, long buttons, one for playback and the other for selecting the shooting mode. The buttons are wide enough to be easily accessible, but are not at all intrusive.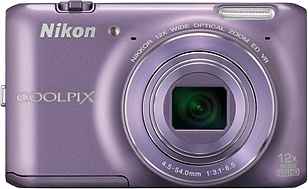 Normally, we're used to seeing really crappy touchscreens on cameras, but the one of the S6400 isn't half bad. It isn't sensitive like your high-end smartphone, but instead requires a slightly harsher touch to register an action. We actually like this because a touchscreen as sensitive as one found on, let's say an iPhone, would mean that anytime you accidentally touched the screen, there was a possibility you'd end up changing some settings.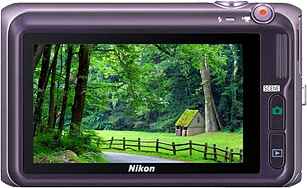 Having said that, the on-screen buttons on the Nikon Coolpix S6400 are pretty decently sized so people shouldn't have any trouble pushing the various on-screen dialogue boxes. One of the major reasons of why the touchscreen experience is so good is also because Nikon has created a completely new menu system for the S6400, one which is extremely simple and optimized for touch.

The Nikon Coolpix S6400 is incredibly slim at first glance, till you notice the slight protrusion on the front where the lens sits. The protrusion does tend to add some thickness to the camera, but overall, it's nothing major. The S6400 will still manage to slip into your pockets rather comfortably and if you do utilize the provided strap, then it can hang around your wrists and you wouldn't even feel it.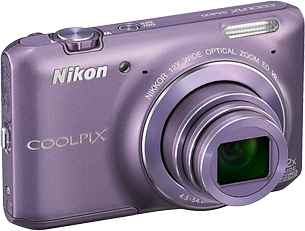 Features
The Nikon Coolpix S6400 incorporates a 1/2.3 inch 16 megapixel BSI-CMOS sensor coupled up with an EXPEED C2 image processor. No, it does not shoot images in Camera RAW, for anyone wondering. The touchscreen is definitely a great feature on this camera, especially with the touch-shutter. The camera can also do 1080p video. The lens on the Coolpix S6400 is capable of going between 25-300mm with an aperture of f/3.1-6.5 and is optically stabilized.
The really interesting feature of the S6400 is that the minute you shoot an image, the camera will give you an option to edit photos you just shot. The S6400 has a total of 30 quick image effects to choose from, a number large enough to satisfy anybody's obsession with the need to edit their photos in camera.
Other than that, the Coolpix S6400 is a pretty standard point and shoot camera with plenty of scene modes to choose from to make shooting a breeze.
Performance
The Nikon is quick to turn-on, but takes a full two seconds after that to load the on-screen menus and in that time, the camera is unable to fire off any shots. Once the camera is ready to shoot, it's pretty quick to lock focus and fire off the first shot, but if you need a second, then you must wait a full three seconds at least. We tested the camera out with a few different cards, including an ultrafast 95MB/s write speed card, but we still observed the same delay. If you shoot in burst mode, the problem is slightly more pronounced. Either ways, you're going to be waiting for a few seconds after every shot, like you would wait for the flash to recharge after every time it fires. Zooming in and out of a scene is actually quite smooth and at a decently fast pace. The pace isn't too fast as a means of keeping the noise at a minimum.
| | |
| --- | --- |
| | |
| Shot at 250mm with a shutter speed of 1/6th second. The is actually quite good. | Shot in negligible light, the colour rendition remains pretty good even in low light. |

If you need a reason to look past the slow-ish shooting, then the images out of the Nikon Coolpix S6400 should definitely provide you with one. While testing the camera, we found that the S6400 spits out some very nice looking images. We shot a variety of subjects with the camera and found that the camera excels in its rendition of the colour green. The extra ED element in the lens is probably responsible for keeping the flaring and ghosting at a minimum. We also shot some subjects against harsh light and noticed that a significant lack of any purple fringing, which is a great thing. In low light situations, the AF illuminator helped lock onto subjects as long as they were within 8 feet or so, and the BSI sensor did a pretty decent job of keeping the noise at bay.
| | | |
| --- | --- | --- |
| | | |
| Good flare - ghosting and aberration control. | Greens and red pop with good contrast. | Greens seem to be the forte of the S6400. |

When looking at the images out of the Nikon Coolpix S6400, the lack of critical detail at a pixel level is apparent, but then again, that is a problem faced by pretty much every point and shoot camera. A small sensor coupled up with a large pixel count and aggressive noise reduction algorithms tends to botch details at a pixel level, but the images carry enough detail to make for attractive posts on social media and even prints up to 10x12 inches.
| | |
| --- | --- |
| | |
| Simple dynamic range evaluation, with the underside of the building being in complete shadow. | Macro shots tend to emphasise lens distortion. |

As far as video goes, the Nikon Coolpix S6400 can shoot full HD video, with stereo audio, but we don't recommend using it in low light. The footage develops noise rather quickly in shadow areas, including skin-tones. This again is within expected performance parameters as a camera with such a small sensor would not be able to hold a lot of detail in shadow areas under low light. That's a job better suited for DSLRs.
| | |
| --- | --- |
| | |
| Macro shots are really nice from the S6400. | Don't expect jaw-dropping bokeh from the S6400. |

Verdict
The Nikon Coolpix S6400 is a sweet little camera with a nice touchscreen and a very user friendly layout. It takes great photos and shoot decent video. It is incredibly compact and hardly weighs anything. The only visible drawback to the camera happens to be the slightly significant hump around the lens mount. The other downside is the somewhat mediocre battery life, where the camera lasted about 120 shots (with and without flash) and about 10 minutes of video. All in all, for Rs. 11,950, the Coolpix S6400 is actually quite a good deal, provided you are looking for something compact that can "just get the job done."