Canon PowerShot SX510 HS detailed review
The super-zoom range of point and shoot cameras have been quite stagnant in terms of sale. Now, consumers have started shifting towards DSLRs and mirror-less cameras which is quite obvious as the sensor in almost all the super-zoom 'point and shoot' cameras is comparatively smaller. But then again, these cameras do have an advantage; a long range zoom lens in a compact body. And that's about it.

Canon's SX510 HS is a great looking super-zoom camera and quite frankly I was surprised to see the tiny size and the light weight of the camera. And surprisingly, it is Wi-Fi enabled. It did sound tempting, so I took it out for a spin.

BUILD AND DESIGN

The SX510 HS has a very compact design and seems much smaller than most of the super-zoom cameras are available in the market. It can fit easily in small carry bags and cases, but it won't fit in your pocket due to the fixed lens. The whole body of the camera is plastic with a matte finish which is a good thing as it prevents the camera to fall out of the hands.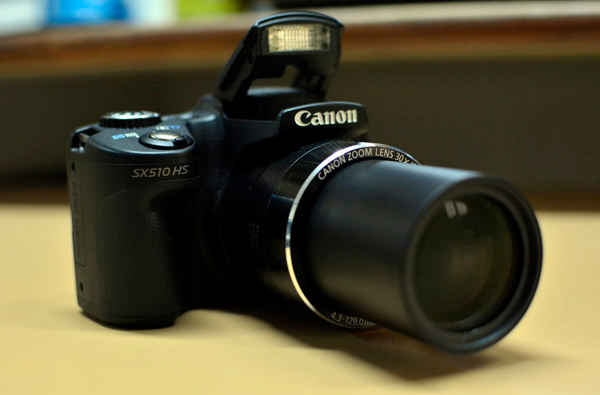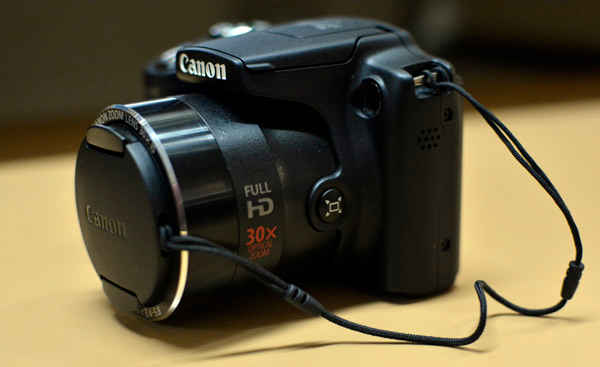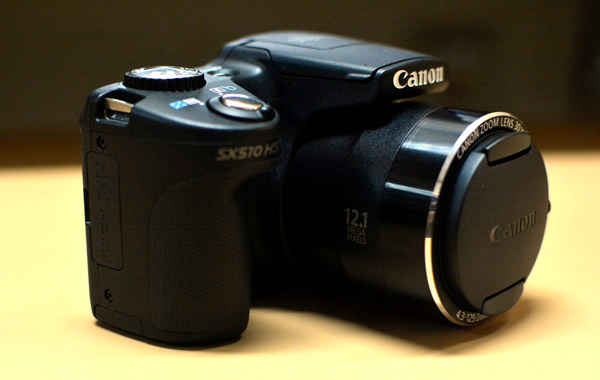 The in-built flash cannot pop up automatically, so you need to manually open it and the hinge on the flash mechanism seems pretty sturdy. The bulged-out grip is nicely made which has a rubberized finish, although it is a bit small and people with big hands might find it difficult to hold the camera. The lens is housed inside the main body and it comes out quite a long way when zoomed to the maximum focal length. There is a focus-light right next to the lens which helps to focus in low light conditions.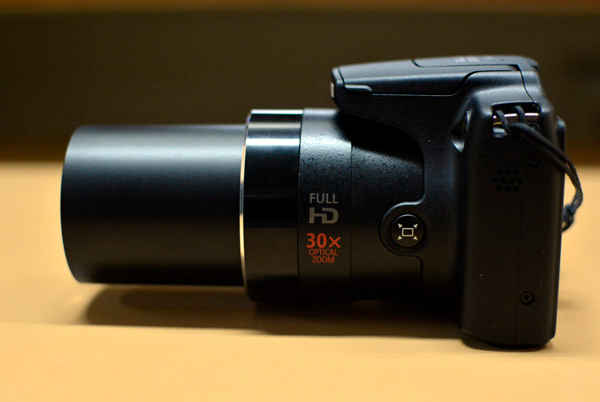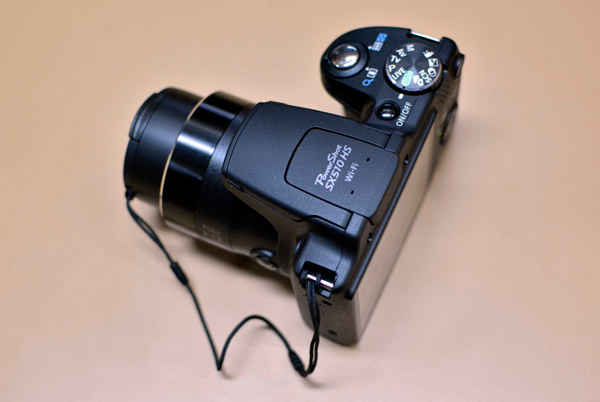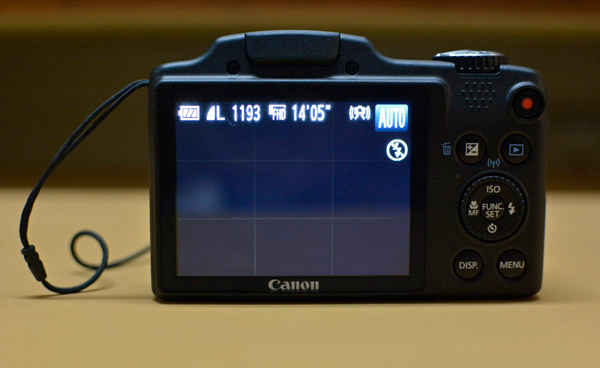 When it comes to controls, the function buttons, shutter release and the dial to control the modes are all quite smooth but they do feel a bit flimsy. On the top we have the shutter release button which also acts as your control to change your focal lengths from wide to tele. The power button does the usual; turn the camera on and change your camera modes. And yes, it has a manual mode as well. The top also houses two hinges (one on each side) where you can tie up a strap.

The back has a 3-inch display which is nice and crisp. Next to the display there are other controls that include the video recording button, the exposure control button (which also acts as the delete button), the playback button, the menu button and the display options button. There is a nice d-pad styled dial also which has a wheel on top which can be rotated. There is a set of 5 buttons in the d-pad to control various functions like flash, Wi-Fi, ISO, focus modes and self-timer. I personally love Canon's rotating wheel feature as it makes it easy to glide through pictures and change your shutter speeds or aperture in a jiffy.

On the right side there is an A/V out digital port and an HDMI out port protected under a rubber flap. The bottom has a standard tripod socket and the plastic panel which opens to reveal the battery and the SD card slot.

Overall the camera feels very light for a super-zoom. But somehow I didn't like the fact that I couldn't use it as a portable camera as it was too big to fit for my pocket and too small to tie it with a strap around my neck.

FEATURES

The Canon PowerShot SX510 HS features a 12.1MP CMOS sensor with DIGIC 4 which is Canon's latest imaging sensor technology. It has a 30x zoom lens which in terms of focal length is 4.3mm to 129mm (35mm film equivalent of 24-720mm). The aperture range is f/3.4 to f/8 on the widest focal length and f/5.8 to f/8 on the highest focal length.

Everyone loves to have high ISO levels on a camera to get a better low light performance and the SX510 HS offers a wide range of ISO (80 to 3200) which is pretty good. Usually we don't see cameras offering ISO lower than 100, but Canon has made an exception here and added 80 ISO.

Apart from the various manual shooting modes and auto shooting modes, the camera comes with built in Wi-Fi. This makes transferring and sharing pictures easy as it can instantly transfer pictures to your laptop, smartphone, printer or almost anything connected to the same Wi-Fi network.

On the video front, the PowerShot SX510 HS is capable of shooting full HD videos. The camera also comes with a super-slow motion video recording feature which is actually quite interesting as the camera records a normal video and then processes into a video with a very slow frame rate.

PERFORMANCE

The auto-focusing system on the PowerShot SX510 HS is quite good and manages to focus quite well, even in low light conditions. The auto-focus takes almost the same time on the widest and highest focal lengths. Now when I say it's good, I mean that it is good for a compact camera under Rs.18000. You have a manual focus option as well which allows you to focus with reference to distance. It can be quite handy when you are shooting still subjects, although the auto-focus is a better and a faster option any day.

The camera handles exposure quite well in bright conditions although I wasn't fully satisfied with the contrast and colours and bit of softness in almost every picture. In low light conditions the noise reduction algorithms are put into good use, but images do have a certain amount of grain and loss in details.

The camera is primarily a super-zoom and proves itself thanks to its long ranged lens. At the highest focal length, the pictures turned out to be sharp but I did face a bit of a challenge to get the subjects in focus. Using high focal lengths in low light was a complete disaster as the camera was unable to focus and pictures turned out grainy and out of focus.

Here are some of the sample shots taken from the PowerShot SX510 HS. (Click to enlarge)
CONCLUSION

For everyday use, the PowerShot SX510 HS is a good investment, although the performance isn't that great in low light conditions. The extreme focal lengths are surprisingly good, although I wish the focusing was a bit faster, or maybe I am being overambitious. The Wi-Fi feature is a great addition and I ended up transferring a lot pictures to my smartphone.

A great alternative could be Nikon's latest super-zoom, CoolPix L830, which is slightly lower on price, but offers almost similar specs and features as the PowerShot SX510 HS.