Canon PowerShot G9X detailed review
The Canon PowerShot G9X is a neat little compact shooter. Straight out of its neatly organised packaging, what will strike you is exactly how light the camera is. After having used the Sony RX100 IV (and being rightfully spoilt for the ease of carrying around a decent camera), the Canon PowerShot G9X really surprises you with how small this camera actually is. It is almost similar to the RX100 IV in terms of length and height, but is slimmer.
Canon, however, had to leave out a number of things from this camera to make it so compact. The scroll wheel is semi-functional, and is fit around the lens. There is an absence of the eyepiece viewfinder, too. Coupled with that, the PowerShot G9X has a smaller, 10.2-30.6mm lens in comparison to the PowerShot G7X. The viewfinder is non-tiltable, going against popular trend.
While these seem to be a number of significant compromises, the Canon PowerShot G9X is still a delightful shooter, reminding you of the reason why Sony's RX100 series became so popular in the first place. Here's explaining Canon's incredibly compact and slim camera, in more detail.
What's in the camera
The Canon PowerShot G9X is powered by a 1-inch 20.2-megapixel backlit CMOS sensor, along with Canon DIGIC 6 image processor. ISO sensitivity ranges from 125 to 12800, which is decent, but is not the best for low light imaging (more on this as we progress). The lens is a 28-84mm equivalent, f/2.0-4.9 unit. At wide, the aperture opens to f/2, while it opens to a maximum of f/4.9 at telephoto. The 3-inch LCD viewfinder has a resolution of 720x480 pixels, along with capacitive touch input capabilities. It is a fixed viewfinder, but you do get touch-to-focus and touch-to-shoot capabilities here. Shutter speed goes up to the fastest point of 1/2000", and slowest at 30". Movie recording capability peaks at 1080p @ 30fps, while the RX100 IV has 4K video recording capability. The Canon NB-13L battery pack has a standard capacity of 1250mAh, but lasts for about only 200 shots on average on a full charge cycle, which is about 70-80 shots lesser than what the Sony RX100 IV can take. The Canon PowerShot G9X also gets inbuilt WiFi connectivity, SDXC/SDHC card slot, microUSB and HDMI ports, completing its compact, metal-built shell.
Build quality and Ergonomics
True to the quality seen in any advanced compact shooter, the Canon PowerShot G9X has a metal shell, with rubber inlays that accentuate grip on the compact body. This was an issue that many may have found on the RX100 IV (its lack of palm grip), and the PowerShot G9X definitely does not have any such issue. It is incredibly small — possibly the smallest body in which you can expect a 1-inch sensor to reside. It is only 98mm long, a full 3.1mm (0.14-inch) shorter than the RX100 IV. The height of both the cameras are almost similar at 57.9mm and 58.1mm, giving both the cameras a very similar gait when rested on a plain surface. It is the breadth that really makes the massive difference between the very ergonomic and compact RX100 IV and the PowerShot G9X. The RX100 IV has a slightly bulkier body and a larger lens, resulting in 41mm thickness. In comparison to this, the Canon PowerShot G9X has a thickness of 30.8mm, thanks to the smaller lens and an excellent design by Canon. It is a full 10.2mm, or 0.4 inches slimmer than the RX100 IV, making it even more pocketable than Sony's flagship compact. If the RX100 IV fit into your pocket with a marginal amount of struggle, the Canon PowerShot G9X will definitely rest very easily, without you having to even notice a moment's difficulty.
"The PowerShot G9X is possibly the most pocketable advanced compact out there"
In terms of build quality, the Canon PowerShot G9X is very well-built, with seamless edges put together in a well-designed and well-placed creases. The front face houses an AF assist beam, the lens with the toggle ring around it (yet another well-thought improvisation by Canon, although there are limitations here), and asymmetric rubber inlays on both flanks. There are chrome-finished hoops on both ends for you to attach wrist suspenders to the camera. The right side houses the microUSB and HDMI ports concealed within a flap, while the left edge has the mobile connect button, which allows your camera to sync to your smartphone via WiFi (a delightful experience — read Connectivity for details). The top shelf houses the concealed flash, album button, power button, microphone, zoom toggle, shutter release and the standard mode dial. A slim strip of the top shelf is bent inwards to the rear end, housing the flash release switch and the album and power symbols.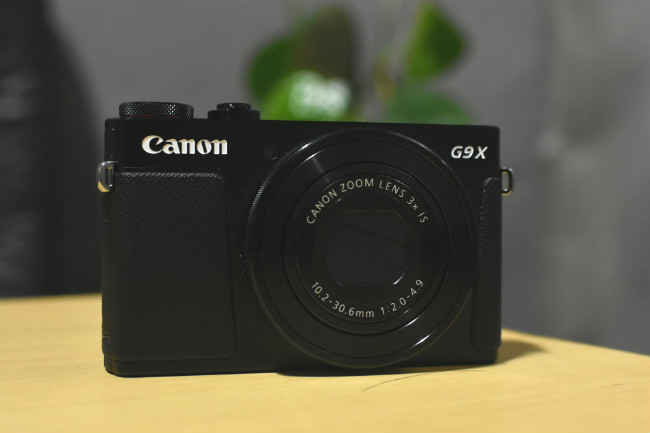 The ultra-compact form factor aids portability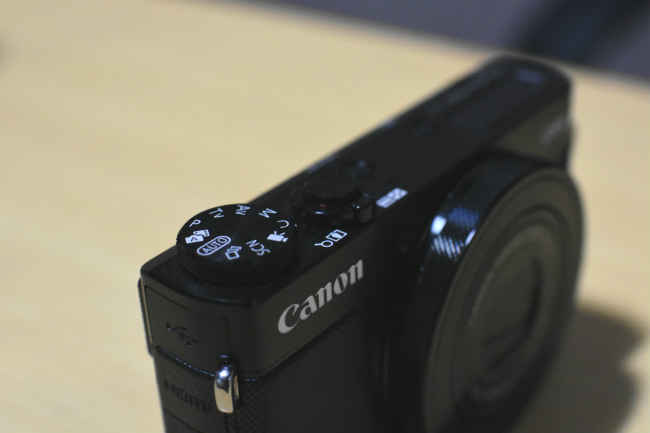 The mode dial is easy to operate thanks to the bent-in shelf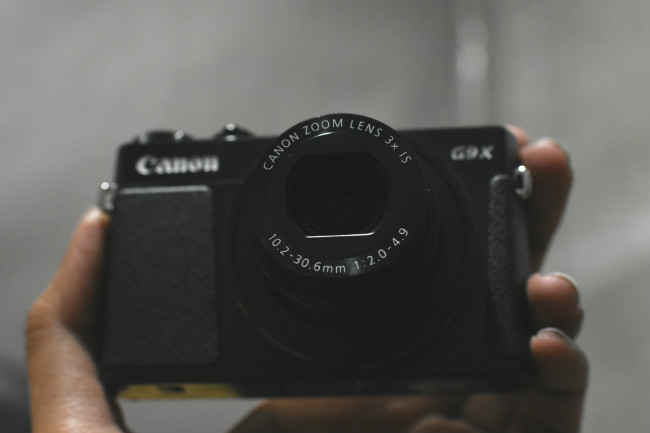 The lens has very limited range, and may be a hindrance at times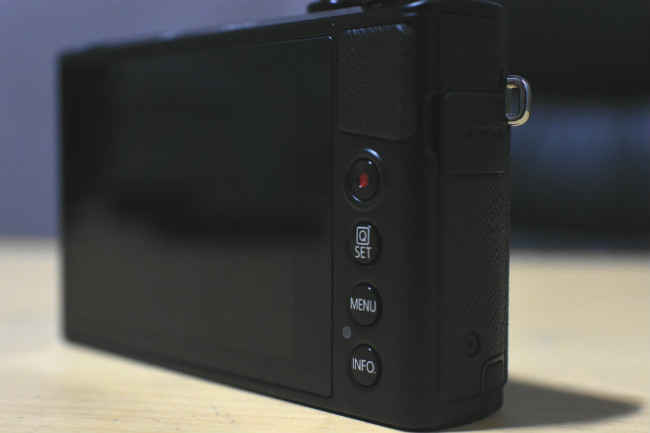 There is no scroll wheel or D-pad on the rear, and takes some time to habituate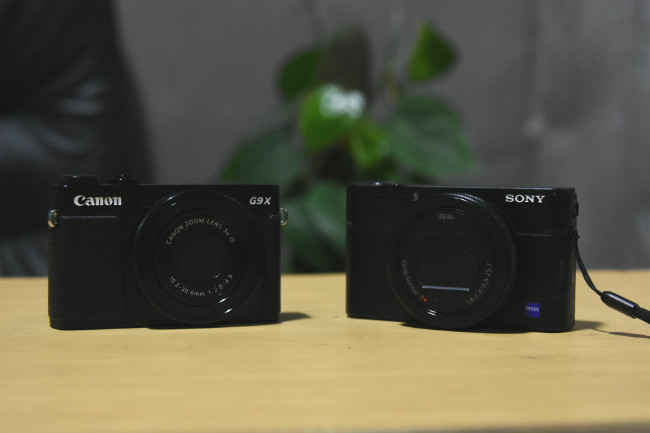 The Canon PowerShot G9X is smaller and lighter than the Sony RX100 IV
The rear face has a small rubber strip for your thumb to rest, falling right below the mode dial. Thanks to the bent-in strip on the top shelf, accessing the mode dial is easier, than it is on other compacts which feature standard dials or built-in dials. You may not notice this neat bit of ergonomic improvisation at once, but it does make a difference if you intend to shift between the PowerShot G9X's modes often, while shooting fast. There are four operational buttons — record, options/set, Menu and Info. The rest of the rear area is taken up by the 3-inch LCD screen. While the entire setup is neatly ergonomic, the lack of a traditional navigation button or scroll wheel will find you using the touch interface more often. For scrolling through photos or vertical options within the menu, you will need to use the front wheel, and toggling through menu heads will require you to use the zoom toggle. This combination takes some time to get used to, although it doesn't cause any inconvenience once you are beyond the first week of getting used to the camera. However, the touch interface is intuitive, easy to use and user friendly, thus making it more practical to use. Bonus points to Canon for excellent wiring of controls.
Overall, the Canon PowerShot G9X is a neat, well designed and incredibly light compact shooter, and is possibly one of the most compact cameras out there in its segment.
Imaging Performance
While ergonomics and compact builds are major factors contributing to the wholesome experience of a camera, it is the imaging performance in which all cameras earn their money. The Canon PowerShot G9X sits at the lower spectrum of the PowerShot G lineup, with PowerShot G3X, G5X and G7X being the other ones. The most crucial point to note here is this: the PowerShot G9X is an incredibly fast shooter. It is absolutely brilliant in daylight, and is a tad faster than the Sony Cybershot RX100 IV. While the RX100 had a major issue with its focussing mechanism, the PowerShot G9X is fast, accurate and smooth, meaning that you can almost always whip the camera out of your pocket, switch it on and shoot a photograph in about 2 seconds.
The startup time of the camera seems more than how fast this camera actually is, but it is not too long to be penalised. In daylight situations and Auto mode, the PowerShot G9X adjusts to the ambience really fast, although it often over-exposes photographs shot in bright daylight. There is also an issue when you shoot in bright daylight within objects in shadow — the dynamic range of the Canon PowerShot G9X is not the best, as a result of which shadows appear darker and lack detail. In overcast conditions, the PowerShot G9X read the lighting conditions really well, and produced incredibly true-to-source colours and details, including shadows.
"This camera is incredibly fast and easy to use"
One factor that comes to play here and causes some amount of hindrance is the small lens. While it allows the camera to retain its incredibly small form factor, you tend to wish you had a larger lens to shoot. Canon has enabled digital zoom in the G9X, but that is a condition ideally avoided. The lens is a tad bit slow, and there is a noticeable lag while zooming into an object. At 30.6mm focal length, you can shoot at f/4.9, leading to standard depth of field. Shooting at f/2 at 10.2mm focal length gives you really satisfactory depth of field, and imaging retains a high level of detail. Shooting close-up subjects is quite the G9X's forte, reiterating the G9X's place as an ideal camera for casual occasions to enthusiasts on a tour.
Manual focussing would rather be avoided on this camera, and seeing how fast and accurate the autofocus mechanism is even in low light conditions, it is simply more convenient to stick to it. Nevertheless, it is a deterrent for ones looking to having manual control of focus. The fast, responsive touchscreen relays accurate touch focussing, and you can easily and accurately focus on your subject within the frame. One place where the Canon PowerShot G9X particularly impressed me is with its fast subject lock-on of moving subjects, even at night. It is this that made me love the PowerShot G9X, particularly at casual dinner meetings, or a drive around the city at night.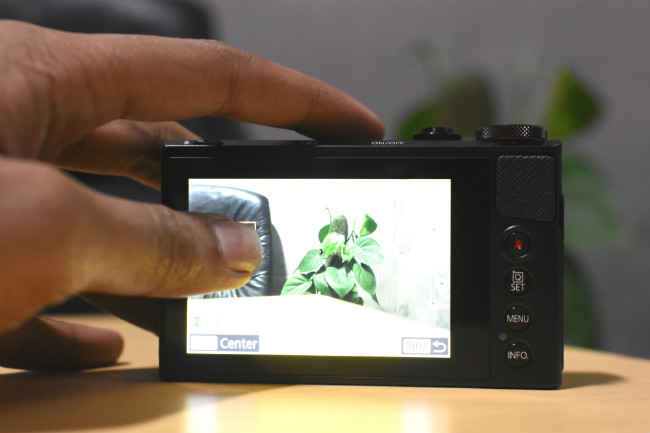 Touch focus is fast and accurate
Despite the fast operations, the Canon PowerShot G9X has a limited dynamic range, and its sensor renders ample amount of noise in low or dim light ambience. Images look decent till about a maximum of ISO 800, and gets rather noisy at 1250. Beyond 1250, ISO levels of 1600 and above make images look very grainy. Granular details are preserved, although the intermittent noise spread across the frame makes for a not-so-clear image.
While the DIGIC 6 image processor coupled with the 1-inch sensor operates fast and smoothly, its tungsten adjustment is biased towards the warmer spectrum, and you will feel as if you have just applied an amber filter on your image. There is also a slight hint of oversaturation on the image, and while applying a Neutral Density filter does tone down its intensity, you will need to compensate the incident light by opening the aperture or shooting up the ISO, which is not ideal. The inbuilt Neutral Density filter here does its job well, operating in accurate grades — good enough to tag it commendable for a compact camera.
Another aspect where the PowerShot G9X does not perform too well is opening its aperture up to f/11. While most cameras retain perfect image sharpness upto f/14, the PowerShot G9X has a maximum aperture of f/11, and there is a very marginal softening of image edges at f/11. This is not a regular or major deterrent, and you will only face the issue if you are shooting in a condition like bright sunlight on snow, or on the beach, etc. Nevertheless, these are very particular areas where the PowerShot G9X marginally lacks, which is quite acceptable, and you can always work around such conditions by putting the camera in manual mode and adjusting the required settings.
"The limited ISO performance and weak battery are its major deterrents"
Another factor is the Image Stabilisation, which is slightly unpredictable. While it often stabilises images perfectly at shutter speeds of 1/20", there are times when it failed to do the same, even at 1/40", which is the standard average ideal shutter speed for shooting images. IS difficulties do not occur regularly, but are recurrent, and hence end up affecting imaging performance.
Video recording fidelity is good, although nothing exceptional. Clarity of video is good, thanks to the very good sensor, and the DIGIC 6 processor keeps operations fast. Continuous autofocus is constant — an excellent essential that is often missed in compact cameras. There are no hints of lag, the interface is uncluttered and easy to use, touch focus shifts are accurate and smooth, and is a very decent experience, especially considering its segment. Despite the inbuilt digital noise attenuation, native audio has a lot of interfering noise, and there is lack of absolute clarity in the audio received by the omnidirectional microphone fit within the Canon PowerShot G9X. It manages a maximum of 1080p Full HD video recording at 30fps (on NTSC system), while the Sony RX100 IV goes up all the way to 4K. The difference between the video quality of the two cameras is not massive, but is noticeable. For all regular purposes, it will suffice your needs.
Overall, despite a number of minute perfections going amiss, the Canon PowerShot G9X is an ideal pocket companion shooter, rendering sharp details, near-accurate colours, fast focussing and shooting within a very pocketable form factor, making it one of the best cameras around for casual photographers to enthusiasts looking for a dedicated instant shooter, and not just a smartphone camera.
Camera Samples
Connectivity and Battery Life
Keeping in tune with the excellent portable package that the Canon PowerShot G9X has been, it has an incredibly easy setup and usage of its WiFi connectivity. You will require to synchronise the camera with Canon's Camera Connect app via WiFi, and you're ready to see the photos on your phone, transfer photos, use the phone as a wireless remote and log locations. With wireless sync, you can use your own smartphone as a GPS module with the PowerShot G9X.
Despite the very easy setup and operation, there is a latency of about 0.25 seconds even when the camera and the smartphone are next to each other. It is not a major difficulty, but is a visible factor. The latency increases to about a second when you are about 12 feet from the camera, and over a second at about 33 feet from it. After that point, connectivity drops. We could retain connection till about 33 feet within our office floor with a lot of doors, desks and chairs, which means that wireless synchronisation in open fields or rooms will sustain for about 45 feet, which is actually quite good.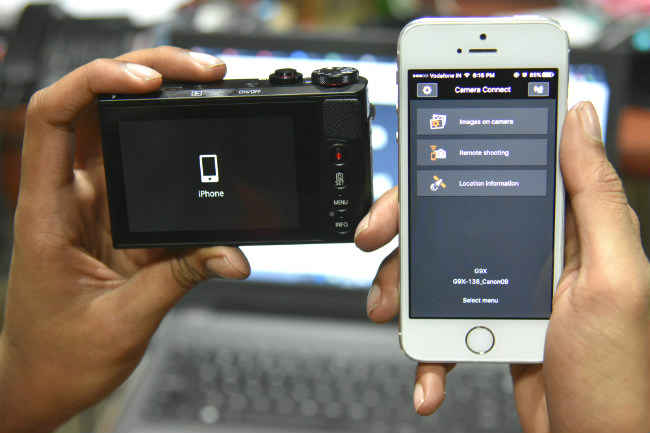 Connecting the camera to my phone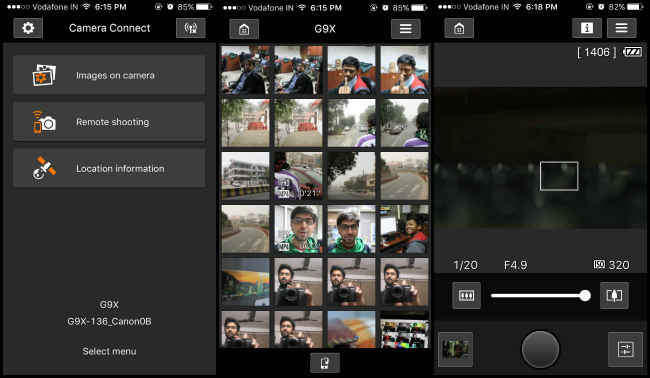 The Canon Camera Companion interface: Welcome screen, Gallery, Remote Shooting
The Canon Camera Connect app has an easy, user-friendly interface, and it is incredibly easy to view and transfer photos. Within the remote shooting screen, you can control zoom, shutter speed, exposure and ISO, giving you all the controls you will need to tweak photograph settings, manually. Attached are screenshots, for reference.
Moving on to the battery life, it is this that can be a slight deterrent for prospective buyers. The Canon PowerShot G9X lasted me for about 200-220 shots, or about one single day of moderately heavy shooting. For a compact, pocket-optimised camera, the PowerShot G9X has a very limited battery life. Apart from Canon's proprietary charging adapter, the PowerShot G9X supports USB charging, which should make it easy for you to charge the camera on the go, should it run out of battery before the end of the day. The NB-13L battery pack has a rating of 1250mAh, and charges fairly fast, and I was able to get it up to full charge from zero in about 45 minutes on my 16000mAh 2A power bank. The weak battery stamina is an issue, but can thankfully be worked around owing to USB charging support.
Bottomline
The Canon PowerShot G9X is a neat, well-designed, compact camera, with a large 1-inch sensor, a very fast image processor, responsive touchscreen, pleasant interface and an overall excellent proposition. Its limited ISO performance and slightly compromised dynamic range are certain factors that may affect its performance, but only at specific times. it is a highly competent and recommendable camera, for a price of Rs. 30,000. You may spend about Rs. 6,000 more and go for the PowerShot G7X if you are looking for a bigger lens and a swivelling screen, but you will miss the incredibly small dimensions of the PowerShot G9X. Smaller dimensions vs. slightly enhanced usability? I choose the former.