Canon EOS M3 detailed review
Canon's tryst with the mirrorless camera segment has already seen the Canon EOS M, and EOS M2. Neither managed to be the ideal compact mirrorless camera with DSLR-like imaging quality and fluidity. While the EOS M had a number of firmware bugs, the EOS M2 was never released worldwide. With the EOS M3, Canon has taken the latest mirrorless camera to various parts of the world. Scheduled for an India launch in the coming days, the Canon EOS EOS M3 will be Canon's answer to everything that Nikon got right with the Nikon 1 series of mirrorless cameras.
Did it manage to strike the right balance of portability and performance? After about one week, here's what I found.
Under the hood
The Canon EOS M3 has a 24.2-megapixel APS-C CMOS sensor sitting inside its body, coupled with Canon's DIGIC 6 image processor. You get continuous shooting at 4fps, along with hybrid CMOS focussing mechanism. You get phase detection pixels built onto the sensor, something that many mirrorless cameras do, to adapt to the lack of the mirror mechanism. ISO goes up to a maximum of 12800 in still photography, and movie shooting will allow you to only go up to ISO 6400. The shutter speed peaks at the fastest of 1/4000", and the slowest is 30". The EOS M3 gets an EF-M interchangeable lens mount, which has a limited array of lenses (more as we proceed). Dynamic image stabilisation is also present, but varies according to compatible lenses. There are 49 AF points, and the 3-inch tiltable TFT LCD display has touch input capabilities, allowing touch to focus and touch shutter. You also get an inbuilt flash module, and a hot shoe, for adding electronic viewfinders, microphones and speedlights. Additionally, the viewfinder provides approximately 100% frame coverage. The Canon EOS M3 also has WiFi connectivity, and connects to smartphones using WiFi, via the Canon Camera Connect app.
The compact DSLR body?
The main focus of a mirrorless camera is to pack in DSLR-like imaging capabilities within a more compact shell. While the Canon EOS M3 tries its very best at retaining a compact form factor, it ends up being somewhat overweight for having such a compact body. At 366 grams, it weighs about 100 grams lesser than Nikon's D5500 DSLR, which retains the DSLR form factor alongside keeping the body incredibly small and lightweight. Even in its own class, the Nikon 1 J5 mirrorless camera is much more compact, albeit with a smaller sensor, and weighs only 230 grams (body-only).
The EOS M3 has a very standard design, with nothing exceptional to highlight. It has a lacklustre finish, owing to a very run-of-the-mill design. However, it is crafted really well, and there are no loose ends on the camera. There is a hand grip to the right, wrapped in rubber. The front gets an AF-assist beam and the lens mount. The top panel has a concealed flashlight, a hot shoe, mode toggle dial, power button, EV stop toggle dial and the shutter release button, which is flanked by a scroll wheel.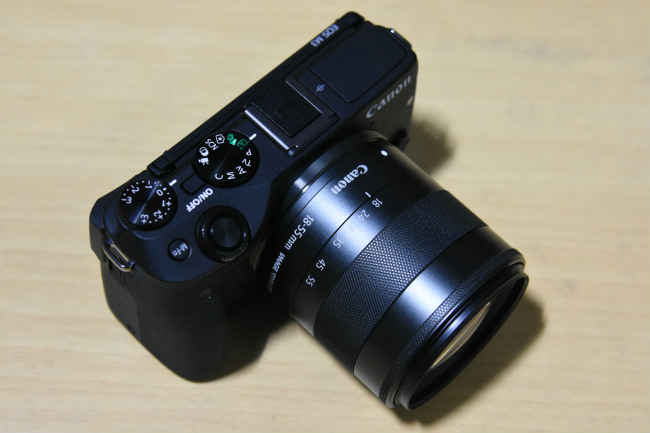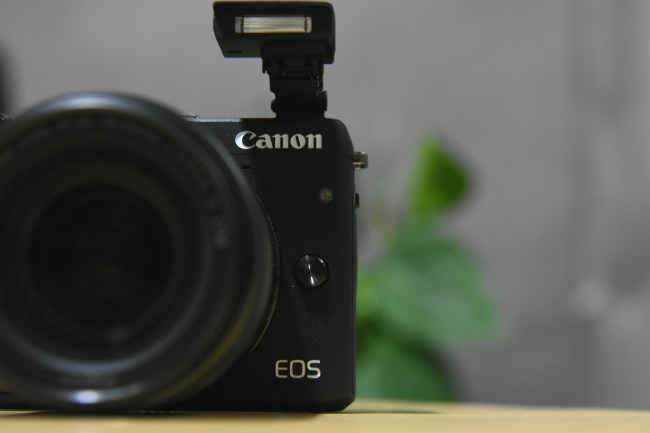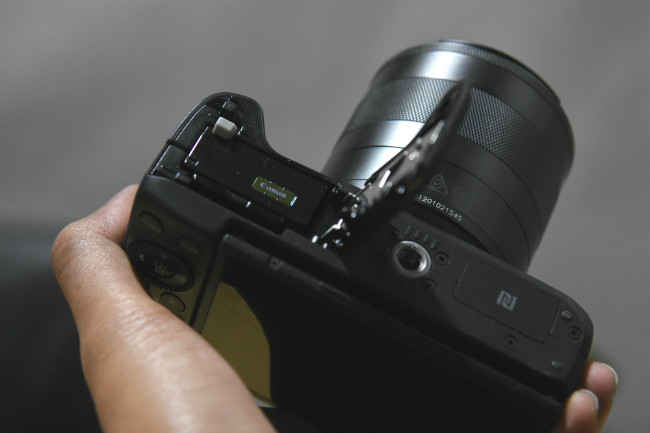 The rear live screen viewfinder can tilt, but not swivel. The tilt shaft is steady, and has a very smooth movement. You can flip it upwards to take a — of course — self portrait. The touch response is excellent, in line with the touchscreen experience that we recently had with the Canon PowerShot G9X. The EOS M3 gets 7 buttons and a central navigation scroll wheel, making it easy to operate and access any option in need.
The body is entirely plastic, unlike the Magnesium alloy bodies that we've come to expect even in advanced compacts. There is an overall absence in the sense of refinement, and coupled with the heavier weight of the device, you wouldn't exactly call this the best-crafted camera in the market. We are yet to test the Nikon 1 J5, but on-paper specifications show it to be a much more compact camera, which is ideal for a mirrorless replacement to DSLRs. The Canon EOS M3 does pack in all of the features, but misses out on being a compact, lightweight and ergonomic package that mirrorless cameras aim to be.
Imaging and lenses
The quality of images that the Canon EOS M3 renders is also not equivalent to DSLR quality. We had previously reviewed the Canon EOS 750D — a mid-range DSLR priced at around Rs. 45,000. Comparatively, the EOS M3 (with the 18-55mm IS STM lens) will be launched at an inaugural price of Rs. 49,995. To put things in direct comparison, this is how the two fare:
The Canon EOS M3, to begin with, had slower focussing mechanism, while one of the best factors of the EOS 750D was its fast and accurate autofocus. Both the cameras have neat, responsive touchscreen LCD viewfinders, and the EOS 750D gets a swivelling LCD along with tilt, while the EOS M3's LCD can only tilt. Albeit a much smaller body, you sacrifice on the overall image quality, although both the cameras have the same configuration on paper (apart from the mirror mechanism). The same 24.2-megapixel APS-C CMOS sensor sits inside the camera body, and Canon's DIGIC 6 image processor powers both the cameras. While the Canon EOS 750D has AF mechanism, the mirrorless EOS M3 has phase detection pixels built into its sensor. The EOS 750D focuses faster and more accurately, while with the EOS M3, I had to attempt close-range focussing a number of times, before I would get my desired result.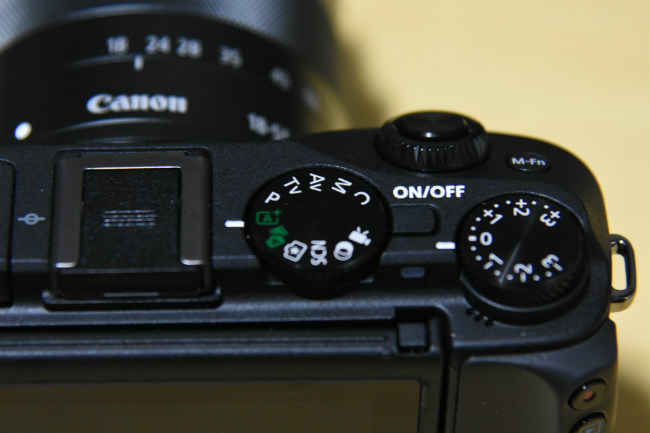 Coming to imaging performance, the Canon EOS M3 has limited dynamic range, owing to which I often ended up obtaining dark shadows while shooting in bright sunlight. More often than not, balancing the level of luminance across the frame was a problem, and I kept shooting in Manual mode for most of the time. Keep the camera in one of its Auto or Priority modes, and there is always an imbalance of light. Image stabilisation, however, was quite good. I kept clicking photos from within a car, and, despite the focussing being slow, the images shot by the EOS M3 were perfectly stable.
The colours on photographs, however, retain good colour accuracy, and the level of detail in optimum ambience is good. For usual reasons, the Canon EOS M3 is a decent camera attempting to provide DSLR-class imaging ability to users looking for a lighter, more compact body. It is indeed lighter and more compact than any DSLR camera body around, but fails for being heavier than what it ideally could have been, and not being as good at imaging in comparison to basic range DSLRs.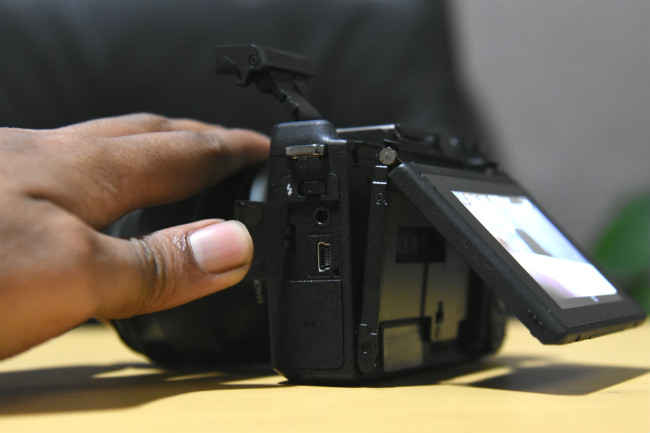 Low light photography, though, is dubious. The Canon EOS M3 renders high noise at ISO levels above ISO 1000, while most DSLRs can render better images at such settings. White balance settings in low or tungsten lighting is also not good, with the EOS M3 slightly oversaturating the colours and giving it the feel of a warm filter being applied on top of the already-warm ambience.
The selection of lenses is also limited, which yet again makes it less viable for users to buy, seeing that EF-S mount lenses are vast, inexpensive and diverse in range, alongside being faster. You really do not gain anything apart from the slightly smaller body and smaller lenses.
Image samples
Connecting to phones and Battery life
For connectivity details, check our Canon PowerShot G9X review.
The Canon EOS M3 is powered by the Canon LP-E17 1040mAh battery pack. While Canon has rated about 250 shots on an entire charge cycle, I could manage only about 4 minutes of Full HD video recording on NTSC standard, and 110 still photographs. This is exceptionally weak by all proportions, and most of the cameras can shoot way more than just this. For a camera looking to replace DSLRs, the maximum you can draw from the EOS M3 is about 160 shots. For reference, the Nikon D5500, priced similarly, lasted me for almost 800 shots. Yet another downside.
Bottomline
The Canon EOS M3 is reasonably decent at daylight photography, and brings a compact body and wireless smartphone synchronisation to the segment of interchangeable lens cameras. However, it has limited dynamic range, slow autofocus, weak battery life and a limited array of EF-M mount lenses to choose from. For a price of Rs. 49,995, there is not much space in which the Canon EOS M3 can be recommended. At such a price point, you would rather opt for a Nikon D5500 (the best mid-range DSLR camera we have seen) if you can live with a larger body, or the Canon PowerShot G3X with no interchangeability of lenses. Even if these criteria are absolute for you, the Nikon 1 J5 seems to be a stronger on-paper proposition, for now. We would urge you to wait and evaluate your options, before picking up the Canon EOS M3.