Canon EOS 1300D detailed review
Very few companies in the world have as much expertise in their respective industries as Canon. The imaging giant has been responsible for some of the most notable cameras in recent history, like the EOS 5D lineup of DSLRs that made its mark in making full frame DSLRs commonplace, and the PowerShot G series for sleek advanced compacts. So naturally, when the budget DSLR segment happens to be the best-selling in the camera market, you cannot expect the company to sit quiet.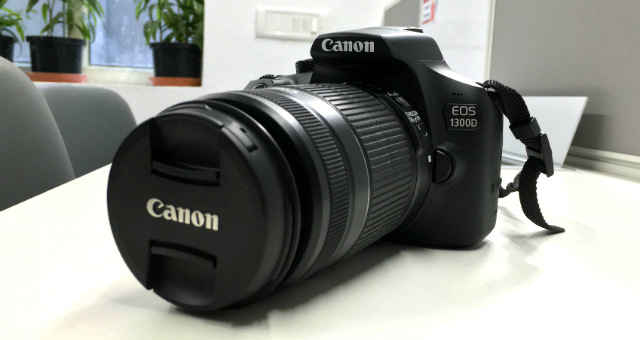 Enter, the Canon EOS 1300D. This entry segment DSLR has evolved in line since Canon first introduced the EOS 1000D in India nearly seven years ago. What you see today is a certainly much evolved DSLR that is way more capable. Yet, everything about the EOS 1300D still tells you that Canon has made it particularly with amateur photographers in mind. The EOS 1300D is supposed to be the perfect bridge for you from a basic compact camera or even your smartphone, should you decide to learn photography or even happen to have picked it up as your hobby. It has improved on the amount of features stacked in the camera, while essentially keeping the compact shape, size and weight constant. In a market segment dominated by Canon and its prime rival Nikon, will the Canon EOS 1300D have enough weight to stand up for itself?
Build and Design
As with most DSLRs, the design is pretty much the same as always. The EOS 1300D uses smoothly finished matte plastic that doesn't really exude class, but in every fairness, no entry segment DSLRs boast premium, metal finish. I personally prefer the speckled plastic body used by Nikon, but even this is quite decent.
The button arrangement also remains the same, so if you have used a Canon camera prior to this, chances are that you'll find the layout familiar and very easy to use. You get an inbuilt flash module, a pentamirror optical viewfinder, 3-inch LCD viewfinder, and the standard array of physical control buttons with one circular toggle dial right behind the shutter button. The camera also comes with a mic-out, mini-HDMI and mini-USB out, along with WiFi and NFC wireless connectivity.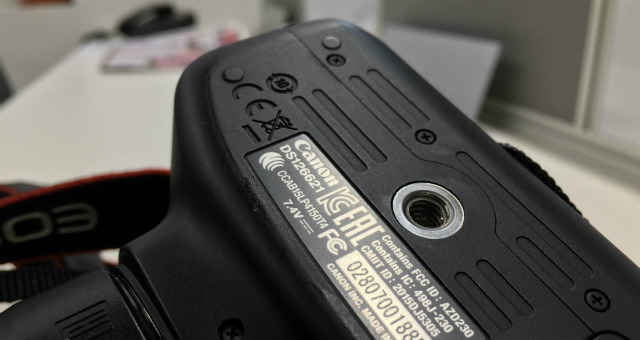 On overall terms, the Canon EOS 1300D is one of the easiest and most convenient DSLR cameras to use in the market right now. It feels slightly more bulkier than the latest entry segment and mid-range DSLR cameras, but for any photographer making his/her first jump to a DSLR camera, this is as close to ideal as it can get.
Image Performance
The Canon EOS 1300D is equipped with an 18-megapixel APS-C CMOS sensor with 1.6x crop factor. It is coupled to a DIGIC 4+ image processor, with native ISO range of 100-6400, expandable to 12800. The EOS 1300D packs in all the essentials, including shutter speed range of 30" to 1/4000", support for Canon EF and EF-S lenses, and houses 9 AF points with one cross AF point with f/5.6 focus point. It can also shoot Full HD videos at 30fps or 24fps.
In terms of specifications, the Canon EOS 1300D covers all the essentials. In real life, the Canon EOS 1300D is a reasonably decent shooter. As with most budget DSLR cameras, the optical viewfinder is pentamirror and pentaprism, leading to a slight leakage of light internally. It is not majorly noticeable, though. The EOS 1300D shoots reasonably decent photographs, although noise is certainly discernible onwards of ISO 800. The light processing is also not the best in class, so you may often find shooting up the ISO values. It works well when you are outdoors, and the ease and simplicity of shooting adds to the experience. With the starter kits, you get the perfect lenses to begin your photography journey, and while we can only hope that the EOS 1300D performed even better in terms of adjusting light, it is quite efficient as a beginner's DSLR.
View post on imgur.com
The EOS 1300D shoots reasonably decent photographs in daylight, but shooting in low light, dusk or situations with low colour temperature becomes tricky because of having to raise ISO levels. As a result, images tend to face a fairly noticeable amount of pixel noise. What really impresses is the pleasant vibrancy of colours that it produces, and shooting in vibrant, well-lit marketplaces in the evening or night is fairly enjoyable because of the colours. The dynamic range of the EOS 1300D is not class-leading either, which leads to marginal morphing of shadows, lower accuracy of colours than slightly higher-priced compatriots like the EOS 750D, and at times, noticeable banding in ISO 100. What this translates for you in terms of everyday usage is the occasionally noisy shot, or the one where the shadows of a tree under bright daylight appear to have an indistinct interference about them. As for advantages, the EOS 1300D excels with its incredible ease of usage, reasonable smoothness and the presence of a cross AF point which majorly helps in speeding up autofocus performance.
View post on imgur.com
On to autofocus, then. The 9-point AF mechanism with one cross AF point may seem paltry in front of the 39-point AF (9 cross-point) system on a Nikon D5500, but then again, the 1300D is over Rs. 25,000 less expensive than it. For beginners, the Canon EOS 1300D is suitably fast, smooth and fairly responsive. It is not consistently accurate, and I found the EOS 1300D focussing on the wrong point in the frame at least once every six new photographs. Thanks to the good optical viewfinder, rectifying the focus manually is fairly convenient.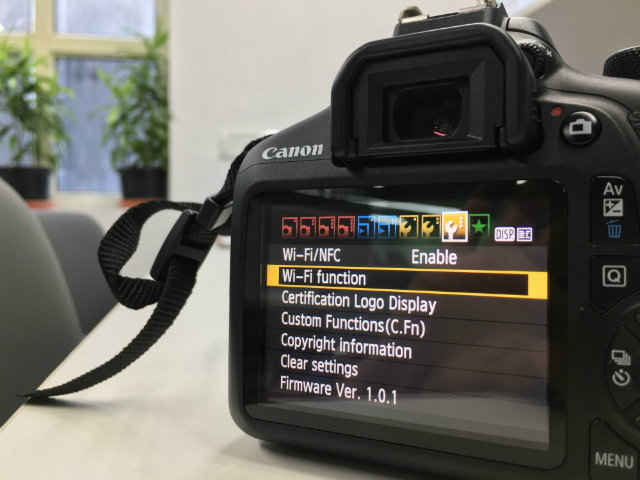 The Canon EOS 1300D is a great camera for any budding photographer to learn the intricacies and balance required for manual shooting. The optical viewfinder offers a meter to guide you to adjusting the perfect amount of light required for your frame. From the Menu, you can choose to restrict ISO levels in any Auto or Priority modes, which is another great way to learn how shutter speed and exposure can be adjusted according to incident light, required depth of field, how different sources of light react to varying ranges of shutter speed, and how a certain ISO stop can impact your frame depending on the environment you are shooting.
The Canon EOS 1300D is not the best in terms of image clarity, level of noise and dynamic range, but does very well with colours and improves on the speed and accuracy of autofocus on budget DSLR cameras. It is also very easy to operate and convenient, offering a number of priority and scene modes, along with full manual shooting capabilities. It does have its compromises, but its advantages weigh out what it misses on.
Connectivity and Battery Life
One of the most convenient factors of the Canon EOS 1300D is the presence of WiFi connectivity. To use it, you need to download Canon's CameraConnect app on your phone, enable WiFi on the camera from the Wi-Fi Function option on the second-from-right Menu list, connect your phone with the SSID and password shown on the camera's LCD display. Once you are connected, opening the app will show up the camera in front of you, which you need to tap on to complete the connection process. It is really very simple, and perfect if you love sharing your photography work on social media.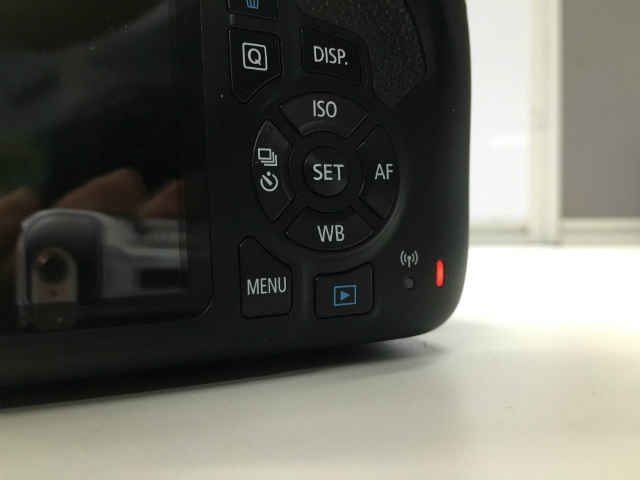 The Canon EOS 1300D allows you to sync the camera's Time and Location to your phone's, browse images on your camera's memory card and download to your phone, and use your phone as a viewfinder and remote shooting control. Images by default are resized before downloading to phone over WiFi to save storage space and ease uploading (well, why else are you transferring the files to your phone, anyway?), and you can change this easily from the drop-down settings menu. Remote shooting works fairly well with minimal lag, unless you have a distance of over eight feet from the camera. I quite like the overall layout of the app, which tries to make up for the lack of touchscreen on the camera.
The battery life could have been much better, though, and is in fact the only notable aspect that I did not really like about it. With one full charge, I managed to shoot 229 photographs. I had kept LCD settings at default which translates to a very inconvenient LCD switch off time of 10 seconds and comparably dim brightness. I may arguably get slightly better battery time with more conscious usage, but if I am out for a photowalk all day, I will certainly run out of charge before the walk ends, which is not the ideal situation.
Bottomline
At this price, the Canon EOS 1300D is the best present-generation camera to buy for budding photographers. The Nikon D3300 performs better with autofocus and balancing light across frames, but the EOS 1300D has its strengths in the vibrancy of colours and ease of interface and buttons. At around Rs. 30,000, the Canon EOS 1300D is a very old school beginner's DSLR that retains the essence of photography while fusing in new-age features and toggles like ISO barrier and wireless connectivity on the go. It is, to sum up, a good DSLR to buy for many budding photographers out in the market to buy their first interchangeable lens camera.