WhatsApp messenger for smartphones - IM the new craze? detailed review
Instant Messengers (IM) seem to be a craze again these days, all thanks to the likes of Blackberry Messenger (or BBM as it is lovingly called out!), Google Talk and the dozens of multi-network cross platform third party IM apps. However, the slickness of use offered by the Blackberry Messenger was somewhat missing in all these solutions. That problem seems to have been solved to a large extent by a new app- WhatsApp messenger.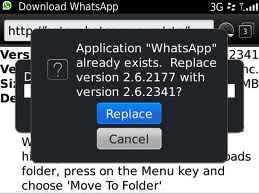 Installation and first use: Works a bit differently from the rest
Generally, the procedure with most IM apps is that you download and install, sign-up/sign-in and 'add' friends before you can begin chatting. However, WhatsApp works a little differently. Once you install the app, it registers with your phone number. Once that is done, the application automatically scans the contacts list in the phone, and adds those users who are known to be using/ already registered with WhatsApp. This is the single biggest difference between WhatsApp and other messenger services, where you have to add friends manually, either with their usernames or pin numbers etc.
The only issue here is that people, who you do not want to be in contact with, can add you to their WhatsApp list without needing you to accept any friend request. You may block or delete them later, but that is just an additional step to follow. And a privacy issue too.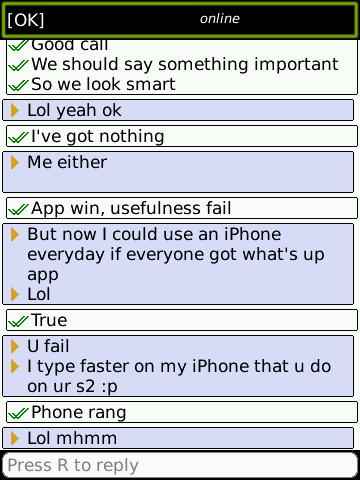 Features: Works well, but looks boring
At a first glance, it is easy to brush off WhatsApp as just another IM application. It has a very basic interface, with four tabs- chats, favs, all contacts and status. The Chats tab, as the name suggests, is where all the action is. The favorites tab has your favorite contacts, which keep getting refreshed automatically as new users sign up for the service. It is important to have these people saved up as contacts on your phone for them to show up on this list. Despite the plain-Jane looks, it does pack in quite a punch.
The interface could have been a lot better though. The boxy feel, along with a basic white colour tone, does make it appear boring. There is no way to customize how a chat menu looks in a Blackberry, for example, but a chat background can be selected in the Android version. We cannot , quite frankly, understand this feature limitation on certain smartphones.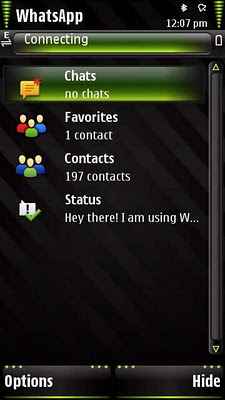 Performance: An IM, and then some…
After WhatsApp is installed, you can immediately get connected with friends who have already signed up for the service on their phones. Select any friend, open the chat window, and after a few seconds, the top bar shows when that person was last seen on the WhatsApp network. Type a message, and it is immediately sent out. Once the message is delivered to the recipient's phone, you will see one green tick next to the message. When the recipient has read that message, you will see a second tick mark along with the previous one. Chats have the same experience as an IM, but then again, it sort of is.
The service uses GPRS, EDGE or 3G only, and a validated SIM card needs to be installed at all times for this to work. The service remains connected all the time, and needs a constant data connection. While we could not get it to work on Wi-Fi on a Blackberry, it worked perfectly on some Android smartphones without any data connection needed. Depends on whether you have a huge WhatsApp friends list or not!
Our Take: Get this. You will soon get hooked!
Don't have a Blackberry? Can't access BBM like most of your friends? Worry not. Just install WhatsApp on your phone, and cajole your friends into doing the same. Voila. You are connected, in a BBM-esque fashion. The app is free to download, and works on Blackberry, Android, iOS and Symbian devices. We suggest you download, install and sign up for this anyway. It is almost inevitable that your friends will get this too, sooner or later.
Price: Free (Data charges may apply, depending on your tariff plan)
Ratings
Features: 7
Performance: 7.5
Build: 5
Value: 8
Overall: 7.5
Download from: Apple App Store, Android Market, Blackberry App World and Nokia Ovi Store