Snapseed (for Android and iOS) detailed review
So Snapseed just got a major branding update, finally brandishing the Google name. The MountainView giant bought out Snapseed's parent company, Nik Software in September and many wondered what would happen to the excellent suite of plugins. However, Google made it clear that it didn't have any plans of messing up the suite of Photoshop and Lightroom plugins Nik has been offering, but Snapseed was something it had showed particular interest in.
Well, that interest Google showed months ago has finally borne fruit. Snapseed now bears the name "Google Snapseed" on the start-up splash. Post that, everything seemingly looks the same, until you open up an image to edit. We've been users of Snapseed for a while, and the new update does get us quite excited. We've been playing with the app for quite a number of hours now and we figured that we'd give you the entire rundown of the new features in this app through the editing of an image itself. What we've done here is edit an existing image using Snapseed for iOS on the iPad 2.
When you run the app, you are greeted by a new splash-screen which beers the Google nomenclature, symbolic of not just Google's presence, but also of the deep Google integration Snapseed now has built into it.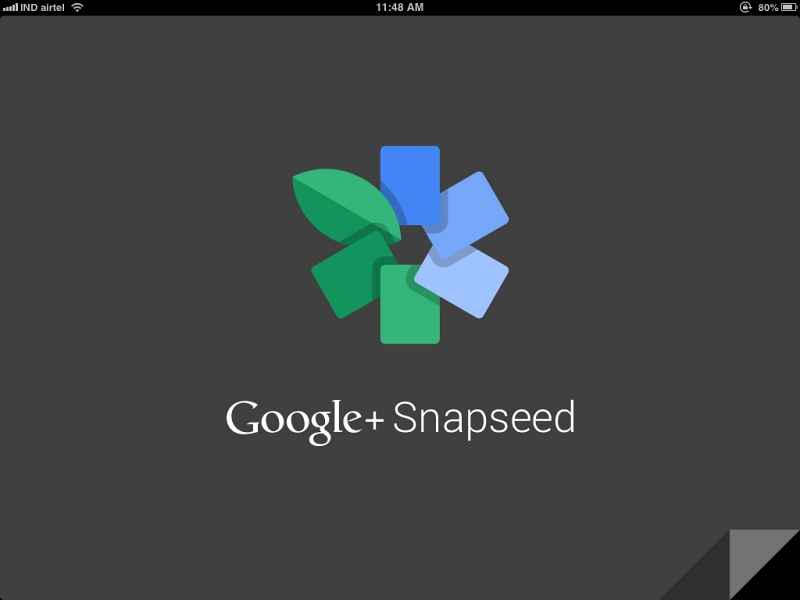 Past that, the user interface is essentially the same as it has always been, with the effects and adjustment filters aligned to the left (if you're in landscape mode) or the bottom (if you're in portrait mode). If you've used this app before, nothing will seem out of place to you, because there isn't. If this is your first time using the app, well, things don't get any more neatly arranged that this.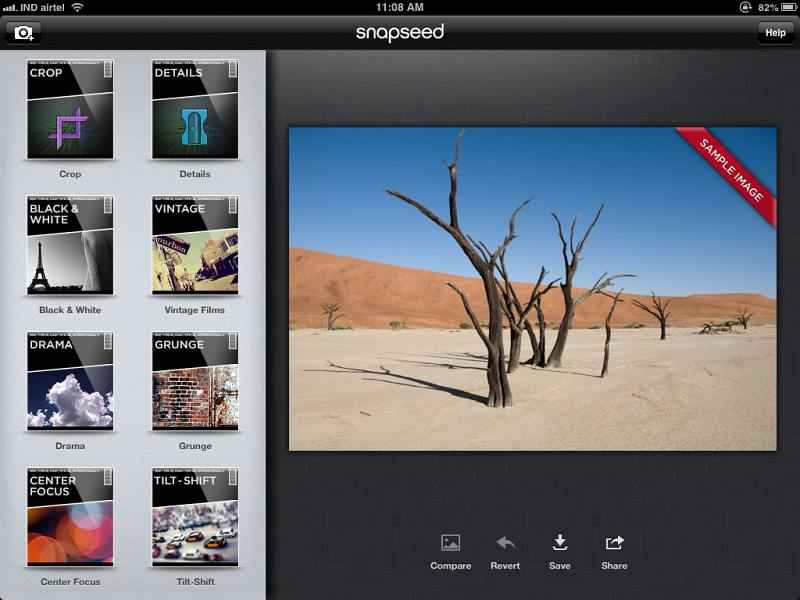 The images can be either pulled up from the Camera Roll, or be shot in-app using the camera on the device. You can even paste an image, if you have copied it from a particular source, which is pretty great because regardless of where the image is, Snapseed has you covered.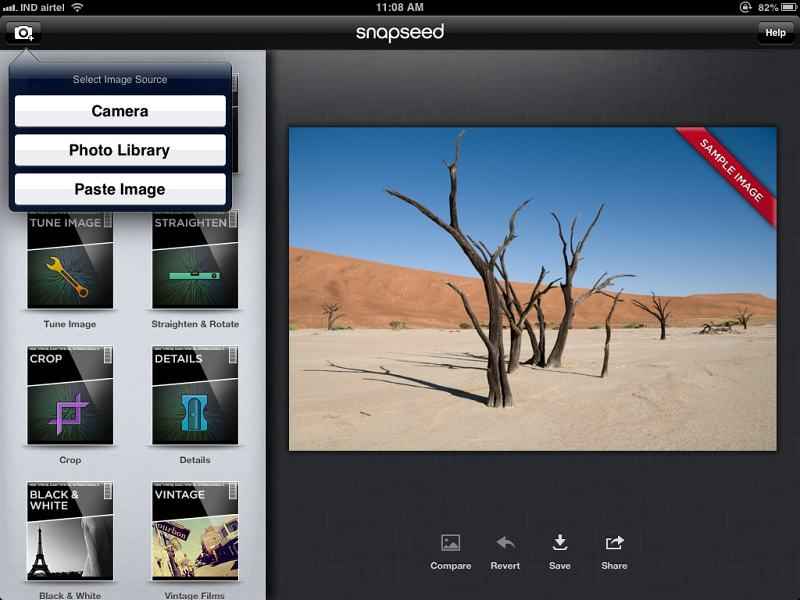 We loaded up an existing image from our camera roll that this kickass reviewer had shot and started off by applying some selective adjustments. Now the great thing about Snapseed is that when any effect or filter is opened for the first time, there's a neat tutorial overlay that explains everything in a very simple manner.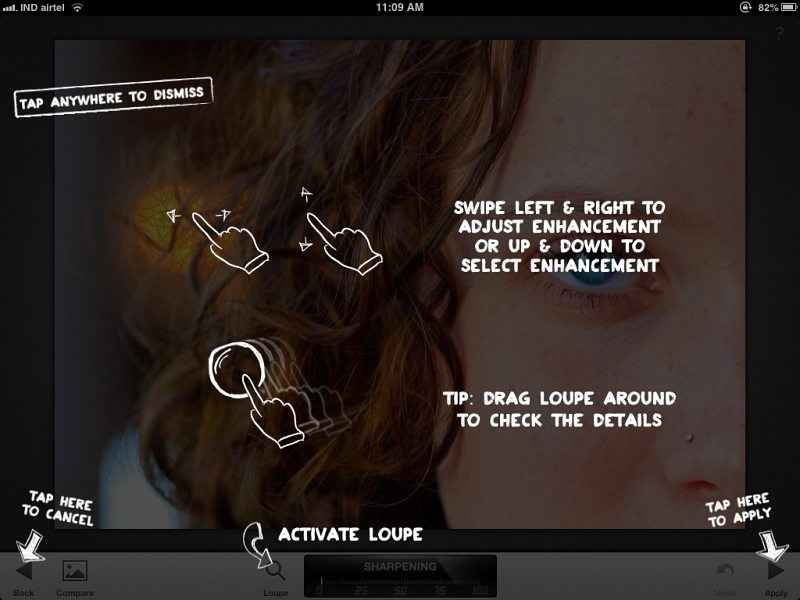 Getting right down to it, we wanted to enhance the blue on the eye because our final image will look quite yellow-heavy/washed out, so the blue eye would stand out.

Applying an effect is as simple as swiping left or right to choose the intensity, while swiping up and down on the screen switches the attributes of a particular filter. So for example, every local adjustment point allows you to change brightness, contrast and saturation in a pre-defined area. To switch between the three, all you need to do is swipe up or down, while swiping left and right will take away from the effect and add to it respectively.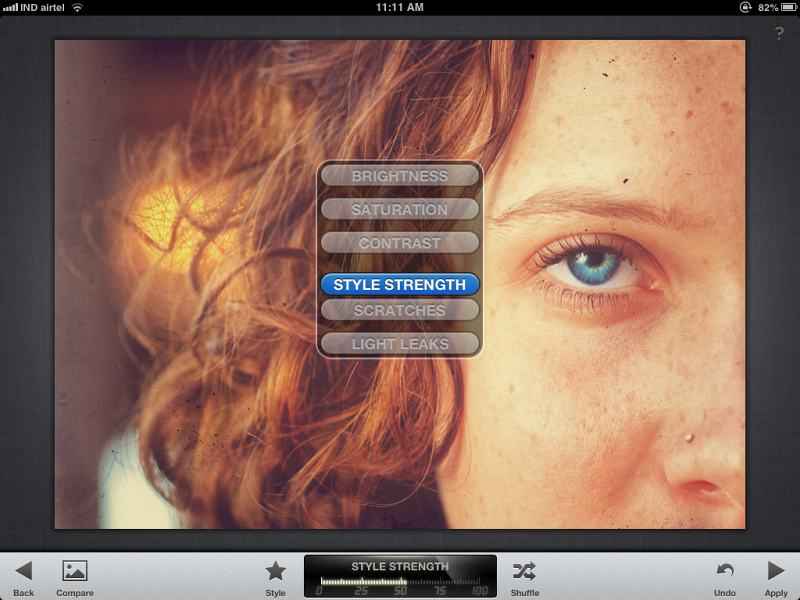 We put our image through some selective adjustment, a little contrast boost, and then proceeded to indulge in Snapseed's new Retrolux filter. As the name suggest, the whole idea is to add a "retro" feel to the images and the filter has quite an extensive set of options to help you achieve that look. The effect itself includes 12 "looks", each of which can be individually tweaked. We selected the first effect, a warm tone that would complement not only the skin tone, but also the overall color gradient we are trying to achieve with the final image.
After selecting the style, we went into the properties for that particular look and chose to turn off the "light leak" feature and stuck to the Fine 0 option for the dust and scratches effect.

Now that we're getting close to the look we want, we put the final touches on it with a little bit of brightness contrast adjustment, topped off with the tilt-shift effect to add even more blur to the left side of the frame and we have our final edit. Here you can see the before and after shots in the image below.

During the process, we found that there is a new options bar at the bottom of the image scree that allows you to instantly save, share, revert or compare the edited image. No more having to go through a menu to get to these features is a nice touch. The Frames filter also has received a significant tweak in this version of Snapseed, including the ability the color grade the frame to match that of the image. We personally don't like using frames a whole lot, but if it's your thing, then Snapseed has quite an elaborate selection, each of which is customizable.
There is also the classic black and white" effect which includes the ability to convert an image to black and white using colored filters. Photographers would know the advantage of this, but we highly recommend experimenting. Mixing and matching the black and white filter with the "drama or grunge" filter could yield some very impressive results!
Verdict:
What we love about Snapseed is that it's got such a versatile set of tools that one can mix and match, to yield virtually any result. This is great if you're someone who knows exactly what kind of look they want their final edits to have, but it also works very well for those who don't have such foresight. There are so many easy to use filters and effects built into Snapseed even the amateurs are going to love it, and produce some good looking images (provided they refrain from going overboard).
Once you edit your images, Snapseed will allow you to directly push it out to Facebook, Google , Twitter, e-mail or an AirPrint enabled printer.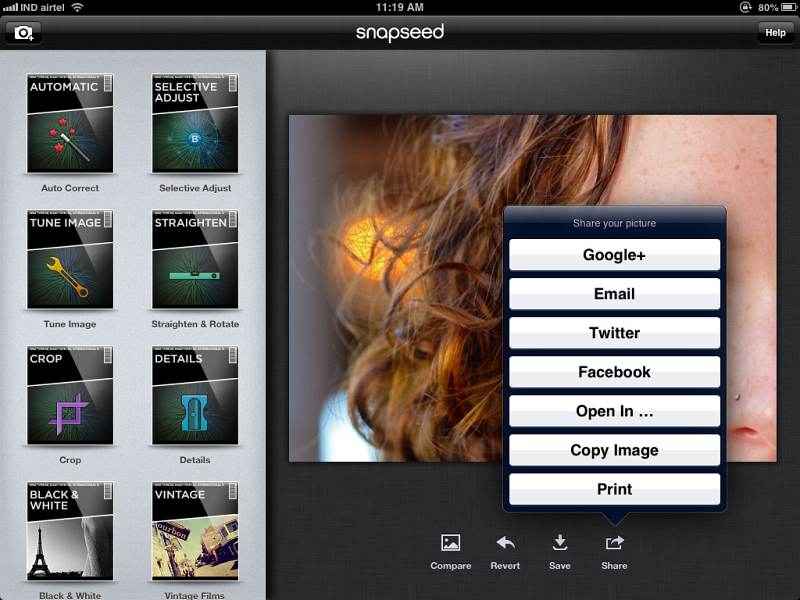 We originally paid $5 to have this app on our iPhone and iPad and even then we thought this app was worth the money. Now, it's free, has more effects and has a much cleaner UI (we thought this impossible, but it's true). There is absolutely no reason for an iOS and Android user to not have this app on their device.
In the meanwhile, we find it rather interesting that Google took over Snapseed and has now infused it with a wide variety of sharing options. Could it potentially be an Instagram contender? We don't think so. Instagram has been designed as a "quick-filter-fix" app, where going from shooting to posting requires a total of maybe 5 clicks. Snapseed is a far more refined app, giving the user total control over every single aspect of editing, so chances are slim that you'll be able to shoot, edit and post an image within seconds using Snapseed. However, it's a great app for photographers who want to show prospective clients an edit process on the fly.