Pictarine for Android detailed review
There are those who believe in relishing the power of words. And then there are those who think that a picture is worth a thousand words. If you are among the latter, then it is a fair chance that you spend a lot of time browsing through the pictures shared by your friends on your social networks, and of course adding your own collection of images to them. Mind you, switching between all those social networks - Facebook, Flickr, Instagram, et al - can be a tad exhausting, even though most of these services do have dedicated apps of their own.
Which is why we love Pictarine. It is already won a fair bit of fame as a website (www.pictarine.com) that showed us the images shared or highlighted on different social networks on one screen, and now has arrived in free app on Android. At less than 2 MB, it is a small enough even to be downloaded over a GPRS connection. Once you have downloaded the app, all you need to do is specify the social networks whose pictures you wish to clap eyes on (the normal logging in and permission giving routine) and then sit back and wait as the app accumulates them all and then displays them as one single stream. At the time of writing, the app supported Facebook, Instagram, Twitter, tumblr and Flickr. Nope, no Google yet, but we are hearing that it's very much on the app anvil.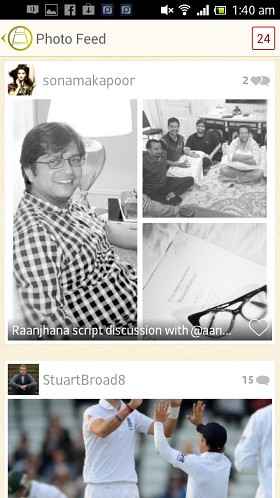 But back to the app. What struck us about Pictarine was the utter elegance of its interface. The Photo Feed shows all the pictures in large thumbnails, with a single line of the caption accompanying it. The result is that a clean interface that lays more stress on images than text - you can tap on an image to see its full version as well as the complete caption, but in the basic photo steam (called Photo Feed), all you get are images with the names of who posted them and on which network. Selecting an image also gives you the option of seeing the comments made about it and also who liked the image. You can also choose to see only the images that you have uploaded and/or view those stored on your device. You can pinch to zoom in and out of images once you select them as well.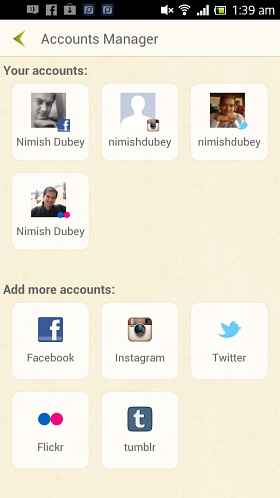 What's more, Pictarine does not reduce you to the status of a passive image viewer. You can also comment on the pictures you see, express your liking for them, and in what we think is a really super touch, even further share the pictures you see across social networks or share them over e-mail. Should that not content you, there is also the option to group images together to form Playlists (image collections) and of course, you also have the option to upload any image that you have on your device on to a social network. Top that off with a 'surprise me' option that lets the app throw some images at you at random, and we have no hesitation in labelling this app a visual treat.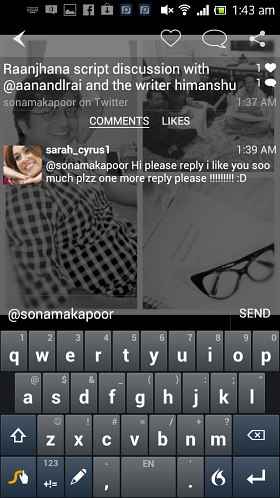 We were a tad disappointed, however, to see no option to access the camera directly from within the app, so there was no way in which we could take a quick shot while using an app, and maybe even throw in a few filters? All right, all right, this is just being a bit wishful here. For the stark fact is, that all said and done, Pictarine delivers a lot of image bang for no bucks at all. We would have loved to see it supporting Google too and well, if you are type whose social networks is clogged with images, then you will definitely need a 3G connection to be able to use the app properly. But if it is images that interest you most on your social networks, we really think that this is the app for you. It is convenient, works briskly most of the time, and heck, is very easy on the eye.
As of now, this goes firmly into the must-download category for Android users. We hear an iOS version is in the works as well.
Download from: Google Play
Price: Free