Opera Mobile 11 detailed review
Smooth Surfing on your Smartphone
Possibly no other browser can run on as many mobiles as Opera does, but that hasn't stopped Opera Software from bringing its magic to yet more mobile devices.
Performance
One of the best things about Opera on Mobile is its performance, and Opera Mobile 11 continues doing well in this department, even better than previous releases despite bringing in new features and a new engine. Overall the UI seems to just flow a lot more smoothly than before.
While testing Opera Mobile 11 running an E71 and on the Samsung Galaxy S, we loaded as many as a dozen tabs without significant performance drop. Opera Mobile seems to be doing a good job of conserving resources, since we noticed that the zooming and scrolling of a light uncomplicated page was not impacted by other heavy tabs opened in the background.
This is especially surprising is that Opera Mobile ships with essentially the same version of Presto (Opera's HTML layout engine) as the desktop version! It supports the same HTML5, CSS3 features (although stuff like WebM will probably be hardware dependant). Oddly running HTML5test.com on the Nokia E71 showed that the browser supported WebM, while the Samsung Galaxy S did not seem to support this. We tested the browser on a page that included WebM video, and the E71 just offered support for downloading the video, no playback. This was quite expected, as playing back video on a mobile without hardware acceleration (especially on an aging device like the Nokia E71) is infeasible.
User Interface
One of the things that immediately strike about Opera Mobile 11 is tha revamped interface. Of course you will actually need to experience Opera Mobile 11 and Opera Mini 6 on other devices before you grasp the similarities in the interface. Needless to say, someone who has used Opera Mini / Mobile on one device will be at ease with Opera running on another device. In fact this release copies the Opera Menu metaphor from Opera for desktop by arranging all the features available in the browser under a menu.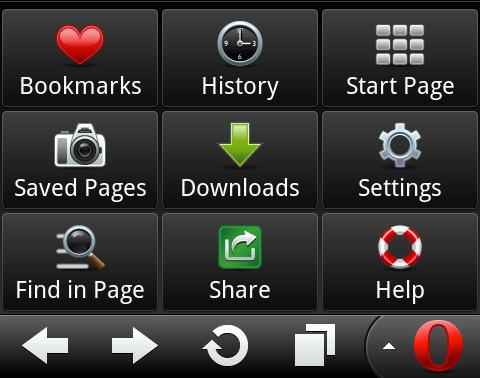 Of course the menu has changed in the transition to mobile. Instead of a list of menu items, the items appear as large touch-friendly targets. On non-touch phones, the UI might have changed to more closely parallel the touch-screen interface, however the interaction mechanism remains same, you wont need to learn new shortcuts. The Opera menu gives access to the bookmarks, history, the start page, saved pages, downloads, settings, the find in page feature, share and help. We will discuss these in more detail later.
The tab interface too has not changed much since last time, touch phones have a tab tray that shows the thumbnails of tabs, while non-touch phones show desktop-like tabs that can be navigated using your mobiles navigation keys. The interface does give a slicker appearance though, especially on non-touch phones.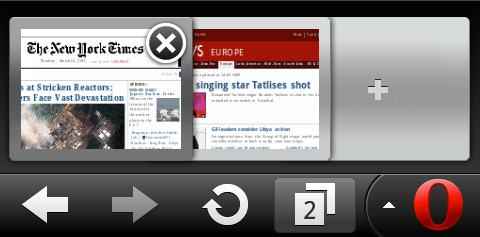 ​The interface is as usual touch-friendly, and with the new pinch to zoom feature it is even simpler to use the full web. One of the new features of this release is improved scrolling performance. While scrolling long pages, Opera allows you to quickly reach the end by tapping on a small hovering arrow that points in the direction of the scroll. This button only seems to activate on long pages where you'd other wise had to flick a couple of times to get to where you wanted.
There isn't too much new int he UI expect that it is uniform across multiple devices and form-factors, which is all well since it had a good UI to begin with.
Features
Opera 11 includes some great features that make it a pleasure to use Opera on Mobile. One of these would have to be Opera Turbo. Opera Turbo, for those who don't already know about and use it, is a great feature-cum-service by Opera Software, where the browser routes web pages through Opera's Turbo servers that perform a number of optimizations such as decreasing the size of images, compressing the page overall, and sending data with fewer requests. The result is a large savings in data transferred. This means pages load faster, especially on the poor internet connections we have here. Additionally this can have a significant impact on your internet bill if you are baying by the byte. It is thanks to these Opera servers that Opera Mini is able to open full-fledged websites even on devices with too little memory or too many restrictions to fit a browser engine in.
Opera Link is another one these technologies. It is a browser sync technology that is native to Opera and allows one to synchronize their browser experience across devices. Opera Link is associated with your Opera account, and lets you use the same Opera speed dial entries across desktop and mobile, and ensures that you can access your bookmarks everywhere no matter whether they are created on the mobile or desktop.
As with the previous version Opera Mobile includes a download manager, and has a "Saved Pages" feature that allows you to download a page and view it offline later on. Other features such as finding text in a page working with your bookmarks and history are supported as usual. What is new though is a new Share feature.
Smartphones are quickly becoming social tools, and it is likely that you will be come across something while browsing that you wish to share with others. Opera Mobile 11 makes this rather simple, with a new Share option in the Opera menu. The share option taps into your mobile's sharing services, so the exact options available here will depend on what you have installed on your mobile. However this means it is possible to share links over Bluetooth or as an SMS.
The settings menu too remains unchanged from last time. Through the settings menu you can toggle displaying images, Opera Turbo, Opera Link, Mobile View, full-screen mode and text wrapping. Text wrapping is another great feature that ensures that you don't need to scroll horizontally as you zoom onto text content on a page by reformatting it to fit the screen width.
Conclusion
Opera Mobile 11, despite being a major update is not as significant update as Opera Mobile 10 was. The changes instead lie inside the core of the browser, which now has better performance than ever, and supports the latest standards. Isn't that what people say they ​always want? "I wish in the next version they just improve the performance instead of loading in useless features. Operas conservative approach with this upgrade seems to be the right way to go.
The updated engine now makes Opera Mobile one of the most modern browser available for mobile platforms. Another "feature" of Opera Mobile 11 is that it now runs on more devices than ever. This of course is only something you notice when you have multiple devices, so perhaps it might not seem so significant. However if you look at Opera Mobile 11 running on tablets (you can try the Windows 7 version to have a preview if you don't own a tablet) you will see that these are significant changes across platforms, especially in how the browsers UI adapts to different resolutions.
That said, we were really expecting Opera to ship this version with extensions support! It might seem like an overkill, but since Opera just introduced them in Opera 11 for desktops it seemed like the appropriate time. Hopefully this is something we can look forward to in Opera 12 -- or as Opera Software has a penchant for adding major features in minor version changes, Opera Mobile 11.1 / 11.5.
Opera Mobile 11 is a browser every smartphone user must try. The fact that the browser ecosystem is flooding with more browsers now just goes to show that there is a demand for alternate browser as the ones that come pre-installed are not meeting their needs. With Opera Mobile 11, hopefully your search will be over.