Google Maps for Android detailed review
Ever since Google got into mobile app territory, its Maps application has been one of the most popular free navigation apps around. It started out as being one of the first apps that could show your approximate location even if your device did not have GPS in it (using cellphone tower triangulation) and subsequent editions have seen it being tweaked and new features added, ranging from points of interest, friend locations (good old Latitude) to largely text-based navigation aids. And now, Google has added voice based navigation and traffic information for India into the mix.
You can grab the latest version of Google Maps for Android from Google Play - it remains free and the size of the download varies from device to device (it was 8.42MB on our Sony Xperia S, on which we tested it). If you want to use it in classic mode, you will need a brisk Internet connection for best results as it downloads maps while being used – or you can also simply choose to download the map of the region you are most likely to be using. If you are going to be using the traffic information feature, we would recommend opting for the former option.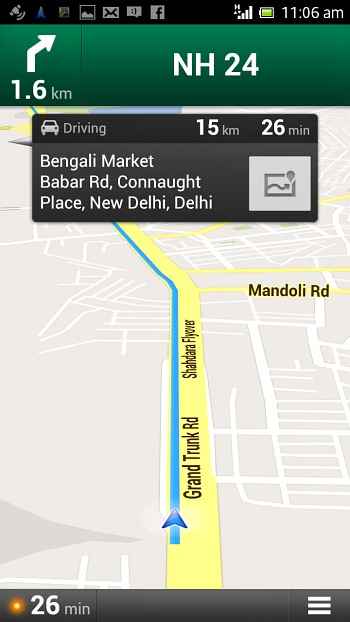 Those looking for a radical overhaul of interface in the app are going to be disappointed, those who love the standard Google Maps look will be delighted - this on the surface seems like the same navigation app that made maps go mainstream with its lack of a price tag a few years ago. It opens straight away by trying to pinpoint your location on a map and often does so in less than a minute if you are outdoors. Head to "layers" and choose "Traffic" and the app will also show you the traffic scenario in the area around where you stay. Well actually what it will do is colour routes in red, green and yellow – for some reason there is no legend explaining their significance, but we figured out that green meant traffic was moving smoothly, yellow that it was a trifle on the slower side and red that it was in jammy mode. It worked for us, and was more than reasonably accurate, although it seemed to go missing in lesser known areas of Delhi.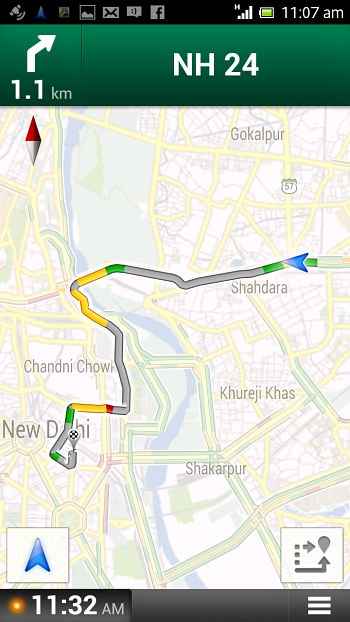 The next addition is of course, the voice element in navigation and here we must bluntly admit to being disappointed. Yes, the navigation itself was pretty much as good as ever - it calculated routes swiftly and re-routed and showed alternative routes at a decent clip too for individual vehicles, public transport and pedestrians. We in particular liked being able to view alternative routes with traffic details on them on a single screen - now THAT is the kind of information you need when you want to make decisions about which route to take and when. No, there was no foolproof way of knowing whether the information given was a cent per cent accurate but in our experience of using the app for a week, we found that on the major routes, its traffic advice was good enough to base decisions on (we need to clarify that we are talking about navigation in Delhi - we would love to hear if and how traffic information is being provided in smaller towns and cities).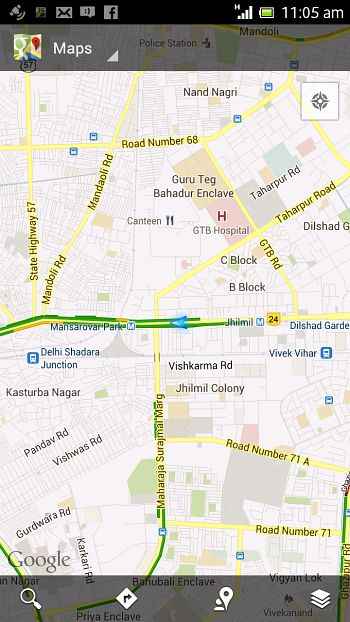 What upset us however was the quality of voice navigation - it was heavily accented, not the clearest and thoroughly mispronounced Indian names. And we could not find a way of customising it to meet our needs (different voice, time of notification, etc), so we pretty much had to put up with what we had. Yes, we know it was free, but we ended up switching off the voice option as it was neither clear nor helpful in its current avatar - more work on accents and local place names needed, we think ever so humbly.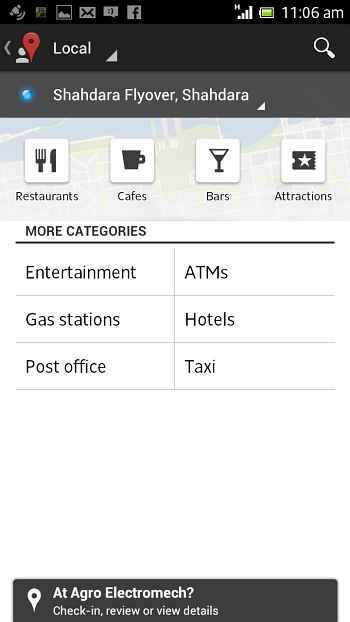 That apart, Google Maps comes with its usual set of goodies. You have points of interests (in some cases with reviews), Latitude (where you can check out all your friends with Google accounts), terrain layers, satellite imagery and a whole lot more. But while there is no doubt that Google Maps has maps of almost every major city and town in the country, the maps themselves are not accurate. For instance, we were horrified to see no mention of the old Yamuna Bridge in the Delhi map - the app actually showed us driving over water when we crossed it. And this is not a new construction but one of the oldest ones in the city. Major "ouch!" territory, we think.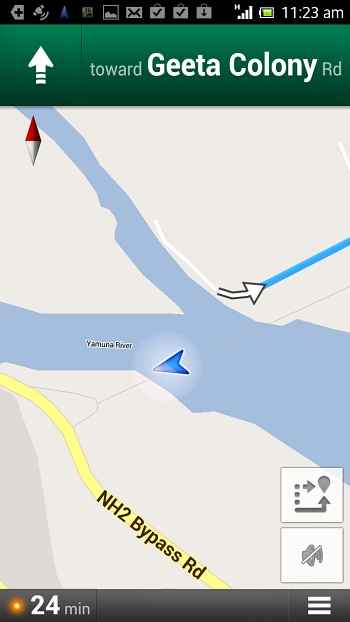 At the end of the day, while we cannot deny that the latest update for Google Maps makes it by far the best free navigation application on Android, it definitely needs some work. A lot of us have been spoilt silly by Nokia's excellent Navteq-powered maps and navigation. It used to come for a price when Google Maps was launched but has since gone free, and honestly works more smoothly.
Google Maps remains a must-have for all ye on Android. Just don't flaunt it in front of anyone toting a Lumia or even a recent Symbian device.
Available from: Google Play
Price: Free