God of War: Betrayal detailed review
After installing God of War: Betrayal on my Nokia N81 handset, I wondered if it was necessary for such an epic game to make a transition to mobile handsets. Will it be able to live up to the level of sheer awesomeness and brutality of its original console base, or will this be another disgraceful remake?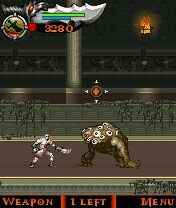 But the moment I started the game, these thoughts were quickly pushed back by a sense of joy and surprise. Betrayal is not a remake; it's a completely new game that fills in a minor story gap between the first and the second GoW games. And it's as violent and awesome as any GoW game! Kratos screams authority over your handset and Sony has done a remarkable job in bringing him in all his glory to the tiny screen.
The combat sequences are excellent to watch, with attention to detail given to every movement and action Kratos performs. The enemies also move very fluidly, and the monsters look amazing while getting obliterated by the Ghost of Sparta! Indeed, Betrayal is worthy of being the GoW game to launch the franchise back in the 16-bit era.
You begin by leading your Spartan army into conquest after conquest, and Zeus sending in Argos to stop this madness. What follows is arguably the best mobile gaming experience anyone can ever have!
Kratos takes on legions of diabolical and angelic baddies in some of the most fluid and gory action sequences on the mobile platform: You can rip enemies apart, grab them by the neck and twist it till it detaches from their mortal bodies or disembowel them as and how you please. And the aerial combos are simply breath-taking!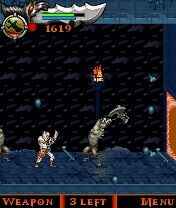 To assist you in wrecking such Havoc are Kratos's favorite Blades of Athena and Blade of Artemis. Using Medusa's Head can freeze enemies for a short while, while the Army of Hades unleashes hungry undead souls to feast upon any protesting enemies.
Each of the weapons can be upgraded to five levels, making them more devastating, by collecting enough red souls from fallen enemies.
The best part of a fight is when a circle appears over your foe's head, if he has been made to suffer enough. The timed key-sequences, popular in the console game, come to the mobile phone here, as you unleash incredible finishing moves by beheading the poor soul, plucking out his eyes or tearing his entire body into pieces. Fun!
GoW: Betrayal is a complete gaming experience on its own and allows you to revel in the God of War's glory one more time. Sony has taken pains to ensure that the mobile version does not become a disgrace and manages to produce an epic game. Give this a spin, and the wait for GoW3 on the PS3 will seem more bearable.
Game
God of War: Betrayal
Developer
Javaground
Publisher
Sony Online Entertainment
Platform
Mobile Handsets
Price
Rs. 99 (www.mobile.sonypictures.com)